Sharing is caring!
Whether you found this list searching for 20-something main characters or as a participant in the Lifetime of Reading Challenge, we hope you'll find a perfect read on our list of main characters in their 20s.
You can read all about the Lifetime of Reading Challenge, find new book lists each month, and download your free printable book tracker here.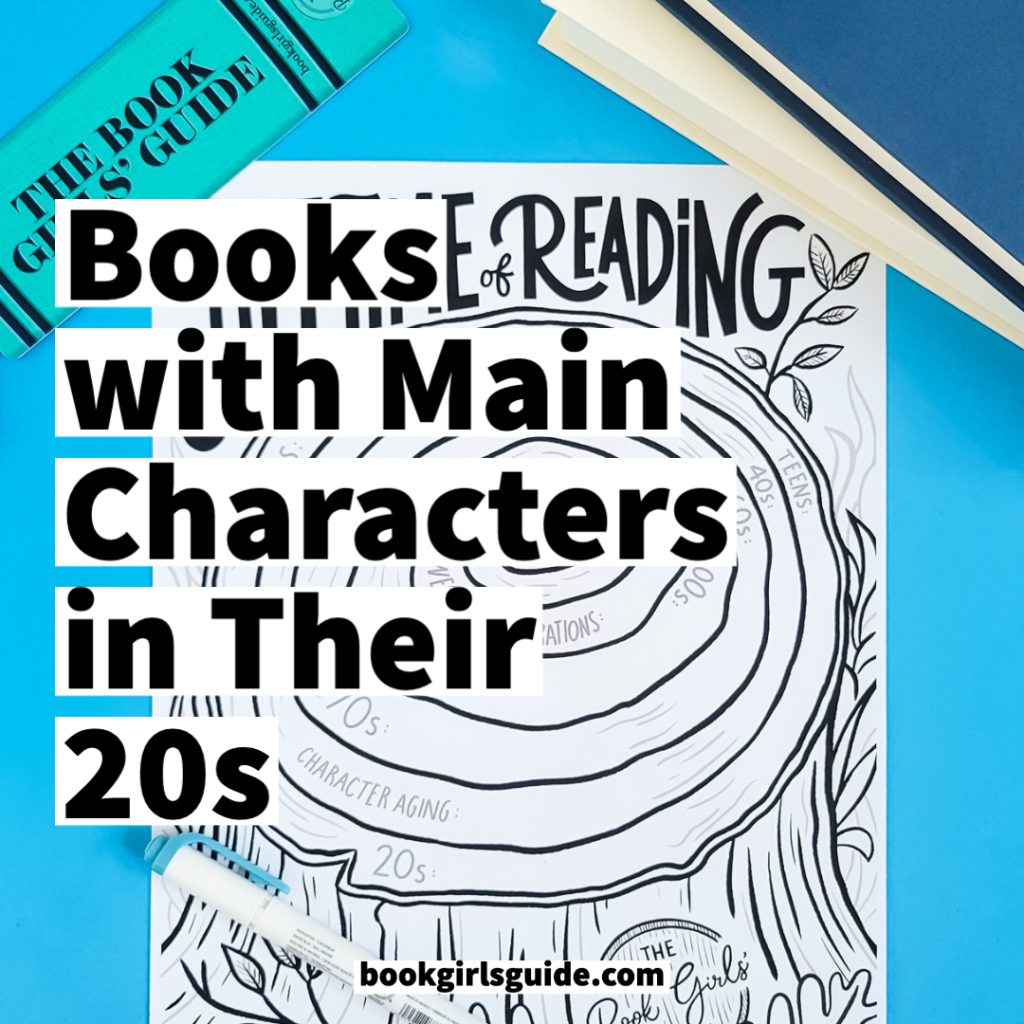 For most, your 20s are spent learning to be independent, gaining life skills, and answering fundamental questions about who you are and what you want to do with your life. This decade has recently been termed "the rocket years" because for many, the decisions made during your twenties set the trajectory for the next 40+ years of your life.
While no two experiences are the same, some common themes include college and job hunting, exploring relationships, and forming an identity independent from your parents' or family expectations. The twenty-something experience now looks much different than it did in the past. While this was once the decade during which most people married and started a family, recent research data shows that 95% list a career as their most important objective for the decade from 20 to 30, prioritizing this goal before seeking a long-term relationship and having kids.
One of our main goals for the Lifetime of Reading challenge is to create understanding and reinforce an appreciation for those in different phases of life. As a result, in researching books to recommend for this month, we've focused primarily (but not exclusively) on contemporary stories that can help those of us with our 20s in the rearview mirror understand what it is to be twenty-something in today's society, with its unique challenges, pressures, and opportunities.
We've curated a diverse list of recommended books with main characters in their 20s. These books show a wide range of life experiences during this decade of life, and the main characters in these books vary in race, ethnicity, religion, sexual orientation, class, ability/disability, and more.
If you are specifically interested in reading a book with a character in their twenties that is set in a different part of the world, we recommend taking a look at our Book Voyage reading lists, which are organized by region. Additionally, if you're looking for a book that provides a historical perspective, our Decades Challenge reading lists, which cover the 1880s through the present, are a great place to start!
You are welcome to choose any book that you'd like to read for the challenge each month, but we hope that our list of books about life in your 20s will help you get started. As always, we've selected a combination of new books and older books that are usually available without a wait from your local library.
As an Amazon Associate and member of other affiliate programs, we may earn a referral fee from qualifying purchases.
The Best Books With Characters in Their 20s
Love reading as much as we do?
Join us for more free content, reading challenges, and discussion over in the Book Girls' Guide Facebook Group!