We couldn't think of a better way to celebrate the first anniversary of Book Girls' Guide than to gather books about friendship. If you're not familiar with us, we started the Book Girls' Guide as two friends, in different states, with a shared love of books.

Our own friendship started in 2014 at a conference for home decor bloggers because Angela also owns BlueiStyle.com and Melissa owns PolishedHabitat.com. Soon, we learned we'd both be at another conference later that year and agreed to be roommates. Before leaving the second trip, we had schemed up a visit to New York City with our spouses. Over the past 6 years, we've spent time in more than 10 different cities for both work and fun.

We've had unforgettable experiences along with way, from seeing the original cast of Hamilton on Broadway thanks to Angela's wise husband to somewhat accidentally chatting with one of The Temptations in Beverly Hills.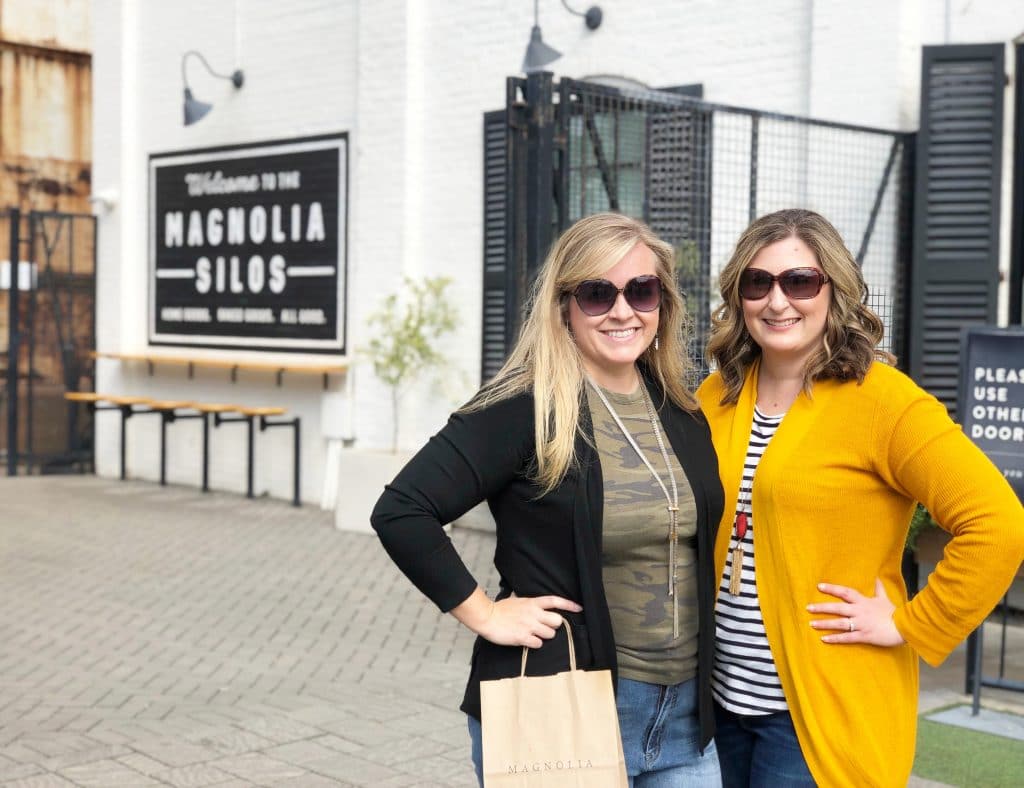 So, it's only appropriate that Book Girls' Guide started on one of these trips. Angela flew from her home in Denver to Melissa's house in Tulsa. Then, we started a road trip to a conference in Austin. Along the way, we stopped in Waco. While waiting on the patio of Magnolia Table, the idea of a shared book recommendation site was born. In the next few hours, as we had lunch and then drove to Austin, we never stopped brainstorming. By the time we reached our hotel, we had settled on the name, purchased the domain, and had set up the social media.

By the next day, we had a logo, the shell of the website, and a list of over 100 post ideas. It was fast and fabulous! We hoped people would enjoy the site and that it would be fun for us, but we underestimated how well you would respond to the Decades Challenge, Book Voyage Reading Challenge, and the Read with the Book Girls Facebook group. We wanted to have a kind community where readers who enjoy similar books could interact and each time we see that happening, all the work is worth it.

We're looking forward to the day we can safely resume our trips together, but until then, we're happy we have this joint project that we can share with all of you.

We hope this list of female friendship books will bring lots of good memories of someone that has been a good friend to you!
Books About Friendship for Adults
by Maeve Binchy
Life-long friends Benny and Eve grew up in the village of Knockglen, Ireland. Together they head to university in Dublin where their circle of friends expands to include beautiful Nan and handsome Jack. But heartbreak and betrayal result when their worlds of Knockglen and Dublin collide, and long-hidden lies emerge that will test the bonds of their friendship.
Angela read this book in high school and it still stands out in her mind as one of her all-time favorites! It's a simple story of friendship that is heart-warming and beautifully told from the first page to the last. Her most vivid memory of this book is the warm feeling it left her with.
by Deb Spera
Set in 1924 South Carolina, Call Your Daughter Home follows three women who seem to have nothing in common. The unlikely trio consists of a slave, the matriarch of an influential family, and a mother of four who join together to address injustices in their small town.
It's a story of motherhood, womanhood, and the undeniable force of women when they unite.
This is a great pick for fans of Where the Crawdads Sing!
by Kristin Hannah
Kristin Hannah blows us away with her emotional historical fiction books like The Nightingale, The Great Alone, and Winter Garden. In Firefly Lane, she uses her descriptive talent to share the story of three decades between friends.
From 8th grade, Kate and Tully cycle through the highs and lows of long-term friendships as they try to figure out what they want from the world and what they need from each other.
by Robert Dugoni
Born with ocular albinism, main character Sam Hill is a young boy whose rare red eyes cause him problems from the moment that he enrolls at Our Lady of Mercy. Labeled "Hell Boy," he is bullied by not only his classmates, but also given a hard time by the nun who is the principal at his elementary school. Eventually, Sam finds the new best friend he desperately needs in Ernie Cantwell, the only African American boy in his class, and years later in a fiercely individual girl named Mickie.
Years later, Sam is a respected ophthalmologist still moving through life with Ernie and Mickie by his side, but his world is about to be upturned when he's unexpectedly reunited with the biggest school-yard bully from his past.
This wasn't just one of our favorite friendship books of 2020, it was one of our favorite books overall!
It all starts with a pair of jeans purchased at a thrift shop. Four friends gather the night before they each go their separate ways for the summer of their 15th year, and they each decide to try on the jeans to see who they fit best. Somehow the jeans fit everyone perfectly, so the friends decide to form the Sisterhood of the Traveling Pants. Throughout the summer, the pants see all and keep the friends connected as they each experience the most memorable summer of their lives.
Neither of us read this book when it was first popular, but we were of the mistaken impression that this was a fluffy YA book. We were surprised to read review after review that describes this book as "deeper than you expect" and "all the feels."
by Jojo Moyes
When English Alice Wright marries an American, she looks forward to the move to the US. But life in Kentucky comes with an overbearing father-in-law, so Alice takes an opportunity to join Eleanor Roosevelt's team of traveling packhorse librarians.
Alice bans together with Margery and three other women to become the Packhorse Librarians of Kentucky. They must rely on friendship, courage, and perseverance in this beautiful story about making a difference.
by Amy Sue Nathan
This pleasant read tells the story of Betty Stern aka "Boop". Alternating between 18-year-old Betty in 1951 and present-day Betty in her 80s, you'll see how one fateful summer impacted the rest of her life.
The present-day portions of the story are told with the help of the same great friends featured in the 1951 portion. They deal with their aging bodies together and help Betty come to terms with both her own past and her granddaughter's present circumstances.
As of 2/5/21, this book is currently included on Kindle Unlimited!
by Kathryn Stockett
Skeeter has returned home from college to her family's cotton plantation where - despite trying to act like a proper Southern lady - she seems to constantly disappoint her mother. Her true ambition, however, is to be a writer. The only job she's able to find is one she completely unqualified for - writing a housekeeping advice column for the local paper. Having virtually no experience of her own with housekeeping, Skeeter turns her friend's maid, the very poised Aibileen, for help.
As she gets to know Aibileen and Aibileen's friend, the very sassy Minny, more intimately, Skeeter is inspired to help tell their stories, and she pitches the idea to write the narratives of 12 Black maids – a very risky project for all of them. It's an unlikely friendship, but this group of friends shows that true friendship comes in many forms.
by Taylor Jenkins Reid
In concurrent storylines, 29-year-old Hannah lives out the effects two different decisions. Should she leave a party with her best friend, or with the high school boyfriend she just ran into again? Will either decision help her feel content after a decade of moving from city to city for meaningless jobs?
in both timelines, the one thing that remains consistent is the strength of the friendship between the two women as they help each other through life's challenges
by Jane Healey
The friends in The Beantown Girls are entrenched closer to the action than most women in World War II. This historical fiction novel is based on the real life Red Cross Clubmobile girls, who delivered donuts, coffee, and often mail to the troops near the front lines.
Fiona had plans to marry her fiance when he returned from WWII and settle down in the Boston suburbs. But when he is reported missing after being shot down in Germany, her plans are shattered. Determined to learn his fate, Fiona volunteers as a Red Cross Clubmobile girl, and convinces her two best friends to join her.
This great book is not as intense as other WW2 reads, and follows the trio from training throughout their service in the war. You'll fall in love with them and the soldiers they encounter.
by Jane L. Rosen
Eliza is a suburban wife secreting struggling with a new, intense fear of leaving her house. She forces herself to go to the store in preparation for a visit from her college-age children. While she is there, she hears younger moms talking about a new local online forum for women. Eliza has run a similar group for years, but these strangers are calling her group boring.
In a moment of desperation and weakness, Eliza starts a rumor about a new neighbor on her board to liven it up, and the rumor reaches further than she expected.
While Eliza is the title character in the book, this is story of four women coming together to help each other through a variety of problems
by Elizabeth Wetmore
Melissa was concerned going into this book based on other reviews stating there were too many disconnected characters. She didn't find that at all and thought the author made all the proper connections between them. However, it is a book you have to be paying full attention to in order to catch everything.
That said, she really enjoyed each woman's story and loved how they intertwined as friendships developed. While some thought it was depressing, Melissa found it to be a tale of friendship and survival in terrible circumstances and how we often have to rely on each other. Each character was saved by others in different ways. It's a heavy read, but worth it.
by Kelly Harms
Neighbors Celeste and Wendy are both moms - but as far as they can tell, that's the only thing they have in common - other than their mutual disdain for the other!
Celeste is a stay-at-home mom who spends her days volunteering and creating a Pinterest-worthy life that makes other moms despise her. Wendy is a career-driven working mom who lives by her minute-to-minute schedule as she balances her business and keeps things afloat at home.
Celeste and Wendy despise one another, but after a bit too much sangria at a softball potluck, they wake up in each other's bodies - Freaky Friday style. Soon everything they thought they knew about the other is turned upside down. Their messy lives are about to get a whole lot more complicated, but along the way they'll discover they might not be so different after all.
So what is a book about enemies doing on our friendship list? This book is a heartwarming reminder - presented in a laugh-out-loud funny package - that we shouldn't be so quick to judge other women and that we're all better off when we have each other's backs!
By Aminatou Sow & Ann Friedman
While the rest of the books on this list are novels, Big Friendship is a joint memoir about the friendship between the co-authors. They share both the positive stories and the messy moments from their lives and explore how each impacted their friendship with each other.
Throughout the book, they talk to other friends and experts in an effort to understand what makes friendships successful. It's a great reminder that we have to actively choose friendships and not take them for granted.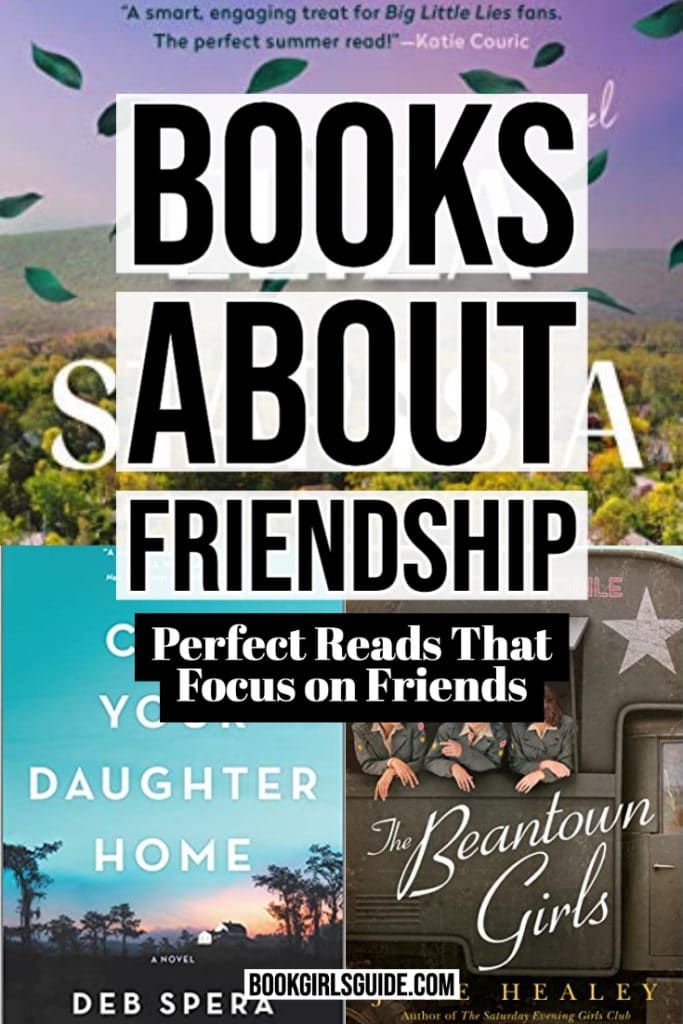 PS: There are also many great children's books from picture books, like the animal friends in A Sick Day for Amos McGee, to early readers, like the Ivy & Bean series that help teach the value of friendship. They're sweet books to help your child make fast friends when they head off to school or daycare for the first time.