Sharing is caring!
It's true what they say – kids grow up so fast! One of our favorite prompts in the Lifetime of Reading Challenge is this list of books with teenage characters.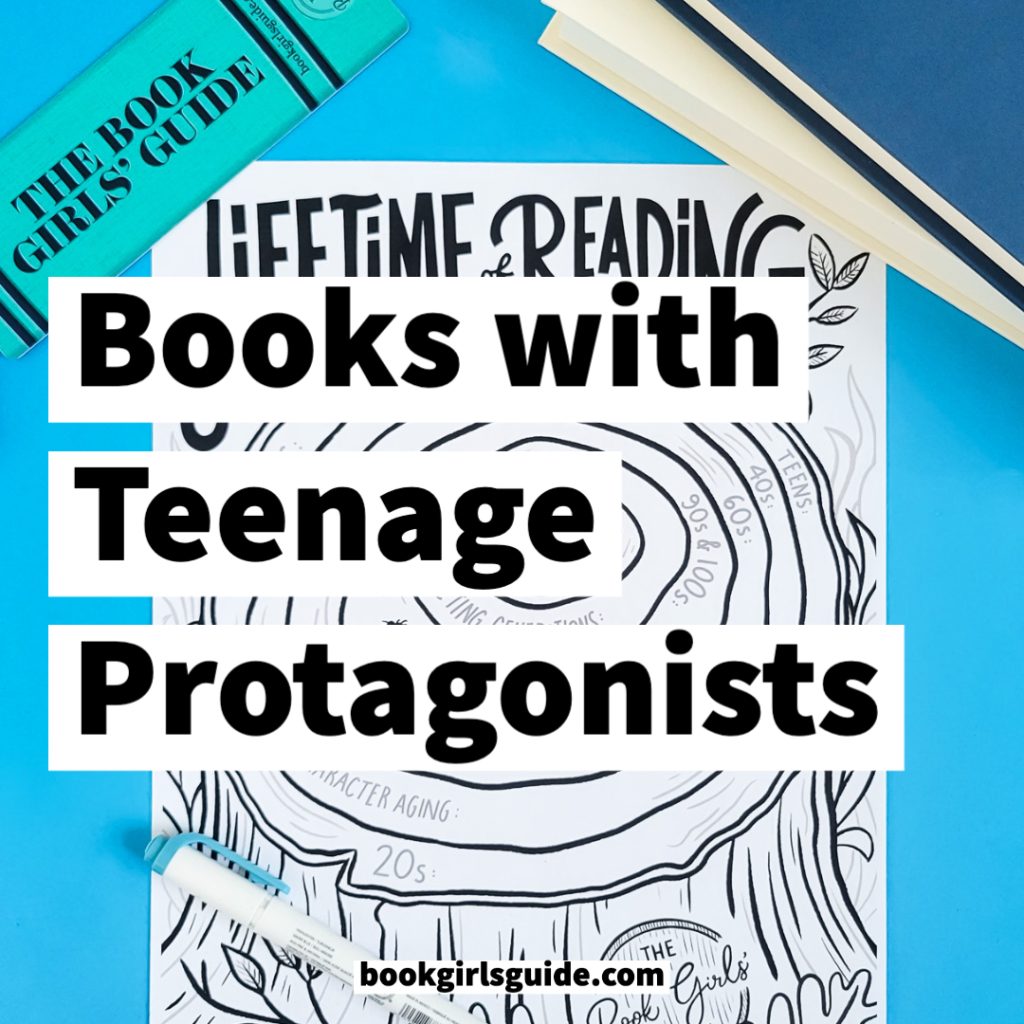 Every teenage experience is unique, but for most people, a few things are true – the teen years are often challenging, always formative, and very few people get out of them without some heartbreak. Most teenagers have different priorities and different responsibilities than adults and are still figuring out who they are and how they fit into the world around them. These years between childhood and adulthood are a balancing act between needing guidance and seeking independence.
We've curated a diverse list of books with main characters ranging from ages 13 to 19. While there are countless excellent YA books, our list is not limited to YA titles. On our recommended book list, below, you'll find a good mix of both YA and adult fiction, as well as non-fiction.
You can read all about the Lifetime of Reading Challenge, find new book lists each month, and download your free printable book tracker here.
Before we get to the book list, let's start with a couple of definitions. Throughout our book descriptions, we often use the terms YA and coming-of-age, but it's helpful to step back and look at what these terms really mean.
What is a YA book?
YA stands for Young Adult, which is a category of fiction written with teenage readers as the intended target audience. However, statistics show that approximately half of YA readers are adults. So if adults read YA titles with the same frequency as younger readers, what are the main differences between young adult fiction and adult fiction?
First, to be considered YA, a book must have at least one teenage protagonist. Second, despite being authored by adults nearly all of the time, YA novels are written in a voice that is authentic to the teenage experience (most often from the first-person perspective). And third, while the themes of YA novels may include any of the same things you'd find in adult fiction, sensitive issues are typically discussed in a manner that is generally considered age appropriate for young adult readers (typically meaning less explicit and with less graphic details).
What are coming-of-age novels?
Like YA, it's hard to define "coming of age novel" with precision, but as it is generally used, a coming-of-age story is one in which a young person is heading toward adulthood while gaining knowledge and maturity along the way.
You are welcome to choose any book that you'd like to read for the challenge each month, but we hope that our list of books with teenage characters will help you get started. As always, we've selected a combination of new books and older books that are usually available without a wait from your local library.
As an Amazon Associate and member of other affiliate programs, we may earn a referral fee from qualifying purchases.
Love reading as much as we do?
Join us for more free content, reading challenges, and discussion over in the Book Girls' Guide Facebook Group!