Whether you're participating in the Lifetime of Reading Challenge, or simply interested in reading about life after 60, you'll fall in love with the protagonists in these charming books with main characters in their 60s.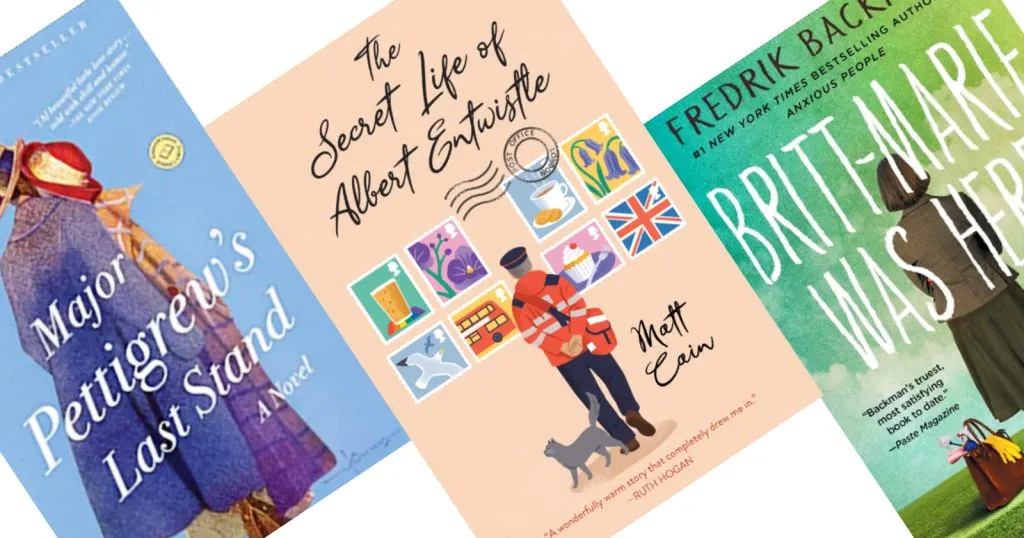 You can read all about the Lifetime of Reading Challenge, find new book lists each month, and download your free printable book tracker here.
60 is the New 40
We see many people searching for "middle age fiction" and "books with older main characters." But where do books with main characters who are 60-something belong? Middle age is a bit of an arbitrary term. It's generally defined as the period beyond young adulthood but before the onset of old age. But who decides when old age begins?
Some definitions of "middle-age" say it's between the ages of 40 and 60, while others say 45-65. But what is more important – the number or how people feel? A recent survey of 500 people over age 60, cited in The Guardian, found that most 60-somethings feel about 12 years younger than their actual age. And nearly a quarter of them say they feel 20 years younger than they are. Doctors and researchers seem to agree that thanks to healthier and more active lifestyles, 60 really is the new 40.
Looking for middle age fiction books with main characters in their 40s or 50s? We have lots of recommendations on our 40-something and 50-something protagonist book lists.
According to an AARP Magazine article, if you ask 20-somethings when old age begins, 60% will answer age 65. But if you ask the same question of 65-year-olds, more than half define old age as 85. In the 1950s, the average age for someone to move into a nursing home was 65. Today the average age is 81. With the average retirement age ranging from 62 for women to 64 for men, today's 60-somethings are enjoying this decade of life with a lot more freedom and a younger state of mind.
Retirement is a goal most spend their working lives striving for. However, AARP reports that "retirement glee" often wears off faster than expected. After the initial bliss of sleeping late and enjoying the freedom that comes with no meetings or deadlines, boredom can set in. Nearly half of retirees in their 60s report missing the social scene at work more than they miss paychecks or employment benefits. According to AARP, those who are happiest in this next phase of life are those who dive into a new passion – whether it be a hobby, volunteering, or emarking on a new career that allows them to apply their expertise while maintaining a great deal of flexibility.
This decade of life is also where the relationship with adult kids often strikes a different balance. According to AARP, 51% of people in their 60s are still helping their grown children with money on occasion. At the same time, however, nearly half of 60-somethings also receive regular help from their adult children. Their kids commonly run errands, assist them with home repairs, and accompany them to appointments.
Books With 60-Somethings As Main Characters
We've curated a diverse list of recommended books with characters in their 60s. These titles reflect a wide range of life experiences during this decade of life. This booklist is pretty evenly divided between female and male protagonists. The main characters also vary in ethnicity, sexual orientation, religion, class, background, lifestyle, and more. Most of the recommendations are fictional novels about life in your 60s, but we've also included a couple of memoirs/biographies.
One of our main goals for the Lifetime of Reading Challenge is to create understanding and reinforce an appreciation for our fellow humans in different life phases. As a result, we've focused primarily (but not exclusively) on contemporary stories with 60-something main characters. These current stories can help us all understand what life in your 60s is like in today's society. They deal with a wide range of topics, including retirement and discovering new passions and purpose, striking a balance between helping and receiving help from adult children, becoming a grandparent, loss of a spouse, finding new love, and much more.
Other Books to Consider
If you are specifically interested in reading books with older main characters that are set in a different part of the world, you're in luck, because quite a few of these books are set abroad. However, we also recommend taking a look at our Book Voyage reading lists, which are organized by region. Additionally, if you're looking for books with protagonists over 60 that provide a historical perspective, our Decades Challenge reading lists, which cover the 1880s through the 2010s, are a great place to start!
As always, you are welcome to choose any book you'd like to read for the challenge this month. We hope that our list of books about life in your 60s provides a good starting point. We've selected a combination of newer releases and older titles that are usually available without a wait from your local library.
Book Lists By Character Age