Whether you found this post searching for the best books set in the 2010s, or you're participating in our Decades Challenge, we hope you'll find some great books set between 2010 and 2019 to add to your TBR lists. If you're looking for books set between 2000-2009, you can find them here.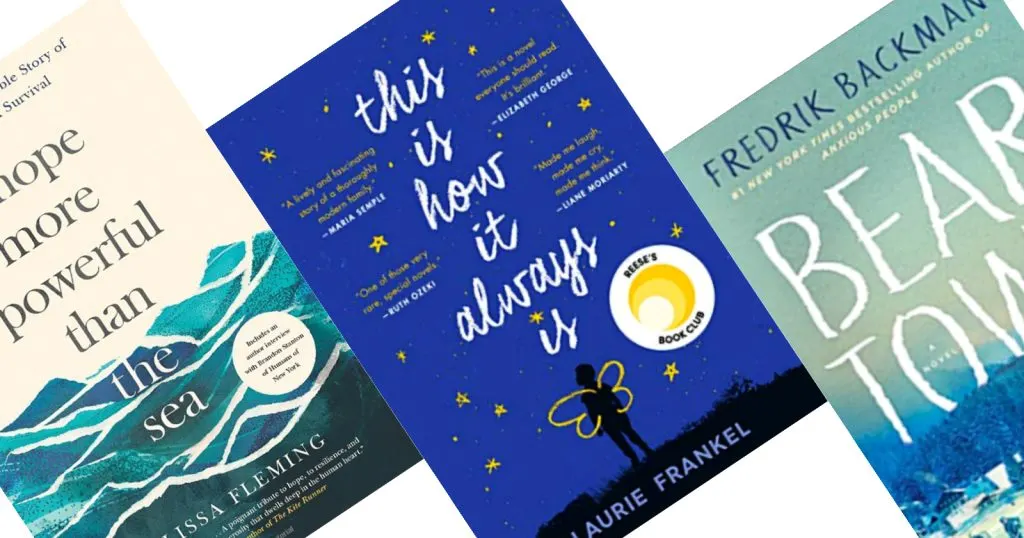 You can read all about the Decades Challenge, download your free printable reading tracker, and find book lists for other decades here.
As always, we welcome you to choose any book you like that is set in the decade. To help you get started, we've compiled a great list of books set in the 2010s. Our fiction recommendations include works of drama, romance, comedy, and young adult literature. Each provides insights into the culture and social issues of the decade. A memoir and non-fiction title also closely examine relevant topics of the decade.
The 2010s brought a rising focus on new and lingering inequalities both in America and around the world. This focus led to both strife and progress. Mass shootings and natural disasters permeated throughout the decade, and politics became increasingly divisive.
Social media use evolved from a simple way to stay connected with friends into an easy way to influence strangers. Sometimes it's good, like our ability to share favorite books with you right now. Or the money raised for ALS research during the viral Ice Bucket Challenge.
However, the full negative ramifications of social media are also still being learned. Sadly, this includes increased teen suicide and dangerous misinformation spreading like wildfire during elections.

Along the way, there were fundamental changes in how we travel and vacation. The sharing economy led to huge new companies like Uber and Airbnb. Alternative energies became more advanced, and many companies became more aware of their environmental impacts. We learned more about the harm of things like single-use plastics. We have a ways to go, but we're doing a better job protecting the earth than we were when the decade started.
MAJOR EVENTS FROM 2010 TO 2019
Before recommending books from each decade, we like to provide historical context with an overview of the major events of the time.
If you'd prefer, feel free to scroll straight to our book list.
A January 2010 earthquake near Haiti's capital, followed by more than 50 aftershocks, caused catastrophic damage to the island nation.
In April 2010, Apple launched the first generation iPad. While the iPad was not the very first tablet PC, its immediate popularity gave rise to numerous competitors.
The 2010 underground explosion at the Upper Big Branch Mine in West Virginia killed 29 miners.
The Tea Party movement, representing US conservative populist social and political views, first began in 2009. It gained significant support and popularity during the 2010 mid-term elections.
An underwater 9.0 magnitude earthquake off the coast of Japan in March 2011 caused a tsunami with waves over 130 feet high. Damage from the earthquake and tsunami triggered a nuclear disaster at the Fukushima Nuclear Power Plant.
England's Prince William married Catherine Middleton in April 2011. The royal wedding was seen by an estimated 22.8 million television viewers around the world. Seven years later, in May of 2018, William's younger brother, Prince Harry, married American Meghan Markle before a television audience of more than 29 million.
In September of 2011, Occupy Wall Street began as a march through the streets of the Financial District of NYC. It turned into a months-long sit-in at a park near the New York Stock Exchange. This protest movement, centered around issues of social and economic inequality, greed, and corruption, gained attention on social media and gave rise to other Occupy movements in the US and around the world.
England's Queen Elizabeth celebrated her Diamond Jubilee in 2012, marking 60 years since her 1952 ascension to the throne.
In July of 2012, "Gangnam Style" – the music video for the song by South Korean musician, Psy, became the first YouTube video to ever reach one billion views. It launched a worldwide dance craze.
On December 14, 2012, a 20-year-old man entered Sandy Hook Elementary School in Newtown, Connecticut, and killed 26 people. Horrifyingly, this included 20 kids between the ages of six and seven. This was just one of many episodes of gun violence that marred the decade. Others included the 2012 movie theater shooting in Aurora, Colorado that killed 12 and injured more than 70 others; the 2015 shooting of nine parishioners during a church prayer group in Charleston, South Carolina by a young white supremacist; the 2017 murder of 58 people attending a music festival in Las Vegas at the hands of a gunman in a 32nd-floor hotel room window who also injured hundreds of others, and 2018 shooting at Marjory Stoneman Douglas High School in Parkland, Florida, in which the teen gunman killed 17 and injured 17 others.
During the April 15, 2013 Boston Marathon, two brothers detonated bombs that killed three and injured 264. A massive manhunt for the suspects of the Boston Marathon bombing ensued over the following four days.
A devastating EF-5 tornado in Moore, Oklahoma in May of 2013 ravaged the town and destroyed the elementary school. It was the deadliest tornado in the US since the 2011 Joplin, Missouri tornado that killed 158 people.
In 2013, several activists started using the social media hashtag #BlackLivesMatter following the acquittal of George Zimmerman in the shooting death of teen Trayvon Martin. The hashtag became a national movement that gained additional traction during the protests that followed the 2014 deaths of Michael Brown in Ferguson, Missouri, and Eric Garner in New York City, who were both killed during encounters with the police.
Throughout the 2010s, social media became a popular way to raise money for charities. In the summer of 2014, the viral Ice Bucket Challenge raised over $115 million for ALS research. Those funds already aided in the discovery of a new ALS gene.
Following the Supreme Court ruling in Obergefell v. Hodges, same-sex marriage became legal in all fifty states in June of 2015.
In 2016, Hillary Clinton, the former First Lady, became the first female presidential nominee of a major political party. She ran against businessman Donald Trump who ultimately won the 2016 Presidential Election with a large electoral college victory despite losing the popular vote by 2.8 million voters.
In 2016, Britons voted to withdraw the United Kingdom from the European Union in what came to be known as Brexit. The deadline to approve a withdrawal plan was extended several times. Parliament's opposition to the proposed deal led to the resignation of Prime Minister Theresa May in 2019.
In January of 2017, on the first day of Donald Trump's presidency, more than 5 million people protested in support of gender equality and civil rights. The Women's March – which was actually more the 600 marches across the world – was the largest single-day demonstration in US history.
For the first time since 1918, a total solar eclipse was visible across the entire United States in August 2017.
In the fall of 2017, the US territory of Puerto Rico was hit by two hurricanes, only weeks apart. Hurricane Irma and Hurricane Maria both pummelled the island, devastating the island's infrastructure and resulting in the deaths of more than 4,600 people.
The #MeToo hashtag went viral on social media beginning in October of 2017, following sexual abuse allegations against Hollywood producer Harvey Weinstein. The hashtag turned into a feminist movement and became a rallying cry for millions of women who shared their own stories and experiences with sexual harassment and sexual abuse.
Following a whistleblower complaint about a phone call between US President Donald Trump and Ukrainian President Volodymyr Zelensky, the US House of Representatives approved Articles of Impeachment against President Trump on charges of abuse of power and obstruction of Congress. Following a trial in the Senate, the President was acquitted in a vote that fell largely on party lines.
Books Set in the 2010s