We love a good reading challenge, so we've designed four fun options for adults (as well as one for kids). The challenge options include reading around the world, reading around the US states, reading through decades from the 1880s-2010s, and exploring characters of different ages.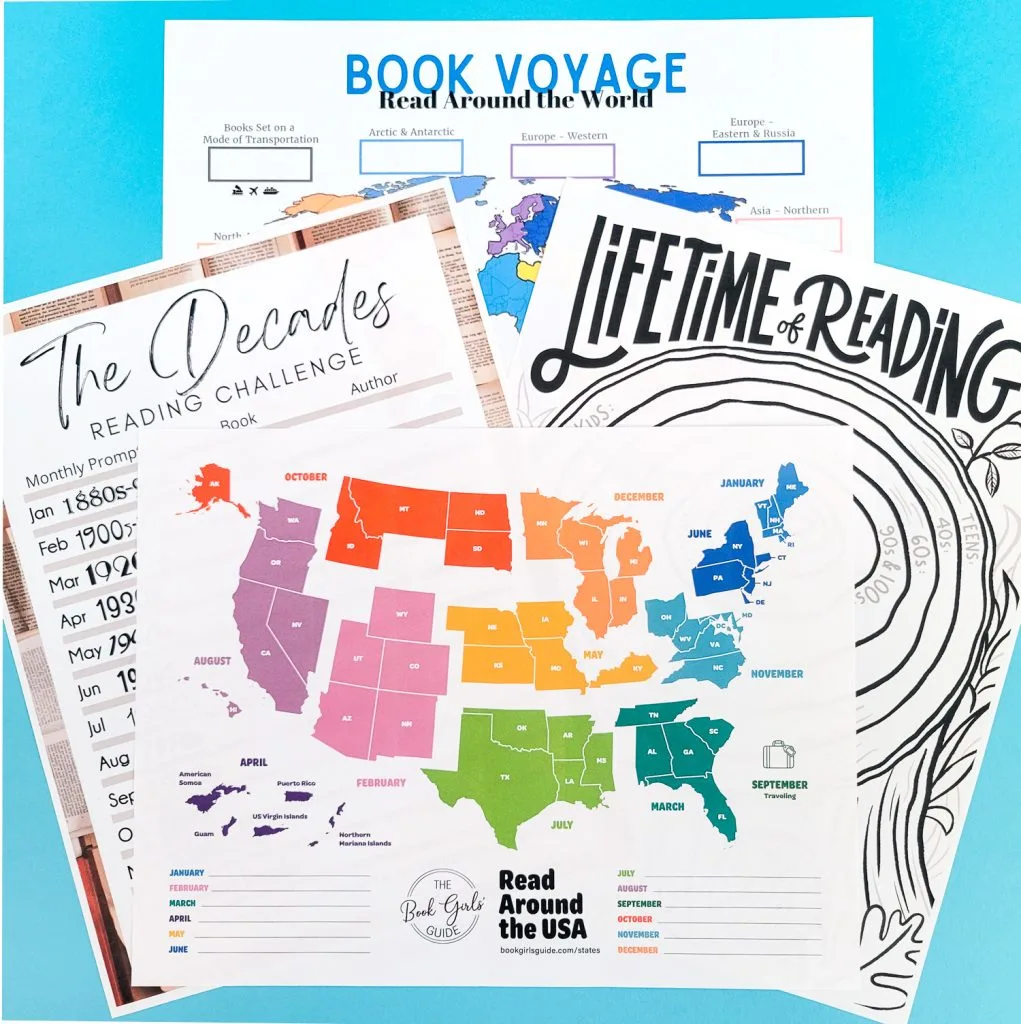 How Our Reading Challenges Are Different
When we launched The Book Girls Guide in 2019, our first big idea was to host a year-long reading challenge. We wanted it to be fun, flexible, and pressure-free while still being intentional and with a bit of structure. Other challenges we had seen followed two main formats. Either everyone was assigned the same book each month, or there was a set of prompts, and you were on your own to find a book that fit each prompt.
We developed a hybrid model where we provide a challenge theme with monthly reading prompts, along with a curated list of book recommendations for each prompt. Unlike many other challenges, we also provide an opportunity for participants to discuss their books with other readers. It's been so successful that each year we've followed the same format, adding an additional reading challenge theme. Many readers are participating in more than one!
Choose From These Reading Challenges
All of these reading challenges allow you to find books that you'll love within your preferred genre, or to push yourself outside of your reading comfort zone if that's what you're after. These challenges are designed to run from January through December, but you're welcome to jump in anytime!
Once you've picked your challenge (of course, you can do more than one if you'd like), be sure to join our Facebook Group! We have a very welcoming and active group of book lovers who enjoy discussing books from these reading challenges, as well as sharing other book recommendations.
Book Lists For Each Reading Challenge
Read Around the USA Book Lists
Throughout 2023, a new list will be released for this challenge on the 20th of each month.
Decades Reading Challenge Book Lists
Throughout 2023, these lists will be updated with some new titles in advance of each monthly reading prompt.
Book Voyage Book Lists
Throughout 2023, these lists will be updated with some new titles in advance of each monthly reading prompt.
Lifetime of Reading Book Lists
The Lifetime of Reading challnge is self-paced for 2023, so you are free to read books for the Lifetime prompts in any order throughout the year.