We are so excited to invite you and your kids to join our children's reading challenge – Read Around the World. Following the popularity of our Book Voyage reading challenge for adults, we've designed our Kid's Summer Reading Challenge with kids and families in mind!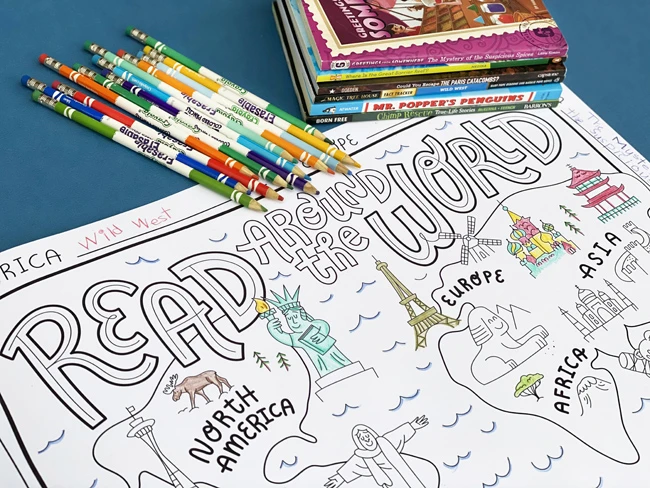 Read Around the World Challenge for Kids –
How It Works
Read a Book From Each Continent
This summer, give kids a virtual passport and encourage them to travel to all seven continents through the pages of books!
For each continent, you'll find links to recommended book lists later in this post.
From the Amazon rainforest to the savannas of Africa, and from the Great Wall of China to the outback of Australia, we know your kids will love exploring the world while learning about geography and other cultures. Reading around the world is not only a fun summer adventure – it will also keep your kids' reading skills sharp and help prevent the dreaded summer slide!
Track Your Reading
We have some fun ways for you kiddos to keep track of their reading – including a free printable world map coloring page with space to record the titles they read, an illustrated world map poster, and a library tote bag featuring the same black and white illustrated map design that can be colored with fabric markers!
The free coloring page (which can be requested further down in this post) also serves as a paper log for kids to record the books they read. The poster print and tote are available for purchase in our shop.
Sign Up to Receive a Free Printable World Map Coloring Page
The Read Around the World Summer challenge is completely free, and it's as simple as reading seven books throughout the summer set on each of the seven different continents. But we suspect your kids won't want to stop there. Once they start reading about other countries and cultures, they are likely to have lots of questions, and the best way to answer those questions is with more books. And that's what raising a reader is all about!
Download our free, hand-illustrated printable world map coloring page by adding your email address in the teal box below this paragraph. The map has space around the edges for your kids to record the titles of the books they read as they travel the world.
Read Around the World Book Lists
for Kids & Tweens
The lists of kids' books for each continent are divided into sections, including picture books or younger children, early chapter books for new readers, and middle-grade books for more advanced readers. You'll also find recommended age ranges for every book at the end of each book description.
Tips for Picking Books Your Kids Will Love
This reading challenge is easy to customize to your kid's personal interests. If you have a kiddo who loves sports, for example, encourage them to read books about different sports or athletic competitions around the world; or for an animal-loving kiddo, explore the different animals that are unique to each continent.
Young readers who like books in a series may gravitate toward options like The Magic Treehouse or Greetings from Around the World because both series include books set all across the globe. Older kids and tweens might enjoy reading biographies of influential people from various countries, and the Who Is / Who Was series is a good starting point. Our recommended book lists for each continent include all of these, and much, much more.
We encourage you to start by browsing your kiddo's bookshelf with them to look for their own books that might fit the challenge, and your local library is, of course, another great resource if you need a new book!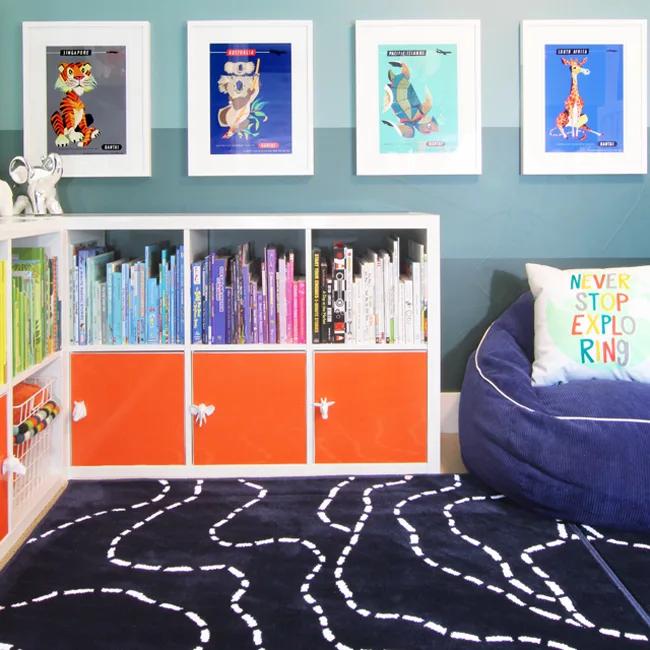 Summer Reading –
How to Avoid the Summer Slide
Summer reading is so important to help kids avoid the summer slide. What is the summer slide, you ask? According to research, kids who don't read enough enter the next school year at a lower reading level than when they completed the prior grade in the spring.
There is compelling data that suggests that reading even 20 minutes a day not only prevents the summer slide, it also helps kids grow academically. And reading together is also shown to strengthen family relationships!
If you have a reluctant reader, it can be extra challenging to get them to read during the summer when they are away from school. On the other hand, if you have a voracious young reader, they can get bored quickly during the summer months. We've designed the Read Around the World summer reading challenge to keep both groups of kids excited about books all summer long!
Optional World Map Coloring Poster
For kids who really love to color, we have a larger poster print version of the world map coloring page available in our shop, which can double as a fun piece of art for your child's room when they are finished!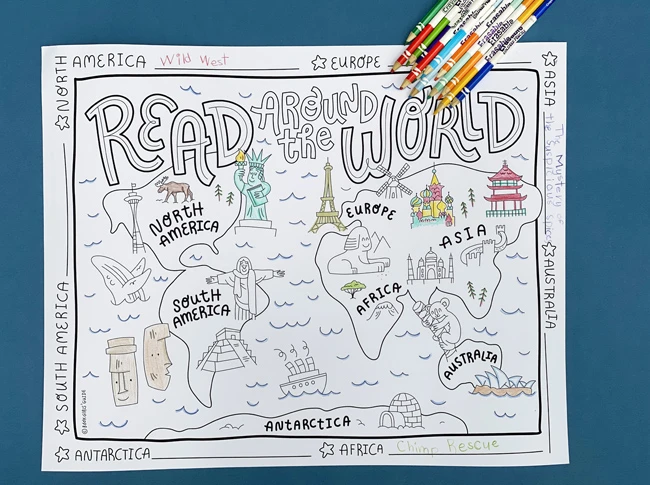 This 16″ x 20″ large world map poster is printed on thick paper and arrives safely rolled. We recommend unrolling the poster and weighing each corner down with a book overnight before coloring so that it will lay nice and flat.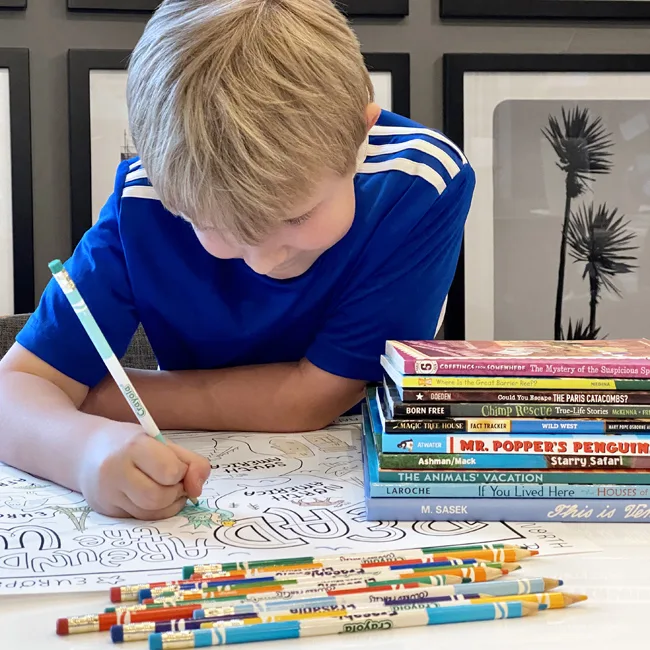 Colored pencils are our favorite way to color this world map poster, but crayons and thin markers also work well. Angela's sons especially love the Crayola Erasable Colored Pencils!
Optional Read Around the World Library Tote Bag
In addition to the free book tracker, we have a Read Around the World library tote bag available in our shop. This book bag makes the perfect complement to our children's reading challenge.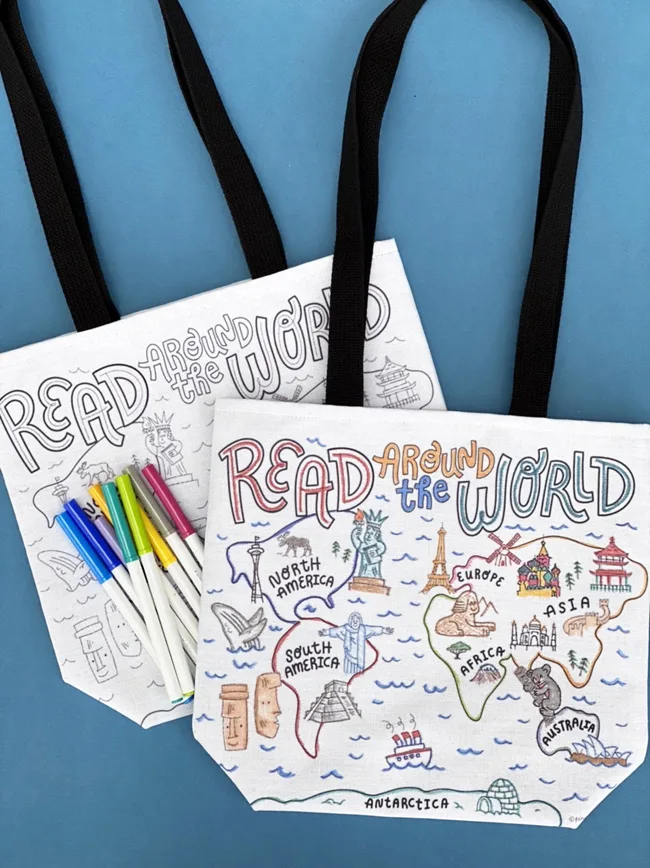 The tote is adorable in black and white, but you can also use markers to color the design and create a totally custom look! Reading + coloring for the win!
Angela prefers that her kids always use washable markers (because, well… accidents happen). After testing a few different options, the Crayola Super Tips washable markers seem to be the best washable option for the canvas tote bag. If you want to ensure that the color is permanent, you can instead use fabric markers. These tote bags are lined and have black interiors, so you don't have to worry about the color bleeding through to the back of the bag.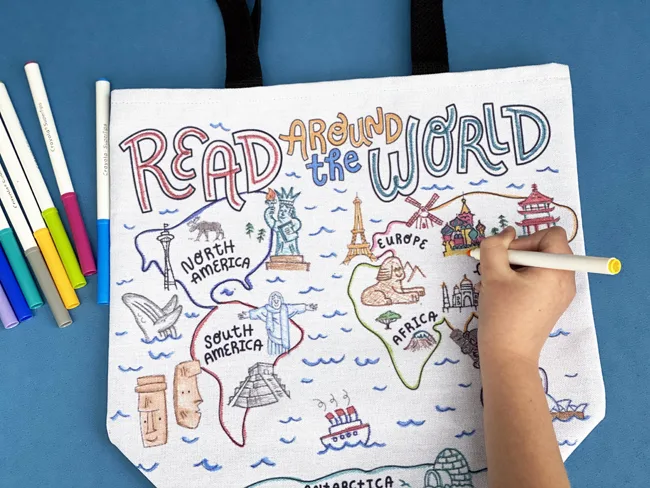 The tote's size makes it an ideal library book bag for kids (Angela's 8-year-old son is carrying it in this photo). The small tote is sturdy and roomy enough to hold standard picture books without being awkward for a kid to carry.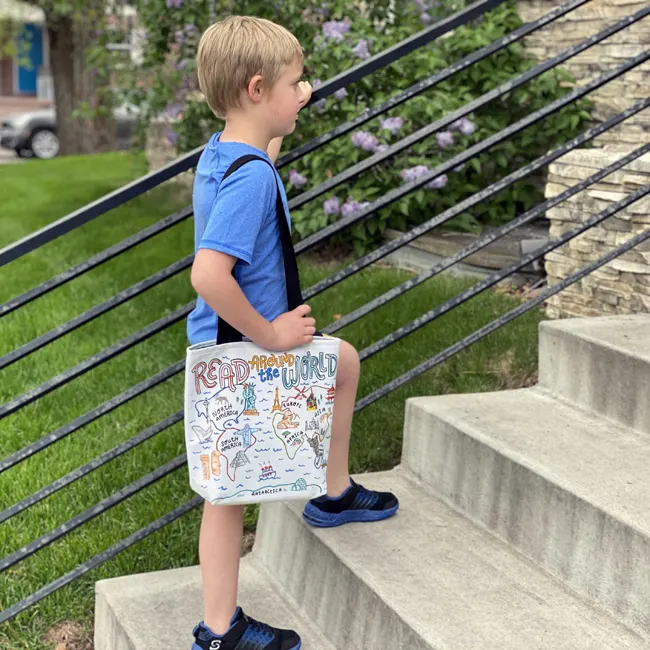 The tote bags feature 3″ flat bottoms, which gives you lots of room for books. The reinforced handles and black interior make these library tote bags as functional as they are cute.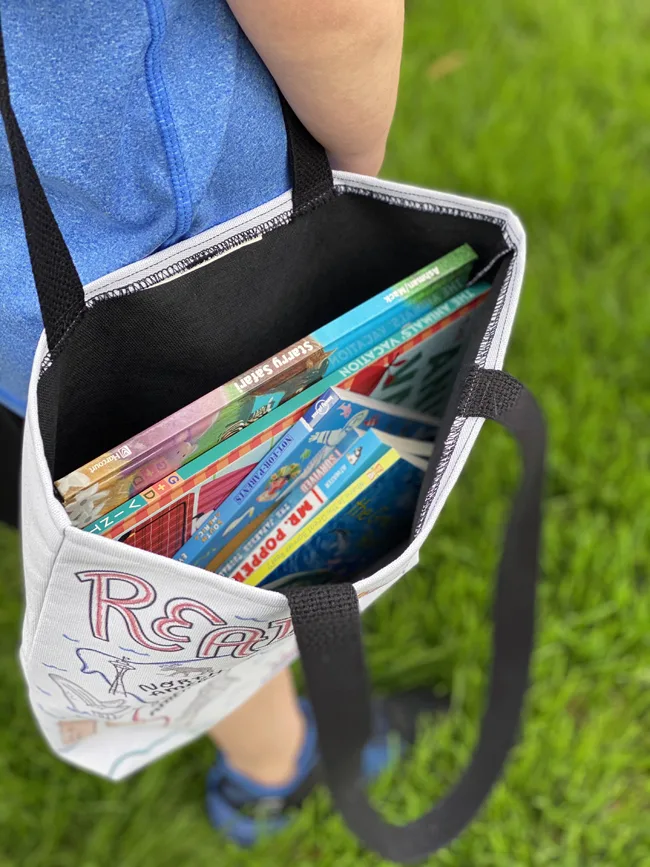 We hope your whole family enjoys this challenge! Happy reading!