Whether you found this list searching for 40-something main characters or as a participant in the Lifetime of Reading Challenge, we hope you'll find a perfect read on our list of main characters in their 40s.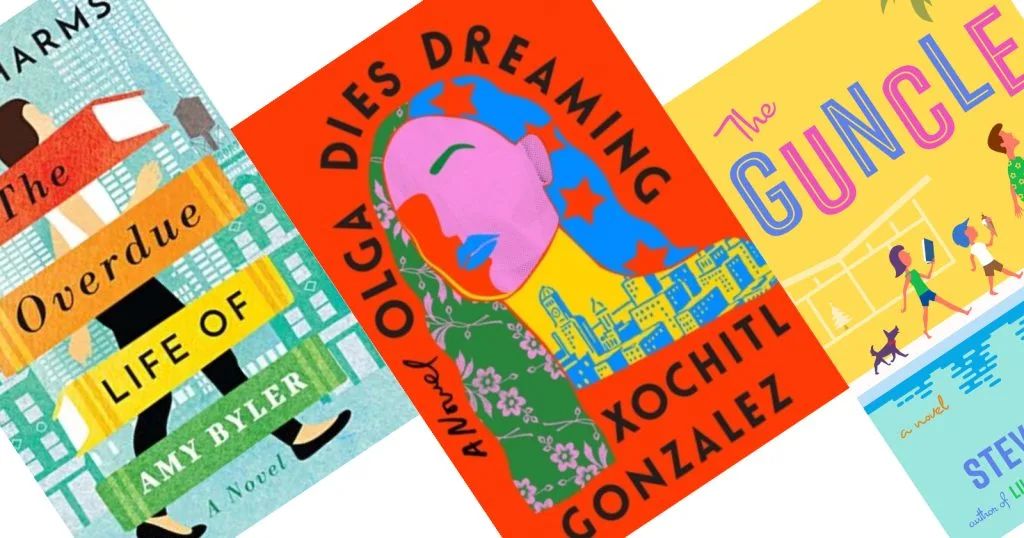 You can read all about the Lifetime of Reading Challenge, find new book lists each month, and download your free printable book tracker here.
What does it mean to be 40-something in today's society?
We recently read a quote in a book that made us laugh out loud, but also rings true in many ways: "The number alone denotes nothing. Forty-two is an Instagram influencer with toned abs and cleavage up to her neck. Forty-two is someone's grandma. For men, forty-two is the rom com's male lead, the bank commercial's hot dad–whereas a woman can be a young forty-two and old forty-two or, at forty-two, invisible." -Emily Adrian, The Second Season
Both of us Book Girls just so happen to be 42 this year, so reading books with 40-something main characters this month has extra meaning for us as we reflect on where we are in this decade of life, and where it will take us. When Angela's grandma was 42, she had a two-year-old granddaughter; when her mom was 42, she had a daughter in college; and now at 42 herself, Angela has 9 and 11-year-old sons and is sometimes referred to as "the young mom" at school pick up by mom-friends 5 to 10 years her senior.
Like more than one character on this list, Melissa has learned that sometimes your 40s come with brand new obsessions, like a newfound love of gardening. We appreciate the self-assuredness that comes with age because it can help you jump into new things for the experience without worrying as much about being perfect.
Common Literary Themes
While no two experiences are alike, there are certain common threads that run through many 40-something stories. The old adage "life begins at 40" reflects that, by this decade of life, many people have acquired the skills, experiences, and sense of self to design a life they love. Of course, on the flipside, this is also a prime decade for the adage "life is what happens when you're busy making other plans." Many of the characters on our book list are confronted with reinventing themselves when life takes an unexpected turn.
As we've said before, one of our main goals for the Lifetime of Reading Challenge is to create understanding and reinforce an appreciation for those in different phases of life. As a result, in researching books to recommend for this month, we've focused primarily (but not exclusively) on contemporary stories with protagonists in their 40s. We've curated a diverse list of recommended books with main characters in their 40s that reflect a wide range of life experiences during this decade of life. These books deal with a range of topics, including career, family, and romance at 40. The titles feature both female and male protagonists who vary in race, ethnicity, religion, sexual orientation, class, background, lifestyle, and more.
Other Books to Consider
If you are specifically interested in reading 40-something main character books that are set in a different part of the world, we recommend taking a look at our Book Voyage reading lists, which are organized by region. Additionally, if you're looking for a book that provides a historical perspective, our Decades Challenge reading lists, which cover the 1880s through the 2010s, are a great place to start!
You are welcome to choose any book that you'd like to read for the challenge this month, but we hope that our list of books about life in your 40s provides a good starting point. As always, we've selected a combination of newer releases as well as older titles that are usually available without a wait from your local library.
Book Lists By Character Age