Welcome to the 2023 Version of our Lifetime of Reading Challenge!

While our challenges have always followed a one-book-per-month format, with a designated order, we wanted to offer one totally self-paced challenge for 2023.
Life doesn't always allow the same amount of reading each month, so this is our most flexible challenge so far!
What is the Lifetime of Reading Challenge?
Throughout the year-long challenge, you'll enjoy a wide range of books featuring main characters of different age ranges.
The challenge was inspired by YOU, the amazing people who have read with us over the past three years. While we're both in the middle and enjoying our early 40s, we have readers ranging from their early 20s to 80s. No matter the age, we're constantly impressed by a willingness to learn and stretch beyond your normal reading comfort zone.

Each decade of life brings different joys and challenges. It's easy to dismiss those younger or older, but we believe that each generation is worth embracing and has plenty of things to teach us. We're stronger working together and finding similarities instead of focusing on differences. While everyone's individual story is unique, we hope the challenge will reinforce our appreciation for those in different phases of life.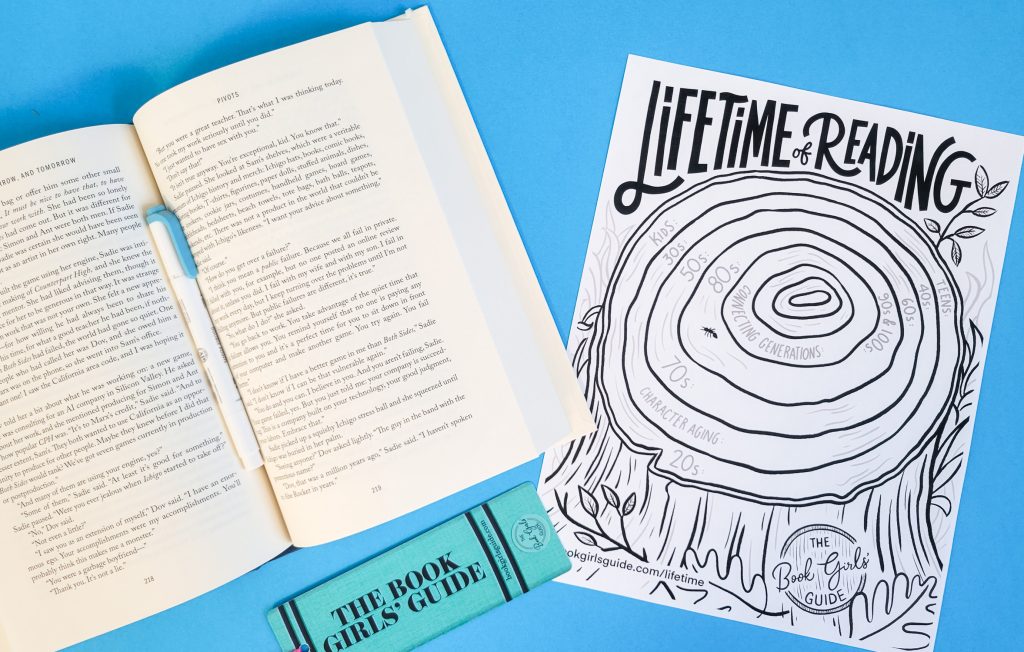 How does the Decades Challenge work?
For the challenge, there are ten prompts consisting of age ranges and two prompts showing different aspects of aging for a total of twelve books read for the challenge by the end of the year.
THE TWELVE PROMPTS ARE:
Child Protagonists (under 12 years old)
Teenage Protagonists (13-19 years old)
20-Something Main Characters
30-Something Main Characters
40-Something Main Characters
50-Something Main Characters
60-Something Main Characters
70-Something Main Characters
80-Something Main Characters
90 & 100-Something Main Characters
Character Aging Through the Book – These books follow someone's life through multiple decades so you can see how they grow and change over time.
Books that Connect Generations – These books feature strong relationships between characters of different generations. For example, a younger character whose life is improved by a friendship with an older character or vice versa.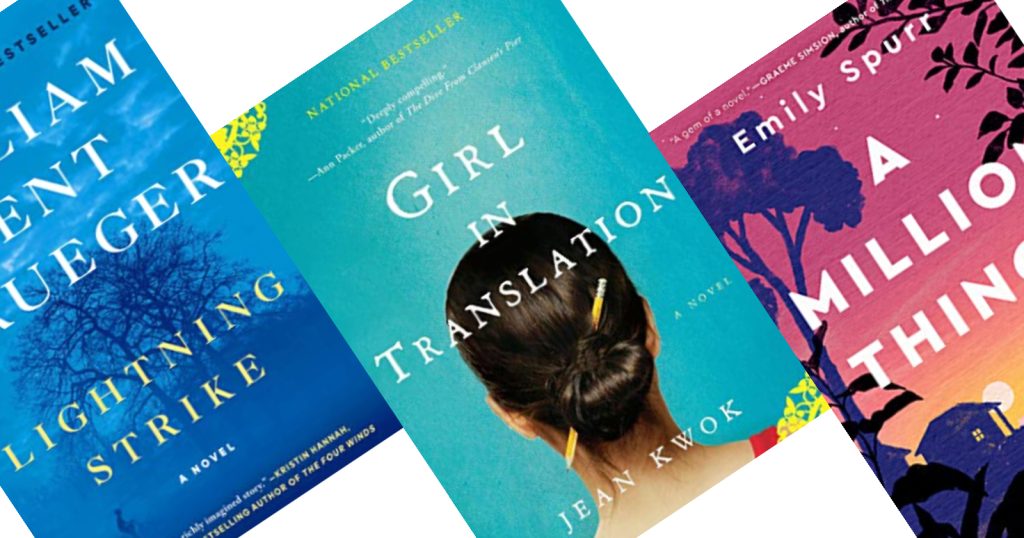 Because this challenge is now self-guided, you can start with whichever prompt you'd like!

For each prompt, we curate a diverse list of book recommendations for you to use. Everyone should be able to find something that suits their reading style and mood without spending hours researching novels on their own.
Review the lists (linked further down in this post) and select one of our suggestions or choose your own book that meets the theme.
When you finished reading, if you'd like to share your thoughts on the book, we will have a space to do that in our optional interactive Facebook group. You'll find a link to the Lifetime Challenge review thread in our newsletter each month. You won't need to fill out a book selection form or log for this challenge in 2023.

After reading, you can wait until the start of the next month to pick your next prompt or jump in right away since all the book lists are already provided.
What kinds of books are included?
As with our other challenges, the Decades Challenge and Book Voyage: Read Around the World, we provide a carefully researched list of highly-rated titles for you to choose from each month. Whether you're looking for historical fiction, contemporary novels, young adult, or a bit of mystery, we'll have you covered with great books!

We select a combination of new books and older books that are more likely to be available without a wait from your local library. Any book lovers should be able to make it to the end of our challenges using only the library if they would like.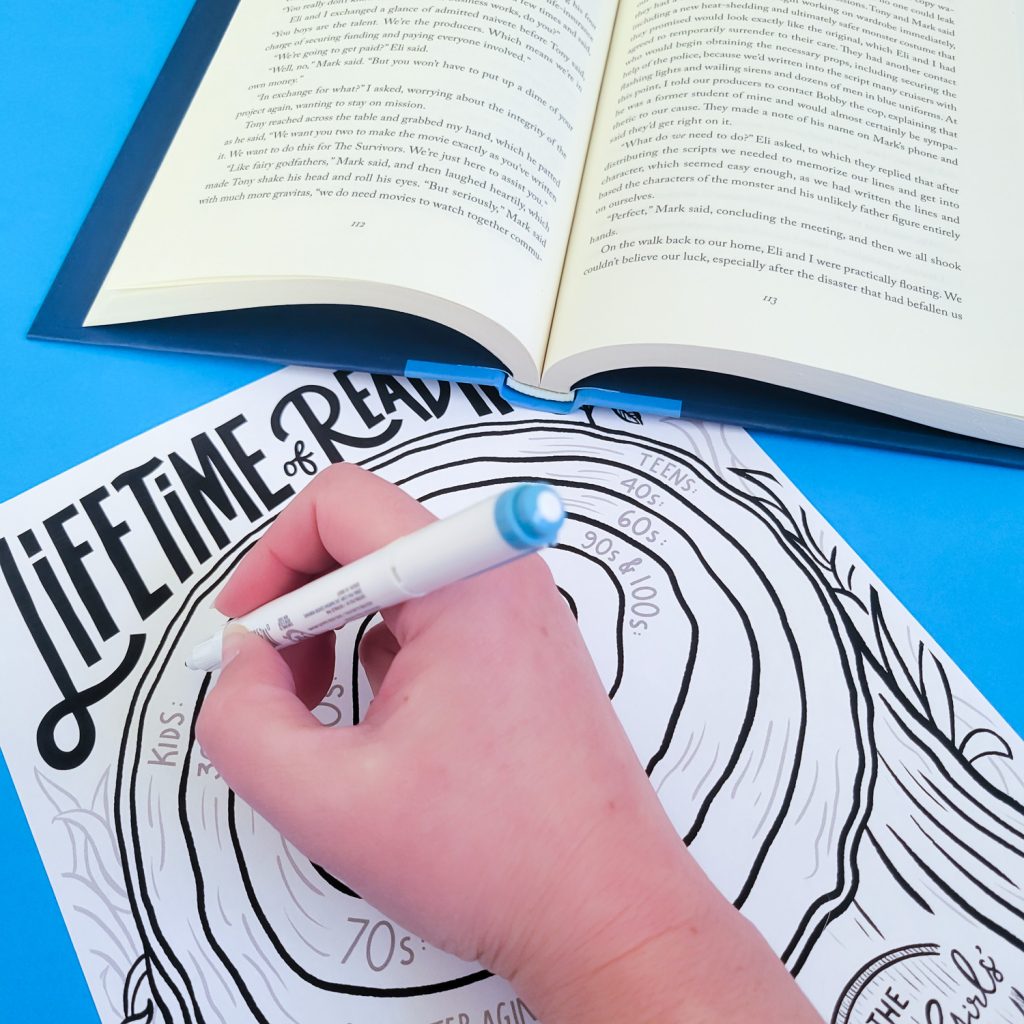 That sounds fun! How do I join the Lifetime of Reading Challenge?
We have a free printable book tracker for you to log your challenge reads through the year. We couldn't think of a better representation of a lifetime than the rings of a tree.
You'll find the youngest ages around the newest ring on the outside of the tree, and follow the rings inside as the age of the main character increases. The center of the tree is books featuring strong connections between characters from different generations.
To get the tracker, along with our weekly email newsletter each Friday, fill in the box below. If you're already on the email list, it's okay to fill it out again for this year's tracker using your same email address (you won't end up getting double emails from us – we promise)!

If you're joining the challenge, in addition to the email list, we recommend joining our Read with the Book Girls Facebook group. It's a friendly place where we discuss books, both for the challenges and anything else that we're reading. In the group, you'll also have an opportunity to review your challenge books each month, ask questions, and provide input.
Where do I find the book lists?
Links to our book recommendations for all twelve of the challenge prompts can be found below.

While you don't need to read through the ages in order, and we're not going to be updating the list in full each month like we do for the other challenges, we DID update the Books with a Child Main Character post with some new books for you this week!
Do I have to read in age order?
Absolutely not! You can start with child protagonist, 90-100 somethings, your own age group, or any other method you'd like! By the end of the year, you'll still have a fresh perspective on what struggles and perks come with different age ranges.

In many ways, the characters on the older end of the age spectrum are our personal favorites. However, depending on your book selection, if you go in age order, you may end up with several months in a row of characters facing end-of-life situations. It might be nice to break those books up with another prompt in between.
I completed the challenge last year. What's new for 2023?
The Lifetime of Reading Challenge feels like it had the biggest format change of our challenge options, but in reality, you can complete the challenge in exactly the same way if you'd like. Or, you can switch things up and complete the ages in a different order.

For 2023, this challenge won't have discussion groups or designated dates the book lists are updated. The lists will still be occasionally updated, so while you're welcome to go through the lists and pick all 12 books now, you may find if you look again later in the year, a few more titles may have been added.

Additionally, for those doing more than one of our challenges, you won't find the Lifetime books on the crossover list since everyone will be working on the prompts in a different order. However, you're welcome to count a book you read for Lifetime in another challenge if it meets that month's prompt!
The opposite is also true – if you're reading a Book Voyage title and it's clear the character is in their 40s, you can count it for Lifetime!
Frequently Asked Questions
How much does it cost to participate?
All our challenges are free for everyone!
It takes an extraordinary amount of time to put together and administer the challenges, but we never want finances to be a barrier to participation. At the request of some of our readers, we do have a totally optional Buy Me a Coffee membership site for anyone willing to help with expenses.
As a thank you, it comes with some extra perks, including bonus book recommendations, printable book journal pages, and even a cute bookmark in the mail after you've remained a member for at least three months. Since we're all doing this challenge in a different order, the BMAC journal pages for Lifetime will NOT have book titles prefilled as they will be for the other 3 challenges. Instead, you'll find a blank journal page pre-filled with the Lifetime heading.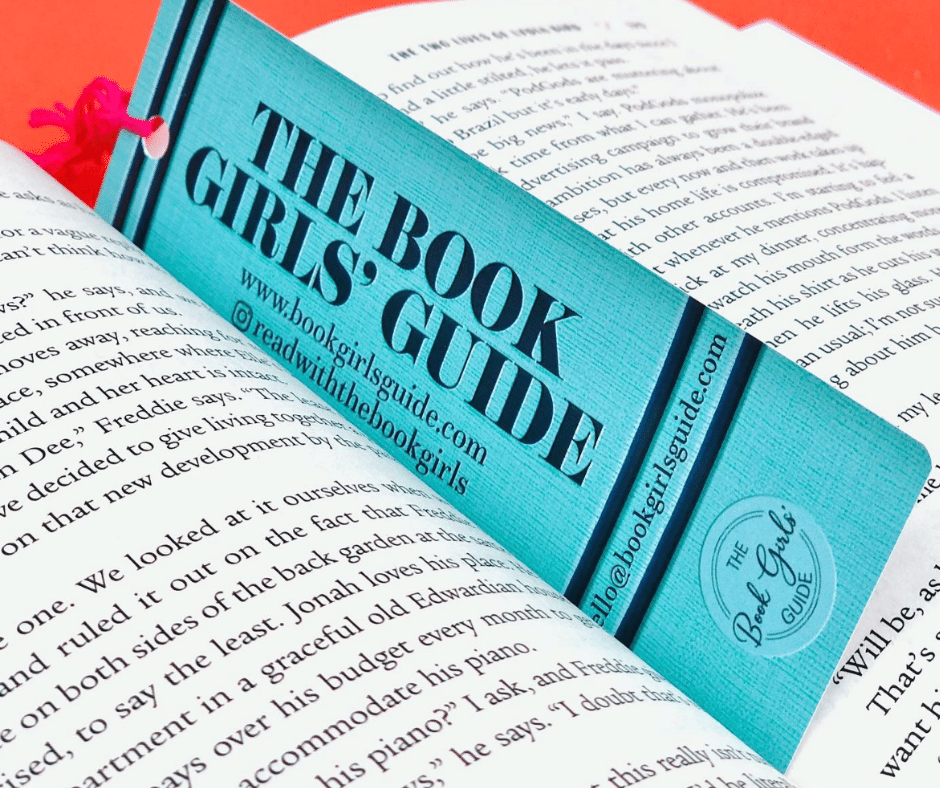 When will the Lifetime of Reading challenge book lists be published each month?
You can access all 12 reading lists right now! Hooray! We'll absolutely still add new books as we find them through the year, so check back each time you start a new age range.

How do I find the book lists each month?
We recommend bookmarking this post to be your easy-to-access link to all the posts. However, we'll also include a link to the Lifetime book lists in the Friday email Challenge section.

Do audiobooks count?
Absolutely! We're equal-opportunity readers. Whether you use a paper book, ebook, or audiobook, if you're left knowing the story the author set out to tell, you "read" the book!

Why aren't there as many international books on this list?
We have three different challenges available, and each had an underlying goal of reading that puts us in different people's shoes. The Decades Challenge shares what it was like living in different time periods, the Book Voyage Challenge shares experiences from well over 100 countries around the world, and the Lifetime of Reading transports us to different ages of life.

While we're absolutely not excluding international books, they aren't our main goal for this challenge. Instead, we're seeking contemporary books that highlight characters' ages and phases of life in all different ways. Instead of all the book being set outside the US, you'll see more immigrant experiences at different ages, characters of different physical and neurological abilities, different financial statuses, different regions & cultures within the US, different family structures, and so much more. We hope that by doing this, we'll be able to understand, relate to, and maybe even form deeper relationships with others of different backgrounds right within our own communities.

You'll also find many books with characters of all ages, set all around the world, on our Book Voyage reading lists, so those could be a good starting point. Many of the book descriptions mention the age of the main character.
Can I choose my own book?
Absolutely! You can choose any book from our list, or any other book that meets the challenge prompt for that month. In fact, if you really enjoy an off-list book you select, we'd love to hear about it on this form. Keep in mind that if you want to participate in our monthly book discussion groups, those are created for a sub-set of books from the list.
Can I recommend a book for a future month?
We always love book recommendations! If there's a book you think we should know about for one of the upcoming age ranges, tell us about it using this form. Please only recommend books that you've already read.
Will there be an opportunity to discuss the books we read?
While we won't have full discussions set up since everyone will read in a different order, we will have an ongoing monthly Facebook thread to share your thoughts on your Lifetime reads and see what others are reading.
Can I still do the Decades & Book Voyage Challenges?
Yes! In fact, you'll be in great company. We'll be those doing the challenges again in 2023 ourselves and we've already heard from many in the Facebook group that plan to join them again as well.
We also have a BRAND NEW CHALLENGE FOR 2023! Join us to Read Around the US in 12 books throughout the year.

Depending on your reading goals, you can do just one of the challenges per year, or complete them in any combination.

Can I join the Challenges after January?
Absolutely! How you choose to participate is totally up to you, so there's no such thing as being behind and any month can be a great time to start! Because the challenge is self-paced, you can complete the prompts on your own schedule.
Remind me again, how do I get the printable reading challenge log?
Just scroll back up and fill out the email form in the blue box, which is located above the links to all the book lists. If you're already on the email list, it's okay to fill it out again for this year's tracker (you won't end up getting double emails from us – we promise)
What if I signed up, but didn't receive the email?
Sometimes our emails might get trapped in your spam filter. If you signed up, but haven't received the email with the printable reading tracker, be sure to check your spam folder. To keep future emails out of the spam folder, be sure to add our email address to your address book, or drag our emails over to your Primary tab in Gmail. If you've checked your spam folder and still don't see the email from us, then please send us a quick email to hello(at)bookgirlsguide(dot)com and we'll get it sorted out for you as quickly as we can.

Can we use the challenge for our book club?
Absolutely! We've had many book clubs use our challenges and reading prompts to help guide their book selections throughout the year. We recommend giving each member a link to the monthly book list and letting them vote on their top 3 options to help narrow down the book suggestions before making the final selection as a club.
Is this group only for girls?
Not at all! We welcome all to read with us. The "Book Girls" refers to us – two adult friends who love books and wanted to help guide and inspire other readers. We're also huge fans of the Gilmore Girls! You can read more about how this site started and who we are at the beginning of our books about friendship post.

We look forward to journeying through this reading year with you!