Welcome to year 4 of the Book Voyage Read Around the World Challenge. Whether it's your first time or your fourth joining Book Voyage, we're happy to have you joining us for our 2024 reading challenge as we armchair travel around the globe.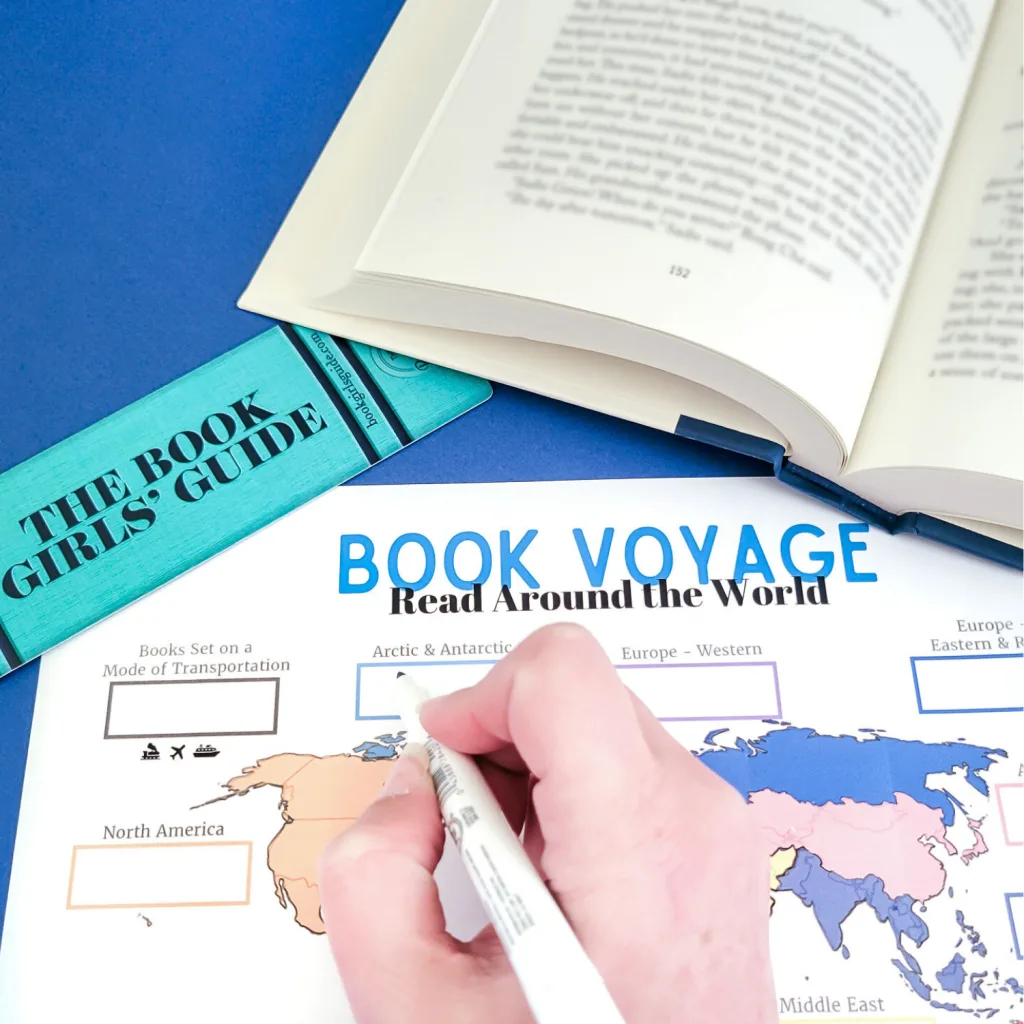 How Does the Book Voyage Challenge Work?
Every month, you will read a book of your choice set in a different region of the world. As we journey together, we'll learn about the vast and beautiful differences in both landscape and culture.
For each monthly prompt, we'll be your travel guides. We do the research for you, carefully curating book recommendation lists that span a wide variety of genres. This allows you to spend more time reading and less time researching.
Join our Facebook group to chat throughout the month with others who are reading about the same regions of the world. Then, when you finish your book for each prompt, go deeper with book club-style conversations in our Together Book Discussion Forum.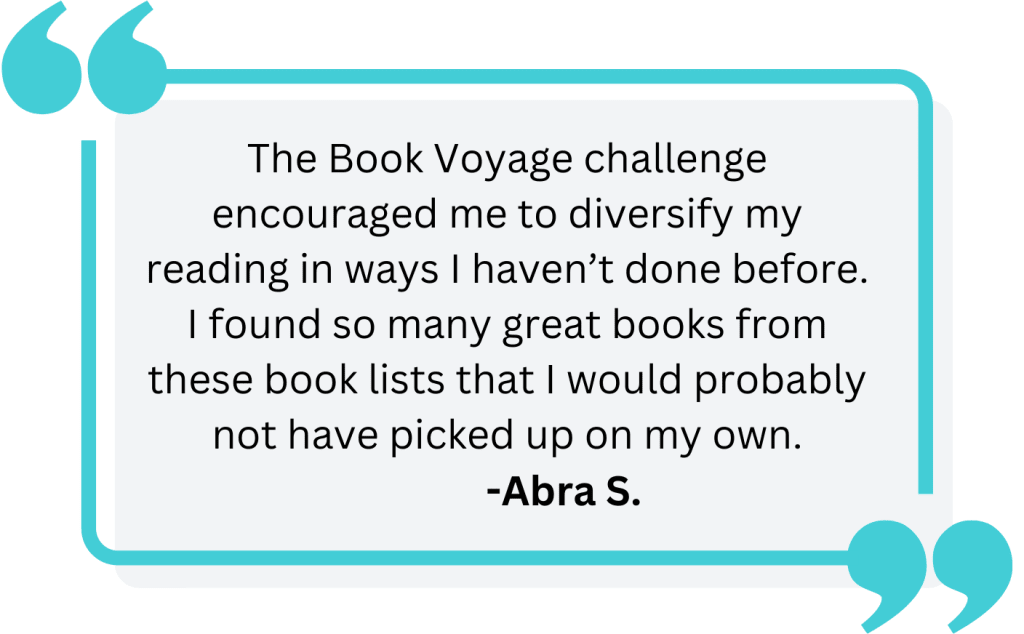 What Kinds of Books are Included?
As with our other challenges, we provide carefully researched lists of highly-rated titles for you to choose from for each reading prompt. The Book Voyage Challenge is perfect for anyone who loves to armchair travel or is interested in learning about different regions and cultures.
Each list includes a wide variety of genres, from contemporary and literary fiction to mystery, romance, and non-fiction. In addition to a range of genres, we always try to include diverse characters and authors. For this challenge, we also include many books by authors with strong ties to the region to add authenticity to your world reading.
The books are a mix of new releases and older books that may be easier to find at the library without a wait.
Within the book list, each recommendation includes a synopsis of the book and additional notes to help you select your perfect read. Many also have ratings from our readers who participated in prior years.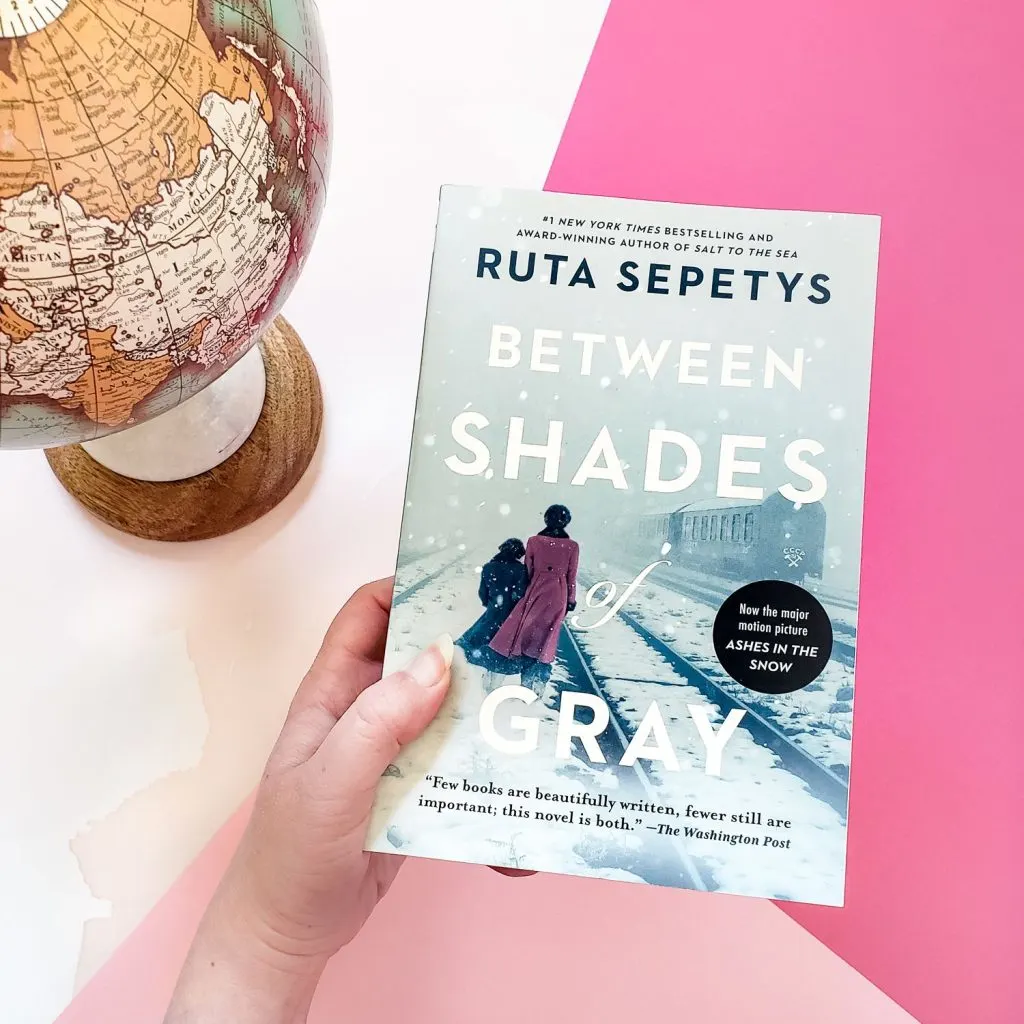 Bon Voyage means "good voyage" or "enjoy your travels" in French. We named our Around the World reading challenge "Book Voyage" as a play on words and a nod to this French phrase. We are excited to have you join us as we embark on our travels together through the pages of good books!
Join the Book Voyage Challenge
Our Friday email newsletter is the easiest way to ensure you're getting the newly updated book lists, and we will help you stay on track with friendly reminders while allowing you the flexibility to read at your own pace.
When you sign up using the box below, you'll get a welcome email with a link to download the cute printable tracker for this challenge. If you're already on the email list, it's okay to fill it out again for this year's tracker using your same email address.
If you're participating in the challenge, in addition to signing up for the email list, we recommend joining our Read with the Book Girls Facebook group. It's a friendly place where we discuss books, both for the challenges and anything else that we're reading.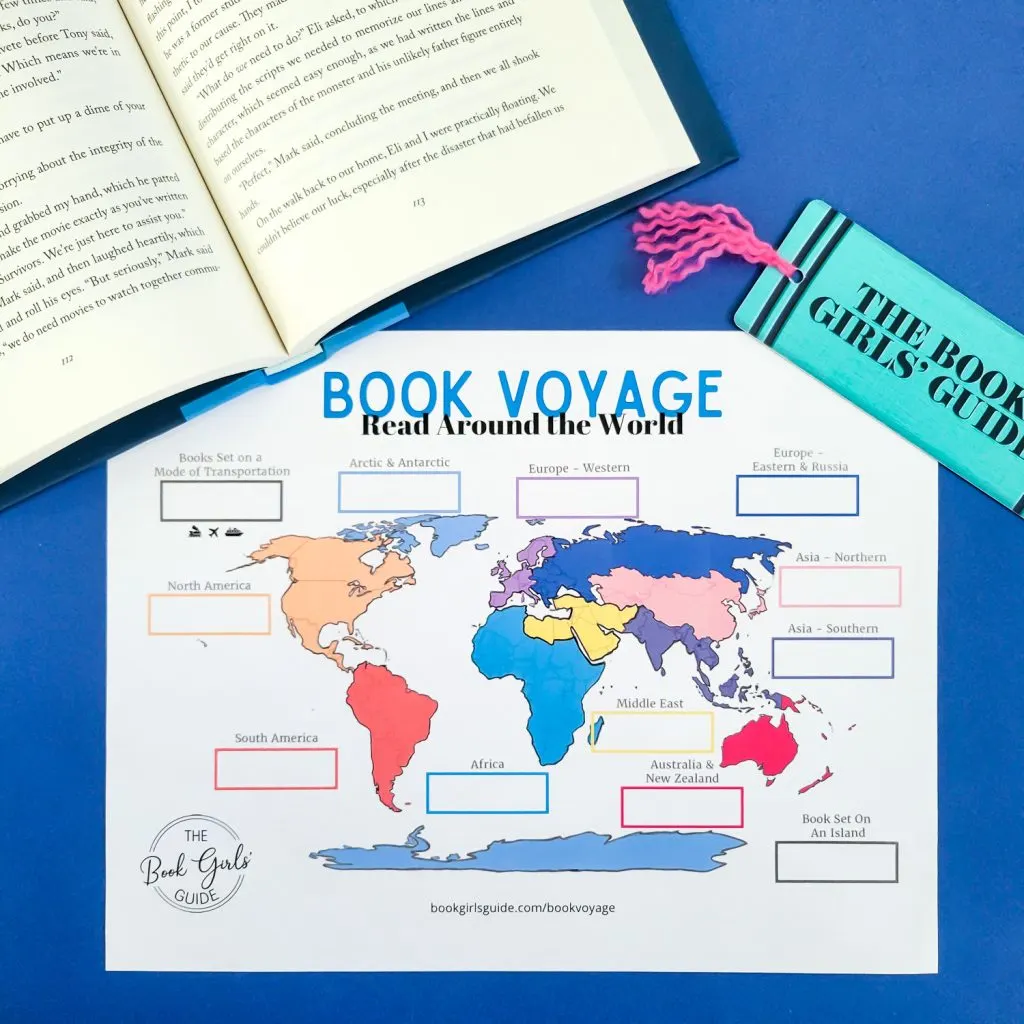 A Note About Geography
We took some liberties in dividing up the regions to create a 12-book challenge, so don't give our map to your kids for a geography test. For example, Russia is located partially in Europe and partially in Asia, but for our purposes, it is grouped with Eastern Europe. Australia is part of Oceania, but we're including the smaller island nations in our island month, along with other islands around the globe. There are other examples within our divisions of the Middle East, Europe, and Asia. Our book recommendation list for each region lists all of the countries that we've included for that month, so you'll never have to guess.
Printable Book Lists
Readers who support The Book Girls' Guide through our Buy Me a Coffee (BMAC) membership site have access to two different printable versions of this book list beginning on 12/8/23.

New for 2024, members can print a single page containing all the book titles from each guided challenge list. We will also continue providing the journal page format, which has space to indicate your interest level in each book, jot down notes, and rate the books once you have read them.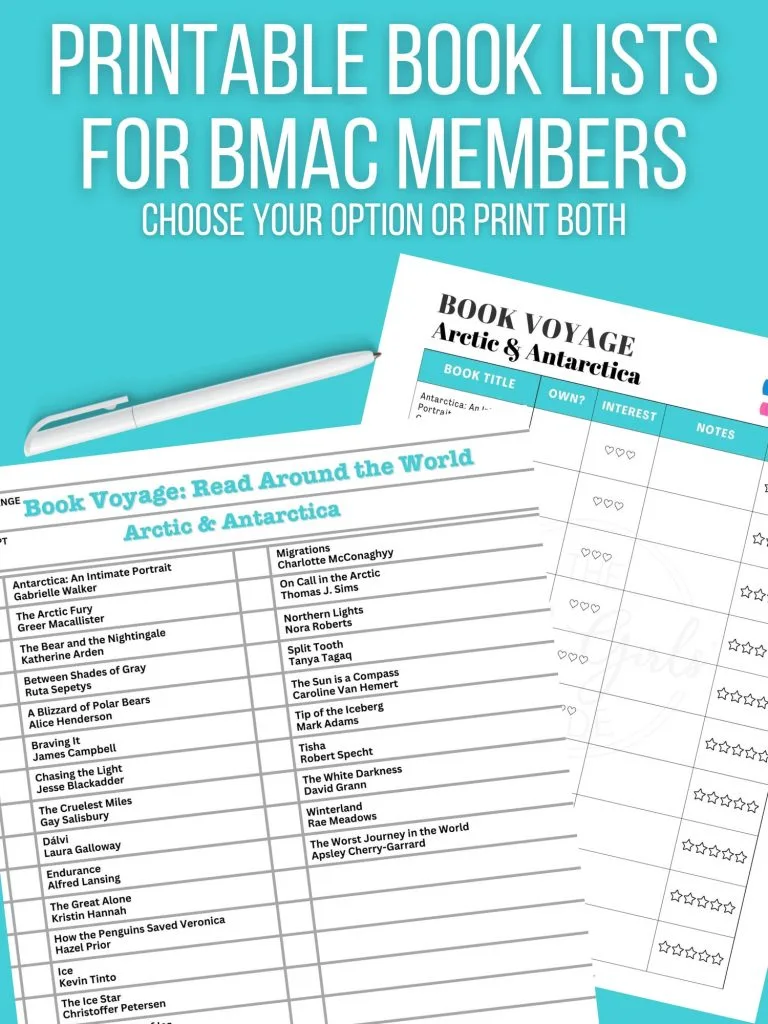 Our BMAC members (we call them our BFFs) help cover the cost of running the challenges so we can keep them free for everyone. You can read more about why our members are essential and learn about the perks of membership.
What Do I Do When I Finish Reading My Book Each Month?
Book Logs – Share Your Book Rating and Review
As a member of our email list and Facebook group, Read with the Book Girls, you can share your rating and other thoughts about your monthly challenge reads via our book log form. We share a link to the book log in the Friday newsletter every week.
The book logs help us determine which books should stay on our recommendation lists, which should be removed, and whether any changes are needed to our descriptions. Additionally, we use the log data to calculate the "BGG Reader Ratings" that you'll see noted for many of the books.
At the end of each month, we compile an infographic highlighting the top books from each challenge prompt. It's become a fun tradition that many look forward to in our newsletter!
Discussion Groups – Join the Conversation
Throughout the month, there will be opportunities to share your book selections and chat with other readers participating in the Book Voyage Challenge in our Read With the Book Girls Facebook group.
At the beginning of each month, we'll start a discussion thread for each book in our Together Book Discussion Forum. The first time you visit the Together Forum, you'll complete a simple one-time registration. We suggest starting with this handy tutorial to see how everything works.
When you finish your book for each prompt, visit Together to engage in book club-style conversations. We invite you to add questions in the forum and engage with others who have read the same book. Just keep in mind that the discussions may contain spoilers as they're intended for those who are finished reading. If you can't think of what to ask, check out our universal book club discussion questions.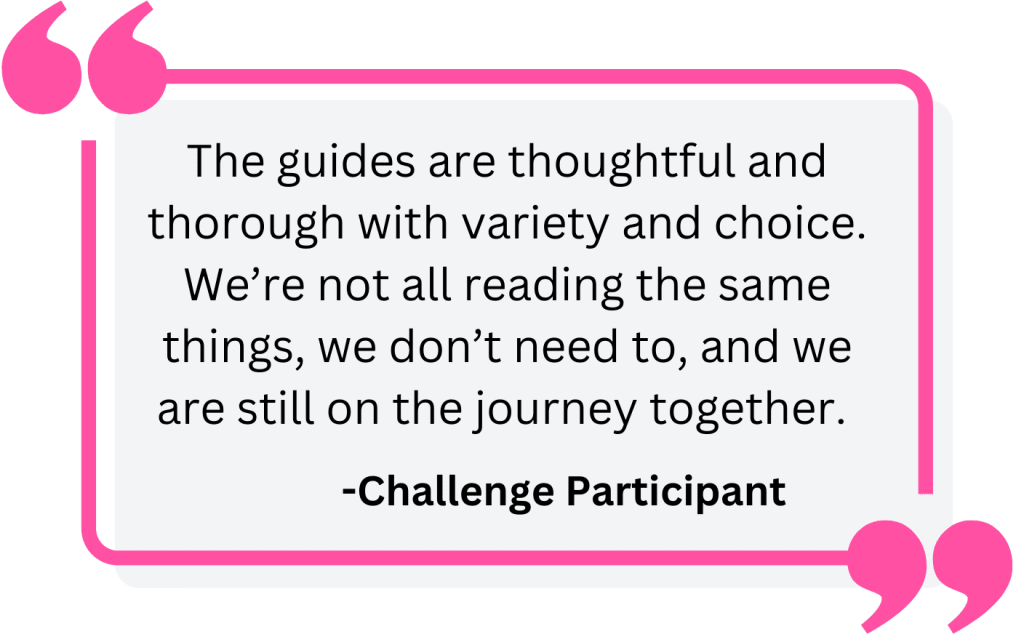 Additional Frequently Asked Questions
How much does it cost to participate?
All our reading challenges, as well as our other book lists and resources, are free for everyone! It takes an extraordinary amount of time to put together and administer the challenges, but we never want finances to be a barrier to participation. At the request of some of our readers, we established a totally optional Buy Me a Coffee membership for anyone willing to help support our work.
How do I find the recommendation lists when I'm ready for a new book?
You will always find a link to the two most recent reading prompts for the Book Voyage Challenge at the top of our homepage at bookgirlsguide.com. Another easy way to find the book lists on the homepage is using the "Find You Perfect Book Recommendation" section. Clicking "By Location Setting" brings up a dropdown with a list of each region (as shown below).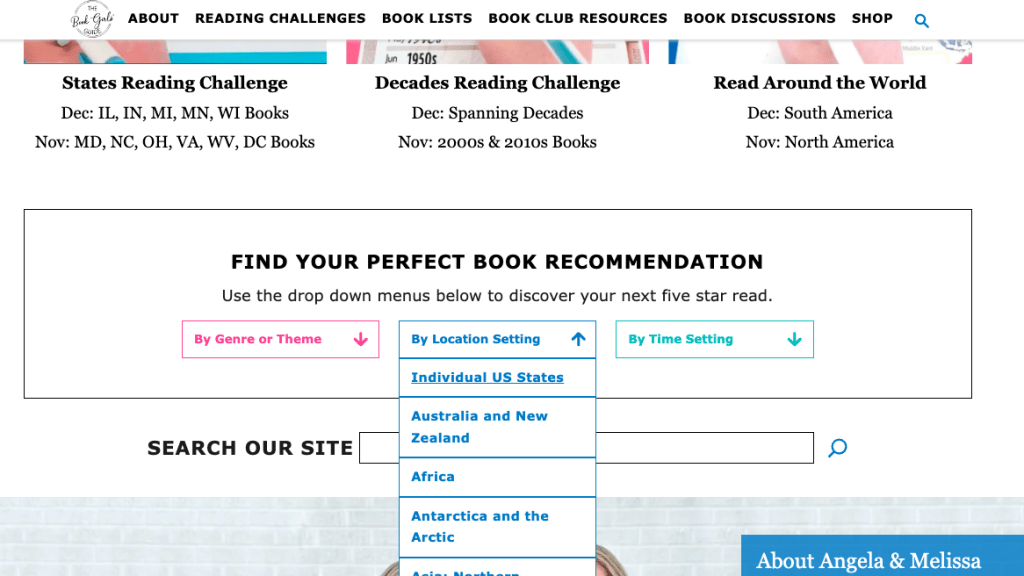 For your convenience, you'll also find a link to the Book Voyage Challenge book lists in the Reading Challenge section of our newsletter each Friday morning. Be sure to register for this challenge via the email form in the blue box above to be added to our weekly newsletter list.
Do you host any other reading challenges?
Yes! We have five reading challenges – three of which are "guided challenges" (including the Book Voyage Reading Challenge) and two that are self-paced. You can find more details about all of our challenge options here.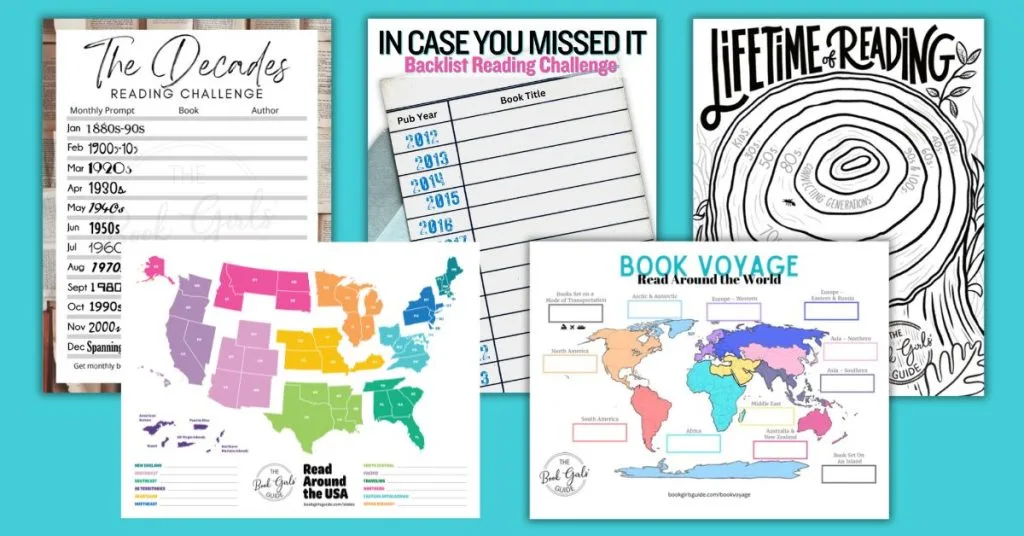 You are welcome to join in as many challenges as you would like each year. Many of our readers participate in more than one.
If I'm doing more than one challenge, can a single book count twice?
Yes, absolutely! In fact, we even help you find books that meet more than one challenge with a special crossover list that we share in the newsletter each month. This list identifies the books that meet more than one challenge prompt for that month.
Do audiobooks count?
Yes! We're equal-opportunity readers. Whether you choose a paper book, ebook, or audiobook, if you finish the material knowing the story the author set out to tell, you've "read" the book!
Can I choose my own book?
Absolutely! You can choose any book from our list or any other book that meets the challenge theme of the challenge prompt. In fact, if you really enjoy an off-list book you select, we'd love to hear about it on this form.
Can I recommend a book for one of the Read Around the World book lists?
Yes, we'd love to hear your recommendation, and you can submit it using this form. Please only recommend books that you've already read and rated highly.
How do I get the printable reading challenge log?
Just scroll back up and fill out the email form in the blue box, which is located above the links to all the book lists.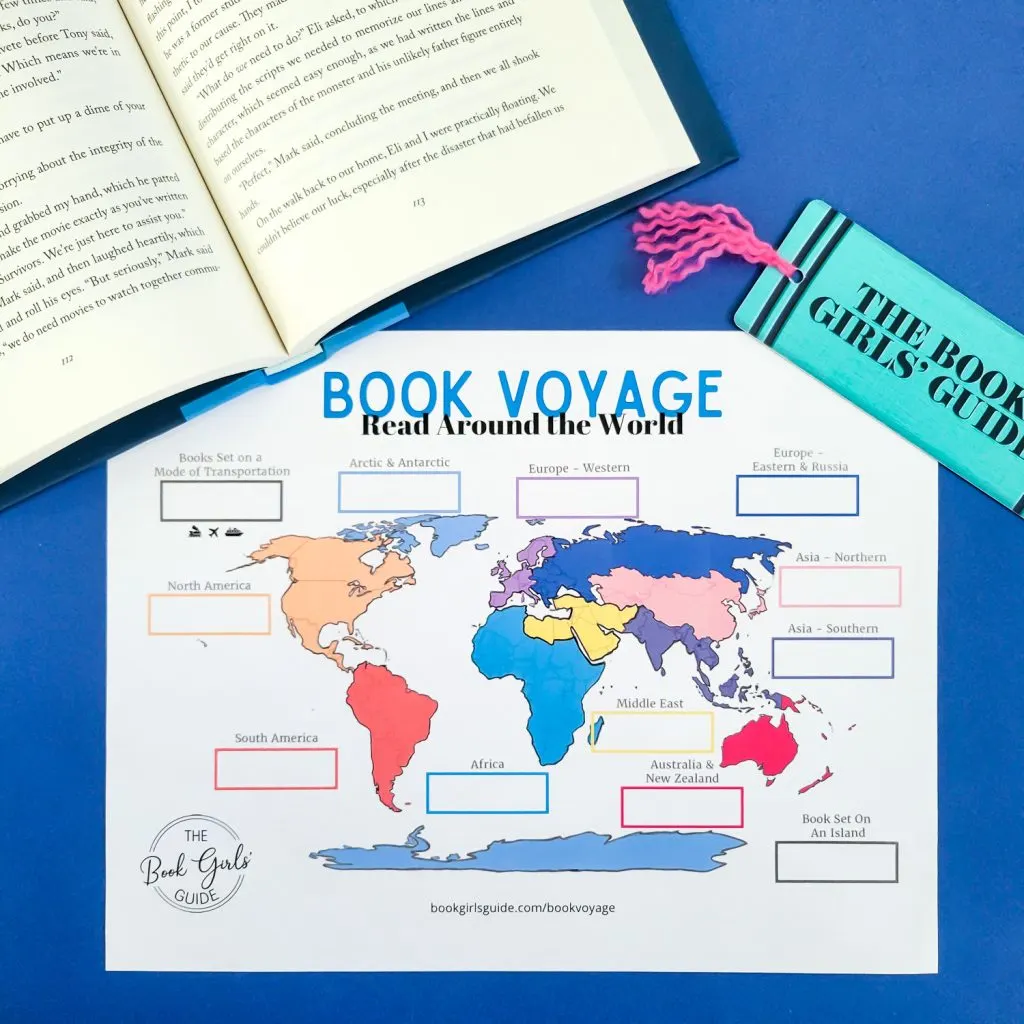 What if I signed up, but didn't receive the email?
Sometimes, our emails might get trapped in your spam filter. If you signed up but haven't received the email with the printable reading tracker, be sure to check your spam folder. To keep future emails out of the spam folder, be sure to add our email address to your address book, or drag our emails over to your Primary tab in Gmail. If you've checked your spam folder and still don't see the email from us, then please send us a quick email to hello(at)bookgirlsguide(dot)com and we'll get it sorted out for you as quickly as we can.
Can I join a reading challenge after January?
Absolutely! How you choose to participate is totally up to you, so there's no such thing as being behind. Any month can be a great time to start!
If you're a voracious reader, you can double up and complete multiple prompts in one month. Sometimes, people jump in and start with the current month's prompt, while also picking a second book from earlier in the year.
But really, no pressure from us. We're happy for you to join in whenever and wherever!
What happens if I miss a month?
Nothing at all! Life happens, and we're committed to our challenges being fun and not stressful.
While it feels great to make it to the end of the year with all 12 months completed, sometimes it's better to skip a month and move on to the next prompt when you can. You can also go back and read the month you skipped if you'd like, but please don't feel any pressure to do that.
Do I have to go in order?
Yes and no. We'll be updating the book lists each month based on the schedule we've laid out, so reading in order will ensure that you always have the best, most up-to-date book recommendations based on reader feedback from last year.
If the discussion groups are important to you, that's a good reason to stick with the recommended order of the prompts. That way, you'll be reading about the same region of the world as other participants.
Can we use the challenge for our book club?
Absolutely! We've had many book clubs use our challenges and reading prompts to help guide their book selections throughout the year. One suggestion is to give each member a link to the book list for each prompt and let them vote on their top 3 options to help narrow down the book options before making the final selection as a club. We also have a list of Universal Book Club Discussion Questions to spark insightful conversations, no matter what title your club is exploring.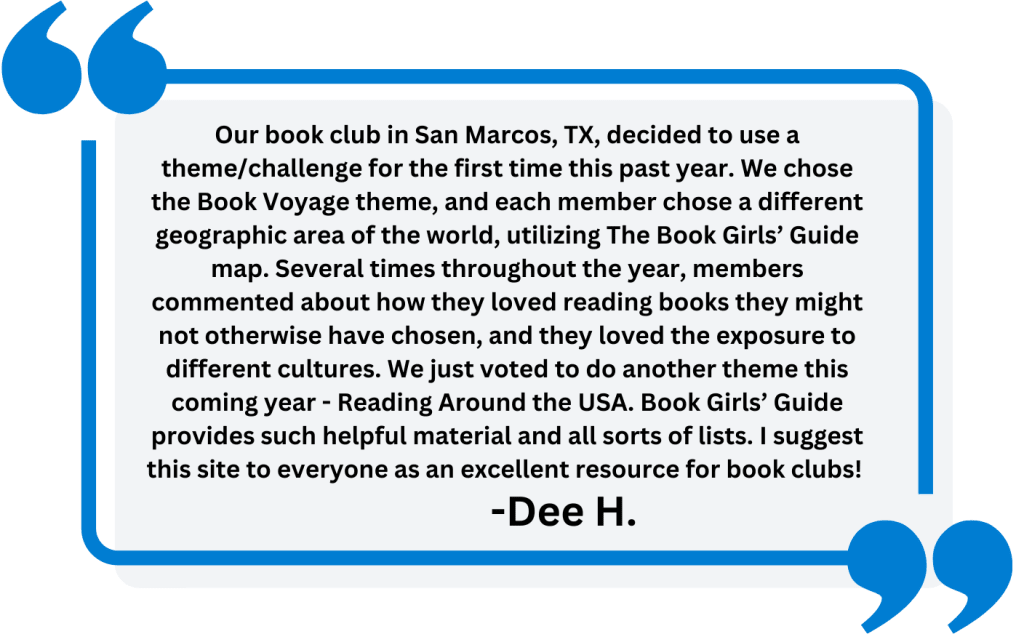 Can my kids do this challenge with me?
Absolutely! In fact, we even have a Read Around the World Kids' Challenge with a printable coloring map just for them, as well as a list of book recommendations for every continent, organized by reading level ranging from picture books and early readers up through middle grade.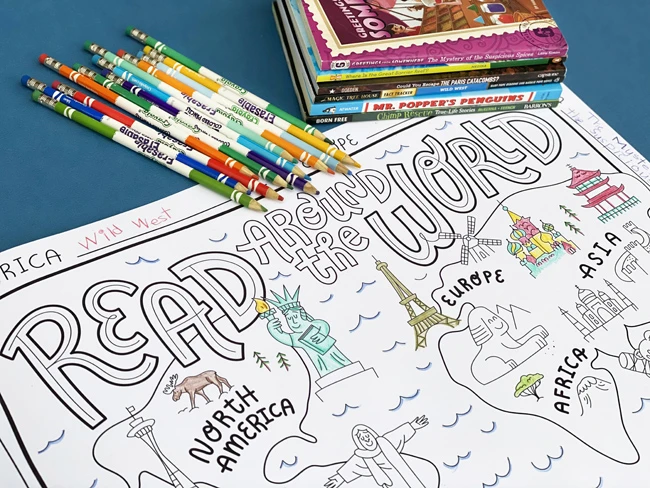 Book Girl Angela and her sons have enjoyed participating in this challenge together, with Angela reading a book from the adult list and the boys reading a book about the same country from the kids' list. Then, they chat about what they each learned about this country while enjoying a meal inspired by the region.
We look forward to reading with you this year!