Thanksgiving is a wonderful time to join together with family and friends to pause, reflect, and be thankful! But let's be honest, Thanksgiving can also be a stressful time when it comes to preparing the feast or traveling through crowded airports and across snowy roads. And then, of course, there are those tricky family dynamics. This great list of Thanksgiving books for adults will help you celebrate while also taking a little time for yourself!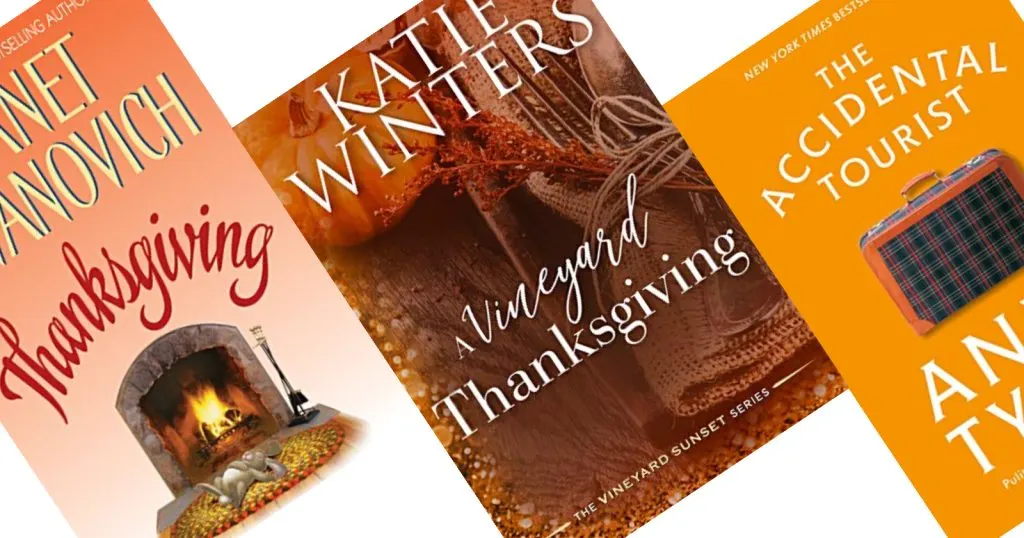 Three Categories of Books On This List
Book Club Books for Thanksgiving
These are highly rated novels that make for great group discussions. Each of these books features an important scene that takes place at Thanksgiving, but the holiday is not the main focus of the book.
Thanksgiving Cozy Mysteries
These light and humorous Thanksgiving books make the perfect quick reads during a busy holiday season, and they lean pretty heavily into the theme. Like all cozies, they are less graphic and intense than other books in the mystery genre. Most of the Thanksgiving cozy mystery books on our list are part of a longer series. While they read well as standalones, we've included notes about each series in case you want to continue with the characters.
Thanksgiving Themed Books for Adults
If you're looking for a Thanksgiving fiction book focused on the holiday, we've got you covered. Whether you want a classic, a funny rom-com to relieve turkey day stress, or a book that discusses the origins of the holiday, you'll find them in the final section of our book list.
Five More Thanksgiving Novels to Consider
We wanted to acknowledge that we left off 5 books that seem to be on everyone else's Thanksgiving books list. None of them made the final cut for our list because they had very mixed reviews or simply because they didn't sound like books we'd enjoy reading. But, since they seem to be standard book recommendations for Thanksgiving, we've listed them below. Be sure to check the reviews for yourself.
Books to Share with the Kids in Your Life
Thanksgiving is very much a family holiday, so it's the perfect time to share books with those you love! After you've picked out a book for yourself, browse our list of Thanksgiving books for kids. It's full of titles that you'll enjoy reading with the young ones in your life. It includes board books, picture books, and easy chapter book selections that help children understand the season of giving thanks.