Sharing is caring!
For month two of the Book Voyage reading challenge, we will be reading books set in Western Europe! Of all the regions on our armchair travel journey, this is likely the one you've already read the most about outside of North America.
We worked hard to include plenty of variety, so you can still discover somewhere/something new to you!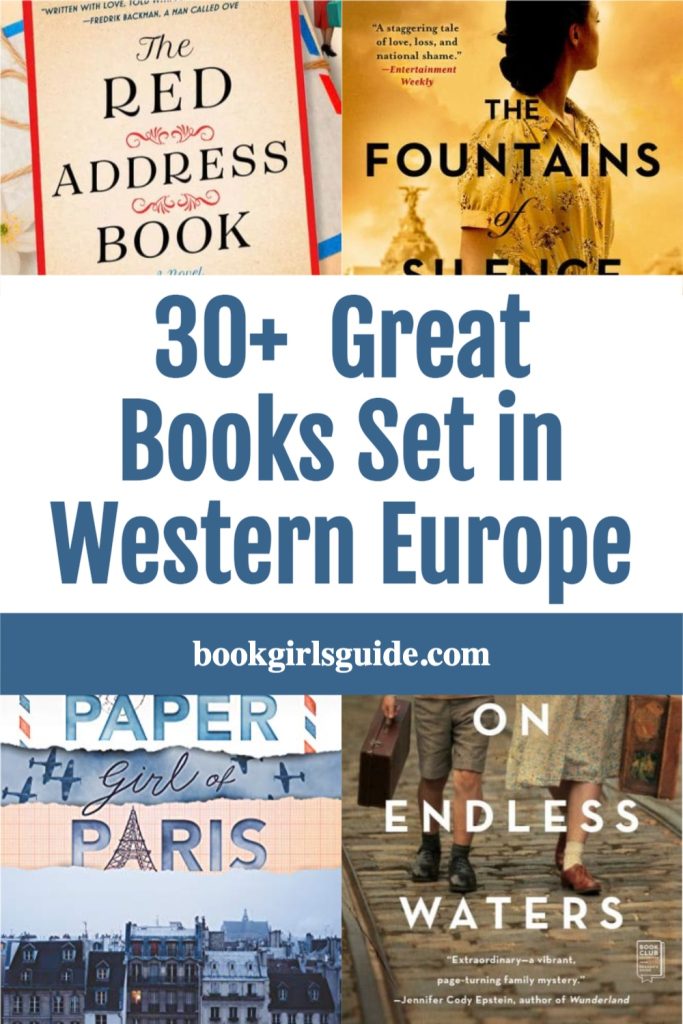 Depending on the context – geographical, cultural, or historical – you'll find various answers as to which countries are classified as "Western Europe."
For purposes of this reading challenge, we've included the following: England, Wales, Scotland, Ireland, Norway, Denmark, Sweden, Finland, Portugal, Spain, France, Belgium, the Netherlands, Luxembourg, Germany, Austria, Switzerland, and Italy.
If you stumbled on this post and aren't already doing the challenge, we'd love you to join in! You can read all about the Book Voyage challenge, download your free printable map book tracker, and find new book lists for each month here.
As always, you are welcome to choose any book set in this region that you'd like, but to help you get started, we've compiled a great list of novels set in Europe's western countries, as well as some YA historical fiction, memoirs, and non-fiction reads. We focused on finding book recommendations that will transport you to the country of your choice as you read.
If you love historical fiction, there are countless excellent books about life throughout Europe during both WWI and WWII.
We focused book recommendations outside of those time periods for the majority of the Western Europe list, but if you're looking for European historical fiction set during WWI or WWII, you'll find more great books on these lists: Books Set in the 1910s, Books Set in the 1940s, and Books Like the Nightingale.

Throughout the list, we noted those books currently available as part of the Kindle Unlimited subscription.
The Best Books Set in Western European Countries
As an Amazon Associate and member of other affiliate programs, we may earn a referral fee from qualifying purchases.
Members of our Facebook group, Read with the Book Girls and our email list have the option of logging their monthly challenge reads with us. If you need help choosing a book, we've added an infographic below that shows those readers' favorite books set in Western Europe last year.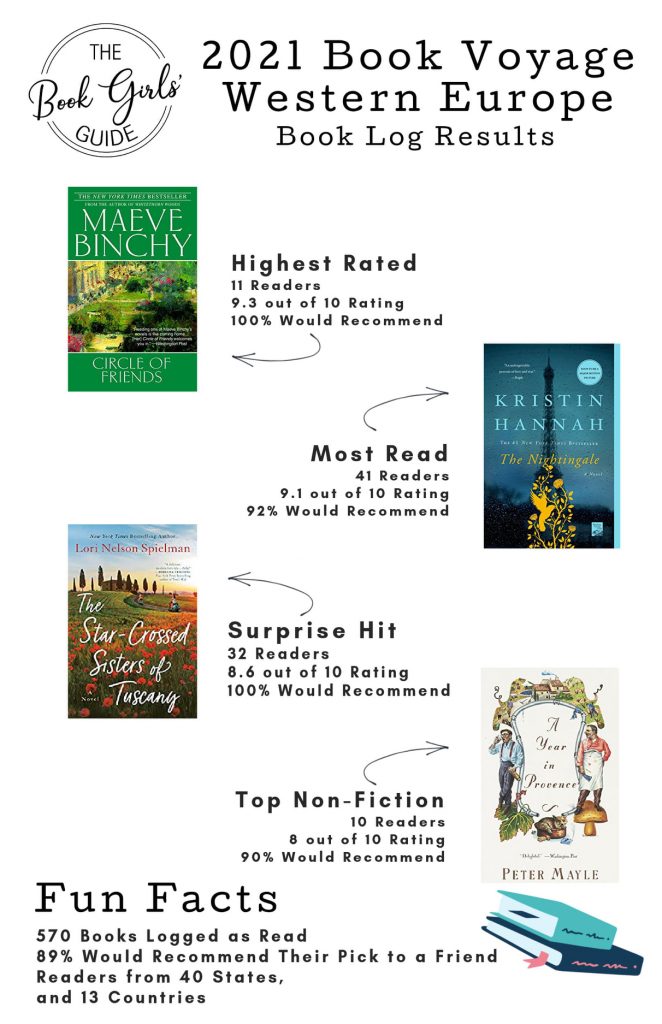 Next up, pick your book set in Eastern Europe or Russia!
Love reading as much as we do?
Join us for more free content, reading challenges, and discussion over in the Book Girls' Guide Facebook Group!