Welcome to year 4 of the Decades Reading Challenge.

We started this reading challenge with a small group of readers and have loved seeing it grow each year. Whether it's your first time or your fourth, we're happy to have you.
Throughout this 2023 reading challenge, we'll be reading some of the best books set in each decade from the 1880s through the 2010s.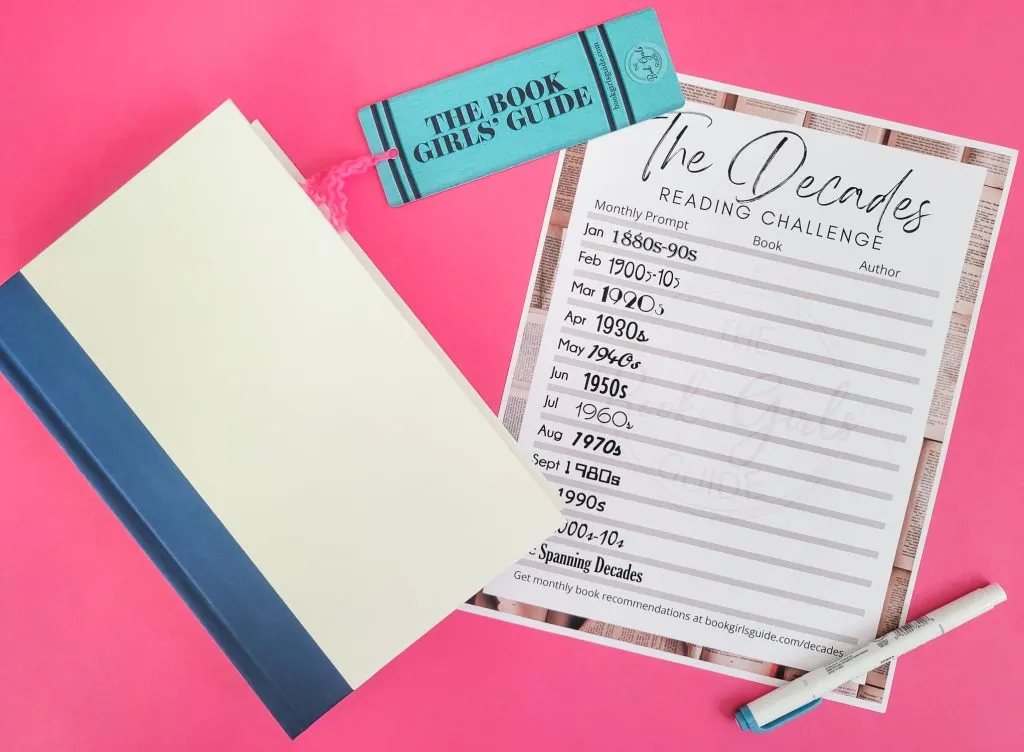 What is the Decades Challenge?
Each month, you'll read one book SET in a different decade, in chronological order. The book doesn't have to be written during the decade, they just need to take place during it to give you a feel for life in that era.
How does the Decades Challenge work?
For each monthly prompt, we curate a diverse list of book recommendations for you to choose from so everyone can find something that suits their reading style and mood.
Review the list and select one of our suggestions OR choose your own book that meets that month's prompt.
When you're done reading, we'd love you to submit your rating and any feedback on our book log, which you'll find in each Friday newsletter during the month. This is not mandatory but is super helpful.
OPTIONAL STEPS FOR ANYONE INTERESTED IN DISCUSSION
When you've chosen your book, fill out the book selection survey in your Friday newsletter and let us know what you plan to read.
If enough other readers selected your book, you'll be able to participate in an online discussion about the title within the Read with the Book Girls Facebook Group at the end of the month.
We also have a spoiler-free monthly book review thread within the Facebook group for anyone to share thoughts on their pick or see what others enjoyed.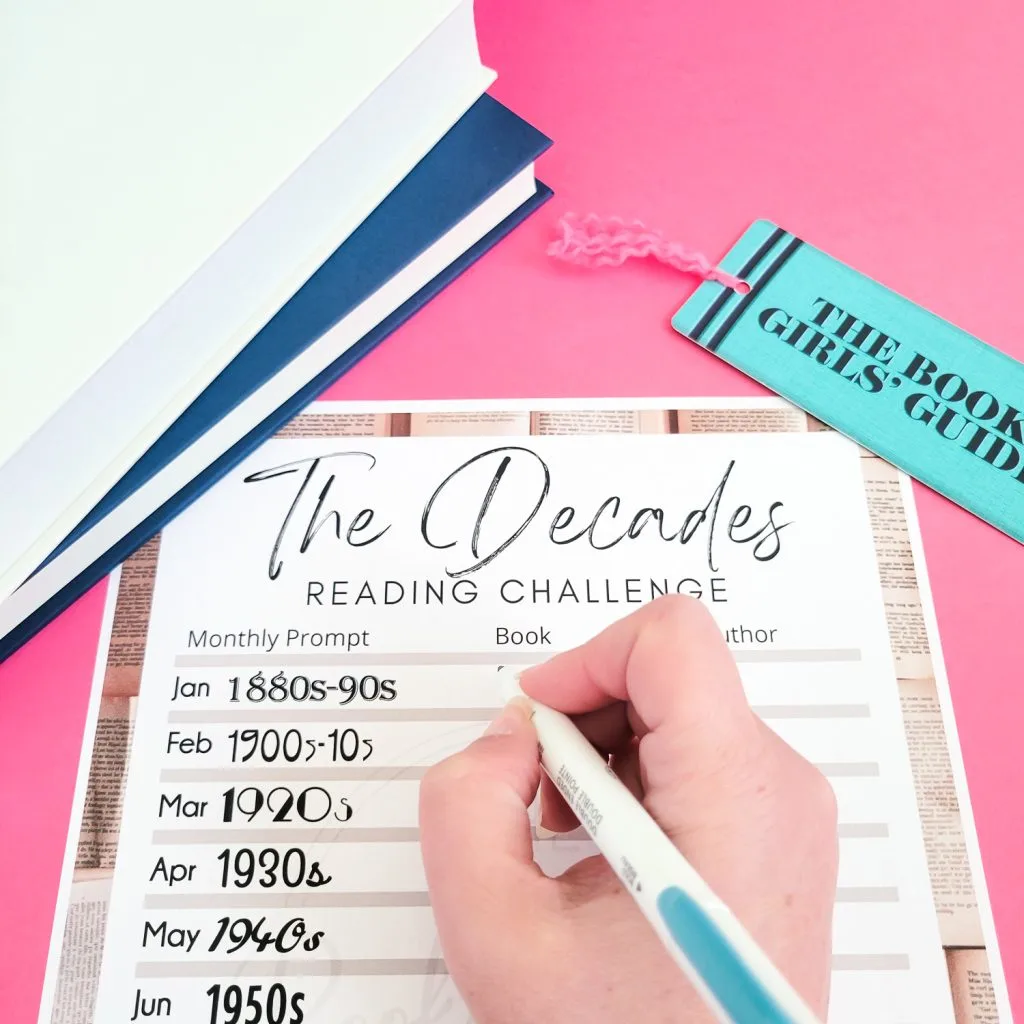 What kinds of books are included?
The Decades challenge is perfect for anyone who enjoys historical fiction, including sub-genres like romance, mystery, literary fiction, and more. However, you don't have to be a fiction reader to participate, we also include at least one non-fiction suggestion about an important event or person from the decade on every list.
In addition to a range of genres, we always try to include diverse characters and authors. That means that every month, you'll find a curated list of between 15 and 30 highly-rated books to choose from! The books are a mix of new releases and older books that may be easier to find at the library without a wait.
Within the book list, each recommendation includes a synopsis of the book and often includes additional details to help you select your perfect read.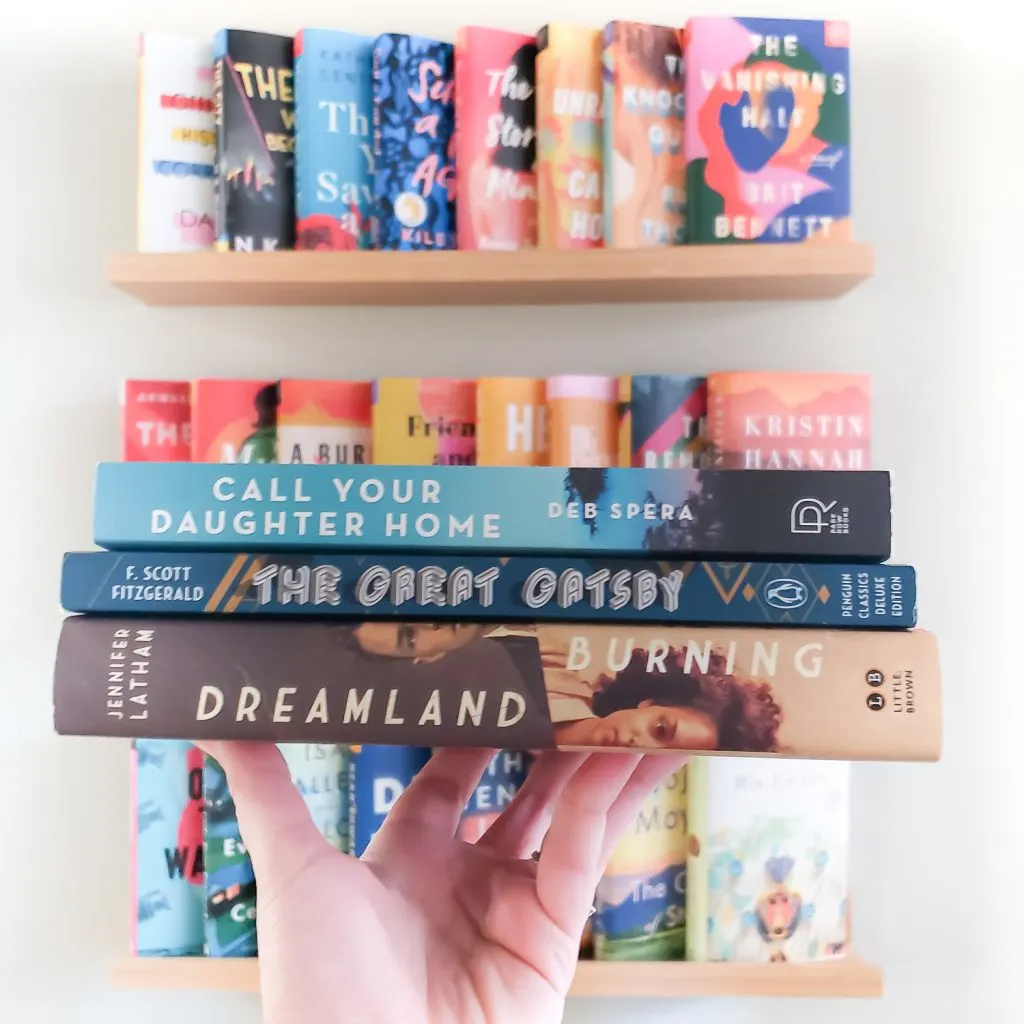 That sounds fun! How do I join the Decades Challenge?
The most important thing to do in order to keep up with the challenge is to sign up for our Friday email newsletter. It's the easiest way to make sure you're getting the new book lists, log links, etc.
When you sign up using the box below, you'll get a welcome email that includes a link to download the cute printable tracker for this challenge.
If you use Facebook, we also recommend joining the Read with the Book Girls group. It's a great place to get more book ideas from other readers.
Our Facebook Group is more structured than many other book groups. For example, we have one ongoing thread each week to share what you're reading. This means your feed won't be overrun with posts from our group. That said, because the Facebook algorithm doesn't show every member every post, it's important to be on the email list.
I did the Challenge last year, is anything changing for 2023?
Yes! In January, we're reading books set in the 1880s or 1890s instead of the 1910s. Hooray for a brand new book list!
The February list will have 1900-1909 book options added in addition to the 1910s.
To make room for the addition of the 1880s/1890s list, we'll be combining the 2000s & 2010s into one list in November.
When each monthly list is released, you'll also find a new book selection form to note which books you plan to read. We'll compile the results and share which books are most likely to have discussion groups. You'll have that data before the 1st of the month.
For both the book selection form and the book log, you'll now have the option to send a copy of your submissions to yourself. We hope this helps those who have had a hard time remembering which books they have logged each month. The email will come from our database company, so you can search your email for Airtable to find all your submissions!
There is also an updated version of the printable tracker. Feel free to use the email sign-up box above to get it, even if you're already on the list. Buy Me a Coffee Members will also receive new printable journal pages each month. See details further down in this post!
How do I find your book recommendations each month?
Because the challenge is in its 4th year, we have book recommendations published for each month already. However, we do a major update to each list by the 20th of each month prior to the prompt.
For example, the February list will be updated by January 20th. You'll receive an email notification when the list is ready. Books will be removed & others added, so we recommend waiting until the new list is finalized before settling on your pick.

If you delete our email on accident and can't find the list, you can also come to bookgirlsguide.com and click on Reading Challenges in the menu. If you scroll past the overview of each challenge, you'll find links to all the book lists.

We did get January's list finished early, so you have plenty of time to pick your first book before the holidays. Additionally, you'll find the 2022 versions of the Decades book lists below.
Can you send me a printable list with the book titles but not descriptions?
This was a big request last year that we weren't able to add to our plates in 2022. New for 2023, readers who support Book Girls Guide through our Buy Me a Coffee membership site will receive special monthly printable journal pages as a thank you bonus. The voluntary members (we call them our BFFs) help cover the cost of running the challenges so we can keep them free for everyone.

We're so excited to be able to offer this fun perk this year!
The new pages will be pre-filled with every book title for the month, and include space for you to mark your interest level, make notes about whether you've requested the book from the library (or any other notes you'd like), and then fill in your rating. We'll also include blank lines in case you have other books on your TBR (to be read) list that meet the prompt.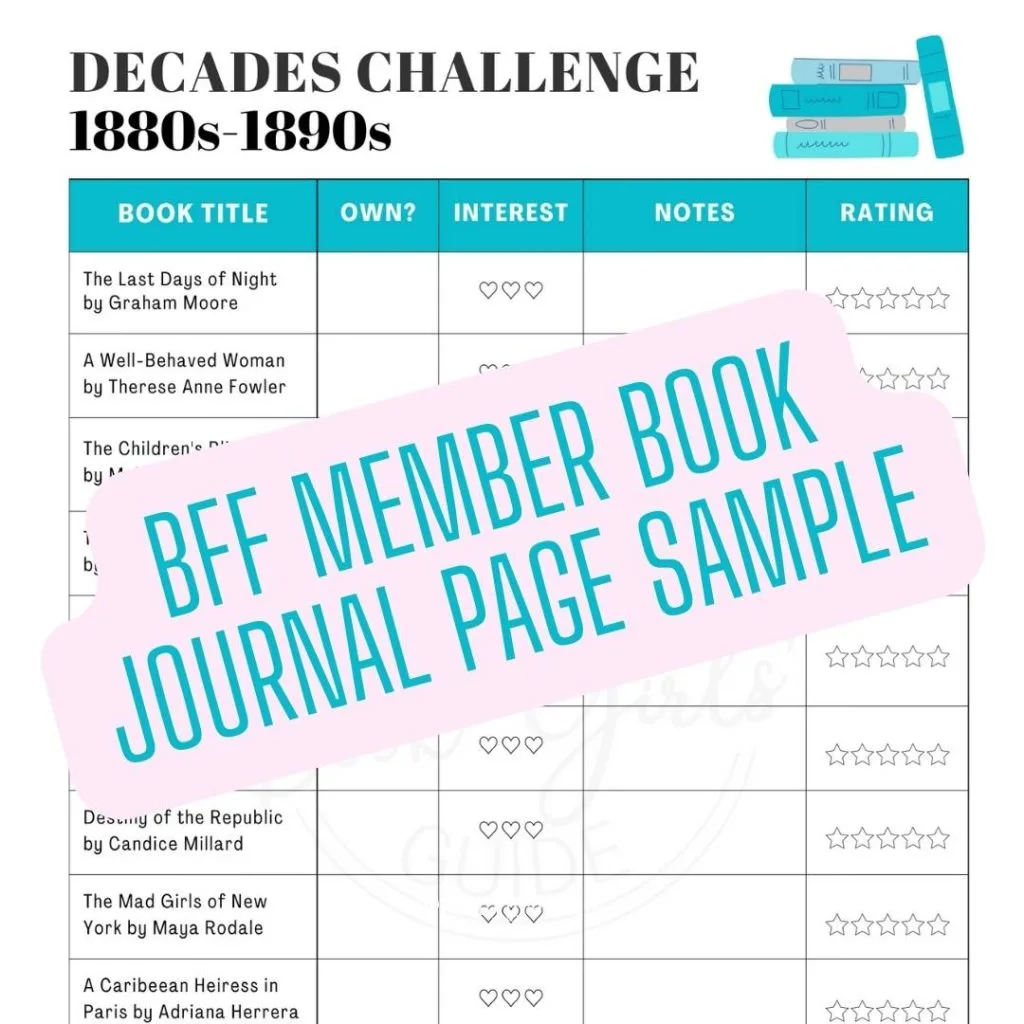 That said, you'll always find the most updated version of our recommendations with descriptions each month at no cost on our website. We do update the list and descriptions regularly based on reader feedback. But, we know some of you wanted to print the list to take to the library or bookstore, and we hope this helps.
How do the Discussion Groups work?
Around the 25th of the month, we review the book logs to see which titles have interest in discussion. When the new groups are ready for you each month, we'll include a link to them in the Friday newsletter. The groups are hosted on our Together Discussion Forum. Just keep in mind that the discussions may contain spoilers as it's intended for those who are finished reading.
The discussion takes place in writing as readers have time to pop in and engage with each other's questions/statements about the book. This allows everyone to participate regardless of their schedule or time zone.
*NEW FOR 2023*
We know that in 2022, some of you were disappointed when you selected a book, and not enough other readers wanted to discuss it. Some said the discussion factor was important enough that they would have chosen another title to ensure a chance to discuss.
For 2023, we have a new book selection form that you can fill out after reviewing the book list, along with whether you hope to discuss the book. The form will be included in the email with your new book list each month. You'll never be obligated to read that book or commit to discussing, we're just trying to get a better idea of what will be most read.

We'll compile the results of the books likely to have discussion groups and share them with you the next Friday. It won't be a perfect process because people may make last-minute book changes, but we're hoping it helps!
What happens if I miss a month?
Nothing at all! Life happens, and we're committed to our challenges being fun and not stressful.
While it feels great to make it to the end of the year with all 12 months completed, sometimes it's better to skip a month and move onto the next prompt when you can. You can also go back and read the month you skipped if you'd like, but please don't feel any pressure to do that.
When can I see next month's list?
On the 20th of each month! If the 20th is on a weekend, we do our best to finish up the lists and include them in the Friday newsletter on the 18th or 19th, but barring unforeseen circumstances, we'll have it to you by the 20th at the latest.

For example, your February book recommendations will be in your inbox on January 20th.
Do you have other reading challenges?
Yes! We'll have a total of four challenges in 2023. In addition to the Decades Challenge, you can join the brand-new Read Around the USA Challenge or the updated Book Voyage: Read Around the World Challenge. We also have a self-paced challenge called Lifetime of Reading, which takes you through main characters of all different ages.
Depending on your reading goals, you can do just one of the challenges per year, or complete them in any combination.

That sums up how everything works, but we've added some additional FAQs below in case you have any questions!
FREQUENTLY ASKED QUESTIONS:
How much does it cost to participate?
All our challenges are free for everyone!
It takes an extraordinary amount of time to put together and administer the challenges, but we never want finances to be a barrier to participation. At the request of some of our readers, we do have a totally optional Buy Me a Coffee membership site for anyone willing to help with expenses.
As a thank you, it comes with some extra perks, including bonus book recommendations, a printable version of the challenge list each month, and a cute bookmark in the mail after you've remained a member for at least three months.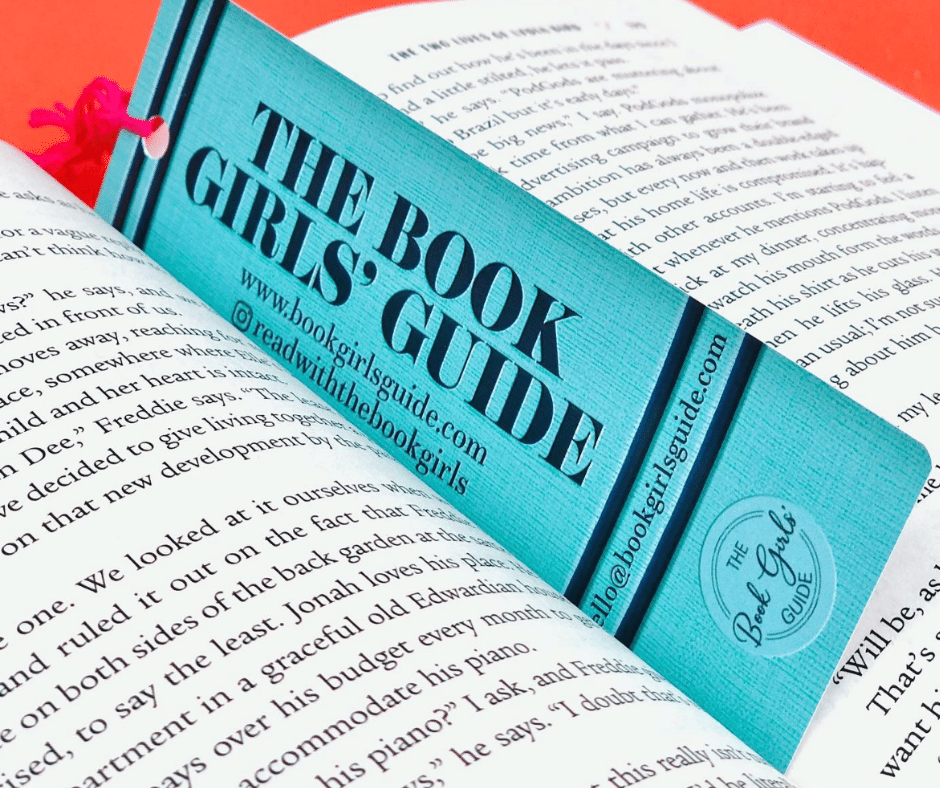 What do I do when I finish my book each month?
As soon as you finish reading, go back to your latest Friday email and scroll down to the Challenge section. You'll find a link to the book log to share your rating and any thoughts on the book.
Why should I log my book?
The book logs help us determine which books should stay on our lists of recommendations, which should be removed, and whether any changes are needed to our descriptions. We also compile the results of the logs to create a graphic with the top books from each prompt with our readers. It's become a fun tradition that many look forward to!
Can I choose my own book?
Absolutely! You can choose any book from our list, or any other book that meets the challenge prompt for that month. In fact, if you really enjoy an off-list book you select, we'd love to hear about it on this form. Keep in mind that if you want to participate in our monthly book discussion groups, those are created for a subset of books from the list.
If I'm doing more than one challenge, can a single book count twice?
Yes! We even help you find books that meet more than one challenge with a special crossover list by the 25th of each month for the next month. You'll receive a reminder link about it in your email each month.
If I already signed up for another challenge, do I need to sign up again?
If you're already on the email list from another challenge, you'll only need to fill in the box above if you'd like the free printable tracker. You won't get duplicate emails from us as long as you use the same email address.
What if I signed up, but didn't receive the email?
Sometimes our emails might get trapped in your spam filter. If you signed up, but haven't received the email with the printable reading tracker, be sure to check your spam folder. To keep future emails out of the spam folder, be sure to add our email address to your address book, or drag our emails over to your Primary tab in Gmail.
If you've checked your spam folder and still don't see the email from us, then please send us a quick email to hello(at)bookgirlsguide(dot)com and we'll get it sorted out for you as quickly as we can.
Do audiobooks count?
Absolutely! We're equal-opportunity readers. Whether you use a paper book, ebook, or audiobook, if you're left knowing the story the author set out to tell, you "read" the book!
Do I have to go in order?
Yes and no. Our idea for the challenge was based on reading in order through the decades to get a better view of how daily life changed throughout the years. But, we'll never know if you opt to go out of order. 🙂
Is this group only for girls?
Not at all! We welcome all to read with us. The "Book Girls" refers to us – two adult friends who love books and wanted to help guide and inspire other readers. We're also huge fans of the Gilmore Girls! You can read more about how this site started and who we are at the beginning of our books about friendship post.
Can I join after January?
Absolutely! You can join our year-long reading challenge at any time. You're welcome to simply pick up from the month where you join, or you can go back and start at the beginning.
How you choose to participate is totally up to you, so there's no such thing as being behind and any month can be a great time to start! If you're a voracious reader, you can double up and complete multiple prompts in one month. Sometimes people jump in and start with the current month's theme, while also picking a second book from earlier in the year.
But really, no pressure from us. We're happy for you to join in whenever and wherever!
Remind me again, how do I get the printable reading challenge log?
To get the printable reading log, along with email notifications when each month's book list is ready, just scroll back to the beginning of this post and fill out the email form in the blue box.
It's located under the section header that reads, "That sounds fun! How do I join the Decades Challenge? "
If you're already on the email list, it's okay to fill it out again for this year's tracker (you won't end up getting double emails from us – we promise).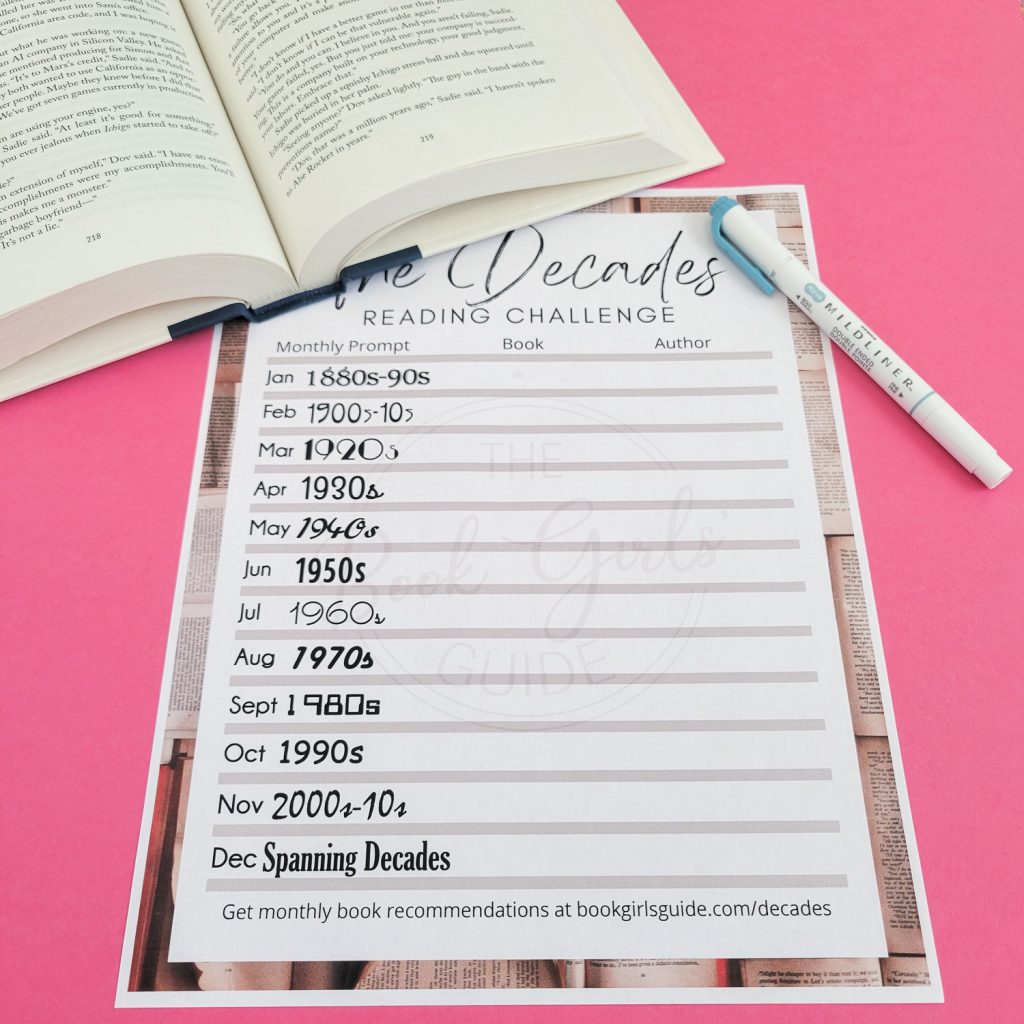 Can we use the challenge for our book club?
Absolutely! We've had many book clubs use our challenges and reading prompts to help guide their book selections throughout the year. We recommend giving each member a link to the monthly book list and letting them vote on their top 3 options to help narrow down the book suggestions before making the final selection as a club.