We're very excited to invite you to participate in our year-long DECADES READING CHALLENGE by reading some of the best books set in each decade from the 1910s through today!
Each month, you'll read a book SET in a different decade, in chronological order. The book doesn't have to be written during the decade, just take place during it.
We're really excited to experience the dramatic changes of day-to-day life over the last 120 years!
We've compiled twenty+ book recommendations for each decade, including a good mix of fiction, non-fiction, and memoirs, and you'll find links to each decade book list further down in this post.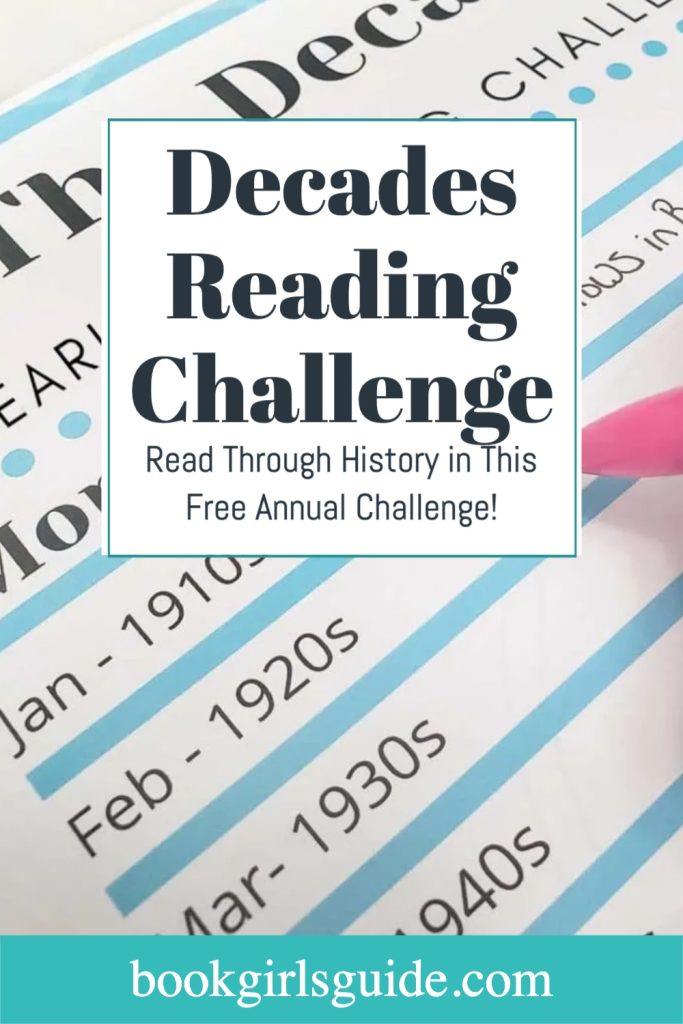 The post for each decade also includes a timeline of major events from that period in history to help provide some context for the book recommendations. Throughout the book lists, you'll notice that we've also used bold text in the synopses to highlight which events from the timeline are featured in each book.
If you just found this challenge mid-year, you can decide if you want to start with 1910 or just jump into the current month now! There's no wrong way to participate.
To keep track of your DECADES READING CHALLENGE progress, we've made a cute printable that you'll get for free when you join our email newsletter in the blue box below.
Here are our recommended book options for each month of the challenge. While you can access tons of great options for each month now, we'll also be updating this list throughout the year. Be sure to circle back to the relevant list at the beginning of each month to see the most current version!

Below that, you'll find an FAQ section about the challenge.
Over in the Book Girls' Guide free Facebook group, we invite you to share the book you choose to read for each decade and to discuss your thoughts with others participating in the challenge.
It's also a great place to ask for recommendations if you can't decide on a book. It's easy to join using the button below. We'll see you there!
Frequently Asked Questions
Can I choose my own book?
Absolutely! You can choose any book from our list, or any other book that meets the challenge prompt for that month. In fact, if you really enjoy an off-list book you select, we'd love to hear about it on this form. Keep in mind that if you want to participate in our monthly book discussion groups, those are created for a sub-set of books from the list.
What if I signed up, but didn't receive the email?
Sometimes our emails might get trapped in your spam filter. If you signed up, but haven't received the email with the printable reading tracker, be sure to check your spam folder. To keep future emails out of the spam folder, be sure to add our email address to your address book, or drag our emails over to your Primary tab in Gmail.
If you've checked your spam folder and still don't see the email from us, then please send us a quick email to hello(at)bookgirlsguide(dot)com and we'll get it sorted out for you as quickly as we can.

What year is this challenge for?
This is a repeating, yearly challenge. While it was originally created in 2020, it's happening again for 2022. The book lists are refined before the start of each new month, so be sure to check back if you've seen them before. We're always adding relevant new releases and other books as we find gems that represent each decade.
Do audiobooks count?
Absolutely! We're equal-opportunity readers. Whether you use a paper book, ebook, or audiobook, if you're left knowing the story the author set out to tell, you "read" the book!
Do I have to go in order?
Yes and no. Our idea for the challenge was based on reading in order through the decades to get a better view of how daily life changed throughout the years. But, we'll never know if you opt to go out of order. 🙂
Do I need to submit the list of books I read?
It's not at all required, but members of the email list and Facebook group have an option to log the books they read and share their rating and feedback to help guide our book lists in the future. The logs are open during the relevant month and you can always find the link in the announcement section.
Is this group only for girls?
Not at all! We welcome all to read with us. The "Book Girls" refers to us – two friends who love books and wanted to help guide and inspire other readers. You can read more about how this site started and who we are at the beginning of our books about friendship post.
Love reading as much as we do?
Join us for more free content, reading challenges, and discussion in the Book Girls' Guide Facebook Group!