Whether you found this list searching for books set in Australia or New Zealand or you are participating in the Book Voyage reading challenge, you've come to the right place.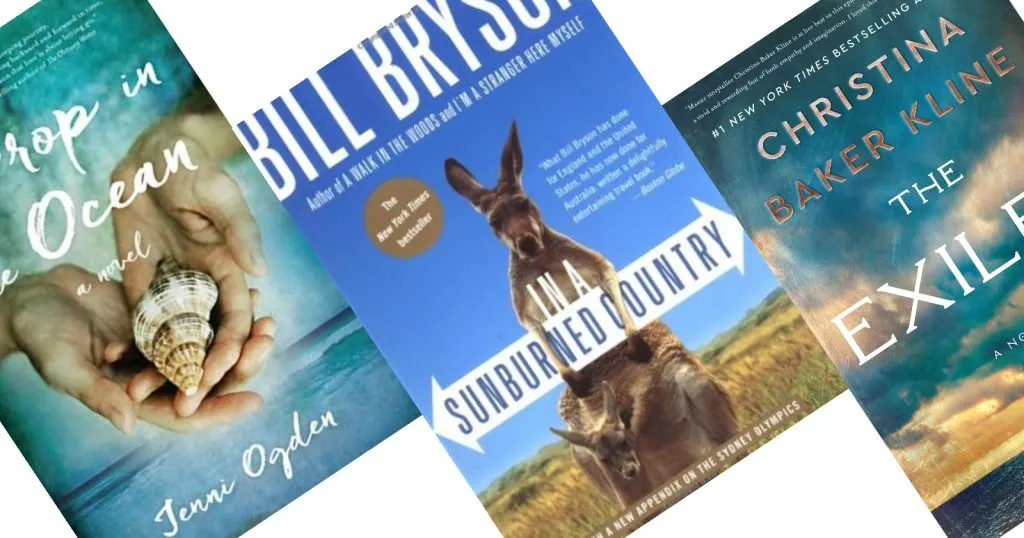 What Kind of Books Are Included On This List?
While Australia and New Zealand are high on many travel bucket lists, there's a lot beyond the popular tourist destinations. We've compiled a list of some of the best New Zealand and Australian books that will transport you to these two countries. Our book recommendations include great fiction reads, historical fiction about their penal colony pasts, humorous travelogues, and eye-opening memoirs, including about the ongoing racial divide.
Some of our favorite authors are Australians whose books, while set in their home country, focus on universal relationship themes that could be set anywhere. These authors include Liane Moriarty (Big Little Lies, The Husband's Secret), Sally Hepworth (The Good Sister, The Mother-in-Law), and Graeme Simsion (The Rosie Project series).
Although these authors' books frequently show up on lists of books set in Australia, in compiling our recommended reading list, we've focused on books that provide vivid descriptions of the setting or dig deeper to help understand the region.
If you have children or grandchildren from pre-school to middle school, they can read alongside you using our list of best children's books set in Australia or New Zealand.
Is the Continent Australia & Oceania?
Australia is often referred to as an island continent. It is the only continent that is also a country and is surrounded by water on all four sides. Whether or not it's too large to technically be considered an island is a matter of debate among geographers. Australia's population of roughly 25.5 million is tiny compared to the more than 300 million people living in the United States. So, it can be easy to forget that its landmass is nearly as large as the continental US. In fact, Australia is the sixth-largest country in the world. And with that size comes incredible diversity – both in its landscape and its people.
Australia is part of the region referred to more broadly as Oceania, which includes New Zealand and 12 other island nations in the South Pacific. We focused our armchair travels on island books last month, but we saved books set in New Zealand for this month's list.
The People & Geography of Australia vs. New Zealand
Book Girl Angela spent six months in college living in Brisbane and traveling around Australia and New Zealand. She's very excited to introduce everyone to the beauty of these two countries!
Many people tend to lump Australia and New Zealand together (much to the dismay of the Aussies and the Kiwis that live there). While the countries share similarities, they are also unique, as the books on our list will help you discover.
Australia is a Country of Contrasts
The east coast of Australia features coral reefs and subtropical rainforests to the north and popular surfing beaches along the central Pacific Coast. The majority of the country's population is centered around the three largest cities, which are all located along the east coast – Sydney, Melbourne (pronounced Mel-bin by the locals), and Brisbane (pronounced Bris-bin). The west coast of Australia, in contrast, is very sparsely populated, with only one major city – Perth – and a dry, sunny climate.
The dry, red desert of the Australian Outback covers more than 70 percent of the continent. Visitors to the center of the country usually arrive by way of the town of Alice Springs. From this base, you can travel another four and half hours by car to reach two of Australia's most recognizable landmarks – Uluru (Ayres Rock) and Kata Tjuta (the Olgas). These sandstone rock formations – which are classified as UNESCO World Heritage Sites and are sacred to the indigenous Aboriginal people – feature springs, rock caves, and ancient paintings.
The Two Main Islands of New Zealand
New Zealand is comprised of many islands. The two largest, where most of the population lives, are referred to as the North Island and the South Island. The North Island of NZ is home to the biggest city, Auckland, with white sandy beaches and vast areas of farmland.
While the North Island is beautiful, the South Island is widely considered the more breathtaking of the two. The largest city on the South Island is Christchurch. Much of the island is covered in the rugged Southern Alps with its glaciers and fjords.
You are welcome to choose any book that you'd like to read for the challenge, but we hope that this list of books has given you a good starting point.
Members of our email list and Facebook group, Read with the Book Girls can log ratings for their monthly challenge reads. The logs provide us with data for the "BGG Reader Ratings" that are added to descriptions for future years. We'd love you to contribute your rating after you've finished your read this month.
Book Recommendations For Other Regions of the World
Can you send me a printable list with the book titles but not descriptions?
This was a big request last year that we weren't able to add to our plates in 2022. New for 2023, readers who support Book Girls Guide through our Buy Me a Coffee membership site will receive special monthly printable journal pages as a thank you bonus. The voluntary members (we call them our BFFs) help cover the cost of running the challenges so we can keep them free for everyone.

We're so excited to be able to offer this fun perk this year!
The new pages will be pre-filled with every book title for the month, and include space for you to mark your interest level, make notes about whether you've requested the book from the library (or any other notes you'd like), and then fill in your rating. We'll also include blank lines in case you have other books on your TBR (to be read) list that meet the prompt.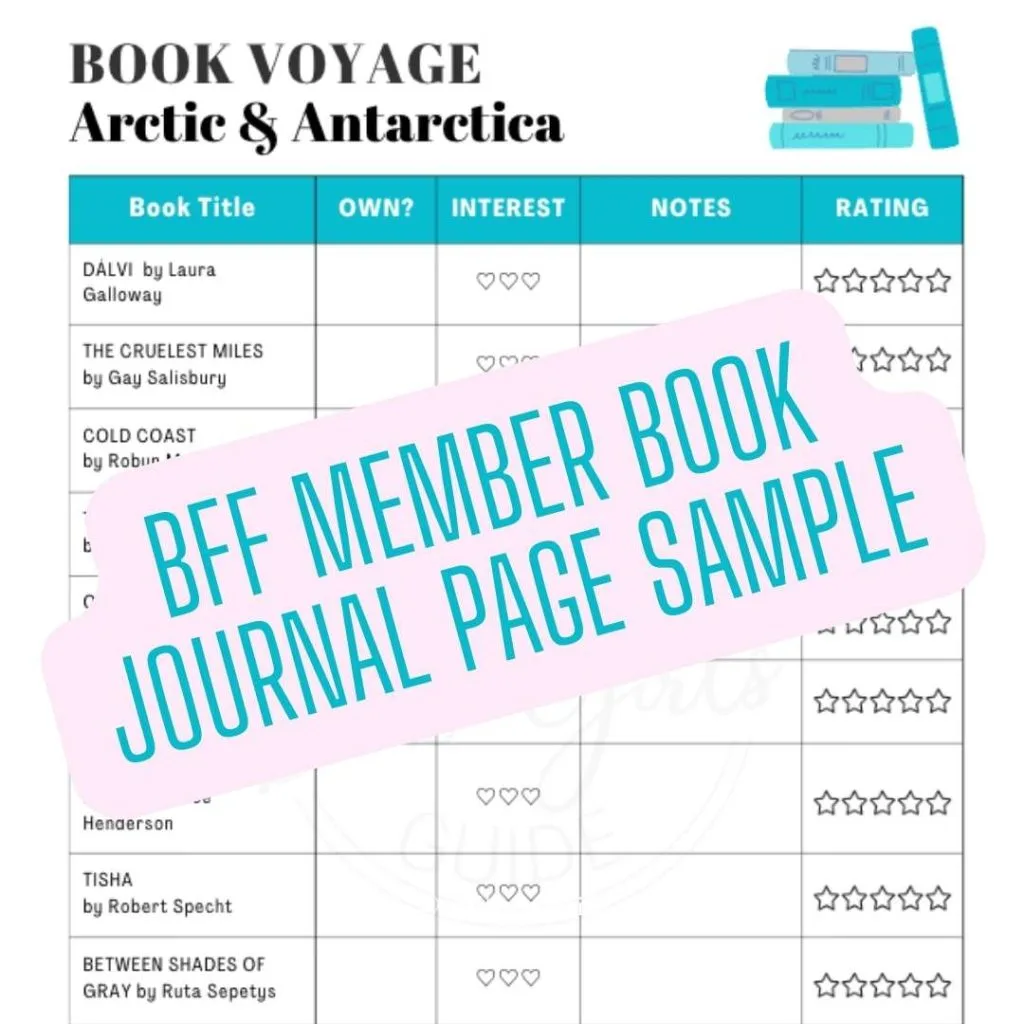 That said, you'll always find the most updated version of our recommendations with descriptions each month at no cost on our website. We do update the list and descriptions regularly based on reader feedback. But, we know some of you wanted to print the list to take to the library or bookstore, and we hope this helps.