While it's the middle of the summer for most of us, the Book Voyage reading challenge is whisking us Down Under where it's currently winter. But despite the opposite seasons, the books set in Australia that we'll be reading this month will still be filled with plenty of sunshine as we explore from the beaches to the Outback.
Australia is often referred to as an island continent because it is the only continent that is also a country and is surrounded by water on all four sides. Whether or not it's too large to technically be considered an island is a matter of debate among geographers. Australia's population of roughly 25.5 million is tiny compared to the more than 300 million people living in the United States, so it can be easy to forget that its landmass is nearly as large as the continental US. In fact, Australia is the sixth-largest country in the world. And with that size comes incredible diversity – both in its landscape and its people.
Australia is part of the region referred to more broadly as Oceania, which also includes New Zealand and 12 other island nations in the South Pacific. We focused our armchair travels on island books last month, but we saved books set in New Zealand for this month's list.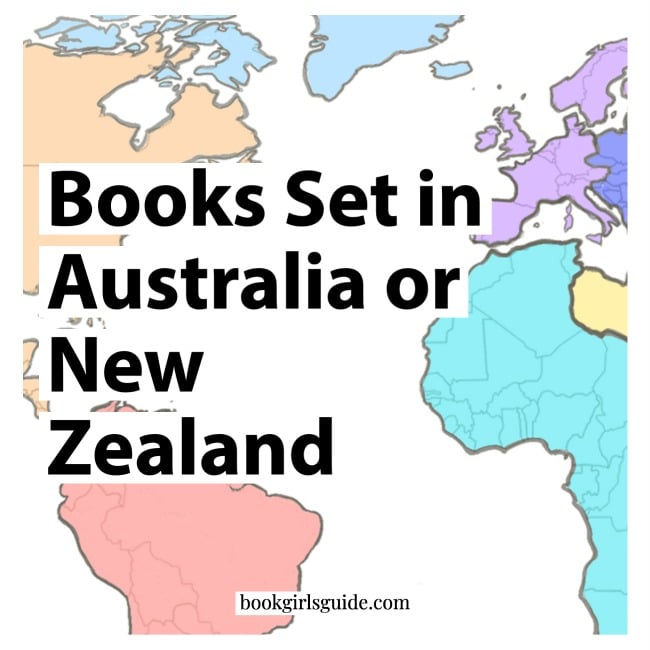 PS: You can read all about the Book Voyage challenge, find new book lists each month, and download your free printable map book tracker, with a color-coded map of each region here.
Book Girl Angela spent six months in college living in and traveling around Australia and New Zealand, so she's very excited to introduce everyone to the beauty of these two countries! Many people tend to lump Australia and New Zealand together (much to the dismay of the Aussies and the Kiwis that live there). While the two countries share some similarities, they are also quite unique, as the books on our list will help you discover.

Australia is a country of contrasts. The east coast of Australia features coral reefs and subtropical rainforests to the north and popular surfing beaches along the central Pacific Coast. The majority of the country's population is centered around the three largest cities, which are all located along the east coast – Sydney, Melbourne (pronounced Mel-bin by the locals), and Brisbane (pronounced Bris-bin). The west coast of Australia, in contrast, is very sparsely populated with only one major city – Perth – and a dry, sunny climate.

The dry, red desert of the Australian Outback covers more than 70 percent of the continent. Visitors to the center of the country usually arrive by way of the town of Alice Springs. It is from this base that you can travel another four and half hours by car to reach two of Australia's most recognizable landmarks – Uluru (Ayres Rock) and Kata Tjuta (the Olgas). These sandstone rock formations – which are classified as a UNESCO World Heritage Sites and are sacred to the indigenous Aboriginal people – both feature springs, rock caves, and ancient paintings.
New Zealand is comprised of many islands – but the two largest, where most of the population lives, are referred to as the North Island and the South Island. The North Island of NZ is home to the biggest city, Auckland, with white sandy beaches and vast areas of farmland. While the North Island is beautiful, the South Island is widely considered the more breathtaking of the two. The largest city on the South Island is Christchurch. Much of the island is covered in the rugged Southern Alps with its glaciers and fjords.

PS: If you have children or grandchildren from pre-school to middle school, they can read alongside you using our list of best children's books set in Australia or New Zealand.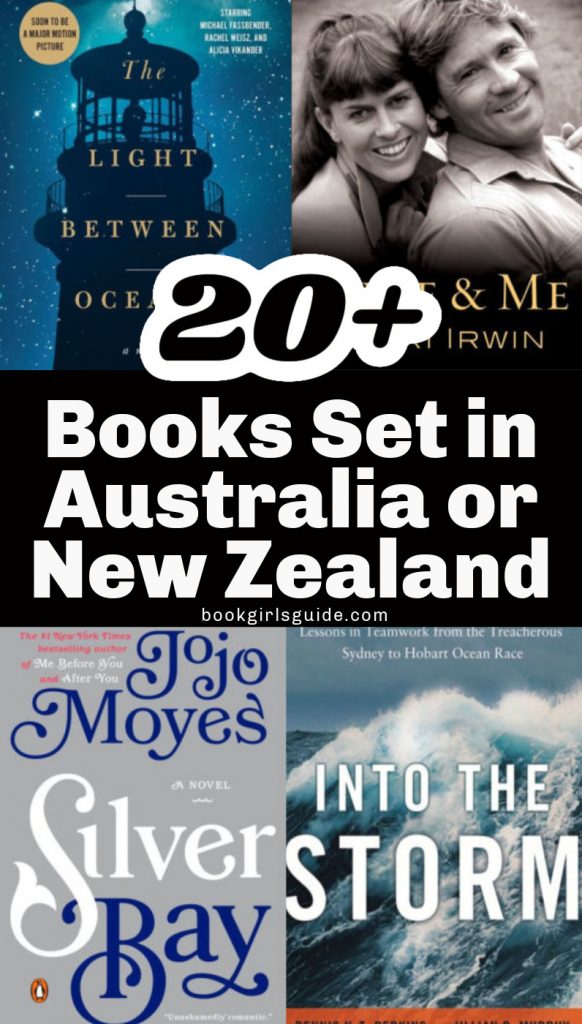 As always, you are welcome to choose any book set in Australia or New Zealand that you'd like, but to get you started, we've compiled a list of some of the best books that will transport you to these two countries. The list includes great fiction reads, historical fiction about their penal colony pasts, humorous travelogues, and eye-opening memoirs, including one about the ongoing racial divide.

While Australia and New Zealand are high on many people's travel bucket lists, there's a lot to learn beyond the popular tourist destinations. In compiling this reading list, we found an abundance of great books written by authors from both countries that provide authenticity to help us dig deeper in our understanding of this region.
Books Set in Australia & New Zealand
As an Amazon Associate and member of other affiliate programs, we may earn a referral fee from qualifying purchases.
Throughout the list, we noted the books currently available as part of Kindle Unlimited Subscriptions.
Love reading as much as we do?
Join us for more free content, reading challenges, and discussion over in the Book Girls' Guide Facebook Group!