Whether you found this list searching for books about Asia or are participating in the Book Voyage reading challenge, we hope you find the perfect book set in southern Asia on this list.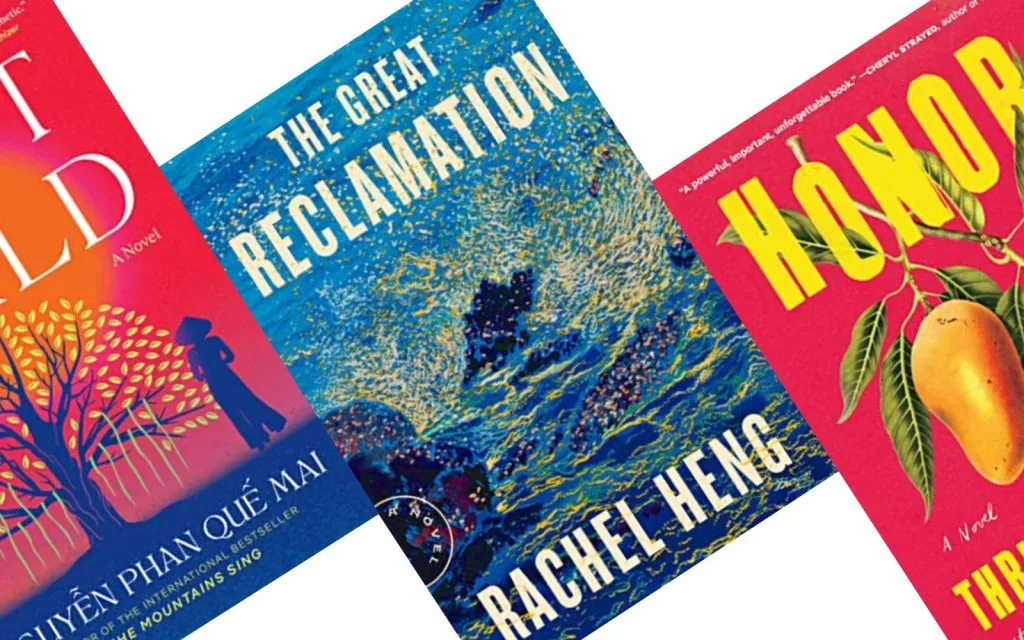 The Geography of South Asia
From the treacherous peak of Mt. Everest to the tropical beaches, southern Asia is incredibly diverse, both in its landscape and its people. It is one of the most densely populated regions on Earth. It is also home to two of the four most populous countries in the world (India and Indonesia). Throughout the countries of southern Asia, there are hundreds of different ethnic groups and languages spoken, in addition to many popular religions. Often, these differences exist within countries as well.
For purposes of the Book Voyage reading challenge, we consider southern Asian countries to include: Pakistan, India, Nepal, Bhutan, Bangladesh, Myanmar, Laos, Thailand, Vietnam, Cambodia, Malaysia, Singapore, Sri Lanka, Indonesia, Timor-Leste, the Philippines, and Brunei.

If you don't find the country you're looking for, be sure to check out our Northern Asia book recommendations.
What Kind of Books Are Included On This List?
Often, Southeast Asia is viewed as a vacation destination, with many visitors unaware of the area's history. Countries in this region have endured extreme circumstances in recent decades, including the Pol Pot regime in Cambodia and the 26-year Sri Lankan civil war (that ended in 2009). We encourage you to pick a book that will help you learn something new about this region of the world.
We've curated a list with some of the best books set in Asia's southern countries. We included many great novels and eye-opening historical fiction, heartbreaking as well as uplifting memoirs, and well-researched non-fiction reads.
In compiling this reading list, we found an abundance of great books written by authors from each country. They provide authenticity and will help us all gain a deeper understanding of this region.
We're horrified by the increased violence against Asian Americans that has happened in recent years. Our hope is that, in addition to traveling virtually through their pages, these books will also help us all gain and spread a deeper respect for our fellow humans. You can read more of our thoughts about the power of books here.
Highly-Rated Books Set in Southern Asia
You are welcome to choose any book that you'd like to read for the challenge, but we hope that this list of books has given you a good starting point.
Members of our email list and Facebook group, Read with the Book Girls can log ratings for their monthly challenge reads. The logs provide us with data for the "BGG Reader Ratings" that are added to descriptions for future years. We'd love you to contribute your rating after you've finished your read this month.
Join the Book Voyage Reading Challenge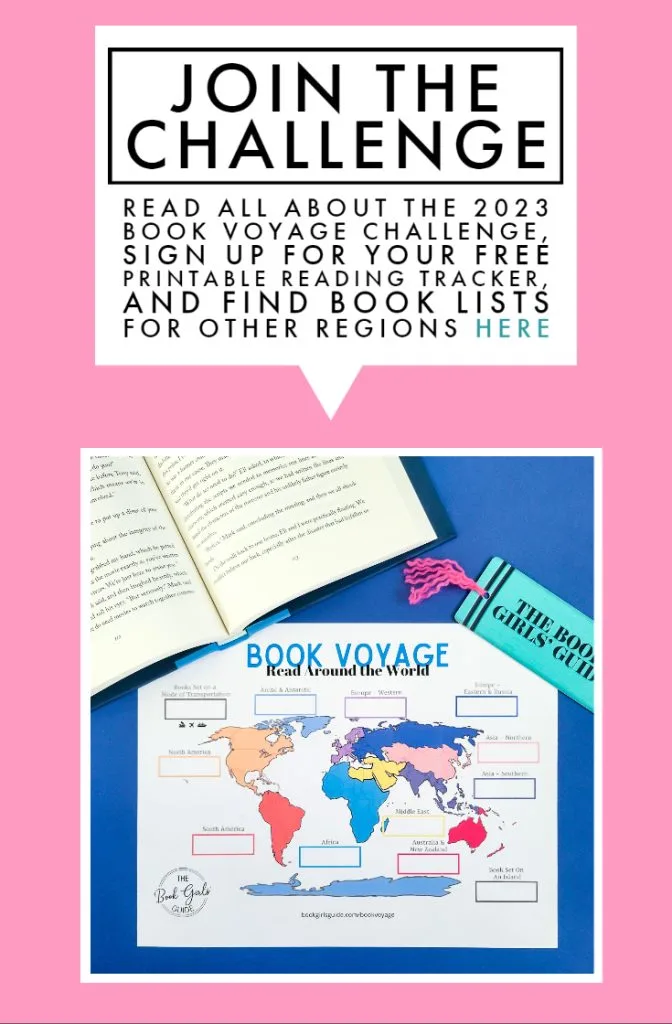 Book Recommendations For Other Regions of the World
Can you send me a printable list with the book titles but not descriptions?
This was a big request last year that we weren't able to add to our plates in 2022. New for 2023, readers who support Book Girls Guide through our Buy Me a Coffee membership site will receive special monthly printable journal pages as a thank you bonus. The voluntary members (we call them our BFFs) help cover the cost of running the challenges so we can keep them free for everyone.

We're so excited to be able to offer this fun perk this year!
The new pages will be pre-filled with every book title for the month, and include space for you to mark your interest level, make notes about whether you've requested the book from the library (or any other notes you'd like), and then fill in your rating. We'll also include blank lines in case you have other books on your TBR (to be read) list that meet the prompt.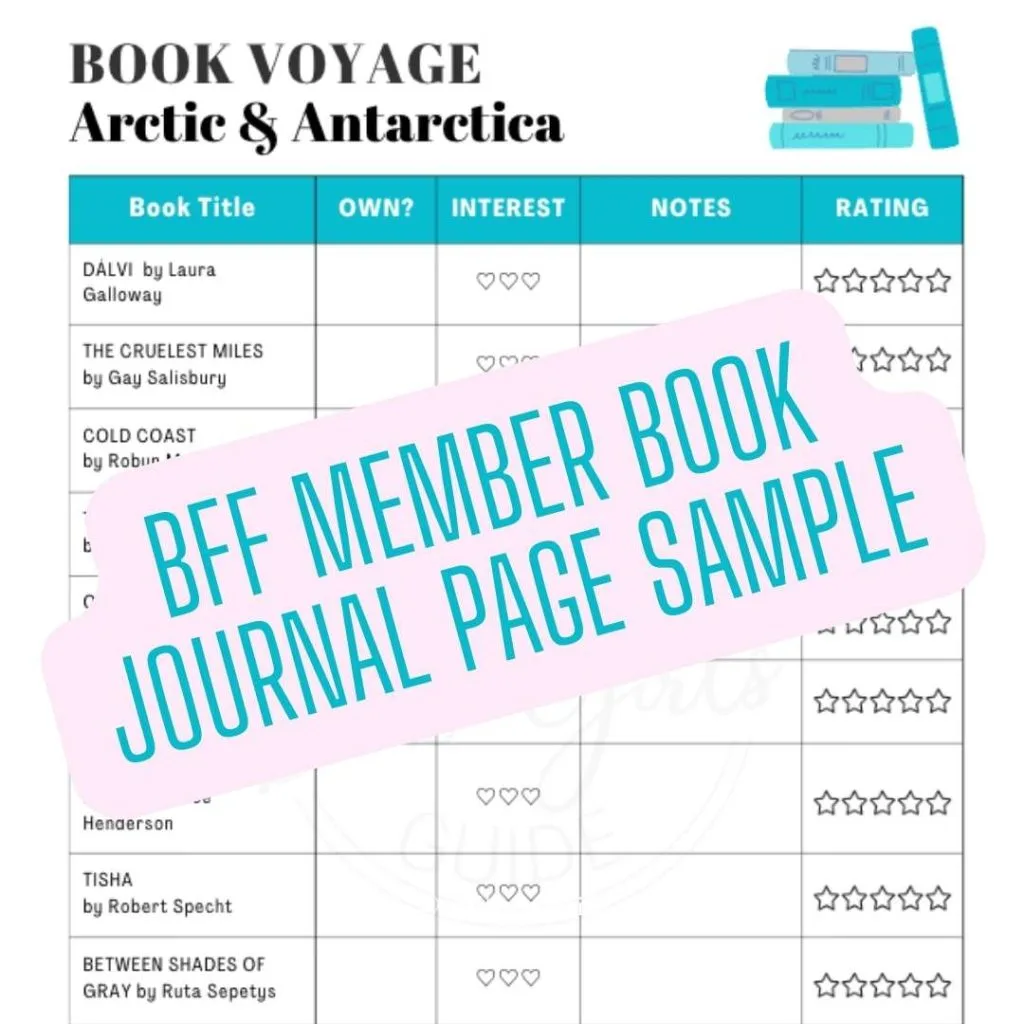 That said, you'll always find the most updated version of our recommendations with descriptions each month at no cost on our website. We do update the list and descriptions regularly based on reader feedback. But, we know some of you wanted to print the list to take to the library or bookstore, and we hope this helps.