We sometimes see comments that the Amazon Kindle Unlimited book selection isn't great, but we strongly disagree! While you won't find every hyped-up new release, the KU catalog still includes both beloved authors and new writers. In fact, three of our absolute favorite books are included in both ebook and audiobook formats!
In this post, we also explain the audiobook companion part of the Amazon Kindle Unlimited program and share a list of the best, highly-rated audiobooks on Kindle Unlimited.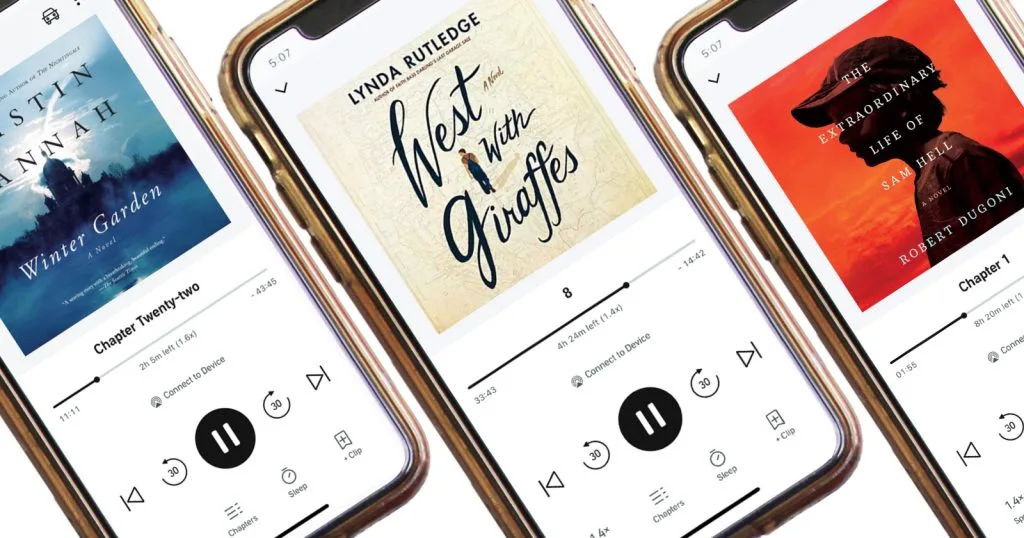 Last year, we did a deep dive into how Kindle Unlimited works and whether it is worth the monthly fee. You can read answers to the most common questions about Kindle Unlimited in that post. The short answer is that we've both been subscribers ever since.
If you already subscribe to Kindle Unlimited and just need book recommendations, feel free to skip directly to the list of books below.
The availability of good Kindle Unlimited books with audio is a big reason that KU continues to be a good value for each of us, even though we have opposite reading habits. Angela primarily listens to audiobooks. The Kindle Unlimited audiobook titles are a perfect supplement to her Audible membership (along with her Libby & Hoopla accounts through the library). When she's waiting for holds to come in and doesn't have any unused credits in her Audible subscription, she still has a ton of included free audiobooks to choose from.
Melissa prefers paper and Kindle books because it takes her a long time to finish one audiobook. However, she still likes to always have one to listen to as she drives around doing errands. The "Kindle Unlimited Read and Listen" books remove the pressure of her library loan due dates passing before she's finished. But, that isn't even the best part!
Listening to & Reading the Same Book with KU
The Kindle Unlimited books with narration come with Whispersync technology. That means you can seamlessly switch from the audiobook to the Kindle book without losing your place.
For example, Melissa usually reads on her Kindle device or in the free Kindle reading app on her phone. With Whispersync, the Audible app on her phone is automatically set to wherever she left off in the ebook. After listening, when picking up the Kindle app again, it asks if she wants to jump forward to where the Audible narration stopped. It's been the best way for Melissa to incorporate Audible books without taking as much time to finish each book.
How to Find Kindle Unlimited Books with Audio Included
It's important to note that not every book in the Kindle Unlimited Library has audio included – many are only ebooks. However, all of the books on our list below currently include audio. You can browse just the Kindle Unlimited audiobook catalog, or when you're browsing the full Kindle Unlimited catalog, click into a book listing and look for the headphones icon if you specifically want audio.
We know that it's not always easy to find the best audio books on Kindle Unlimited while browsing.
We put together a list of highly-rated contemporary fiction and historical fiction novels that include both the Kindle version and the Audible Audiobook.

If you haven't tried KU before, sign up for a free trial here. Put a note on your calendar to re-evaluate if you've used it before it bills the next month. Feel free to read our post of common questions about Kindle Unlimited subscriptions before starting the trial period.

The Best Kindle Unlimited Audiobooks

For avid readers and book lovers, we've found the availability of Audible Audiobooks to be a great deal as part of the Kindle Unlimited subscription plan! All of the titles on the list above are books with at least 4-star ratings on Goodreads. We encourage you to add these books to your TBR list or library holds even without a Kindle Unlimited subscription!
More Kindle Unlimited Book Recommendations