If you loved Lessons in Chemistry by Bonnie Garmus, we think you'll also enjoy the books we've gathered for this list. It includes highly-rate titles across a wide variety of genres, and each book connects to one of the key elements of Lessons in Chemistry (no pun intended).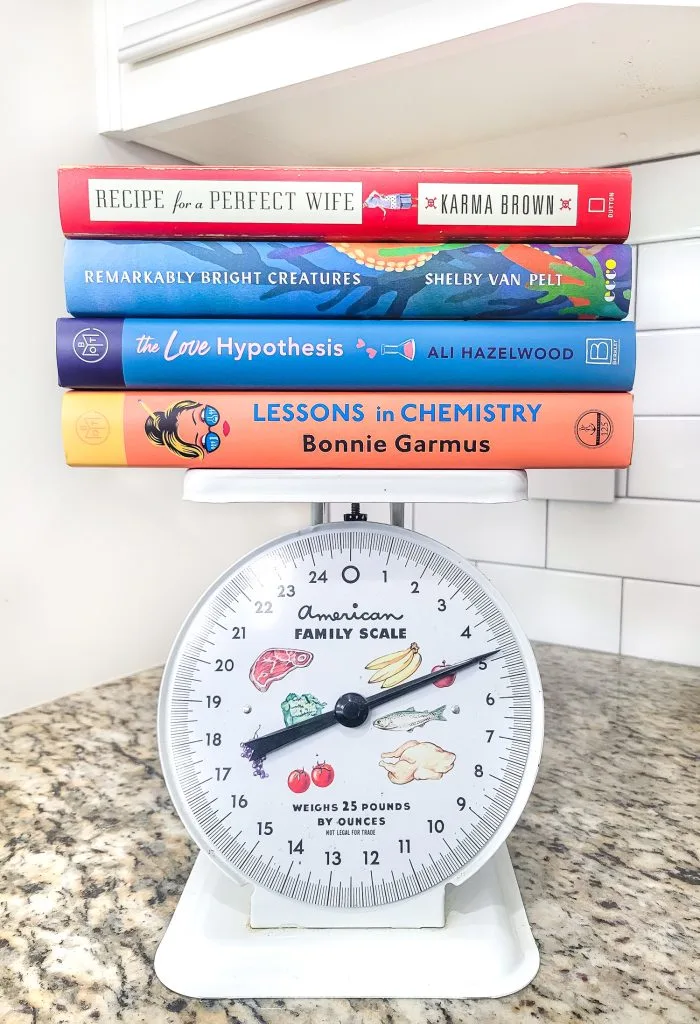 Synopsis of Lessons in Chemistry
The book opens in Commons, California in 1952. Elizabeth Zott is a quirky and brilliant female chemist working with an all-male team at the Hastings Research Institute. Despite her scientific qualifications, the "good old boys" are continuously frustrated that she won't get coffee or make copies for them. Elizabeth typically wants nothing to do with men, but when she meets Calvin Evans, a fellow scientist at the Institute, another type of chemistry results.
Fast forward a few years. It's 1961, and Elizabeth is a 30-year-old single mother. She's taken a bit of a detour in her career. Instead of working for Hastings, she's now (somewhat reluctantly) the star of a much-loved cooking show called Supper at Six. Her cooking methods are unusual ("combine one tablespoon acetic acid with a pinch of sodium chloride"). As her popularity grows, it turns out she's not just teaching women to cook, she's also daring them to change the status quo.
Our Lessons in Chemistry Review
Both Book Girls rated Lessons in Chemistry five stars. While most readers seem to love this book as much as we did, those who don't have pretty strong feelings about it. We think this might stem partly from the fact that the book's cover gives off rom-com or chick-lit vibes, and this book is definitely not that.
That said, we struggled to put into words exactly what we love so much about Lessons in Chemistry without saying too much. But if there was an Elizabeth Zott fan club, we'd definitely be members! This novel is funny, but not in a laugh-out-loud sort of way – more in a sometimes you have to laugh so you don't cry sort of way.
The descriptions of the misogyny that Elizabeth faces (and specifically some of the language that is directed at her) offends some readers, but it's an accurate representation of what she and so many women faced in the 1950s and 1960s. By no means is our struggle for equality over, but this book gave us so much respect for the women who paved the way.
Readers should be aware that this book addresses some serious topics, including misogyny, sexual assault, domestic violence, and suicide.
For more information about the book, be sure to visit our full Lessons in Chemistry book club guide. It includes discussion questions, a character list, and much more.
Books Similar to Lessons in Chemistry
When brainstorming the best Lessons in Chemistry read-alikes, we thought about the different aspects of the story that stood out to us and the ways our readers say they connected with the book.
Accordingly, we've broken our book list down into subsections that include: historical books about women in STEM; novels with characters that remind us of Elizabeth's dog, Six-Thirty; quirky characters that remind us of Elizabeth and Mad; foodie historical fiction; and romance books featuring women in STEM careers.
Historical Books About Women in STEM Careers
If you liked Lessons in Chemistry because Elizabeth was a brilliant chemist well before it was widely accepted for women to have careers in science, engineering, or math, then the first book recommendations on this list are for you!
If Six-Thirty Was Your Favorite Character
If you enjoyed Six-Thirty's wry observations about humans, we highly recommend these novels featuring intelligent animals as characters.

If you Love Quirky Book Characters
Did you love Elizabeth's quirky personality and the humor mixed with emotions in Lessons in Chemistry? Or was it her daughter, Mad, with her wise-beyond-her-years understanding of the world that you loved the most? Either way, this section of the list is for you! From quirky moms to precocious kids, these books feature characters perfect for fans of Lessons in Chemistry.
Discover even more lovably unique and often misunderstood women on our list of Quirky Book Characters.
If You Liked the Food Emphasis in Historical Fiction
If Supper at Six was your favorite part of the book, you'll find great novels on our list of fiction books for food lovers. And if you want the perfect mix of historical fiction mixed with foodie themes, we recommend the following books.
Rom Com Books Featuring Women in STEM Careers
We all know the saying, "Don't judge a book by its cover." But we've all been guilty of it from time to time. Lessons in Chemistry (the US cover in particular) definitely gives off rom-com vibes, and some readers are surprised to discover that it's not that. While we love Lessons in Chemistry for going deeper, we also love a good romantic comedy. So if you're ready for something a bit lighter that still features women in STEM (science, technology, engineering, and math), then these final books on the list are for you!