If you're joining us for our 2023 Decades Reading Challenge, welcome! If you simply found your way to our website looking for books about the Gilded Age, you've still come to the right place! Below you'll find a list of the best books set in the 1880s and 1890s.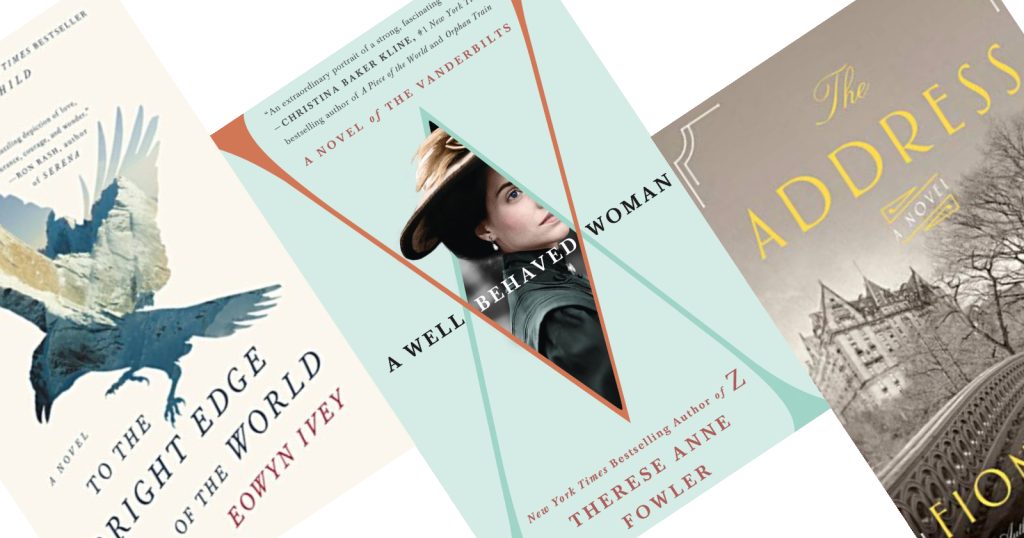 What Kind of Books are Included On This List?
Our recommended reading list includes historical fiction books that examine social and economic issues, gilded age novels, and nonfiction books that provide insights into the late 1800s. We've also recommended a few popular books that were written during the era and that have stood the test of time.
Before we get to the booklist for the late 19th century, we always like to provide a bit of historical context and a timeline of major world events.
The Gilded Age
Mark Twain termed the late 19th century "the Gilded Age." It was a period of time when things were glittering on the surface, but with shaky foundations and corruption underneath. Between 1880 and 1900, the United States experienced rapid growth – both in population and industry. There was an influx of millions of European immigrants, who were greeted upon arrival by the Statue of Liberty. There was also a great migration of people from rural parts of the US to cities during this period. This population growth drastically changed the face of US cities. Skyscrapers became commonplace, as did mass transit systems, such as trolleys, cable cars, and subways.
Despite rapidly increasing worker wages in the 1880s and 1890s, this period of American history gave rise to unhealthy and dangerous working conditions. This led to famous labor strikes as well as the formation of labor unions during the final decades of the 19th century.
The Wild West
The term "Wild West" refers to the period between 1865 and 1900 that was notorious for gunslingers, outlaws, and gritty lawmen. The newly completed transcontinental railroad continued to move both people and goods to previously sparsely populated areas. Train robberies became commonplace during the final decades of the 19th century, peaking in the mid-1890s.
Westward expansion by white settlers had devastating effects on Native American cultures. The settlers pushed Indian tribes off of the lands that they had occupied for many thousands of years, and resistance by the tribes often led to wars with the US military. Governmental assimilation tactics included kidnapping and enrolling Indian children in boarding schools, punishing the use of Native languages, and creating dependence on food rations.
Major Events of the 1880s and 1890s
James Garfield was elected president in 1880. Four months after his March 1881 inauguration, President Garfield was shot at a DC train station. He survived for 11 weeks before succumbing to his injuries. Following Garfield's assassination, Vice President Chester A. Arthur succeeded him as President.
In December of 1880, Thomas A. Edison hung electric Christmas lights at his lab for the first time. In December of 1895, President Grover Cleveland arranged for the White House Christmas tree to be lit with Edison bulbs. Within decades, electric Christmas lights became commonplace in America.
The American Red Cross was incorporated by Clara Barton in May of 1881.
Outlaw Billy the Kid was shot and killed by a lawman in the New Mexico territory in July, 1881. Several months later, outlaw Doc Holliday and lawman Wyatt Earp were involved in a gunfight at the O.K. Corral in Tombstone, Arizona. In April of 1882, outlaw Jesse James was also shot and killed.
Ten thousand workers held a labor march in NYC on September 5, 1882, in what became the first commemoration of Labor Day. The US Congress officially designated the first Monday of September as a legal holiday, Labor Day, in 1894.
More than a decade after construction began, the Brooklyn Bridge opened on May 24, 1883.
In June of 1886, President Grover Cleveland wedded Frances Folson. He remains the only President to be married inside the White House. Cleveland lost his bid for reelection in 1888, but was then elected again in 1892. He is the only president to have served two non-consecutive terms.
The disassembled Statue of Liberty arrived in New York aboard a French freighter in June of 1885. The completed statue was dedicated in New York Harbor in October of 1886.
Sir Arthur Conan Doyle debuted his literary detective, Sherlock Holmes, in 1887. Doyle went on to write four novels and 56 short stories about Sherlock Holmes. The stories are mostly set in the late 1880s and 1890s, a period of great change in England.
Jack the Ripper's first victim was discovered in London in August of 1888. He murdered at least four more victims in the impoverished neighborhoods of London's East End in the following months.
Star reporter Nellie Bly set out on a 72-day race around the world in November of 1889. She wanted to circumnavigate the globe in less than 80 days in order to beat the record of Phileas Fogg, the fictional protagonist of "Around the World in Eighty Days." She succeeded, wrapping up her adventure with a cross-country train trip from San Francisco to NYC.
Major industries such as banking, railroads, shipping, steel, and oil were largely controlled by monopolies. This resulted in public outcry over price fixing. The Sherman Antitrust Act was passed in 1890 to give the federal government the power to break up monopolistic business practices and restore competition. Nonetheless, monopolies continued to play a major role in US industry for decades to come.
Expansion of the west occurred so rapidly at the end of the 19th century that in 1890 the US Census Bureau officially declared the "closing of the frontier." This indicated that there appeared to be no remaining tracts of land without settlers.
The Wounded Knee Massacre took place in South Dakota in December of 1890 when U.S. Cavalry troopers fired on Lakota people who had gathered. They killed hundreds of unarmed men, women, and children. This massacre essentially marked the end of Native American resistance to white rule in the West.
Carnegie Hall opened in New York City in May of 1891.
Andrew Borden and his wife were murdered in Massachusetts in August of 1892. His daughter Lizzie Borden was accused of the gruesome crime but was later acquitted in June of 1893.
Chicago was selected to host the 1893 World's Fair. The fair debuted the first Ferris Wheel, a 264-foot-tall engineering marvel.
A decline in the New York stock market triggered the Panic of 1893, which led to a major economic depression.
Pierre de Coubertin created the International Olympic Committee, leading to the first modern Olympic games in Athens, Greece, two years later.
Alfred Nobel died in 1896, and his will arranged for his estate to fund the Nobel Prize.
In July 1897, the Klondike Gold Rush began in Alaska.
The American battleship U.S.S. Maine exploded in the harbor at Havana, Cuba, in February of 1898. This mysterious event lead to the United States going to war with Spain. The Spanish American War lasted from April to August of 1898.
In July of 1899, the Newsboys in New York City went on strike for several weeks. This was a significant action related to child labor.
Books Set in the Late 1800s (1880-1899)
As an Amazon Associate and member of other affiliate programs, we may earn a referral fee from qualifying purchases.
You are welcome to choose any book that you'd like to read for the challenge, but we hope that this list of books has given you a good starting point.
Members of our email list and Facebook group, Read with the Book Girls can log ratings for their monthly challenge reads. The logs provide us with data for the "BGG Reader Ratings" that are added to descriptions for future years. We'd love you to contribute your rating after you've finished your read this month.
Join the Decades Reading Challenge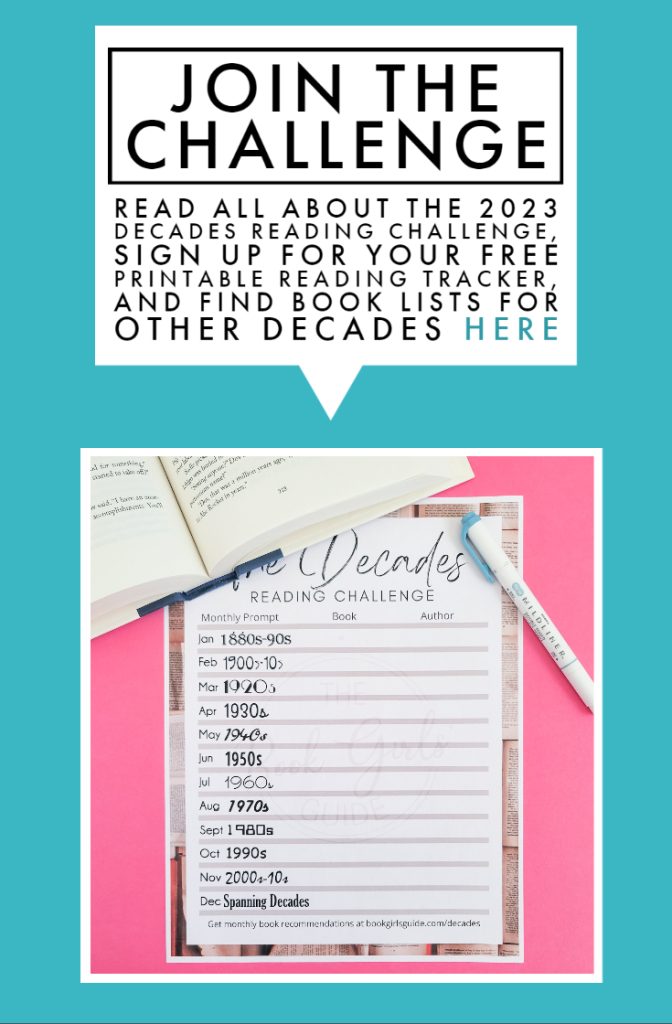 Book Recommendations for Other Decades
Can you send me a printable list with the book titles but not descriptions?
This was a big request last year that we weren't able to add to our plates in 2022. New for 2023, readers who support Book Girls Guide through our Buy Me a Coffee membership site will receive special monthly printable journal pages as a thank you bonus. The voluntary members (we call them our BFFs) help cover the cost of running the challenges so we can keep them free for everyone.

We're so excited to be able to offer this fun perk this year!
The new pages will be pre-filled with every book title for the month, and include space for you to mark your interest level, make notes about whether you've requested the book from the library (or any other notes you'd like), and then fill in your rating. We'll also include blank lines in case you have other books on your TBR (to be read) list that meet the prompt.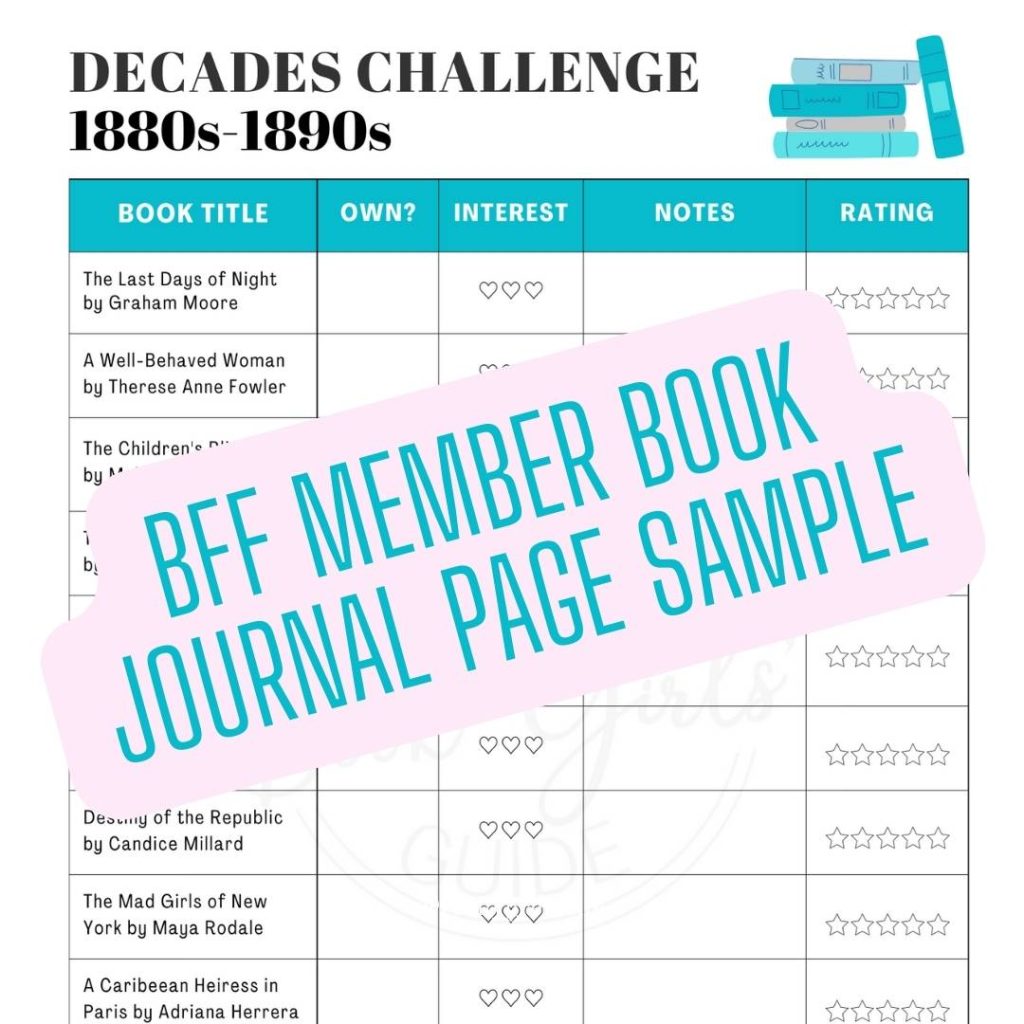 That said, you'll always find the most updated version of our recommendations with descriptions each month at no cost on our website. We do update the list and descriptions regularly based on reader feedback. But, we know some of you wanted to print the list to take to the library or bookstore, and we hope this helps.