Our readers voted Lessons in Chemistry one of their favorite books, and it also made our own top book list. If you're looking for a book with a strong female lead that will provide great opportunities for discussion, we highly recommend selecting this novel.
If you haven't yet read the book, skip down to the Summary & Review sections at the bottom to learn more about this amazing story.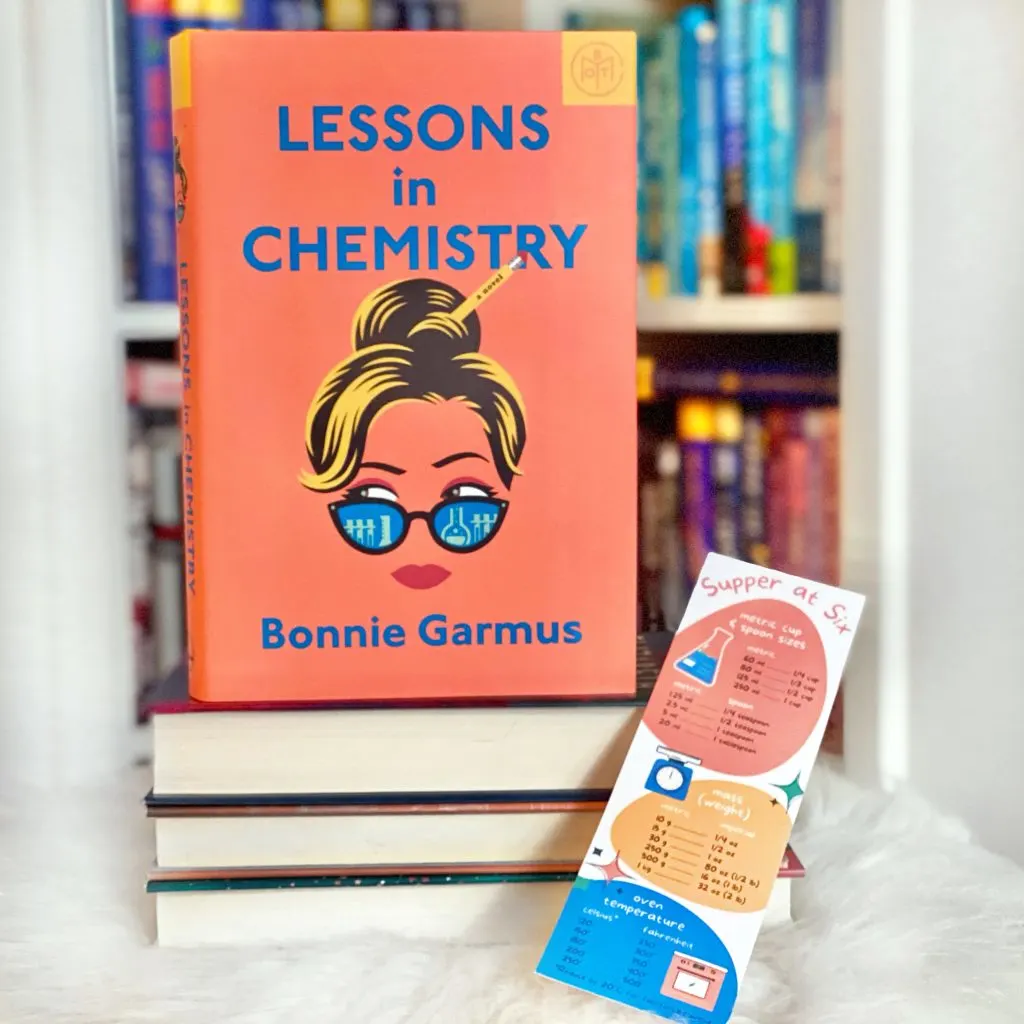 What's Included in This Guide: Online and Printable Versions
Everything you need to host or participate in a successful book club for Lessons in Chemistry is included in the post below, from discussion questions to food and cocktail ideas, and so much more!
We also have an optional printable Lessons in Chemistry book club kit to take your meeting to the next level. The printable version of the book club guide is fully customized to Lessons in Chemistry and includes the following pages:
Character List
Book Club Questions for Lessons in Chemistry
Quotes from the Book
Icebreaker Ideas Themed to the Book (with printable game pages)
Printable Bookmarks for All Your Members
Bonus Contextual Information Regarding Women in Chemistry and Wage Gaps
Themed Food & Drink Menu Ideas
Various Book Covers from Around the World
Custom Designed Journal Page to Record Book Club Meeting Details
Themed Notes Page
List of Additional Book Club Resources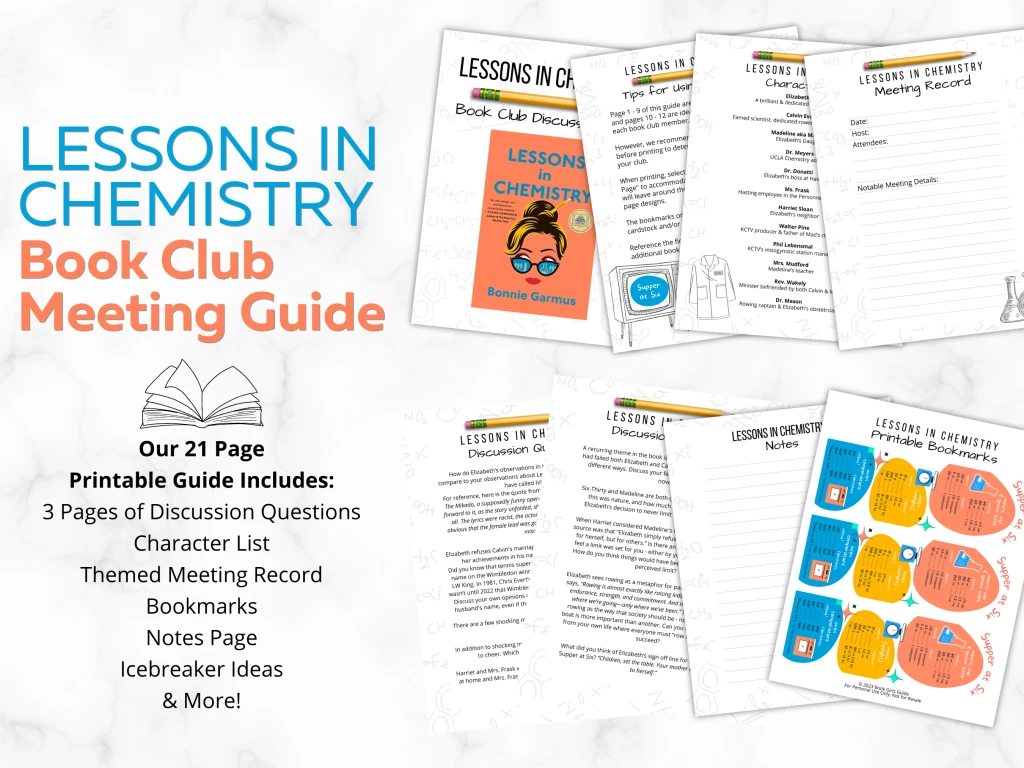 No pressure to purchase, you're always welcome to use any of the resources below for free!
Lessons in Chemistry Characters
These are the key characters in Lessons in Chemistry. Keep this list handy as a quick reference during your book club meeting—it'll help keep track of who's who as you dig into the discussion questions. Our printable guide includes a one-page character list if you find it easier to have a printed reference.
Elizabeth Zott – A brilliant & dedicated research chemist; her education was cut short by a terrible professor and a school that valued men over women
Calvin Evans – Famed Scientist, dedicated rower, and Elizabeth's partner
Madeline (aka Mad) – Elizabeth's Daughter
Dr. Meyers – UCLA Chemistry advisor
Dr. Donatti – Elizabeth's boss at Hastings, who believes women shouldn't be in the lab as chemists
Ms. Frask – Hasting employee in the Personnel department who initially dislikes Elizabeth
Harriet Sloan – Elizabeth's neighbor, who becomes both Mad's caregiver and Elizabeth's friend
Mrs. Mudford – Madeline's teacher, who disapproves of both Mad & Elizabeth
Walter Pine – KCTV producer & father of Mad's classmate. He has the idea to put Elizabeth on TV in the afternoon time slot.
Phil Lebensmal – KCTV's misogynistic station manager who tries to fire Elizabeth & Walter
Dr. Mason – Elizabeth's obstetrician and a friend of Calvin; he gets Elizabeth into rowing
Reverend Wakely – The minister Calvin was communicating via letters, and who Mad meets at the library when searching for information to fill in her family tree.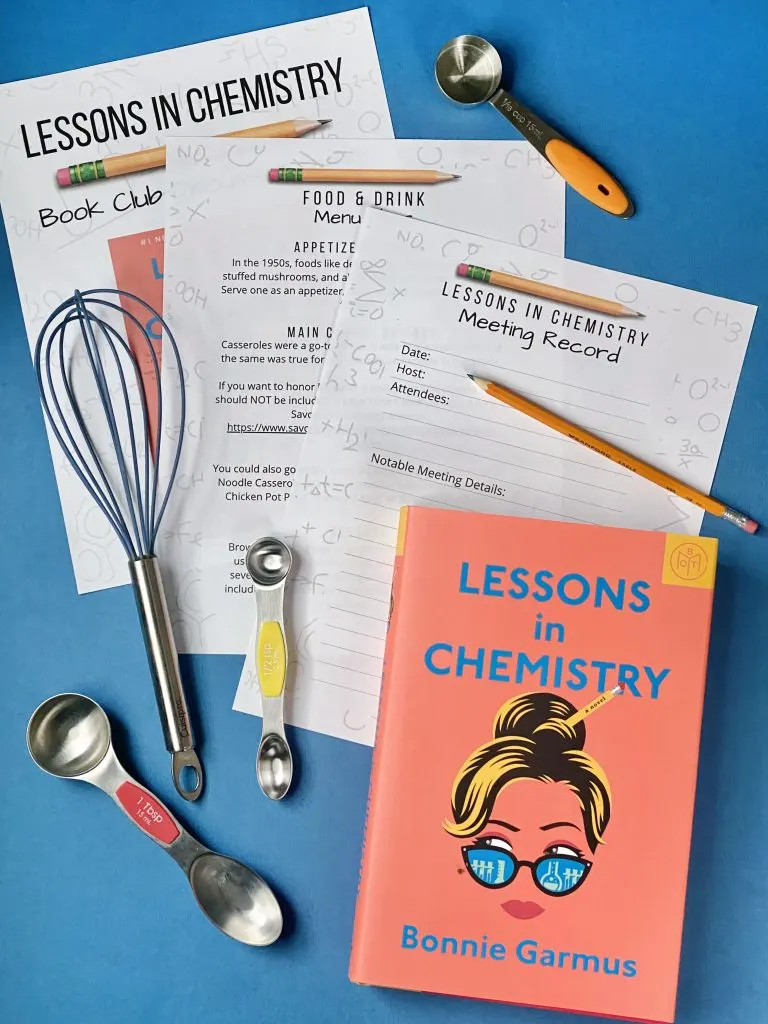 Lessons in Chemistry Book Club Questions
In addition to the Lessons in Chemistry book club questions specific to this book, we have a resource of 50 book club questions that work for any book. That post also provides tips for creating your own book club questions.
Read through the questions before your meeting and select your favorites so you can prioritize them. Most clubs won't have time for every question, so start with those that you are most excited to discuss.
How do Elizabeth's observations in the book about The Mikado compare to your observations about Lessons in Chemistry, which some have called hilarious? For reference, here is the quote from the book: "She bought a ticket to The Mikado, a supposedly funny operetta. Although she had long looked forward to it, as the story unfolded, she realized she didn't find it funny at all. The lyrics were racist, the actors were white, and it was blatantly obvious that the female lead was going to be blamed for everyone else's misdeeds."

Elizabeth refuses Calvin's marriage proposal because she doesn't want her achievements in his name. It was a legitimate concern. Did you know that tennis superstar Billie Jean King never had her own name on the Wimbledon winner boards? She appeared only as Mrs. LW King. In 1981, Chris Evert's victory was listed as Mrs. J.M. Lloyd. It wasn't until 2022 that Wimbledon decided to use a woman's preferred name. Discuss your own opinions on women being recognized under their husbands' names, even if they have kept their own (like Chris Evert).

There are a few shocking moments in the book. Which caught you the most off guard?

In addition to shocking moments, there are some that make you want to cheer. Which moments made you smile the most?

Harriet and Mrs. Frask were both complacent in bad situations, Harriet at home and Mrs. Frask at work, before they meet Elizabeth. How did she change their lives?

A recurring theme in the book is the unfortunate way that religion had failed both Elizabeth and Calvin, starting in childhood, in very different ways. Discuss your feelings about this aspect of the novel.

Six-Thirty and Madeline are both quite advanced. How much of this was nature, and how much was nurture as a result of Elizabeth's decision to never limit the possibilities of others?

When Harriet considered Madeline's intelligence, she believed the source was that "Elizabeth simply refused to accept limits, not just for herself, but for others." Is there an area of your life that you feel a limit was set for you – either by yourself or someone else? How do you think things would have been different without that perceived limit?

Elizabeth sees rowing as a metaphor for parenting and for life. She says, "Rowing is almost exactly like raising kids. Both require patience, endurance, strength, and commitment. And neither allow us to see where we're going—only where we've been." She also describes rowing as the way that society should be – no one person in the boat is more important than another. Can you think of an example from your own life where everyone must "row as one" in order to succeed?

What did you think of Elizabeth's sign-off line for each episode of Supper at Six? "Children, set the table. Your mother needs a moment to herself."

When Mad encounters Wakely at the library, they end the meeting by each sharing a secret. What did you imagine they said? Were you surprised by each of their secrets when the book circled back to fill us in at the end?

When Elizabeth is pregnant, strangers constantly felt the need to comment about the worst parts of being a new mom, or they touched her without consent. Have you witnessed this still happening today? If it has happened to you personally, how did you respond?

Jack Lalanne was all the rage as a TV exercise guru from 1951 to 1985. Consider playing this 4-minute clip of his first episode for your group & discuss your thoughts.

We all know the saying, "don't judge a book by its cover," but let's be honest – many of us do. Author Bonnie Garmus is well aware of this, since she's not a fan of the US cover of the book herself. What was your first impression of this book based on the cover?

Take a look at these alternate covers from different countries and discuss how your first impression might have been different and which cover you think best represents the book.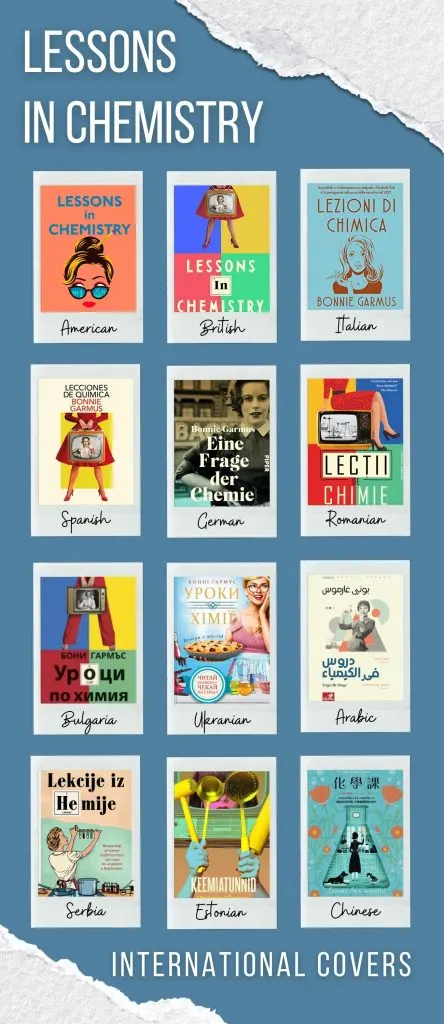 Lessons in Chemistry Book Club Food Ideas
Appetizers & Snacks
In the 1950s, foods like deviled eggs, finger sandwiches, stuffed mushrooms, and all kinds of canapes were popular. Serve one as an appetizer, or have each member bring their favorite.
Main Course Options
In the book, casseroles were a go-to dinner choice in Elizabeth's life and for most American families in the 1950s. When a sponsor tries to get their canned soup included in one her recipes, it doesn't go well.
As a nod to that scene and a classic 1950s dish, you could make a chicken noodle casserole as your main course. This one from our friend over at Savory Experiments is a great option!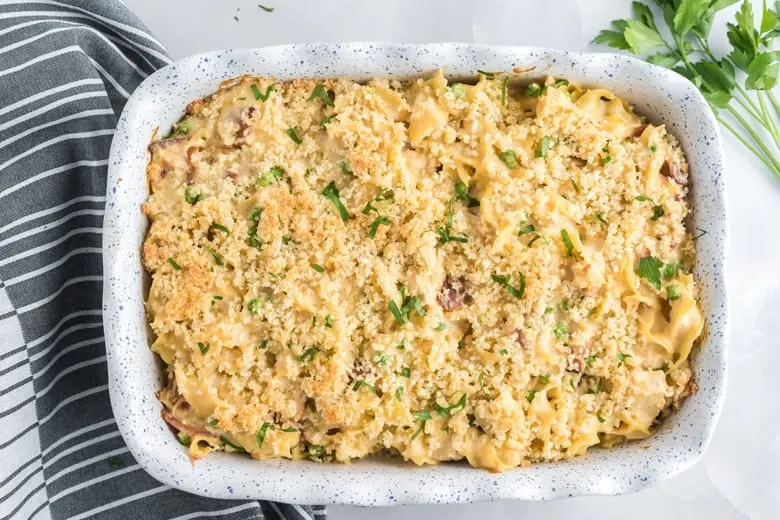 Or, to honor Elizabeth's mandate that no canned soup be used, you could try this Tuna Noodle Casserole that uses heavy cream and other fresh ingredients in lieu of soup.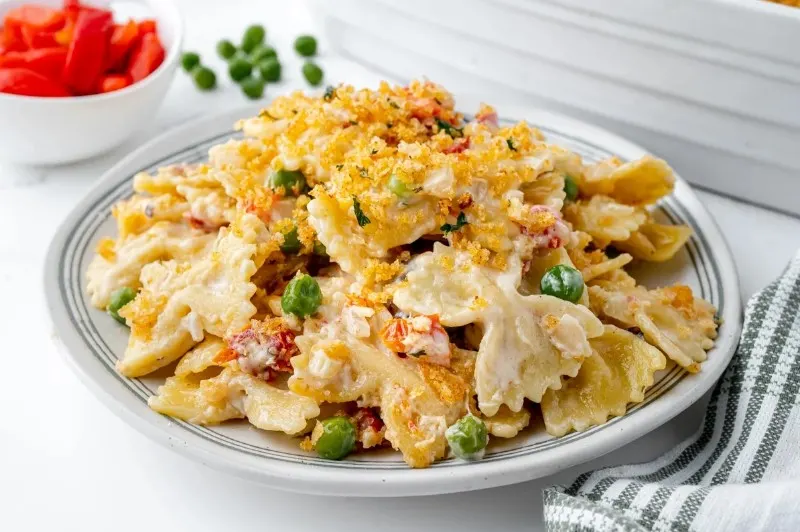 Other entrees that were popular in the 1950s include Chicken Pot Pie, Chicken a la King, and Swedish Meatballs.
Dessert
For dessert, Elizabeth turned to brownies as her comfort food. During a rough week in the book, she made them day after day. You can make your own favorite brownie recipe (we like this one) or explore the fun brownie options on this page if you want to try something new.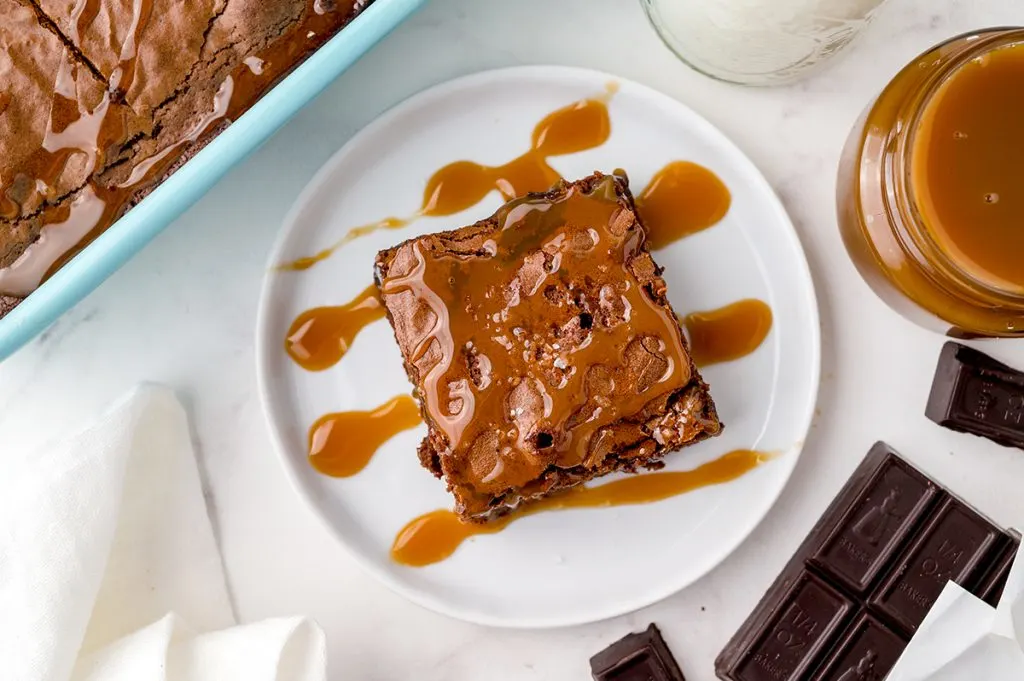 Lessons in Chemistry Book Club Beverage Ideas
Non-Alcoholic Options
For a themed non-alcoholic beverage, mix up a pitcher of Tang. It was developed by scientists and became the first soft drink to orbit the earth in 1962, which also skyrocketed its popularity.
Elizabeth was also an expert at making the perfect coffee, so setting up a coffee bar would be another great non-alcoholic choice.
Cockails
Cocktails were much more popular than beer and wine in this period (although, don't worry, we have wine recommendations too). Any supper club classic cocktails like a martini, old-fashioned, Tom Collins, or a gimlet would be a great choice.
Wine
While wine wasn't as common in the 1950s as it is now, we still found some great options that tie into the theme of the book.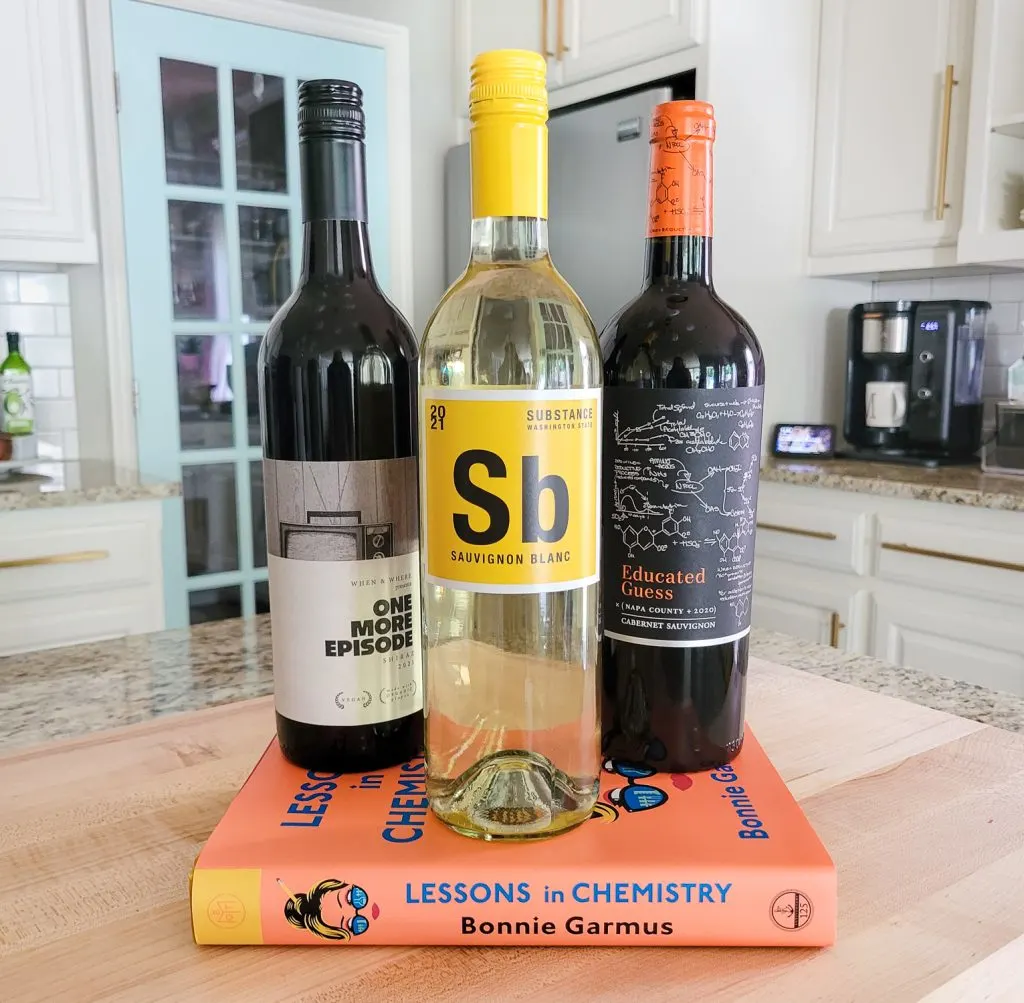 Substance brand wine has adorable labels that mimic the look of the periodic table. They have many varietals available and would be very cute together on a table.
When & Where Brands has a Shiraz named One More Episode. The label includes a vintage TV, and we hope whoever is watching is tuning in to Supper at Six.
Educated Guess is a California wine label made by Roots Run Deep. They have several varietals, each with an amazing chemistry-inspired label. If you'll be using our book club kit, you may notice that the label is similar to the background of our printables.
Lessons in Chemistry Book Club Decor Ideas
While themed decor is totally optional for book clubs, it can be fun to add little touches of each book to your table. We found a few ideas to get you started!
Use a glass beaker as a vase filled with flowers for your centerpiece.
Or, if you really love the look of beakers, consider this beaker vase set with a wood base.
Just like beakers, test tube vases also make a perfect centerpiece that will look good in your home long after your book club meeting ends.
If you want to make a bigger, bolder statement with your chemistry-themed decor, this periodic table tablecloth is available in four different sizes.
Lessons in Chemistry Quotes
The following are some of the best quotes from Lessons in Chemistry, and all would make great talking points as part of a book club discussion. Be sure to bring any quotes you highlighted along the way as well.
"When it came to equality, 1952 was a real disappointment." -Elizabeth
"Humans, Six-Thirty noticed, had a tendency to overcomplicate."
"Humans. Some of them didn't seem to grasp their actual status in the animal kingdom."
"Say what you want about the human race, their capacity for kindness was what – in Six-Thirty's opinion – puts them over the top species-wise."
"Have you ever noticed that women say they have to run to the store? Not walk, not go, not stop by. Run. That's what I mean. The homemaker is operating at an insane level of hyper-productivity." – Walter Pine
"Whenever you start doubting yourself, whenever you feel afraid, just remember. Courage is the root of change – and change is what we're chemically designed to do."
"Your days are numbered. Use them to throw open the windows of your soul to the sun."
"Sometimes I think," she said slowly, "that if a man were to spend a day being a woman in America, he wouldn't make it past noon."
"No surprise. Idiots make it into every company. They tend to interview well."
"Every day she found parenthood like taking a test for which she had not studied. The questions were daunting and there wasn't nearly enough multiple choice."
"The librarian is the most important educator in school. What she doesn't know, she can find out."
"Unlike other species which do a better job of learning from their mistakes, humans require constant threats and reminders to be nice."
"Often the best way to deal with the bad is to turn it on end – use it as a strength, refuse to allow the bad thing to define you. Fight it. " -Elizabeth to Mad
"Some things needed to stay in the past because the past was the only place they made sense."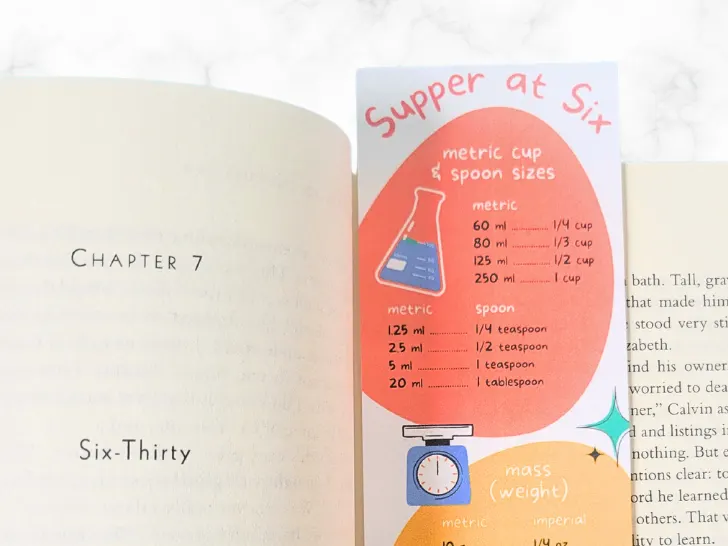 Bonnie Garmus Biography
Author Bonnie Garmus was born in 1957 and spent her younger years in Riverside, California. Her mother worked as a nurse before marriage and again later in life, but she spent a large portion of her life as a full-time "housewife" caring for Bonnie and her three older daughters. Bonnie was always very aware of how much her mother missed her career. She told the New York Times that it wasn't until she started researching Lessons in Chemistry that she realized just how difficult it must have been for her mother and other women of her generation, "giving up [their] career[s], and then being called average all of the time."
Garmus's father was an entomologist whose work eventually took the family overseas. While Bonnie herself never wanted to be a scientist (she studied English Literature at the University of California, Santa Cruz), she did spend a few years working for a science textbook company. She later worked as a copywriter specializing in technology, medicine, and education. Bonnie said in her NYT interview that her novel is "a love letter to scientists and the scientific brain." She spent a great deal of time researching the chemistry included in the book using textbooks from the 1950s in order to ensure that she used terminology that was accurate to the era.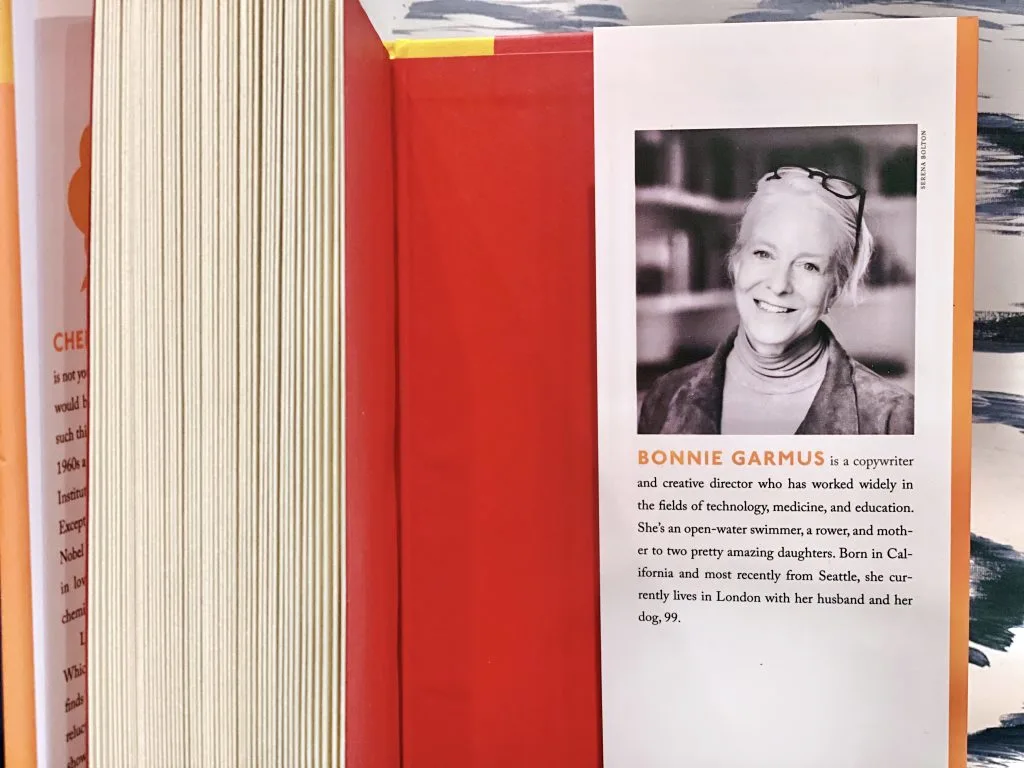 Although Lessons in Chemistry is her first published novel, it's not the first book she wrote. Her previous manuscript received 98 rejections (in part due to its 700-page length). She describes herself as "the rejection queen," but nonetheless she never gave up her aspirations to be an author. She explains in an interview with the Daily Mail that she began the first chapter of Lessons in Chemistry after a string of frustrating experiences at work. One day, she gave a presentation at work and her ideas were ignored. Then a male colleague made the same recommendation to great praise. She says that was the final straw.
Garmus was living in Seattle with her husband (a scientist himself) when she began writing Lessons in Chemistry. Midway through the book, they moved to Switzerland and then to London. During this time, she experienced some writer's block, until one of her two daughters sent her to a writing course offered by a literary agency. This got her out of her rut. By the time Lessons in Chemistry was finished, it ended up in a 16-way auction with publishers fighting for the rights to edit the book.
Of course, the question everyone really wants to know is, did Bonnie Garmus base Six-Thirty on her own dog? Yes! Bonnie's dog, Friday, inspired Six-Thirty. Like Six-Thirty, Friday knew a great deal of words (both in English and German). Sadly, Friday passed away while Garmus was living in Switzerland and before the completion of the novel.
Six-Thirty has become so popular, with such a big fan base, that he even has his own Instagram account. Of course, since Six-Thirty is fictional, the pup featured on the account is actually Bonnie's current dog, a retired Greyhound racer named 99. Bonnie and her husband adopted him when he was six years old, and she named him 99 in honor of her childhood best friend, Helen, who had passed away years before. As kids, she and Helen loved the show Get Smart and called each other 86 and 99 (after the agents on the show) for the next 50 years. You can read even more about Friday and 99 in Bonnie's interview with Dogster.
Other aspects of Bonnie's real life made their way onto the pages of Lessons in Chemistry as well. She and Elizabeth both share a passion for rowing. In fact, Bonnie was just about to join a rowing club when the pandemic lockdown began, so she instead became addicted to her ergometer (rowing machine).
Frequently Asked Questions
Can I Get a Printable Version of the Book Club Guide
Yes! We have a printable version in our shop that comes with lots of bonus goodies, including a retro-inspired bookmark with kitchen conversions.
Is There a Lessons in Chemistry Movie?
While there is no movie adaptation of this novel, you can watch the Lessons in Chemistry tv series on Apple TV+. The drama stars Academy Award winner Brie Larson as Elizabeth Zott. Larson is also executive producing the series.
You watch the first-look preview of the Lessons in Chemistry tv show here.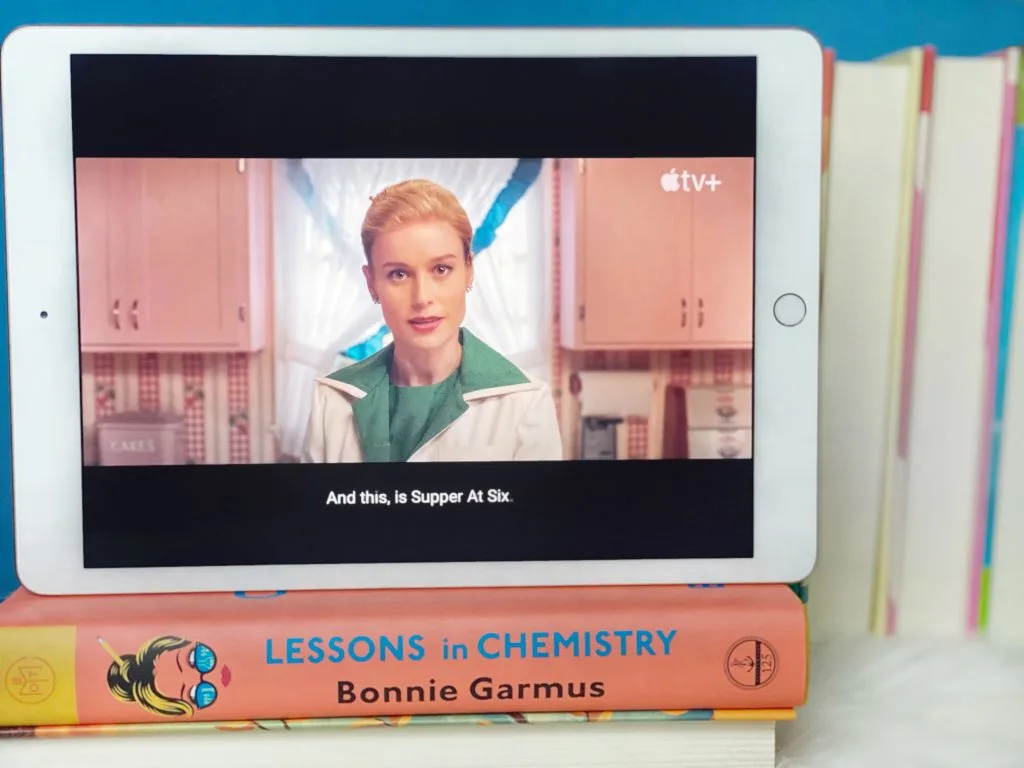 Is There a Lessons in Chemistry Audiobook?
Yes! Miranda Raison narrated the 12-hour-long audiobook. She does an excellent job and allows you to be fully immersed in Elizabeth Zott's world. The one complaint that many people have about the audiobook is the mispronunciation of fitness guru Jack LaLanne's name, so keep that in mind if that's a deal breaker for you.
The audiobook also includes an exclusive interview with author Bonnie Garmus by Pandora Sykes.
What Are Some Other Books Like Lessons in Chemistry?
If you enjoyed the time period of the Lessons in Chemistry, check out our curated lists of books set in the 1950s and books set in the 1960s. If Supper at Six was your favorite part of the book, you'll find lots of great novels on our list of fiction books for food lovers. And if you want the perfect mix of historical fiction mixed with foodie themes, we specifically recommend Recipe for a Perfect Wife and The Kitchen Front.
Recipe for a Perfect Wife is about a woman in 2018 who moves to the suburbs of New York and discovers a vintage cookbook in the basement of her new home. Within the book, she discovers hidden notes left by the home's previous owner, Nellie – a quintessential 1950s housewife. As Alice cooks her way through Nellie's recipes, the novel juxtaposes her life against Nellie's life 60 years ago. In some ways, everything has changed, but in other ways, nothing has changed. The novel includes recipes, as well as some depressing but hilarious marriage advice from the 1950s.
The Kitchen Front is set in Britain two years after the start of WWII and is based on a true wartime cookery program. With rationing at the forefront of everyone's mind, BBC Radio decides to start a cooking program to help housewives with creative meals. To find the show's first female co-host, BBC holds a cooking contest. The four candidates couldn't be more different, but each needs the job. A young widow, a kitchen maid, a Lady with a wealthy but hostile husband, and a trained female chef trying to take on the men at the top of her field must compete for the single hosting position.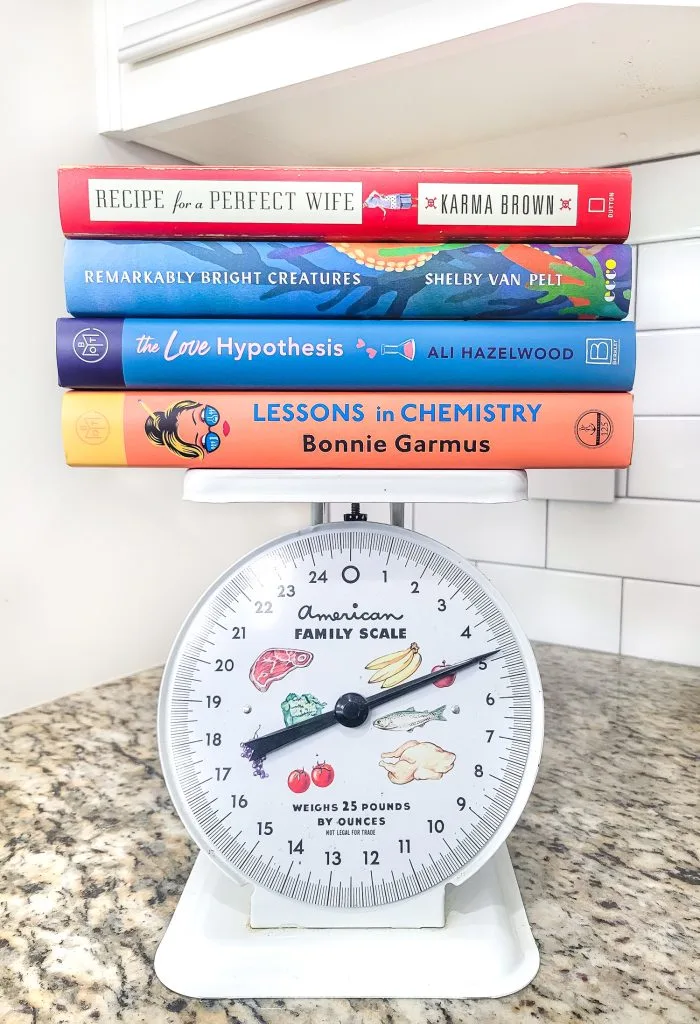 If you enjoyed Six-Thirty's wry observations about humans, we highly recommend that you read Remarkably Bright Creatures. One of the main characters is a curmudgeonly giant Pacific octopus name Marcellus who also shares many critical and humorous observations on human behavior. It makes a great book club choice, we have a Remarkably Bright Creatures discussion guide all ready for you!
If you loved Elizabeth's quirky personality and the humor mixed with emotions in Lessons in Chemistry, we think you'll also enjoy Where'd You Go Bernadette. Like Elizabeth, Bernadette is a genius in her field, but her career didn't go according to her plans. Both novels also feature a very strong mother-daughter relationship. Discover even more lovably unique, and often misunderstood women on our list of Quirky Book Characters.
Finally, if you want to read more books about women in STEM (science, technology, engineering and math) we recommend the historical fiction books by Marie Benedict (Her Hidden Genius) and the rom-com books by Ali Hazelwood (The Love Hypothesis).
Are There Other Books by Bonnie Garmus?
Lessons in Chemistry is Bonnie Garmus's debut novel. She is currently working on a new novel, but she has not revealed any details other than to say it will not be set in the same time period. We look forward to reading anything and everything Bonnie writes!
Lessons in Chemistry Summary
Setting: Commons, California, 1952-1961
Elizabeth Zott is a quirky and brilliant female chemist working with an all-male team at the Hastings Research Institute. But her scientific qualifications don't stop the "good old boys" from being frustrated that she won't get coffee or make copies for them. When Elizabeth meets Calvin Evans, another scientist at the Institute, another type of chemistry results.
Fast forward a few years. It's 1961, and Elizabeth is a 30-year-old single mother and she's taken a bit of a detour in her career. Instead of working for Hastings, she's now (somewhat reluctantly) the star of a much-loved cooking show called Supper at Six. Her cooking methods are unusual ("combine one tablespoon acetic acid with a pinch of sodium chloride"). As her popularity grows, it turns out she's not just teaching women to cook, she's also daring them to change the status quo.
Readers should be aware that this book addresses some serious topics, including misogyny, sexual assault, domestic violence, and suicide.
Check out this video for more discussion about the themes in Lessons in Chemistry with author Bonnie Garmus. In the video, she also discusses her inspiration for the novel.
Lessons in Chemistry Review
Both Book Girls rated Lessons in Chemistry five stars. While most readers seem to love this book as much as we did, those who don't have pretty strong feelings about it. We think this might stem partly from the fact that the book's cover gives off rom-com or chick-lit vibes, and this book is not that. As the author has stated, she and the publisher didn't see eye-to-eye on the US cover design. Mass marketing appeal won out, but we think that may give people the wrong expectations going into this book.
That said, we struggled to put into words exactly what we love so much about Lessons in Chemistry without saying too much. But if there was an Elizabeth Zott fan club, we'd definitely be a member! This novel is funny, but not in a laugh-out-loud sort of way – more in a sometimes you have to laugh so you don't cry sort of way. The descriptions of the misogyny that Elizabeth faces (and specifically some of the language that is directed at her) offends some readers, but it's an accurate representation of what she and so many women faced in the 1950s and 1960s. By no means is our struggle for equality over, but this book gave us so much respect for the women who paved the way.
The novel was also extremely popular with our readers who read it for our Decades Reading Challenge. When logging their thoughts with us, the average rating was 4.5 stars out of 5, with 97% of the readers reporting that they would recommend the book to a friend.
In Our Reader's Words…
Our readers also voted this book one of their favorites of 2022! They shared some great quotes about why they loved it. Some readers asked to remain anonymous, which is why some quotes have attributions and others do not.
My favorite brilliant female lead character ever! I loved the human connections and the ways different characters came together in their own uniquenesses to support each other. I loved how the female characters, especially, were vibrant and interesting. It was a light read with depth. I'm truly not used to smart characters being explored in such full and human ways. –Dana K.
Growing up in the 60's I saw how difficult it was for my mom and older sister to step out of the mold of the 50's. I loved the approach Garmus used in creating Elizabeth: strong, willful, proud. Changing the status quo is hard work and takes a determined woman! –Jaci E.
I love that it tells the story of an intelligent woman trying to make it in a man's world in the 50's and 60's. Very interesting! Also, the book absolutely reeled me in! –Lynn
I loved that Elizabeth stays strong and true to herself despite so many obstacles. I also loved how the story is told through the eyes of different characters, including the dog. Six-thirty may be my favorite character of any book this year. –Patty O.
As a woman also in STEM and a single mom I totally related to Elizabeth Zott! I felt her frustration and loved how she handled all the things. –Amy V.
In spite of being terribly sad in places, it was also laugh-out-loud funny. –Marion B.
I felt seen and empowered – the main character and I have lots in common. –Cristina F.
Awards & Nominations for Lessons in Chemistry
More than 50 weeks and counting on the New York Times Best Seller list; in the #1 spot for most of them (2022-2023)
Good Morning America Book Club Pick (2022)
Barnes & Noble's Book of the Year (2022)
Goodreads Choice Award for Best Debut Novel (2022)
Goodreads Choice nominee for Best Historical Fiction (2022)
Shortlisted for the Waterstones Debut Fiction Prize (2022)
Named a best book of the year by The New York Times, Washington Post, NPR, Oprah, Entertainment Weekly, Newsweek, and Amazon (2022)
We hope you found our book club guide helpful!
As a reminder, you can get the guide in a print-friendly format for your book club meeting in our Etsy shop! Each purchase helps us continue providing great book lists and book resources here.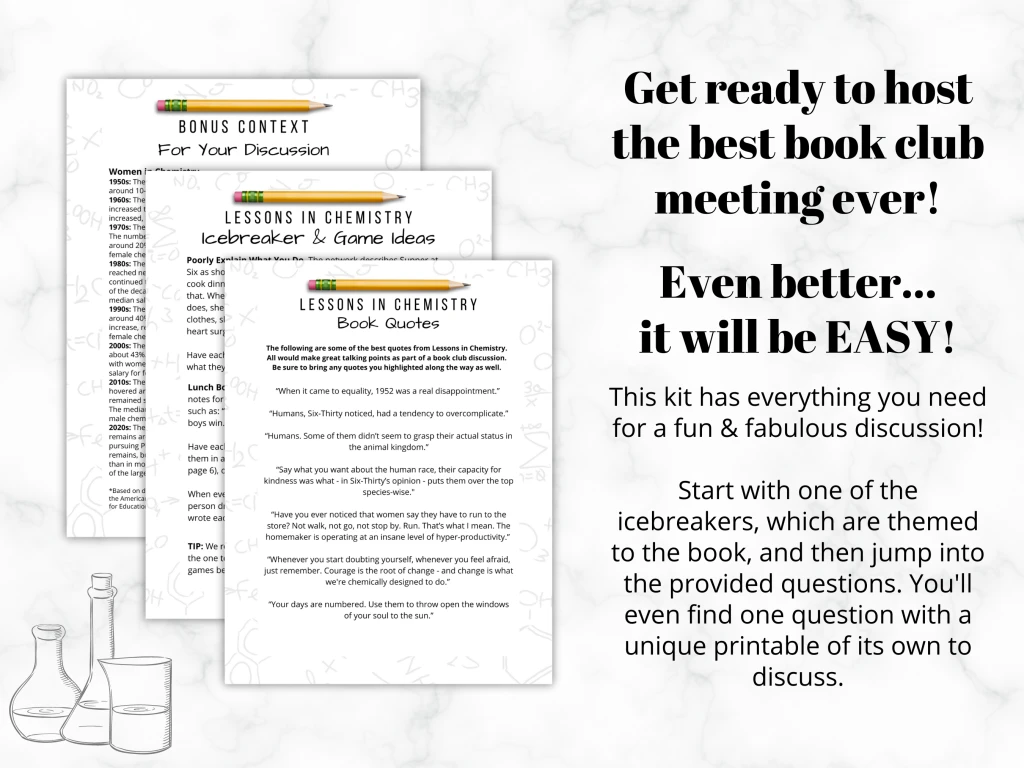 Additional Book Club Guides
If you're planning ahead to your next book club pick, consider selecting another book from our list of guides to make your meeting preparation easy and fun!