Remarkably Bright Creatures was voted as one of the favorite books of our readers, and also made our own top book list. If you're looking for a book that will make your group members smile while still providing ample opportunities for discussion, we highly recommend selecting this novel.
If you haven't yet read the book, skip down to the Summary & Review sections at the bottom to read a synopsis of Remarkably Bright Creatures. We've also included reviews from our readers to help you decide if it's right for your book club.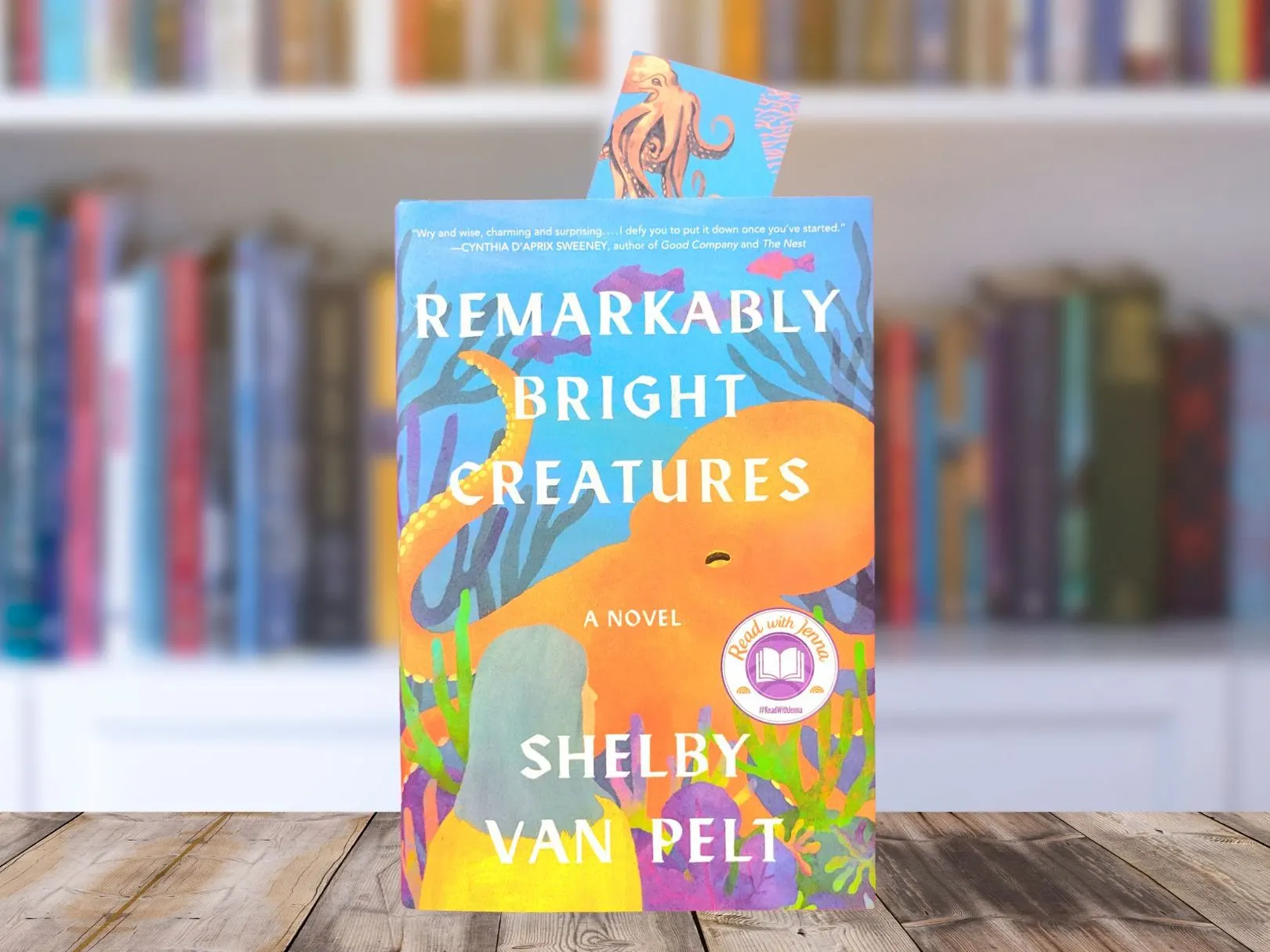 What's Included in This Guide: Online & Printable Versions
Everything you need to host or participate in a successful book club for Remarkably Bright Creatures is included in the post below, from discussion questions to food and cocktail ideas, and so much more!

We also have an optional printable Remarkably Bright Creatures book club kit to take your meeting to the next level. The printable version of the book club guide is fully customized to Remarkably Bright Creatures and includes the following pages:
A Character List
Book Club Discussion Questions
Quotes from the Book
Icebreaker Ideas Themed to the Book
Printable Bookmarks for All Your Members
Two Pages of Bonus Contextual Information, including author facts, giant Pacific octopus facts, and information on Dala horses
Themed Food & Drink Menu Ideas
Various Book Covers from Around the World
Custom Designed Journal Page to Record Book Club Meeting Details
Themed Notes Page
A List of Additional Book Club Resources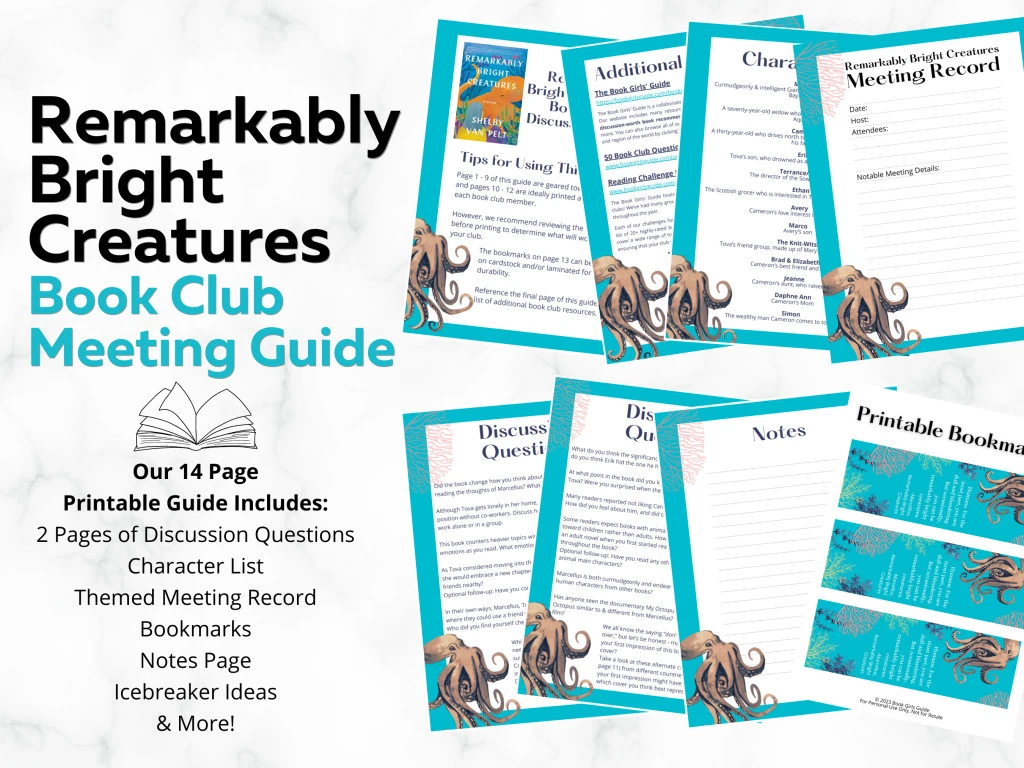 No pressure to purchase, you're always welcome to use any of the resources below for free!
Remarkably Bright Creatures Characters
These are the key characters that bring Remarkably Bright Creatures to life. Keep this list handy as a quick reference during your discussions—it'll help keep track of who's who as you delve into conversations. Our printable guide includes a one-page character list if you find it easier to have a printed reference.
Marcellus – Perhaps the most beloved book character of 2022, Marcellus is a Giant Pacific Octopus who lives in the Sowell Bay Aquarium. He's curmudgeonly, but also extremely intelligent and knows his days are running out.
Tova – A seventy-year-old widow who doesn't want to become irrelevant or move to a nursing home, so she takes a night job at the Sowell Bay Aquarium to stay active. This is where she meets Marcellus.
Cameron – A thirty-year-old, struggling in life in Modesto, California. He drives north to Sowell Bay, Washington looking for his father after losing his job and getting dumped by his girlfriend. Once he arrives, Cameron takes a temporary position at the aquarium to make enough money to stay in town.
Jeanne – Cameron's aunt, who raised him
Daphne Ann – Cameron's Mom
Brad & Elizabeth – Cameron's best friend and his wife
Simon – The wealthy man Cameron comes to town to meet
Avery – Cameron's love interest in Washington
Marco – Avery's son
Terrance/Terry – The director of the Sowell Bay Aquarium
Ethan – The Scottish grocer who is interested in Tova. He also befriends Cameron, connecting Cameron to the temporary aquarium job and giving him a place to park at night.
The Knit-Wits – Tova's friend group, made up of Mary Ann, Janice, and Barb
Lars – Tova's older brother
Erik – Tova's son, who drowned as a teenager decades earlier. While the police said it was suicide, Tova never believed that was the case.
We hope this character list is a helpful reference as you prepare to discuss the book.
Remarkably Bright Creatures Book Club Questions
In addition to the discussion questions specific to this book, we have a resource of 50 book club questions that work for any book. That post also provides tips for creating your own book club questions.
Read through the questions before your meeting and select your favorites so you can prioritize them. Most clubs won't have time for every question, so start with those that you are most excited to discuss.

Did the book change how you think about zoos and aquariums after reading the thoughts of Marcellus? What are the pros & cons?

Although Tova gets lonely in her home, she opted to find an overnight position without co-workers. Discuss her choice and whether you prefer to work alone or in a group.

This book counters heavier topics with a lighter tone leading to a range of emotions as you read. What emotions did it illicit in you?

As Tova considered moving into the retirement community, did you hope she would embrace a new chapter or stay in her existing home with her friends nearby?

Optional follow-up: Have you considered your future living arrangements?

In their own ways, Marcellus, Tova, and Cameron were all at points in life where they could use a friend who was a cheerleader for their happiness. Who did you find yourself cheering for the most as you read?

While she didn't need to work for money, Tova needed to stay busy and keep moving to survive and keep depression away. Conversely, Cameron's circumstances and mental health had him remaining still in life. Did you relate to either character's natural coping tendencies?

What do you think the significance of the Dala horse was to Tova? And why do you think Erik hid the one he had repaired?

At what point in the book did you know what Marcellus was trying to tell Tova? Were you surprised when the full story was revealed?

Many readers reported not liking Cameron at the beginning of the book. How did you feel about him, and did that change by the end of the book?

Some readers expect books with animals as main characters to be geared toward children rather than adults. How did you feel about this concept in an adult novel when you first started reading and did your opinion change throughout the book?

Optional follow-up: Have you read any other books you'd recommend with animal main characters?

Marcellus is both curmudgeonly and endearing. Did he remind you of any human characters from other books?

Has anyone seen the documentary My Octopus Teacher? How was the real Octopus similar to & different from Marcellus? Would you recommend the film?

We all know the saying, "don't judge a book by its cover," but let's be honest – many of us do. What was your first impression of this book based on the cover?

Take a look at these alternate covers from different countries and discuss how your first impression might have been different and which cover you think best represents the book.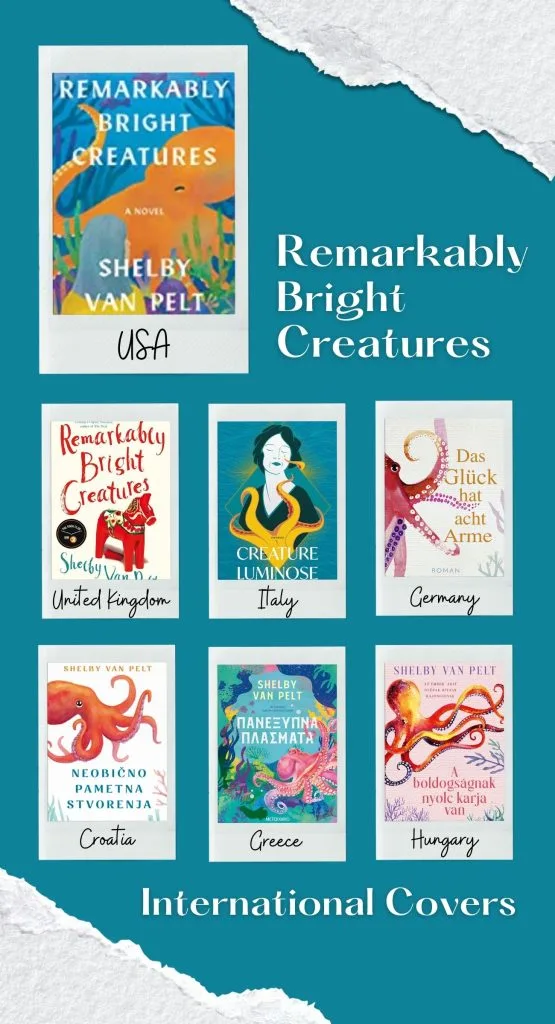 Remarkably Bright Creatures Book Club Food Ideas
When author Shelby Van Pelt was asked in an interview about book club food, she replied, "I suggest honoring Marcellus and his sneaky, snacky ways by serving small seafood treasures. Crab Rangoons, smoked salmon on crackers, bacon-wrapped scallops, shrimp cocktail. Anything but herring, really. We all know how tiresome Marcellus finds herring!"

In honor of her suggestion, we suggest serving amuse-bouche style (one-bite) appetizers as little treasures. This can be as simple or as fancy as you'd like!
Remarkably Bright Creatures Book Club Beverage Ideas
WINE: In honor of the book's Washington state setting, choose a wine from a Washington winery. One of the Book Girls' favorites, which is usually widely available and affordable, is Chateau Ste. Michelle.
COCKTAIL: This Blue Lagoon Cocktail is made from vodka, lemonade, and Blue Curaçao liquor (contains alcohol) to make it the color of the ocean.
NON-ALCOHOLIC OPTION: You can make the Blue Lagoon Cocktail into a simple, but fun ocean blue mocktail by omitting the vodka and using Torani's Blue Curacao syrup, which doesn't have alcohol (unlike Blue Curaçao liquor).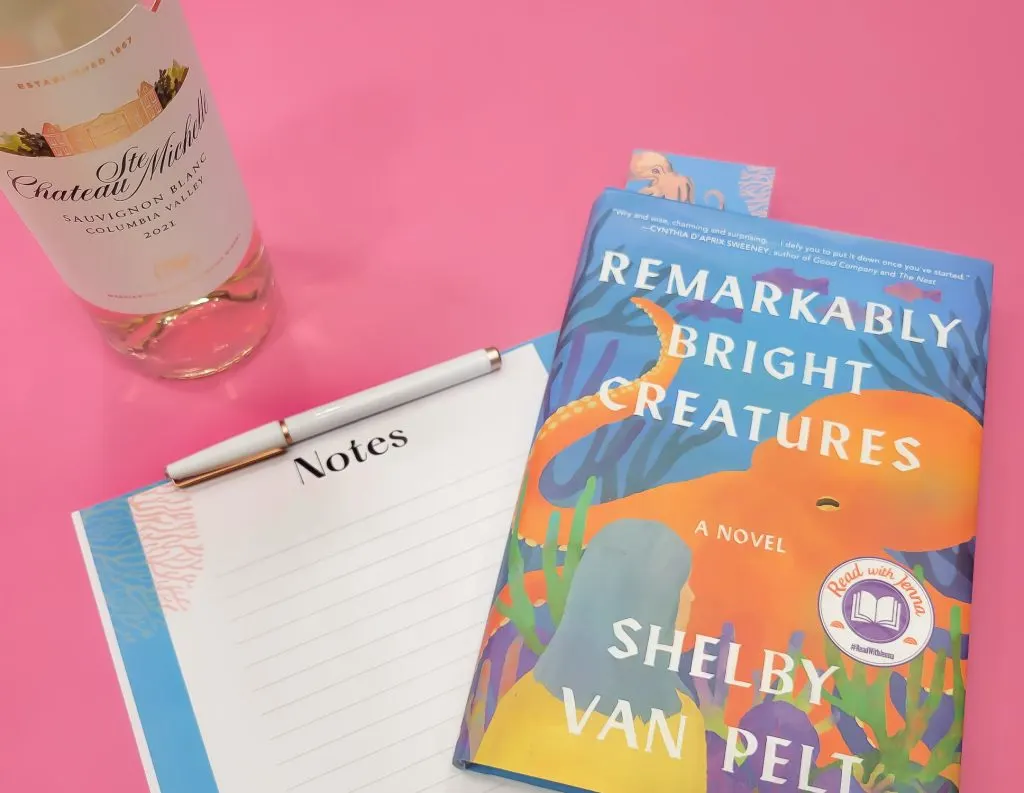 Remarkably Bright Creatures Book Club Decor Ideas
While themed decor is totally optional for book clubs, it can be fun to add little touches of each book to your table. We found a few ideas to get you started!
These ocean-themed plates are the perfect chic nod to Remarkably Bright Creatures. They're disposable for easy clean up, but also hand-washable if you'd like to reuse them.
Every discussion about this book needs some Marcellus napkins!
If you prefer cloth napkins, pick up some octopus napkin rings instead.

A simple centerpiece flower arrangement in a nautical vase that you can reuse again and again is the perfect final touch.
Quotes From Remarkably Bright Creatures
The following quotes from the book would each make a great talking point as part of a book club discussion. Be sure to bring any quotes you highlighted along the way as well.

"Humans. For the most part, you are dull and blundering. But occasionally, you can be remarkably bright creatures."
"Why can humans not use their millions of words to simply tell one another what they desire?"
"Secrets are everywhere. Some humans are crammed full of them. How do they not explode? It seems to be a hallmark of the human species: abysmal communication skills."
"She understands what it means to never be able to stop moving, lest you find yourself unable to breathe."
"The Knit-Wits have been her friends for years, and sometimes she still feels as if she's a mistaken jigsaw piece who found her way into the wrong puzzle."
"Tova wonders sometimes if it's better that way, to have one's tragedies clustered together, to make good use of the existing rawness. Get it over with in one shot. Tova knew there was a bottom to those depths of despair. Once your soul was soaked through with grief, any more simply ran off, overflowed."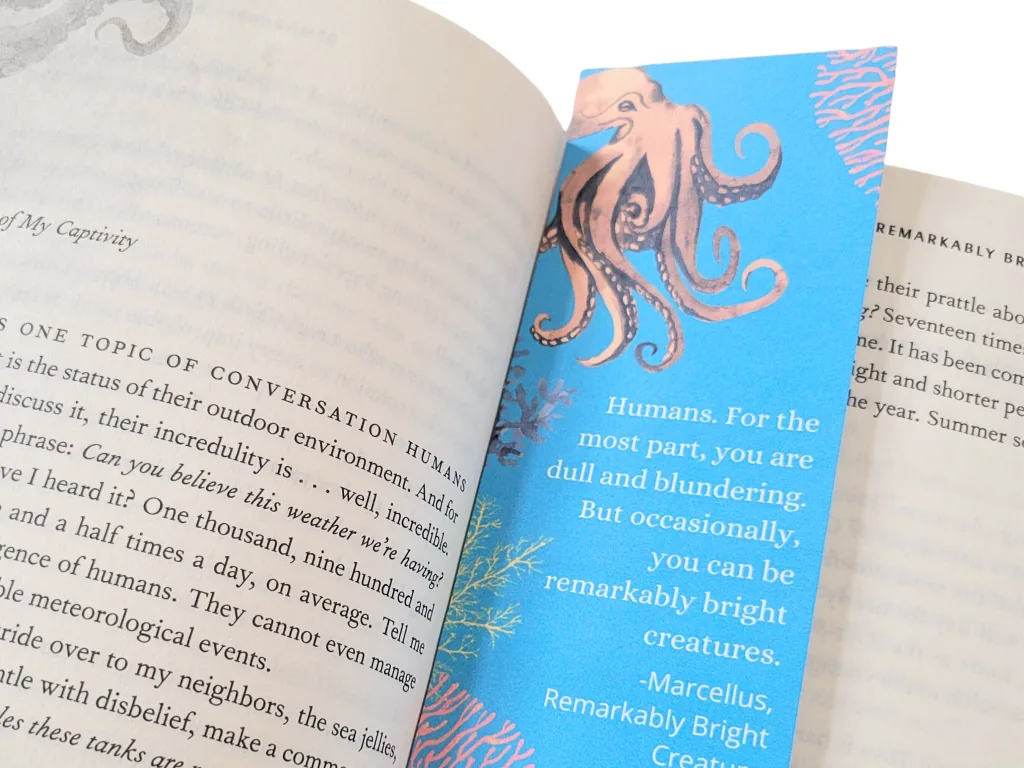 Shelby Van Pelt Author Biography
Remarkably Bright Creatures is the debut novel from Shelby Van Pelt. The book was first imagined in a writing workshop when she was challenged to write from an unexpected point of view. Shelby Van Pelt had recently seen a video about an intelligent octopus, so Marcellus was born.
Shelby Van Pelt's late grandmother was her loose inspiration for Tova. She was also Swedish, stoic, sweet, and always stayed busy. You can read more about Shelby and her references to her grandmother in this interview from the Los Angeles Public Library.
The setting of the book is close to the author's heart after being born and raised in the Pacific Northwest. As a child, she loved to hang out at the aquarium portion of Point Defiance Zoo & Aquarium because it was more immersive than other parts of the zoo.
Frequently Asked Questions
Can I Get a Printable Version of the Book Club Guide?
Yes! We have a printable version in our shop that comes with bonus goodies, like a cute printable bookmark, which contains a Marcellus quote.
Is There a Remarkably Bright Creatures Audiobook?
Yes! In fact, the book won an Audie award for its outstanding narration. You may recognize the voice of the narrators. Marin Ireland has also narrated Fredrick Backman's Beartown series and Anxious People, along with numerous other hit books. Michael Urie can also be heard in Steven Rowley's books The Editor & Lily & the Octopus.
Is There a Remarkably Bright Creatures Movie?
While we'd love to see Marcellus on the big screen, as of April 2023, there is no public information about an adaptation.

However, we've heard amazing things about the 2020 Netflix documentary "My Octopus Teacher." It features a nature filmmaker, who forms an unusual friendship with an octopus living in a South African kelp forest, learning as the animal shares the mysteries of her world.
What Are Some Other Books Like Remarkably Bright Creatures?
Many of our readers who enjoyed Remarkably Bright Creatures recommended Art of Racing in the Rain as another favorite book with an animal main character. In Lessons in Chemistry, most readers find the dog, named 6:30, to be really entertaining. In Steven Rowley's debut, Lily & the Octopus, the dog Lily plays a vital role in the story. It's quirkier than Remarkably Bright Creatures, and a tearjerker, but also very clever.

The magical memoir Grayson tells the true story of the author's encounter with an 18 ft long baby whale while she was swimming off the coast. Our readers have also enjoyed Perestroika in Paris, a charming tale starring a horse, some ducks, a dog, and a few humans.
We also have a whole list of Uplifting Book Club books, along with a list of books with characters of different generations forming new bonds.
Are There Other Books by Shelby Van Pelt?
Remarkably Bright Creatures is Shelby Van Pelt's debut novel, but we can't wait to see what she comes up with next!
Remarkably Bright Creatures Summary
Widower Tova began working at the Sowell Bay Aquarium to occupy her mind and time. She took pride in cleaning perfectly each night, even though she didn't need the money. She loved all the aquarium life but formed a special bond with the intelligent but curmudgeonly octopus named Marcellus.
He's just as surprised to feel friendly toward this human who visits him nightly. Soon, he connects the sadness he sees in her with something he saw in the ocean long ago. Can he help her solve the mystery of her son's disappearance 30 years ago?
Remarkably Bright Creatures Review
If you found this post searching for potential book club picks, we thought it would be helpful to share why we think it's an ideal selection for discussion.
Remarkably Bright Creatures was a five-star read for both of the Book Girls. When we first read the Remarkably Bright Creatures synopsis, we didn't expect a book partially narrated by a giant Pacific octopus to be one of our favorite books of the year. But Marcellus stole our hearts!
Beyond that, we loved each of the human characters and their struggles in different phases of life. Young or older, so many people deal with loneliness and loss. Watching the characters process and evolve was a heart-warming treat.

The novel was also extremely popular with our readers who read it for the Intergenerational Novels prompt in our Lifetime of Reading Challenge. When logging their thoughts with us, the average rating was 4.5 stars out of 5, with 97% of the readers reporting that they would recommend the book to a friend.
In Our Readers' Words…
Our readers also voted this book one of their favorites of 2022! They shared some great quotes about why they loved it. Some readers asked to remain anonymous, which is why some quotes have attributions and others do not.
I loved the characters, especially Marcellus. Fun read and makes you feel good about people and life. I like the author's writing style and the way the story unfolded. –Janel H.
Reading the description, I had no desire to read this book – too unrealistic for my reading tastes. But I decided to try it, and it became one of my all-time favorite books. –Mindee
Marcellus was such a wonderful character, and I loved the rest of the cast, too. The author made them imperfect and lovable.
I was invested in the characters within the first few pages. I could not put it down! It was so well done with a lovely story that was a bit unusual. –Judy C.
A book that can get me to fall in love with an octopus deserves to be on this list [of best books of 2022].
This was probably my favorite book I read this year. I loved the characters, especially the octopus! Even though I could see the connections the author was planning to make early in the book, it didn't ruin anything. Watching it all unfold was the best part!
Absolutely charming book, and the storyline was so creative and insightful. –Nancy M.
It's not just our readers enjoying the book. As of April of 2023, Shelby Van Pelt's debut novel has an outstanding average rating of 4.45 on Goodreads with more than 180,000 readers!
Awards & Nominations for Remarkably Bright Creatures:
Read with Jenna Today Show Book Club Pick (2022)
Named a Best Book of Summer (2022) by Chicago Tribune, The View, Southern Living, USA Today
Goodreads Choice Award Nominee for Fiction (2022)
Goodreads Choice Award Nominee for Debut Novel (2022)
Audie Award Finalist for Audiobook of the Year (2023)
We hope you found our book club guide helpful!
As a reminder, you can get the guide in a print-friendly format for your book club meeting in our Etsy shop! Each purchase helps us continue providing great book lists and book resources here.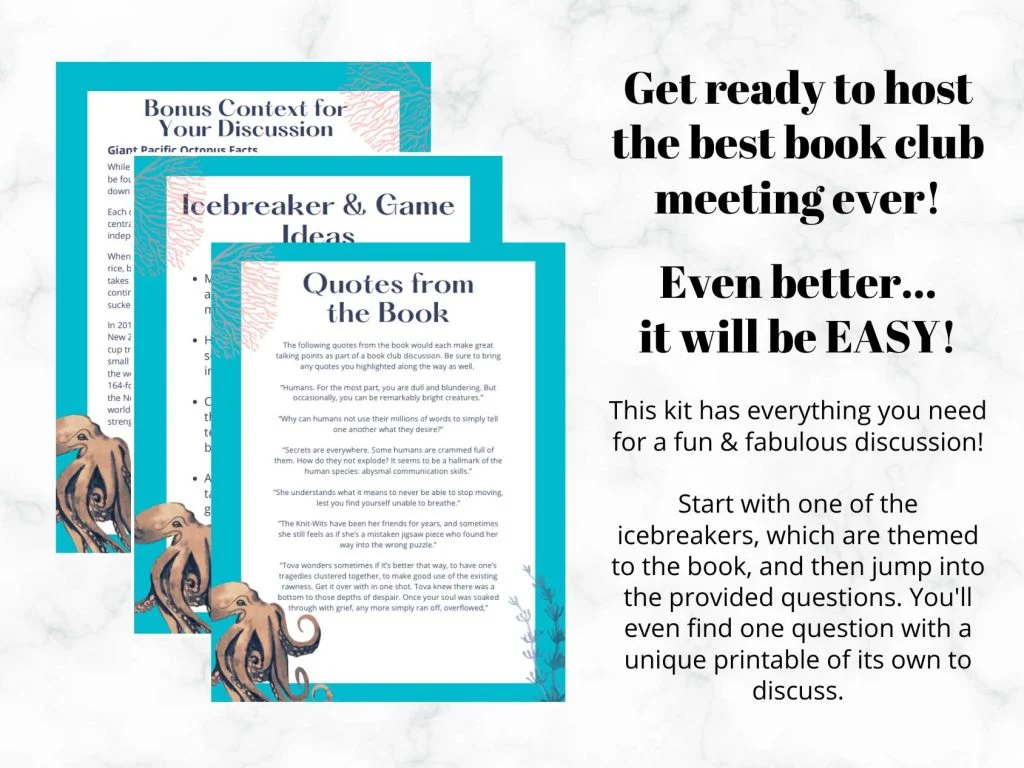 Additional Book Club Guides
If you're planning ahead to your next book club pick, consider selecting another book from our list of guides to make your meeting preparation easy and fun!