It's rare that a beloved TV series like Downton Abbey can take a long break and then debut a movie that still captures everything wonderful about the show.
But they did a fabulous job! In fact, after enjoying the movie, we started back at square one with the Crawley family withdrawals that happened after the TV run ended.
As with most things in life, we realized our craving to escape into upstairs / downstairs life on the English estate could be solved with a good book.
We set out to find books similar to Downton Abbey in different ways. Some are strong historical fiction with rich characters while others focus on the juxtaposition between the rich and those who serve them.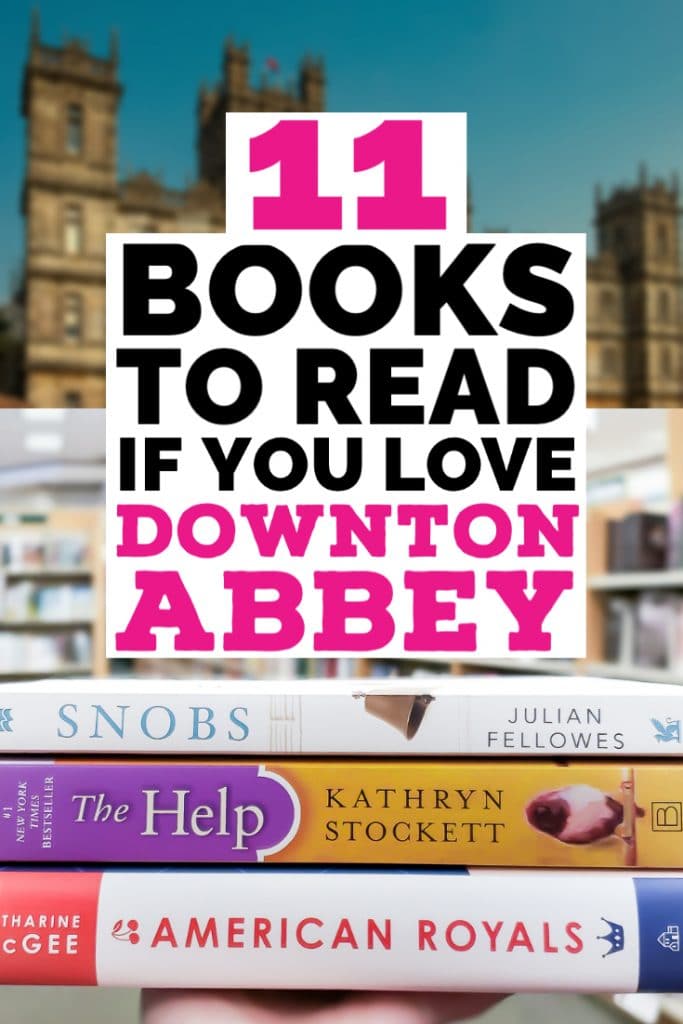 Whether you were drawn to the old-school nature of Lord Grantham, the Dowager Countess, & Mr. Carson or the emerging new thoughts of Sybil, Tom, Isobel, we've collected fiction books like Downton Abbey that we think you'll love!

And if you were most drawn to the characters learning to bridge the gap between past and future like Mary, Matthew, Daisy, and Cora, we've got a recommendation for you too!
As an Amazon Associate and member of other affiliate programs, we may earn a referral fee from qualifying purchases.
Books for Downton Abbey Fans
by Julian Fellows
Before Julian Fellows created Downton Abbey, his debut novel also looked at differences in class. Snobs.
Unlike Downton Abbey, Snobs is set in current London and pokes some fun at the British upper class and aristocracy while also giving you a glimpse into their world.
By Jennifer Robson
The Gown takes place after the time period of Downton Abbey, but includes a bit of the same contrast between the working class in England versus the royalty and aristrocracy.
In this case, the novel follows the embroiderers surviving on limited wages and food ration coupons after WW2, while working on the elaborate wedding gown for Princess Elizabeth during the day.
The book also has sections set in the present day as a woman's grandmother leaves her a mysterious box of detailed embroidery samples.
Melissa was worried this book would spend to much time on gown details, but instead, she found a character-driven 5 star read. Many books are set during World War 2, so it was interesting to see life in the years following the Blitz instead.
by Kevin Kwan
I know this one seems like a real stretch on the surface. BUT, we both love Downton AND the Crazy Rich Asians Trilogy and think you will too.
Like Downton, the characters in Crazy Rich Asians are multi-generational and struggling to balance traditions of the past in a modern evolving world. Instead of being set in 1910s-20s England, the books are set in present-day Singapore.
But you'll find great wealth, family dynamics, and the different pressures in picking partners when you're in the public eye. And humor!
The other books in the trilogy are just as enjoyable, but we recommend reading them fairly close together because there are A LOT of characters and once you get them down, it's nice to continue following their story while everything is fresh.
by the Countess of Carnarvon
Ever wonder about the real family that lives in Highclere Castle? Lady Fiona, the current 8th Countess of Carnarvon, wrote this book in 2011. It focuses on Lady Almina, who began life as an illegitimate daughter of Alfred de Rothschild in America.
Almina married the 5th Earl of Carnarvon in 1895 and they lived in Highclere Castle. From starting hospitals to her husband discovering King Tut's tomb, the couple's adventures, generosity, and legacy fill this book about the "real Downton Abbey".
by Daisy Goodwin
This novel has been described as the cure for Downton Abbey withdrawal symptoms.
Like Cora on DA, wealthy American heiresses were often matched to English aristocrats to obtain a title and improved social status. The American Heiress follows another Cora as she travels to England with her mother to secure a relationship with a duke.
Will she be able to find true love like Cora did with Robert?
by Hazel Gaynor
Did you swoon over the glamorous wedding scenes in Downton Abbey? If so, grab Meet Me In Monaco and be swept to the Cannes Film Festival with Grace Kelly as she tries to escape photographers AND marry Prince Rainier of Monaco.
The book is said to be full of passion and friendship. We both have this one on our reading lists and can't wait to share our thoughts after we read.
by Kathy McKeon
For 13 years, Kathy McKeon worked as an assistant to Jackie Kennedy including some time nannying for Caroline and John Jr. Like the relationship between Mary and Anna, Jackie and Kathy had a bond beyond a simple employer-employee relationship.
In Jackie's Girl, Kathy tells her own story of coming to America from Ireland at 19 and learning how to thrive in a new country with the help of Jackie.
by Kathryn Stockett
Even though 1962 Mississippi is a LONG way from 1920s England, we think you'll LOVE The Help if you haven't already read it. You'll find strong female leads and complicated relationships between families and those who care for them as a job.
by Katharine McGee
What would life be like in the US today if George Washington had been crowned King instead of named President?
Read this YA fictionalized version of America to find out what day to day life would be like today if we had a whole aristocratic system. It even features a relationship that will remind you of Sybil and Tom!
We're both eager for the sequel to hit bookstores in Sept 2020!
by Tessa Boase
Was Mrs. Hughes your favorite character? If so, this is a must-read!
It follows the lives of five different women who ran country houses throughout England. The author researched the lives of these often-overlooked vital parts of English society and reconstructed their stories via diaries, shopping lists, letters and more.
By Gemma Liviero
Set just after WW1 in post-Edwardian England, In A Field of Blue is an interesting glimpse into a family whose wealth is running out as they deal with the aftermath of the war.
Four years after Rudy lost his eldest brother, a British soldier, to the battlefields of France, Rudy's family is still torn apart by grief and secrets. When Mariette arrives claiming to be Edgar's widow, and the mother of his child, Rudy urges her to stay in hopes that she'll shed light on unanswered questions.
But Mariette's revelations lead to more questions than answers, and suspicions threaten to further divide Rudy's family. Rudy sets out on a quest for the truth that takes him from England to France and beyond.
Melissa read this book as part of the Decades Reading Challenge. She gave it a 4-star rating with the caveat that it is slow in places. However, each time you think it's dragging, they'll be a sudden twist. Those twists continue all the way through the epilogue!