The Personal Librarian is one of our favorite recent reads! This historical fiction novel is based on the true story of a very influential, but little-known woman from the turn of the century. Addressing issues of both race and gender, this book provides ample opportunities for discussion. Additionally, book lovers will enjoy reading about the curation of one of the most valuable collections of rare books and manuscripts.
If you haven't yet read the book, start with the Summary & Review sections to read a synopsis of The Personal Librarian. We've also included our review to help you decide if it's right for your book club.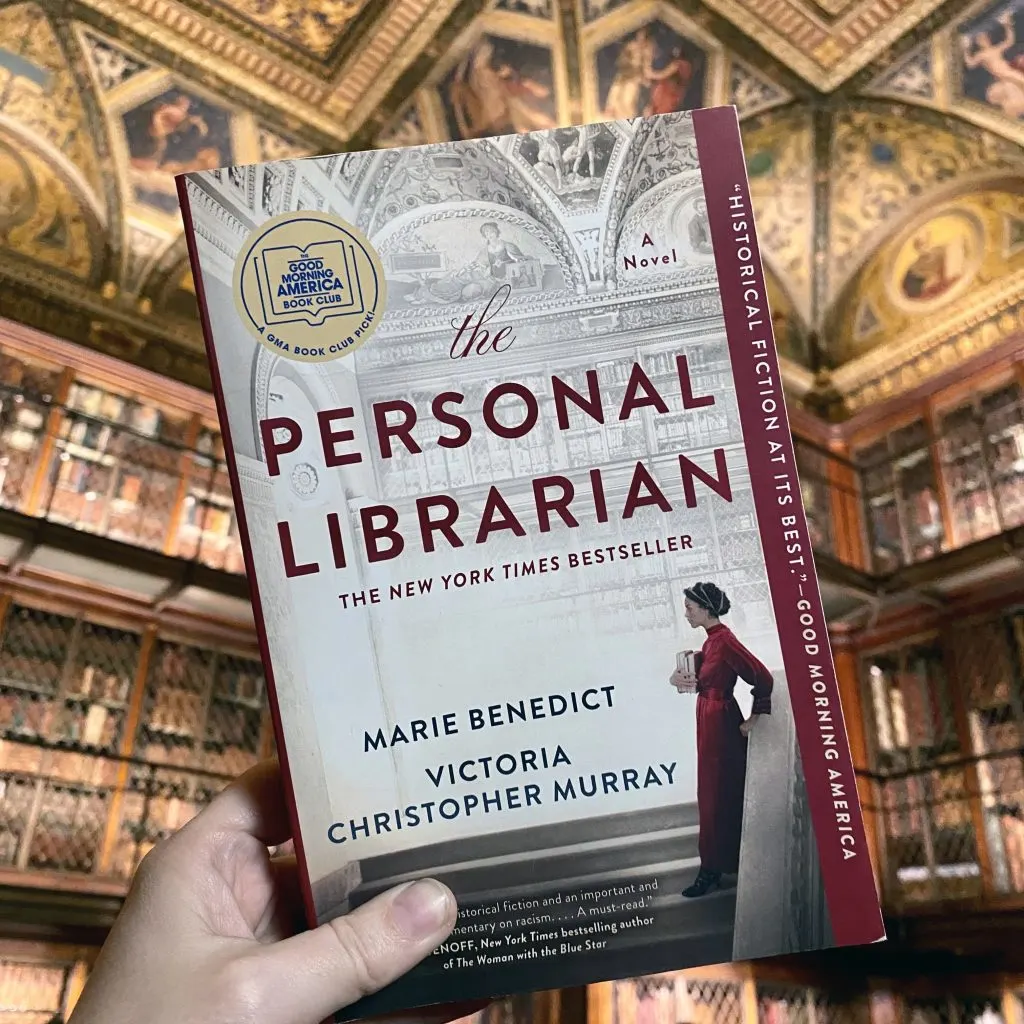 What's Included in This Guide: Online & Printable Versions
The post below includes everything you need to host or participate in a successful book club for The Personal Librarian. From a character list and discussion questions to food and cocktail ideas, we'll help you host a wonderful gathering.
We also have an optional, printable Personal Librarian Book Club Kit to take your meeting to the next level. The fully customized, printable version of the book club guide includes the following pages:
Character List
The Personal Librarian Discussion Questions
Quotes from the Book
Icebreaker Idea Themed to the Book (with a printable game page)
Printable Bookmarks for All Your Members
7 Pages of Bonus Contextual Information, Including Photos of The Morgan Library
Themed Food & Drink Menu Ideas
Custom Designed Journal Page to Record Book Club Meeting Details
Themed Notes Page
List of Additional Book Club Resources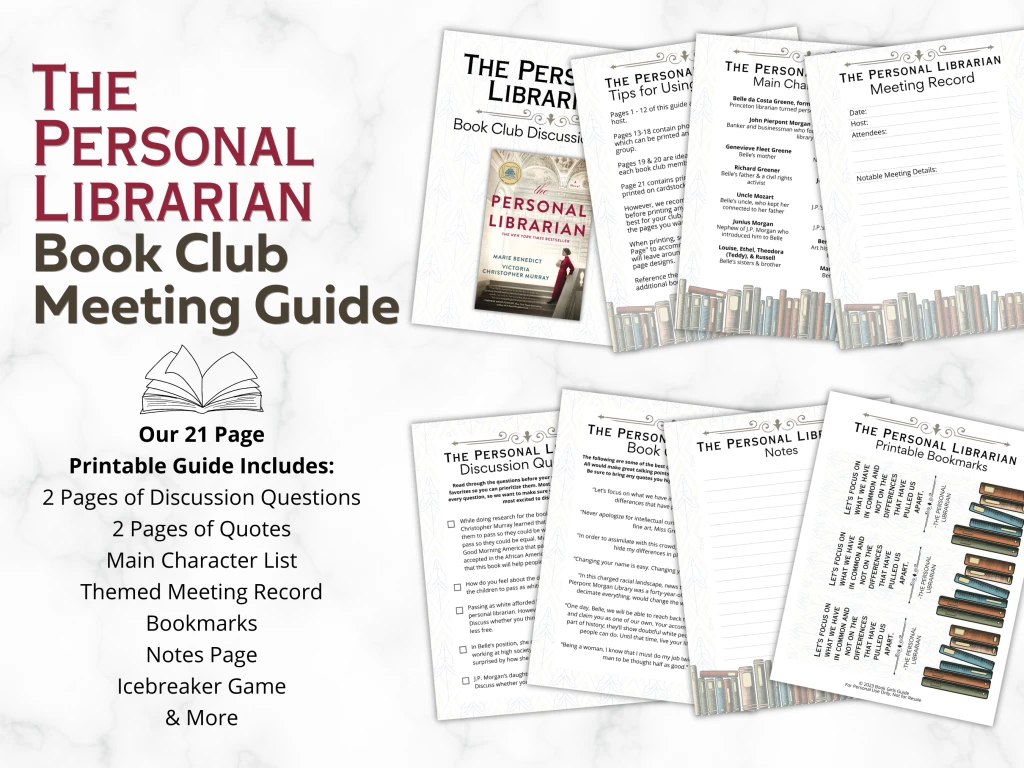 No pressure to purchase; you're always welcome to use any of the resources below for free!
The Personal Librarian Summary
This historical fiction novel is based on the remarkable true story of J.P. Morgan's personal librarian, a Black woman who became one of the most powerful women juin NYC at the turn of the century by passing as white.
Belle da Costa Greene was working at Princeton University Library when J.P. Morgan's nephew recommended her for a position curating a collection of rare manuscripts, books, and artbooks for his uncle's newly built Pierpont Morgan Library. This position of prominence made her one of the most influential people in the art and book world. She became a fixture on the New York social scene.
But Belle had a secret that could change everything. She led people to believe that her dark complexion was the result of her alleged Portuguese heritage. In truth, however, she was born Bella Marion Greener – the daughter of Richard Greener, the first Black graduate of Harvard University.
The Personal Librarian Reviews
If you found this post searching for potential book club picks, we thought it would be helpful to include information on how our readers rate the book.
It was extremely popular with the readers who selected it as their pick for the Books Set in the 1900s and 1910s prompt in our Decades Reading Challenge. We compiled the results of the book logs, and it was a big hit:
Book Girls' Readers Rate This Book ⭐⭐⭐⭐1/2
97% Would Recommend to a Friend
Like our readers, we very much enjoyed The Personal Librarian, and we both rated it five stars. The writing duo of Marie Benedict and Victoria Christopher Murray put together a seamless story that educates and entertains. From learning about the progress and recession of the civil rights movement in the decades surrounding the turn of the century to literary and art history, the book introduces several aspects that left us eager to do more research. However, that education was wrapped in a page-turning story full of romance and intrigue.
The book manages to move gracefully between lighter and heavier storylines. We were always on the edge of our seats, wondering if Belle's secret would be revealed.
In addition to the high ratings from our readers and us, as of June 2023, The Personal Librarian reviews are just as strong on Goodreads. It has an average rating of 4.07, with more than 128,000 readers.
Awards & Nominations for The Personal Librarian
New York Times Bestseller
Good Morning America Book Club Pick
Goodreads Choice Award Nominee for Historical Fiction (2021)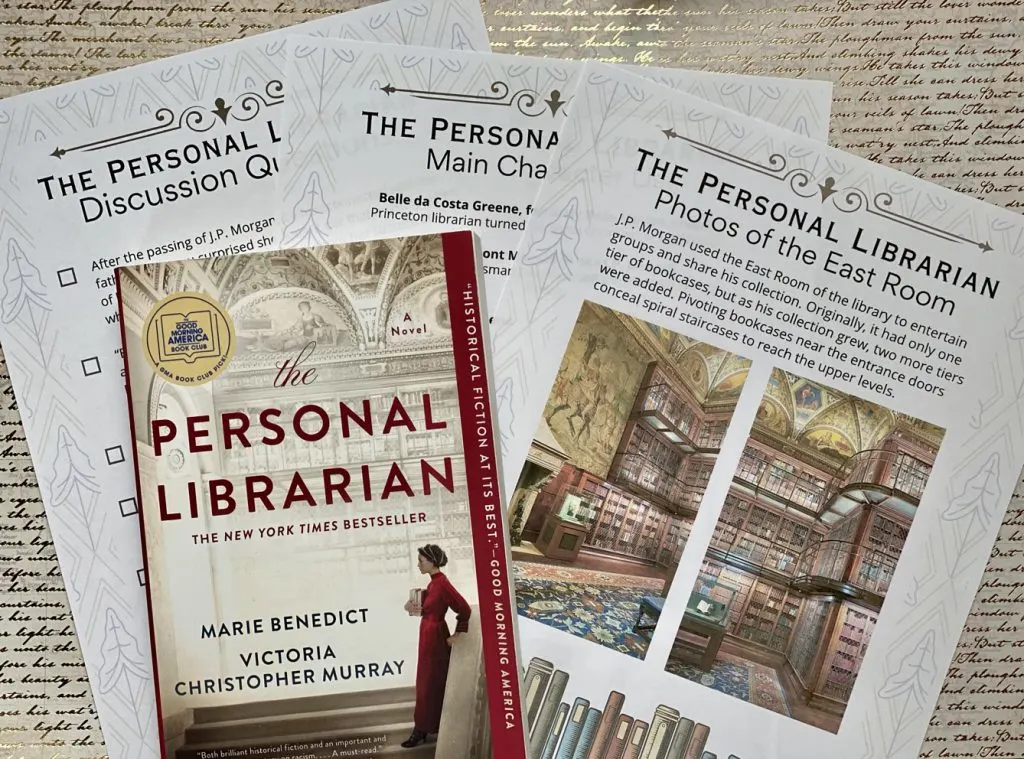 The Personal Librarian Characters
These are the key characters that bring The Personal Librarian to life. Keep this list handy as a quick reference during your discussions—it'll help keep track of who's who as you delve into conversations. Our printable guide includes a one-page character list if you find it easier to have a printed reference.
Belle da Costa Greene, formerly Belle Marion Greener – Princeton librarian turned personal librarian for J.P. Morgan at his Pierpont Morgan Library. She is a light-skinned Black woman, who passes as white (as do her siblings and mother) and claims to have Portuguese ancestry to explain their skin tone.
John Pierpont Morgan, Sr. aka J.P. Morgan
Financier and investment banker who was involved in some of the largest US Corporations, including U.S. Steel, International Harvester, General Electric, Aetna, Western Union, Pullman Car Company, and 21 railroads. He used some of his great wealth to support the arts, including collecting and preserving art and rare books. He hires Belle in 1906, and forms an incredible bond with her, eventually providing for her in his will when he passes away in 1913.
Genevieve Fleet Greene – Belle's mother, who encouraged Belle to change her name and pass as white so she would have more opportunities.
Richard Greener – Belle's father who in 1870 was the first black graduate of Harvard College (which become Harvard University). He become a a civil rights activist.
Uncle Mozart – Belle's Uncle, who was her connection to her father after he moved to Russia, then Chicago.
Louise, Ethel, Theodora (Teddy), and Russell – Belle's sisters & brother.
Junius Morgan – Nephew of J.P. Morgan, banker, and associate librarian who meets Belle and introduces her to his uncle.
John "Jack" Pierpont, Jr. – J.P.'s son, who agrees to make the Pierpont Morgan Library public after his father's death.
Anne Morgan – J.P.'s unmarried daughter, who is weary of Belle, but has her own secrets, including the extent of her relationship with her "close friends," Miss Elsie de Wolfe and Miss Bessie Marbury.
Louise & Juliet – J.P.'s married daughters.
Bernard Berenson -Art historian, writer, and Belle's lover
Mary Berenson -Bernard's wife.
Ethel Harrison -Bernard's friend, who travels with Belle to London to visit the doctor.
We hope this character list is a helpful reference as you prepare to discuss the book.
The Personal Librarian Book Club Questions
In addition to the discussion questions for The Personal Librarian, we have a resource of 50 book club questions that work for any book. That post also provides tips for creating your own book club questions.
In a Good Morning America interview, Benedict and Murray expressed their hope that The Personal Librarian will bring book clubs together to have discussions about race. We have the same hope that the book will lead to a positive and open conversation.
Read through the questions before your meeting and select your favorites so you can prioritize them. Most clubs won't have time for every question, so start with those that you are most excited to discuss.
While doing research for the book, co-author Victoria Christopher Murray learned that Greene's mother didn't want them to pass so they could be white, but rather she wanted to pass so they could be equal. Murray said in an interview with Good Morning America that passing "is not something that is accepted in the African American community," but she hopes that this book will help people understand the reason.

How do you feel about the decision Belle's mother made for the children to pass as white?

Passing as white afforded Belle her career as J.P. Morgan's personal librarian. However, it also required many sacrifices. Discuss whether you think passing made her more free or less free.

In Belle's position, she occasionally encounters Black servants working at high-society events around NYC. Were you surprised by how she handled those encounters?

J.P. Morgan's daughter, Anne, had suspicions about Belle. Discuss whether you thought Anne would tell her father. Do you think Anne was more aware someone else could be hiding their true identity because she was hiding a major part of herself?

After the passing of J.P. Morgan, Belle reconnects with her father. Were you surprised she sought out that missing aspect of her life? How do you think he felt about her success and what she gave up to achieve it?

"Being a woman, I know that I must do my job twice as well as any man to be thought half as good." Regardless of race, Belle's position was unheard of for a woman in her time. Discuss how her gender impacted her career.

Do you think that J.P. Morgan ever knew or suspected Belle's true identity?

Wealth disparity is evident in the book between the Morgan and Greene families. Discuss how this aspect of the story made you feel as you read.

The Morgan Library collected rare Caxton edition books. Does anyone in the group enjoy collecting first editions of either contemporary or classic novels?

At the end of her life, Belle destroyed all of her correspondence. Why do you think she did this? Whose legacy was she trying to protect – hers, her family's, or that of the Morgan Library?
The Personal Librarian Book Club Beverage Ideas
Non-Alcoholic Options
Correspondence at the Morgan Library reveals that J.P. Morgan had a tea blend made exclusively for him. Known as Morgan Blend, it was one of 15 original tea blends created by expert tea maker Lester Vail. This special blend of black tea with citrusy bergamot is a mellow, smoky Earl Gray. It is still produced today by Simpson & Vail, which describes it as an acquired taste that can pick your spirits up on a dreary day. You can purchase Morgan Blend loose-leaf black tea here.
Cocktails
It's said that J.P. Morgan enjoyed a Manhattan cocktail daily at the close of trading. Serving this whiskey cocktail would be an easy nod to both the main character and the main setting of the book. If whiskey isn't your thing, gin was another popular liquor at the time. A traditional Gin Martini or Gin Rickey would also be a great fit!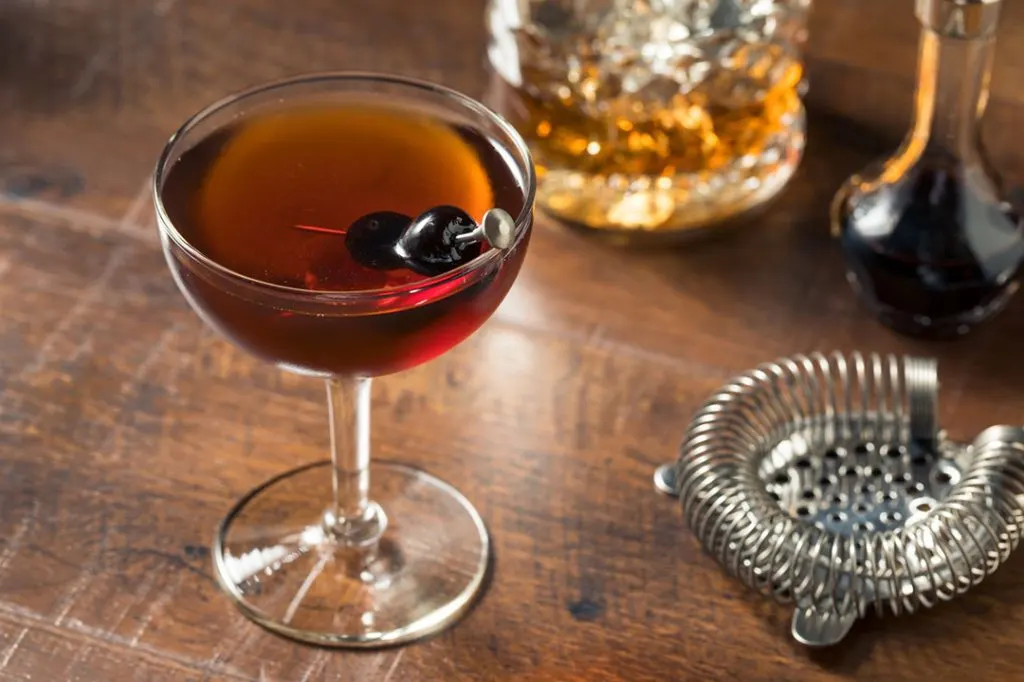 Wine
In honor of Belle's numerous acquisition trips to Italy, we recommend picking up a few bottles of Italian wine. Perhaps a Prosecco?
The Personal Librarian Book Club Food Ideas
Snacks & Starters
If you order the Morgan Blend tea, scones would be a tasty treat to serve with it.
You can also serve Italian appetizers, like different types of bruschetta, arancini, or an antipasti board with Italian meats and cheeses in honor of Belle's travels.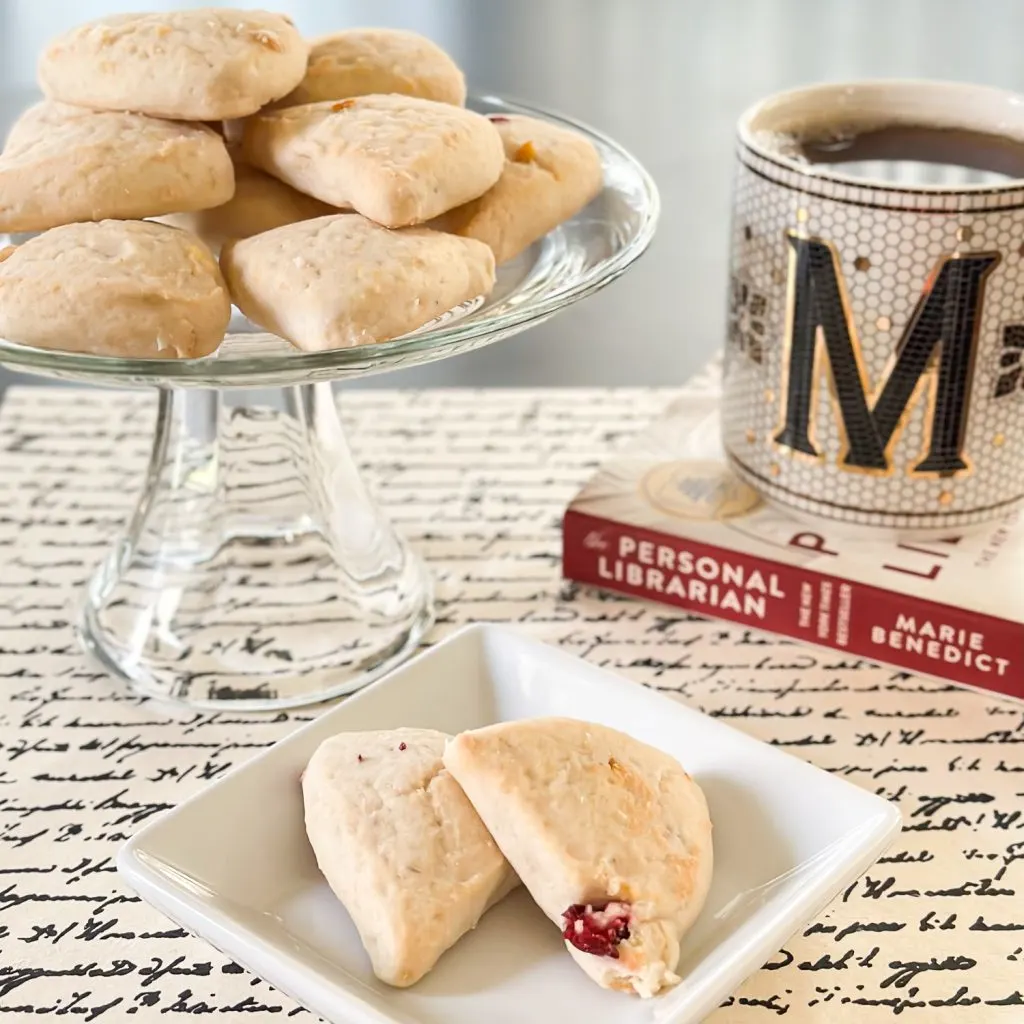 Main Course
In the book, Belle reminisces about the smells of warm baking bread and chicken stew in her family's kitchen during her teenage years. Later in the book, she remembers her grandmother's apron smelling like fresh yeast rolls. Serving fresh bread with a simple stew is a great nod to Belle's early life.
As an alternative, for clubs that enjoy a full meal together, expand on the appetizer idea of honoring Belle's travels by serving an Italian feast. It's a great theme for a family-style potluck dinner.
The Personal Librarian Book Club Decor Ideas
Some books lend themselves to themed decor better than others, and this one sure makes it easy. Use vintage books to create a centerpiece for the dining table or coffee table.
We also found a few cute items on Amazon that can help you dress your table with just a few clicks.
These porcelain-looking paper plates are a perfect nod to the elegant style of the Morgan Library.
Use these 12"x12" vintage-looking scrapbook papers as simple, disposable placemats for your book club meal.
If you'll be serving drinks, this inexpensive set of 12 library card coasters is a must!
And if you want to go all out, you can make a big statement with this affordable library book tablecloth.
Quotes from The Personal Librarian
The following quotes from the book would each make great talking points as part of a book club discussion. Be sure to bring any quotes you highlighted along the way as well.
"Let's focus on what we have in common and not on the differences that have pulled us apart."
"Never apologize for intellectual curiosity or the appreciation of fine art, Miss Greene."
"In order to assimilate with this crowd, I must be bold, daring to hide my differences in plain sight."
"Changing your name is easy. Changing your soul is impossible."
"In this charged racial landscape, news that the head of the Pierpont Morgan Library was a forty-year-old black woman would decimate everything, would change the world for all of us."
"One day, Belle, we will be able to reach back through the decades and claim you as one of our own. Your accomplishments will be part of history; they'll show doubtful white people what colored people can do. Until that time, live your life proudly."
"Being a woman, I know that I must do my job twice as well as any man to be thought half as good."
"All I can think about are Bernard's words in his last missive: My love for you is a journey that I hope will have no ending."
"The deeper we each read, the more we would understand about this world."
"My plan is to turn the Pierpont Morgan Library from a private library into a public institution so that thousands and thousands of people will see the beauty and significance of the early written word—the importance of reading and books as a great equalizer among humankind."
"I feel him, too. I suppose he was always larger than life, so we shouldn't expect death to eradicate him from our existence."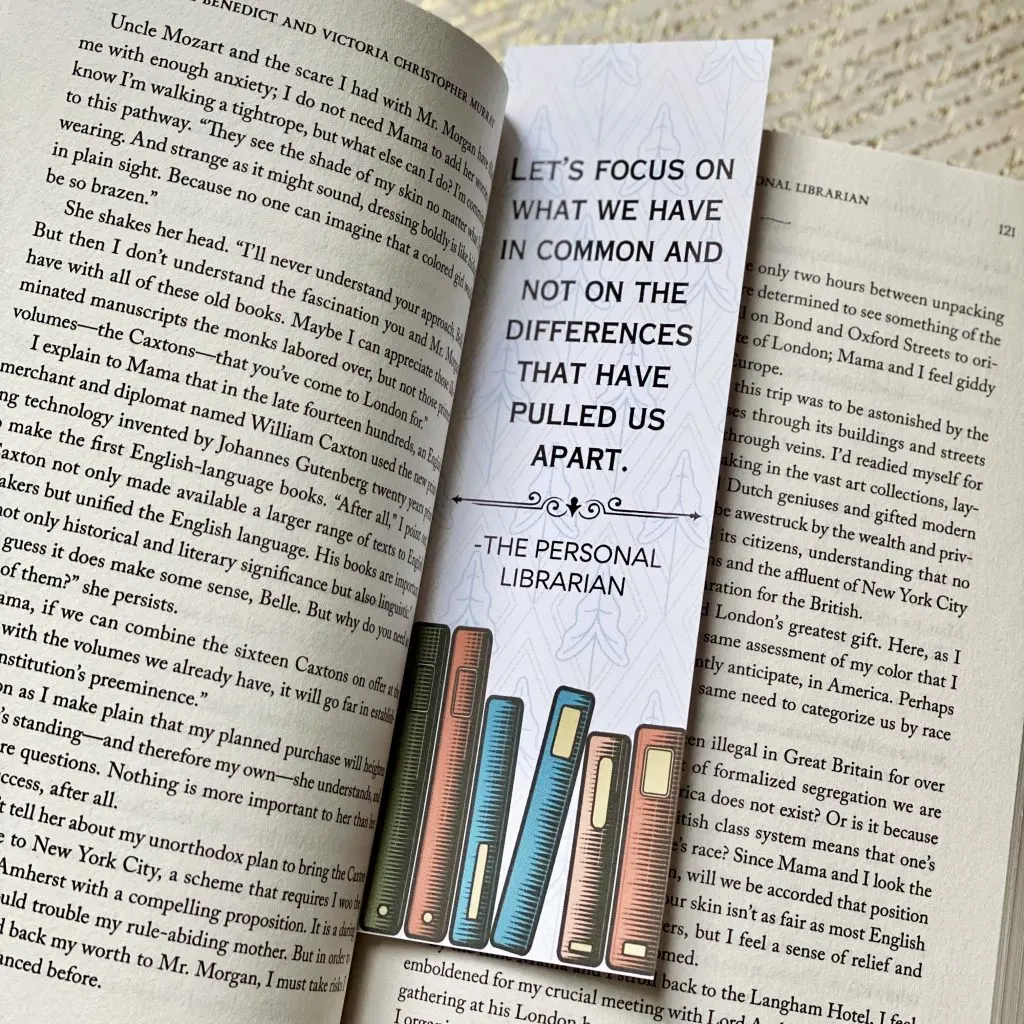 About the Authors and the Inspiration for The Personal Librarian
The Personal Librarian was co-authored by Marie Benedict and Victoria Christopher Murray. Benedict first learned of the legacy of Belle de Costa Greene in the 1990s when she was still working as an attorney in NYC. She would often spend her lunch hour at the Morgan Library, and during one of those visits, a docent mentioned Belle's story to her.
In an interview with Good Morning America, Benedict said that after learning about Belle's family, she knew "it wouldn't be right or appropriate for me to write the story on my own. Belle really deserves to have a Black woman tell it." Benedict was familiar with Victoria Christopher Murray's work, having read her novel Stand Your Ground, and knew she'd be the perfect writing partner.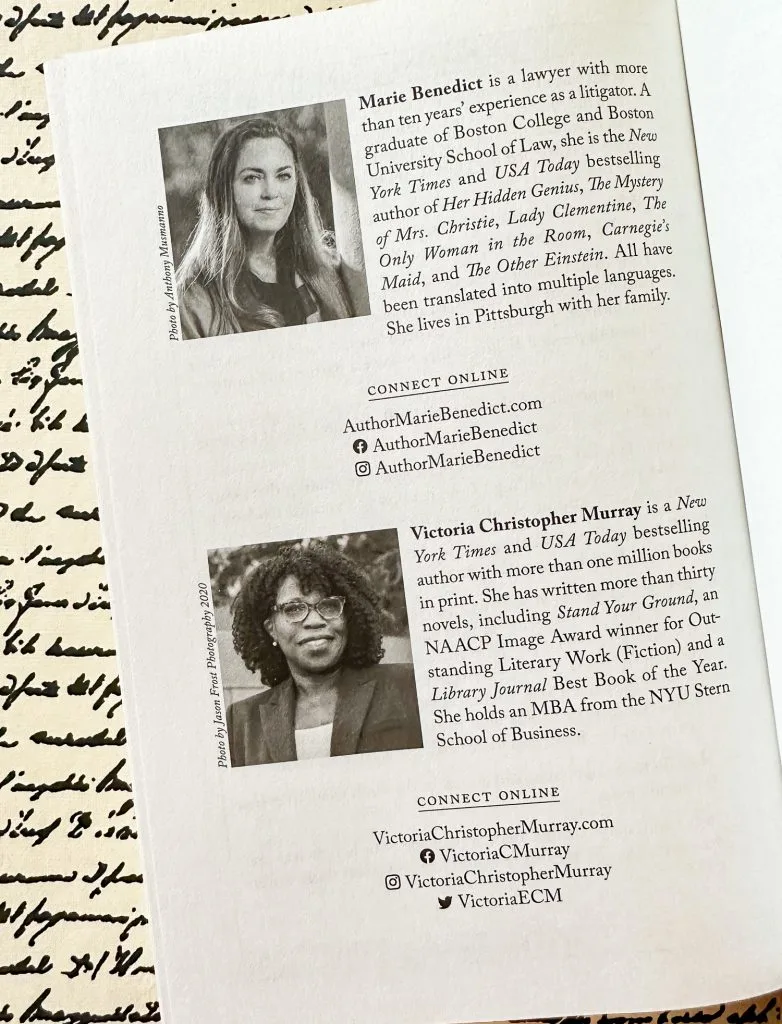 Marie Benedict Biography
Marie Benedict is the pen name of Heather Benedict Terrell, who grew up in Pittsburgh. She studied History and Art History at Boston College, graduating magna cume laude, before going on to Boston University School of Law.
As an attorney, she spent more than a decade as a commercial litigator for two top law firms. While practicing law in New York City, she dreamed of becoming an author. Specifically, she wanted to introduce readers to the hidden stories of remarkable women in history. On her website, she describes her work as that of a literary archaeologist, "unearthing the story for the detritus of history where it was buried." Her eight historical fiction novels have won numerous awards and been translated into 29 languages.
Victoria Christopher Murray Biography
Born and raised in Queens, New York, Victoria Christopher Murray earned a B.A. in Communication Disorders from Hampton University and an MBA from NYU's Stern School of Business. She spent 10 years working in corporate America before launching her own highly successful financial services venture. After dreaming for years of becoming an author, her husband encouraged her to stop waiting for someday.
She has penned more than 30 novels, including some co-written and others ghostwritten. In her own name, she writes drama-filled novels with God at their center. She is the author of nine Essence bestselling novels, including The Ex Files; Too Little, Too Late; and Lady Jasmine. Her work has earned her numerous awards, including an NAACP Image Award, and she has been recognized as a pioneer in African American fiction.
Frequently Asked Questions
Can I get a printable version of the Book Club Guide?
Yes! We have a printable version in our shop that comes with bonus goodies, like a cute printable bookmark, which contains a quote from the book.
Is there a The Personal Librarian audiobook?
Yes! The audiobook of The Personal Librarian is narrated by Robin Miles. You might recognize her voice from Hidden Figures, Call Your Daughter Home, and The Yellow Wife.
Audible listeners rate the audiobook performance 4.7 out of 5 stars. Of course, as with all audiobooks, some people enjoy the narration, and others don't. We always recommend listening to a sample of the audiobook before committing to reading this format.
Is there a The Personal Librarian movie?
In a 2022 interview with Next Pittsburgh, Marie Benedict announced that Today weathercaster Al Roker, and his wife Deborah Roberts, a senior correspondent for ABC, want to produce a limited series or film based on the book.
Al Roker Entertainment optioned the rights, and Roker and Roberts plan to work as co-executive producers on the project. In early 2022, Roker told Variety that there was no current timeline for the production. However, in August of 2022, Al Roker Entertainment hired Lisa Tucker as Senior Vice President of Development and Production and indicated that her experience would allow aid the company's pivot into scripted projects, including The Personal Librarian.
What are some other books like The Personal Librarian?
Belle became a very influential woman in the world of book and art curation. In addition to her role as the personal librarian to J.P. Morgan, she also consulted for and collaborated with the librarians at The Frick Collection. Fans of The Personal Librarian will enjoy The Magnolia Palace by Fiona Davis, a historical fiction novel set inside the Frick residence turned museum. In this dual-timeline novel, we see the build-up of Henry Frick's collection in 1919, and then revisit the Frick mansion in the mid-1960s.
Fiona Davis's other novels are set in various New York City landmark buildings, and we recommend all of them! For another book set in a library, we highly recommend The Lions of Fifth Avenue, which takes place in the New York Public Library with a dual timeline of 1913 and 1993.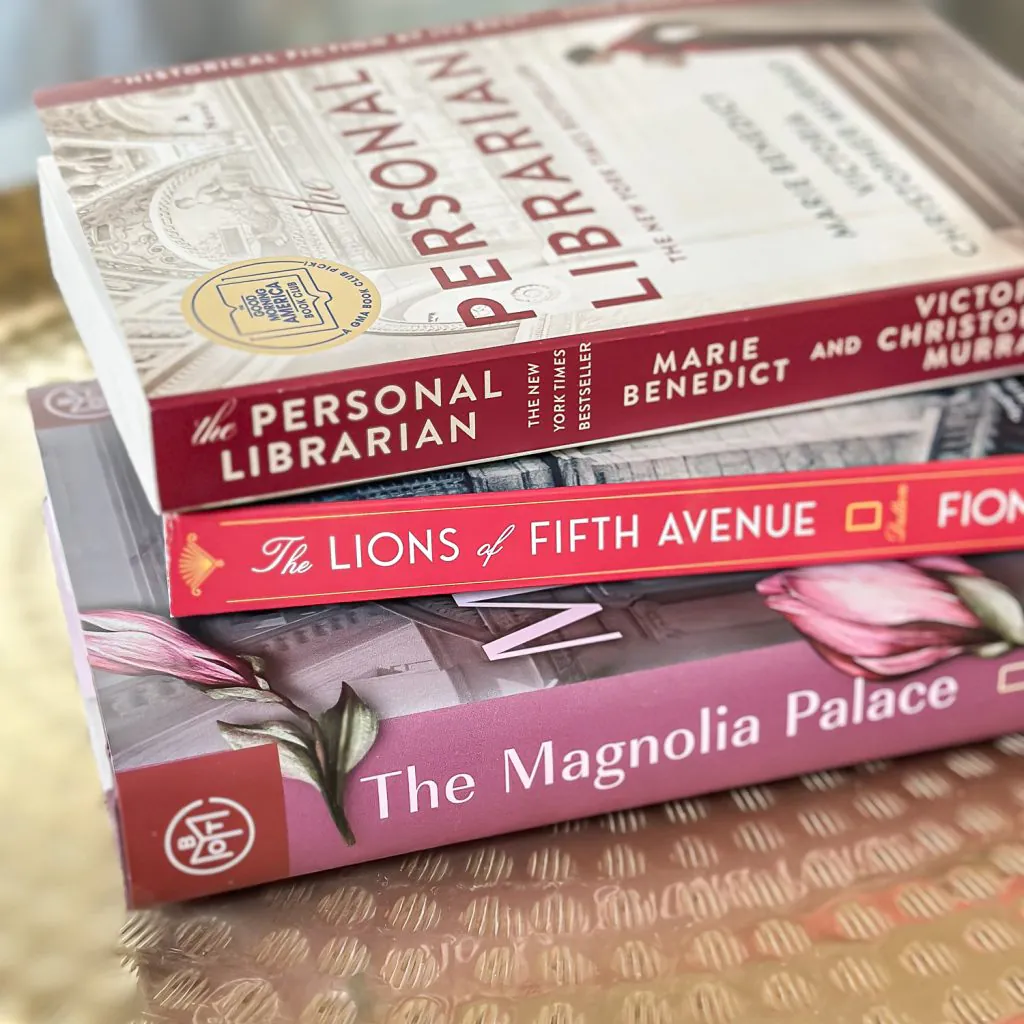 If you enjoyed stepping back in time to the early 1900s, we've curated a list of highly-rated books set in this time period. Of particular note is Ragtime (the E.L. Doctorow novel on which the musical of the same name is based). This epic novel can be a challenging read, but it interweaves real historical figures, including J.P. Morgan, among the cast of fictional characters, and it also deals with the racial tensions of the turn of the century.
When asked what books she thinks readers should know about, author Victoria Christopher Murray recommended Yellow Wife by Sadeqa Johnson and Island Queen by Vanessa Riley in an interview on Good Morning America. In response to the same question, Marie Benedict recommended Homegoing by Yaa Gyasi.
Are there other books by Marie Benedict?
Marie Benedict has written numerous other historical fiction novels focused on telling the hidden stories of women, many of whom whose accomplishments have been overlooked by the history books.
Her first novel, The Other Einstein, tells the story of Albert Einstein's first wife, who was also a physicist. The Carnegie's Maid introduces us to a brilliant woman who may have spurred Andrew Carnegie to use his riches to support philanthropic causes. In The Only Woman in the Room, we learn the story of Golden Age Hollywood star Hedy Lamarr and her world-changing invention.
Other books by Marie Benedict include: Lady Clementine (about Churchill's wife); The Mystery of Mrs. Christie (about the real-life disappearance of author Agatha Christie); Her Hidden Genius (about the British scientist who discovered the structure of DNA only to have her research claimed by someone else); and The Mitford Affair (about history's most notorious sisters).
Are there other books co-authored by Marie Benedict and Victoria Christopher Murray?
The Personal Librarian was Benedict's first co-written novel. It became an instant New York Times Bestseller and was a Good Morning America Book Club pick. She and Victoria Christopher Murray are collaborating on a second co-written novel, The First Ladies, which will be published on June 27, 2023.
We hope you found our Book Club Guide helpful!
As a reminder, you can get the guide in a print-friendly format for your book club meeting in our Etsy shop! Each purchase helps us continue providing great book lists and book resources here.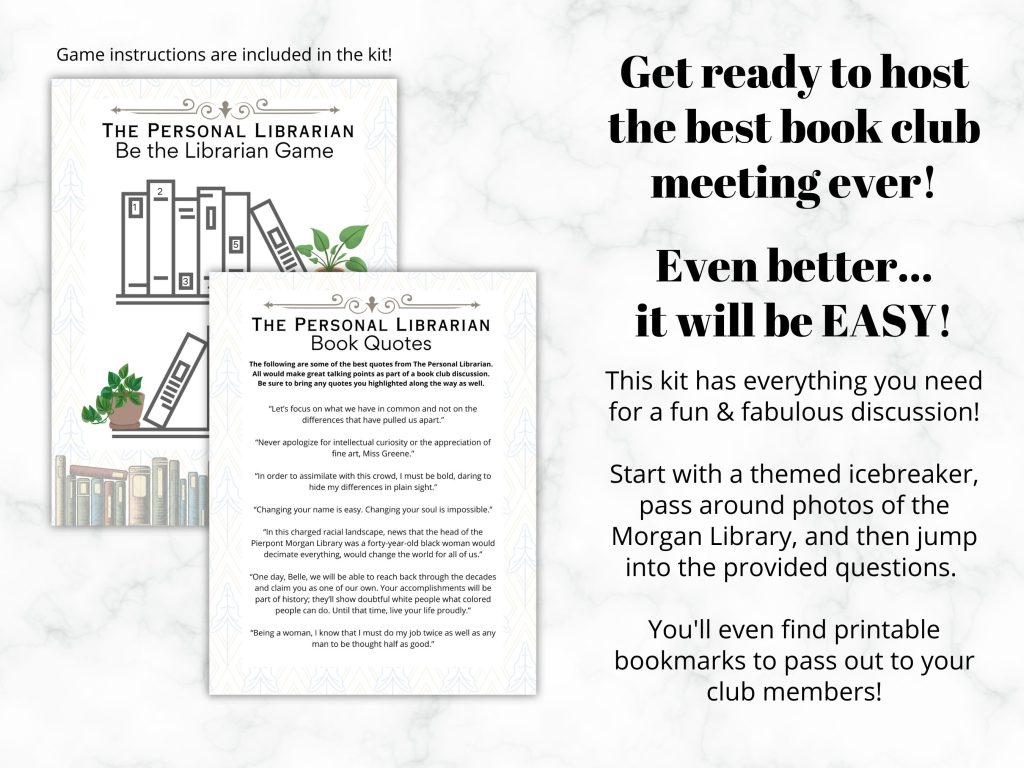 Additional Book Club Questions
If you're planning ahead to your next book club pick, consider selecting another book from our list of guides to make your meeting preparation easy and fun!