We both rank Fiona Davis as one of our all-time favorite authors! We can't wait to share more about her books with you. She has seven historical fiction novels, all set in New York City. Each book features strong female characters, along with a tie-in to a specific historic building. The history and architecture of the landmarks play an important role in each story. Elevated beyond simple settings, the buildings serve as characters in the books.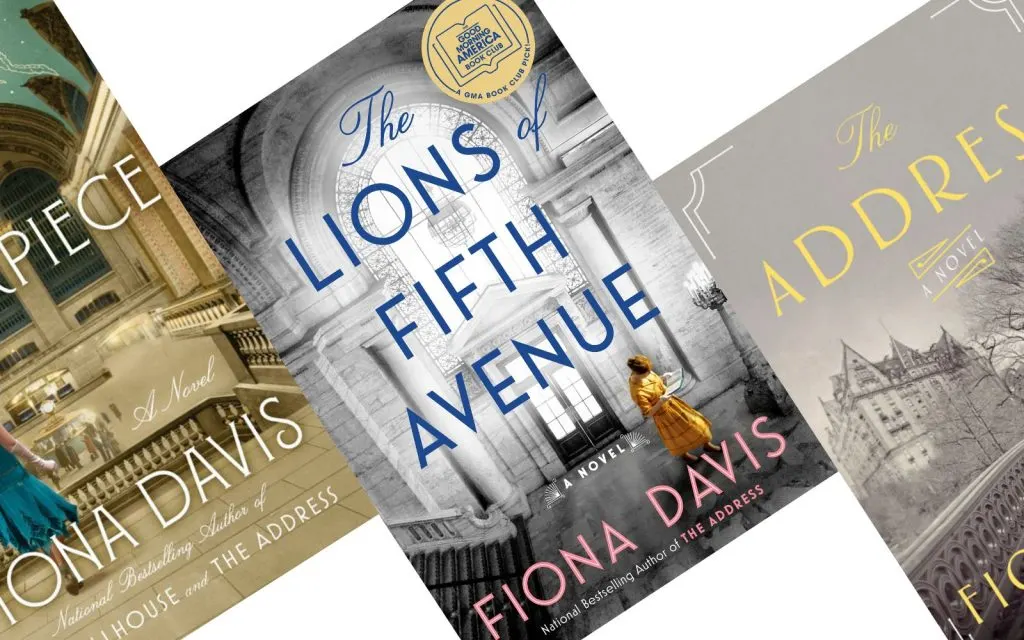 While we don't think of Fiona Davis's books first when someone asks us for a mystery recommendation, each of the novels does have an element of mystery, which keeps the pages turning. Overall, we find them to be compelling, well-rounded reads. They make us want to pack our bags and jet off to NYC to visit whichever landmark we're reading about.
Throughout this reading guide, you'll find Fiona Davis's books organized in a number of ways:
-Chronologically in order of publication date
-Ranked in order based on a vote of our readers
-On a timeline according to the time setting of each story
-Plotted on a map illustrating the locational setting of each within the city of New York
In this guide, we also answer some FAQs and recommend other authors and books for fans of Fiona Davis.
Fiona Davis Books in Order Through 2023
Each Fiona Davis book has a historical fiction approach and covers a different time period in history. None of the books are part of a series, and they do not need to be read in any particular order. There are no overlapping characters between any of the books.
Full-Length Novels By Fiona Davis
The following is a list of all of Fiona Davis's novels in order of publication. The publication year is noted in parenthesis after each:
Short Stories By Fiona Davis
In addition to her fantastic full-length novels, you can read more from Fiona Davis in the following short stories:
Printable Fiona Davis Book List
Looking for a printable version of this chronological Fiona Davis book list? Our Buy Me a Coffee BFF's have access to a cute printable tracker featuring the covers of all her novels, including her 2023 release, The Spectacular. Join our membership site today for instant access to your copy, along with some other fun perks!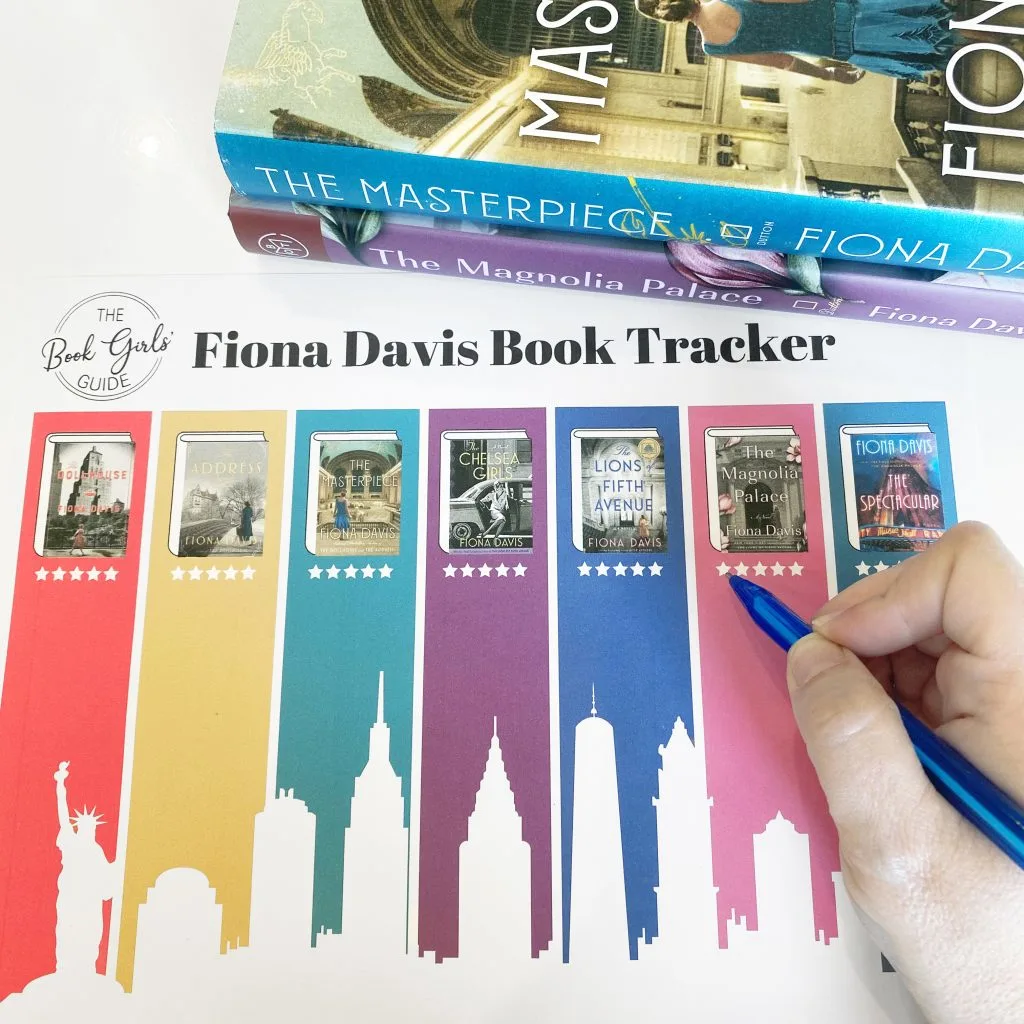 Best Fiona Davis Books Ranked
While all of Fiona Davis's novels are highly rated, we asked our readers to vote on their favorites. We received more than 100 responses to our survey. Based on those votes, the books below were the crowd favorites.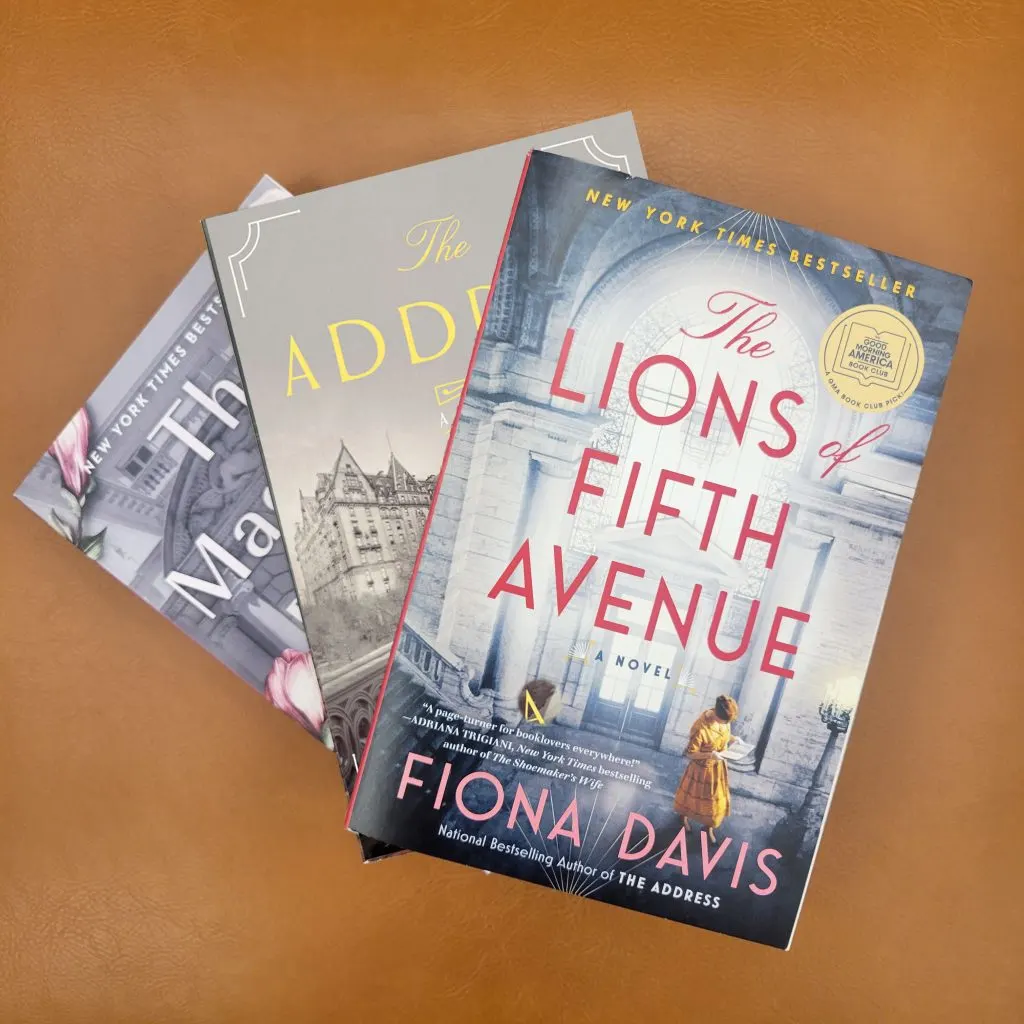 Our readers had the option to tell us, in their own words, why they voted for each of their picks, so we've included some of their words as a part of each synopsis. Some readers had beautiful quotes but preferred to remain anonymous. As a result, some quotes have attribution and others do not, but they all came from our reader survey in May 2023.
When the books have been a part of one of our reading challenges, we also included reader ratings from the book logs our challenge participants submit.
New Book By Fiona Davis: 2023
Her newest book, The Spectacular, is set to be released on June 13th, 2023. It features another NYC landmark – Radio City Music Hall.
Nineteen-year-old Marion's dreams come true when she's cast as a member of the Rockettes, Radio City Music Hall's precision dance troupe. It's an honor for any dancer to be selected for the role and given the opportunity to perform at the art deco masterpiece of a theater that is Radio City. But Marion soon learns that, behind the scenes, the days are long and the rehearsals grueling.
One night, in 1956, a bomb explodes in the theater. It's suspected to be the work of the infamous "Big Apple Bomber" who has been planting bombs in crowded places around the city for the past sixteen years. The police still have no leads, leaving citizens living in fear. At Marion's urging, the police agree to try psychological profiling, a radical new technique at the time.
While the Rockettes are trained to stay in line, Marion realizes that to help catch the bomber, she'll have to stand out.
You can preorder The Spectacular here.
Time Setting of Fiona Davis Books
We first discovered Fiona Davis while researching books for our Decades Reading Challenge. Her novels span from the late 1800s to the present, and most feature a dual-timeline narrative. We especially love that her books provide a comparison of NYC during different eras. The timeline below visually illustrates the time setting of each of her novels. Books with dual timelines appear twice.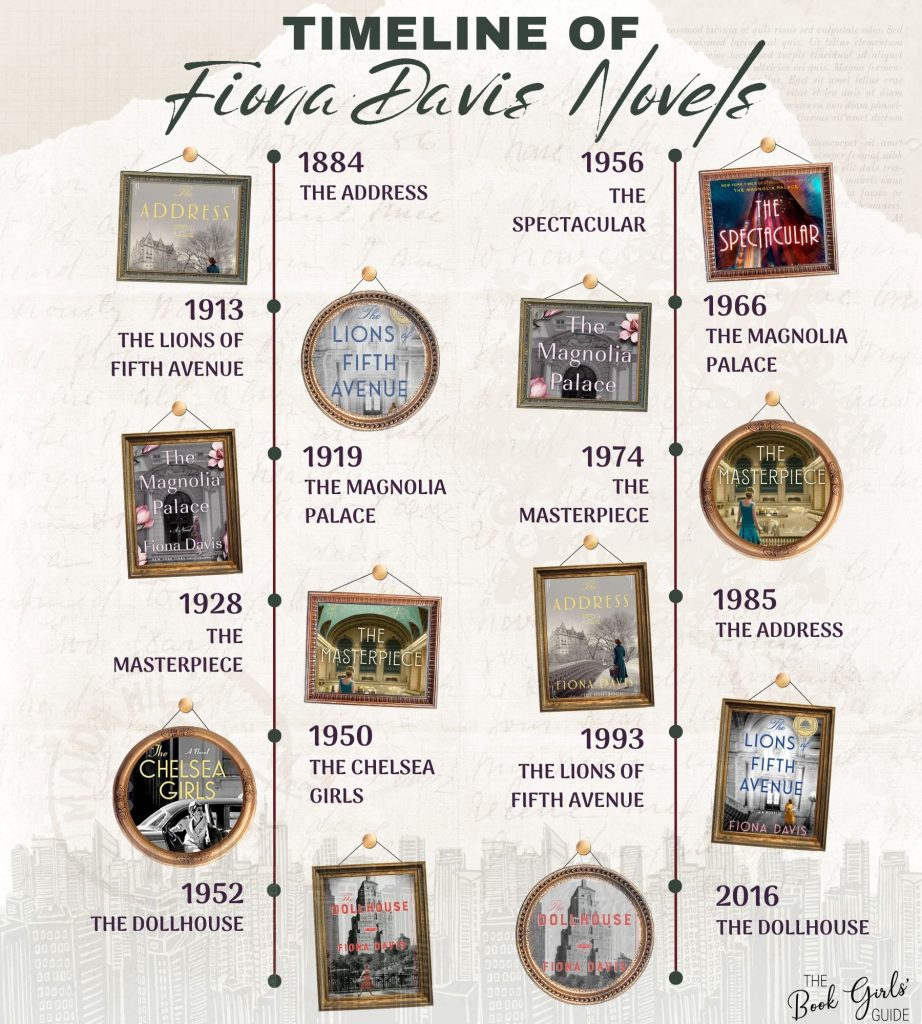 New York City Map of Fiona Davis Book Settings
Both of us Book Girls love New York City! The next time we are in the city together, we'd like to visit all of the landmarks featured in each of Fiona Davis's books. Since the buildings play such a prominent role in the novels, we thought it would be fun to plot the settings on a map.
In addition to the fun graphic below, we set up a custom map of Fiona Davis book locations that you can view directly on Google Maps. This interactive version of the map will give you walking directions from one place to the next.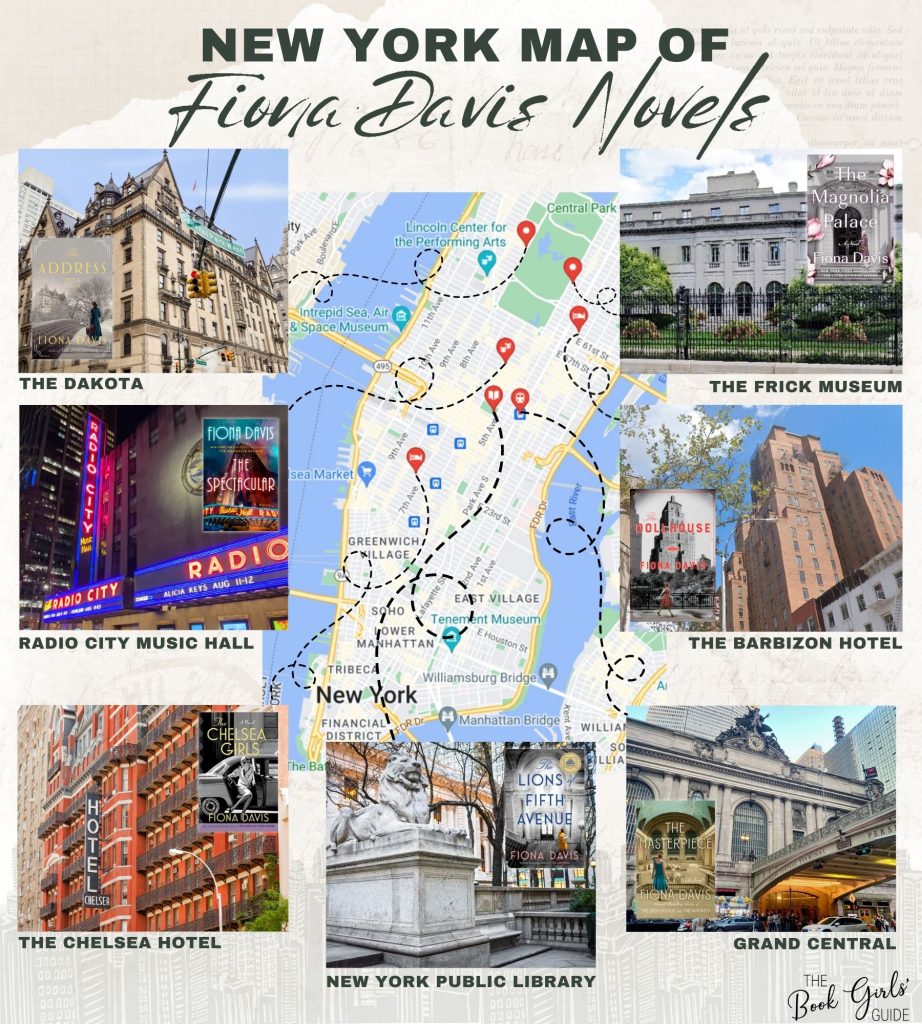 Are There Any Fiona Davis Movies?
At this time, there are no movie or television adaptations of Fiona Davis's books.
What Authors Should I Read If I Love Fiona Davis?
If you appreciate Fiona Davis's beautifully crafted historical fiction, you might enjoy authors like Beatriz Williams, who weaves together past and present with her memorable characters and intriguing plots.
Camille di Maio infuses her historical fiction novels with vivid settings and strong female characters. Kate Morton's intricate family sagas, often moving across different timelines, are also captivating.
Lisa Wingate's storytelling prowess, especially her well-researched historical backdrops, may appeal to you. Similarly, Kristin Hannah's ability to portray powerful women in times of crisis is exceptional. Lastly, Marie Benedict writes historical fiction focusing on the underappreciated or hidden stories of women who made significant contributions to their fields.
Books for Fans of Fiona Davis
In addition to recommending the above authors, we want to call your attention to some specific books that we highly recommend for fans of Fiona Davis.
If you loved the library setting of The Lions of Fifth Avenue, we highly recommend The Personal Librarian by Marie Benedict and Victoria Christopher Murray. This novel provides great insight into the building and curation of the Morgan Library in New York City. Additionally, it tells the story of a Black woman who became one of the most powerful women in NYC at the turn of the century.
Camille Di Maio's The Way of Beauty serves as a perfect companion to Fiona Davis's The Masterpiece. In The Masterpiece, we learn the history of Grand Central and its near destruction in the 1970s. The Way of Beauty tells the true story of the destruction of another of New York's great landmarks – Penn Station. The lessons learned from Penn Station's demolition ultimately helped lead the charge for the preservation of Grand Central.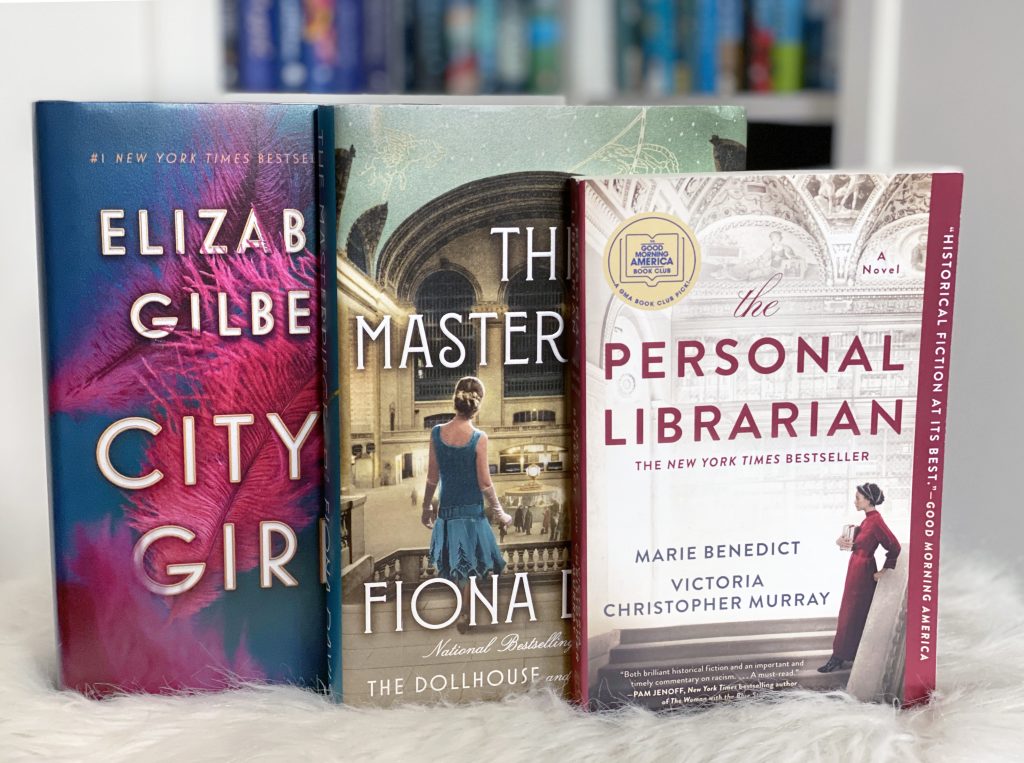 If you've read Fiona Davis's The Address, then you'll remember the fictionalized account of Nellie Bly from that novel. She's the journalist who went undercover at the Blackwell's Island Insane Asylum. We were fascinated to learn that Nellie was a real-life journalist. The Mad Girls of New York is a historical mystery based on her investigations inside Blackwell's Island Insane Asylum for Women.
Fans of the theater, which features in Fiona Davis's The Chelsea Girls, will enjoy City of Girls by Elizabeth Gilbert. It's a strong female coming-of-age story that reads like a memoir. The main character, Vivian, is sent to live with her Aunt Peg, who runs the Lily Playhouse in 1940s NYC. We also have a complete list of theater fiction books that you might want to check out.
The Barbizon Hotel, which is the setting of Fiona Davis's The Dollhouse, was the real-life home to Sylvia Plath when she wrote the classic feminist novel set in the 1950s, The Bell Jar. For a non-fiction look at this famous residence, we recommend The Barbizon: The Hotel That Set Women Free. Throughout the book, you'll learn about some of the women who called the Barbizon home. From Grace Kelly to the Unsinkable Molly Brown, their time at The Barbizon shaped them. And in turn, The Barbizon helped shape the world.
Finally, when you're in the mood for a holiday story, we highly recommend A Magical New York Christmas by Anita Hughes. Like Davis's books that feature NYC landmarks, the Plaza Hotel is a character in this story. You'll learn so much about its history and architecture. Additionally, this holiday novel has a dual timeline with a historical fiction story that introduces readers to the author of the famed Eloise books.
Fiona Davis Biography
Fiona Davis was born in Canada and raised in New Jersey, Utah, and Texas. She attended the College of William and Mary. After falling in love with writing, she later went to Columbia Journalism School to complete her master's degree. She initially moved to New York City and worked as an actress for ten years, giving extra insight into her plotlines in The Chelsea Girls.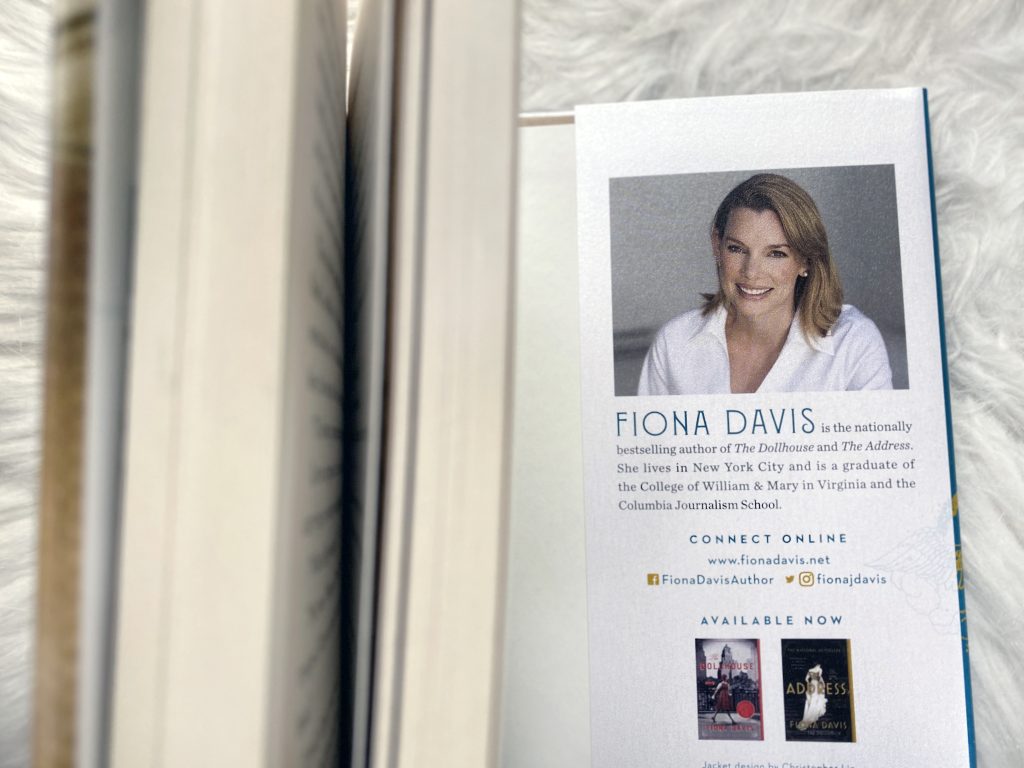 In January of 2022, Fiona Davis shared her Parkinson's diagnosis with Good Morning America and wrote an essay that gives insight into her personal life and shares the backstory of being diagnosed at 53. You can read her essay here. She is now part of the Patient Council for the Michael J. Fox Foundation.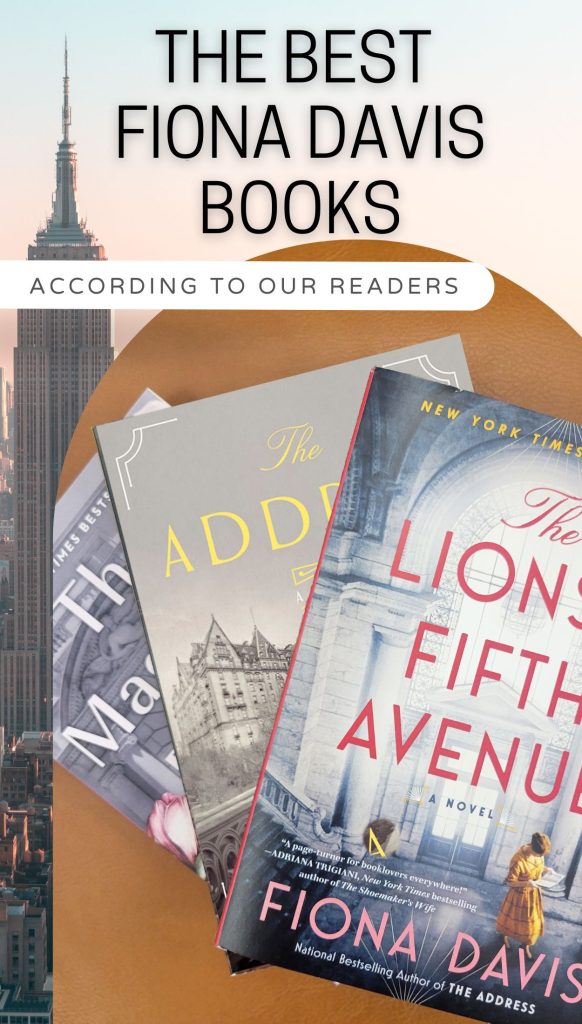 Whether you're just starting out, or trying to read all of Fiona Davis' backlist, we hope this guide has been helpful. We'd love to hear which of her novels is your favorite in the comments below.
Guides for Other Authors
We're actively creating more guides for our readers' favorite authors. Check out our other author guides below, and let us know what authors you'd like to see next: