Sharing is caring!
Novels & non-fiction books about the Dust Bowl and its effects give readers around the world an opportunity to understand this tumultuous time in American history.

We believe educating ourselves about difficult events in history is the best way to avoid repeating them. It's also helpful to understand the overwhelming things other generations experienced to put our own struggles into perspective.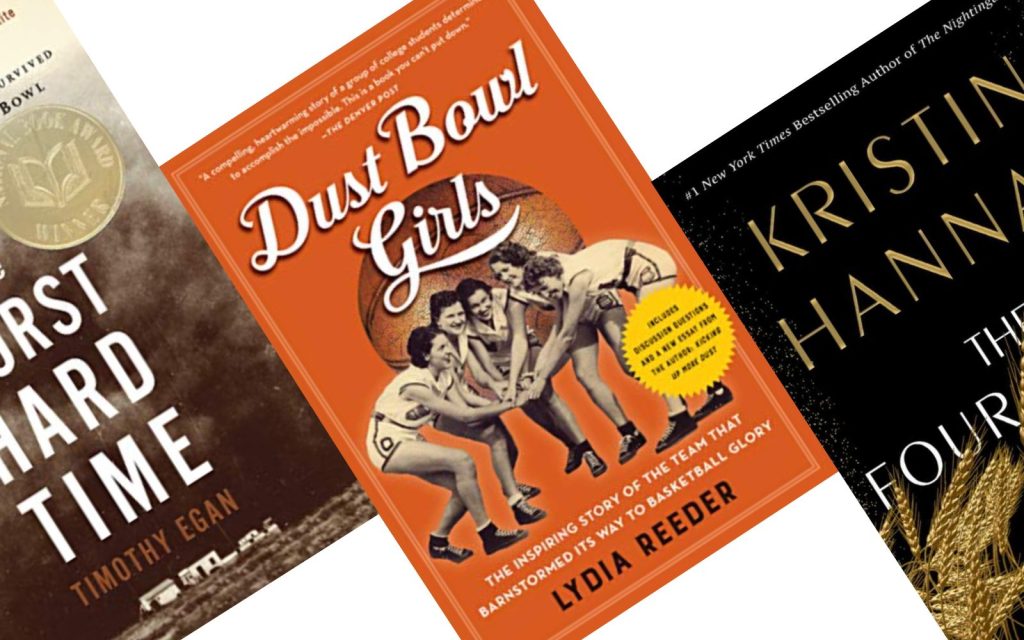 What Was the American Dust Bowl?
The Dust Bowl of the 1930s was one of the most defining periods in American history. The ecological and human tragedy was brought about by a relentless drought and years of poor agricultural practices.
Together, these factors caused huge dust storms to ravage the Great Plains region of the United States. The dust enveloped everything and made it impossible to farm and difficult to breathe. The situation was made even more difficult by the overlap of the Great Depression. It amplified the financial struggles of the region and made loans even harder to arrange.
Most farmers tried to survive in their homes as long as possible. However, by 1936, the unlivable conditions had forced 2.5 million people to leave the drought-stricken areas. The affected Great Plains states included large portions of Oklahoma, Texas, and Kansas, along with eastern New Mexico & Colorado. Many of those who left their homes traveled west, where they encountered new hardships.
What Types of Books Are on Your Dust Bowl Book List?
From award-winning novels to impactful non-fiction, books on the Dust Bowl usually examine the feelings of despair along with the inspirational perseverance within individuals and communities affected by the disaster. The recommended reading on this list features characters, settings, and themes shaped by the landscape and events of the 1930s disaster.
While the books on this list are generally geared toward adult readers, there are a couple of YA & middle-grade options mentioned within the descriptions. These are perfect if you want to read along with a teen in your life.

Some of the books on the list will have a reader rating. These ratings come from participants in our reading challenges.
While this topic can be tough, we hope you find learning about the Dust Bowl valuable. In addition to reading books from this list, we've heard great things about the two-part Ken Burns documentary. It is available for streaming as of 3/22/2023.
As an Amazon Associate and member of other affiliate programs, we may earn a referral fee from qualifying purchases.
Books About the Dust Bowl
Additional Historical Fiction Book Recommendations
If you enjoy historical fiction, be sure to check out our Decades Reading Challenge. It guides readers through books from the late 1800s to the early 2000s. For specific book recommendations, we included an index of some of our other historical fiction lists below.