If you like your beach reads with a side of mystery, then you're in the right place! We've compiled a list of summer cozy mysteries set at the beach, by the lake, in coastal towns, and in other sunny vacation destinations.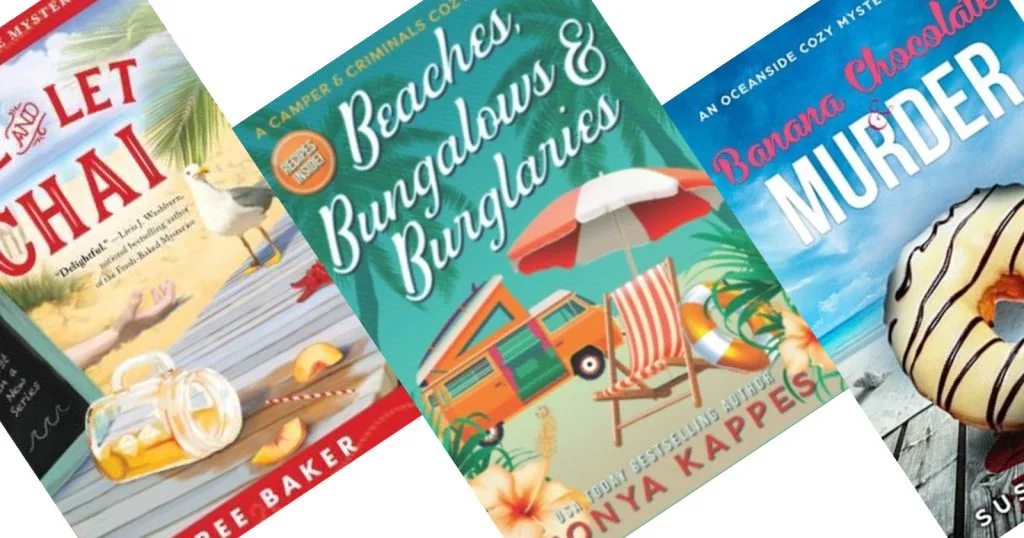 These beach read cozy mysteries are fun and fast-paced, making them perfect for reading on the beach, poolside, or lounging in a hammock.
Heading on a relaxing vacation with lots of reading time planned? Why pack just one book when you could pack three or four? Our list includes lots of beach-read mystery series, so you can start on book one and just keep reading.
If you prefer mystery books with a bit more intensity, check out our list of Summery Mystery Books & Beach Thrillers.
What is the difference between a mystery and a cozy mystery?
Cozy mysteries don't take themselves too seriously, as is evidenced by the often punny titles. They are typically less graphic, scary, and intense than other books in the mystery genre. This can allow readers to enjoy a murder mystery without too much violence or darkness. Instead, there is often a mix of humor, light suspense, and enjoyable characters.
Many cozy mysteries feature a main character that is wrongly suspected of a crime and trying to clear their own name. Or the main character may be an amateur sleuth that seems to happen upon a murder wherever they go.
Additionally, cozy mysteries are typically shorter and invite the reader to join in to figure out whodunit. While each individual book tends to be a quick read, most are part of a cozy mystery series. So if you enjoy the characters and style, just grab the next book and keep reading. The series format also makes cozy mysteries comforting and predictable picks that provide a nice break between heavier books.
Summer Cozy Mysteries Book List
We hope these summer cozy mysteries set on the beach will be the perfect light and entertaining reads for your vacation or staycation! If you also enjoy rom coms or family drama, be sure to check out our Best Beach Reads list.
More Books to Add to Your Summer Reading List
If you love reading mysteries, you can browse all of our thriller, suspense, and mystery books in one place. This index includes other themed cozy mystery lists, as well as lists with more intense books. And if you're looking for more books with summer vibes, check out these lists: