While we love learning through books, we're also big advocates of picking up some books for pure entertainment and escape. Lighter books often serve as palate cleansers for us between heavier topics. And while we're personally drawn to rom coms most often, cozy culinary mystery books are another amusing choice. Even better, they're almost always in the form of a culinary mystery series so you can read about the same characters again and again.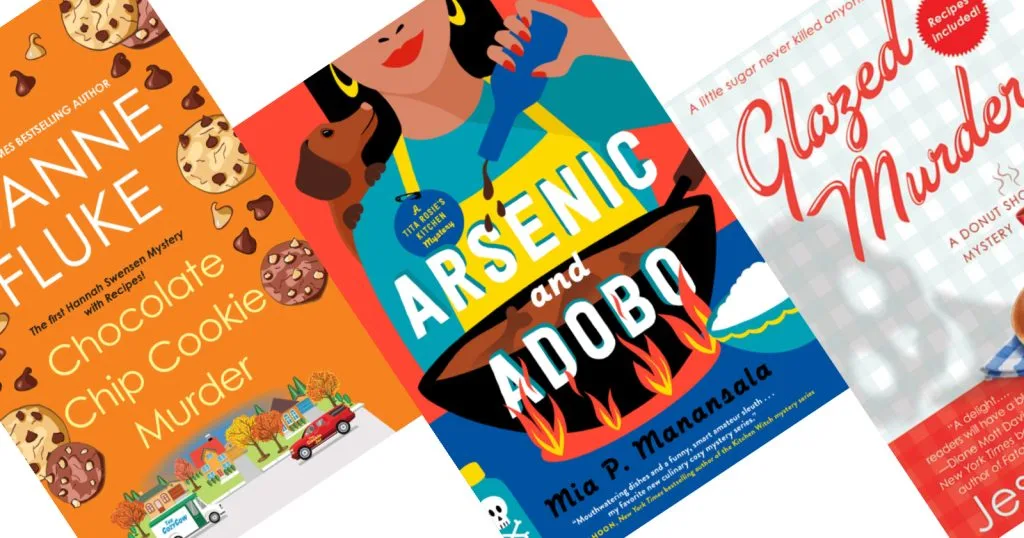 What is a Cozy Mystery?
Cozy mysteries are less graphic, scary, and intense than other books in the mystery genre. They have a familiar storyline of the main character finding themselves accidentally involved in investigating a crime. This is often to clear their own name. Usually, there's a mix of humor, light suspense, and delightful characters as you try to figure out whodunit. Red herrings are abundant along the way.
We appreciate that these books don't take themselves too seriously, won't give us nightmares, and often have amusing punny titles. One of the biggest subsets of the genre is culinary cozy mysteries. Since we love food as much as we love books, it's a big bonus that several of the titles include delicious recipes within the books or have companion cookbooks!
Many of these food mystery books are also on the shorter side, often under 300 pages. Quick reads are ideal when you just want a little break. However, don't worry if you're thinking that's too short!
For our list, we've highlighted the first book in each series, noted the series name, how many books have been published, and linked to the most recent installment. We have noticed that it's common for the first book in a series to be slightly lower rated. As readers get to know the characters and the series progresses, the ratings get higher. So if you're on the fence about continuing through a cozy mystery series, we recommend giving the 2nd book a read before deciding.
If you're ready for a silly escape, here are our recommendations for both cooking mystery books and baking mystery books!
More Cozy Mystery Recommendations
More Foodie Book Recommendations
If you're looking for food fiction outside the cozy mystery genre, feel free to hop over to our list of the best fiction books about food. That list includes a section full of books that incorporate recipes and another of highly-rated books with food in the title.