Sharing is caring!
We love holiday reads, and this year our TBR list includes lots of books set on New Year's Eve! We scoured our bookshelves and bookstores to track down highly-rated books in which the New Year plays a pivotal role in the plot.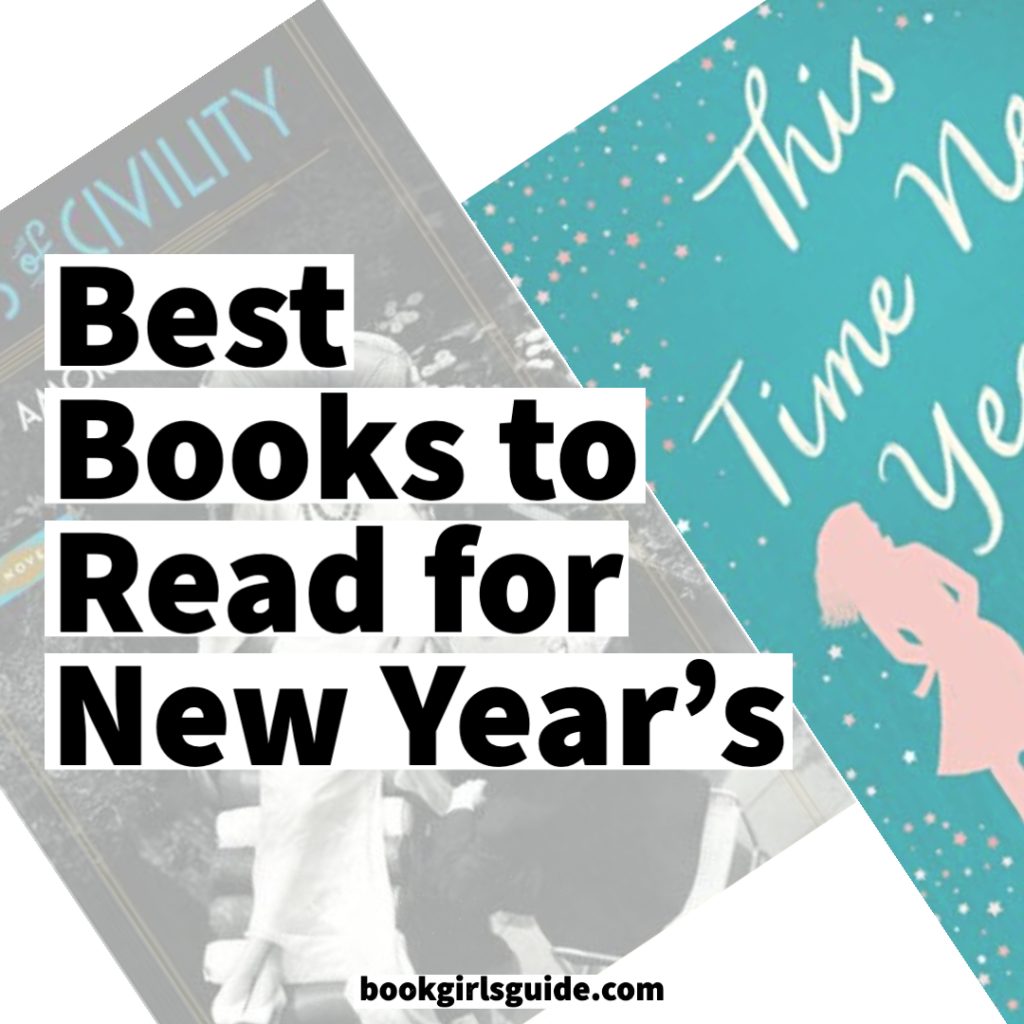 The start of a New Year comes with fresh beginnings and an extra dose of hope, in real life and in novels. Some of our New Year's book picks feature new relationships for the new year, while others focus more on the characters learning more about themselves and taking charge of their own happiness. Whatever you're in the mood for, we hope you'll find the perfect book to read between Christmas & New Year!


Books to Read for the New Year
These are some of the best New Year's Eve books for adults. If we missed one of your favorites, please let us know in the comments.
As an Amazon Associate and member of other affiliate programs, we may earn a referral fee from qualifying purchases.
by Sophie Cousens
In 1990, Minnie & Quinn were born in the same hospital on New Year's Day. Quinn was born just before Minnie, earning him the prize for first baby of the year in London. From that day forward, Minnie has had terrible luck, especially on each birthday.
When Minnie & Quinn run into each other on their 30th birthdays, she sees that her hunch was correct, and Quinn has continued to have more than his fair share of good luck. But, it turns out, this isn't actually the first time their paths have crossed. As the reader, you'll travel back through all their chance encounters over the years.
While the book is largely a British rom-com, there's also a deeper element as Minnie confronts her life-long view that she is and will always be unlucky.
by Margarita Montimor
The night before Oona's 19th birthday, on New Years' Eve 1982, she's struggling with a big decision. Should she go all-in on her commitment to her band and boyfriend, or follow through with a long-time plan to study economics in London with her best friend?
Before she can go down either path, she wakes up on New Year's Day. Except she's now in the year 2014.
Instead of being 19, Oona is suddenly 51. She continues to live her life out of order, traveling backward or forward each New Year, but never knowing what age she'll be when she wakes up.
by Kirsten Gier
Sophie is an intern at a grand, but aging, hotel in the Swiss alps. There's an annual New Year's Eve Ball that brings back the glory days. Sophie frantically prepares to make sure the event goes flawlessly.
However, when the guests arrive, they come with unexpected problems. In fact, many of them aren't even who they say!
If you're open to YA books about New Year's Eve, this one will take you right to a winter wonderland!
by Lucy Diamond
In an English village, Gemma is hosting a New Year's Eve party with music, dancing, champagne, and her best friends all under one roof. Those friends include Caitlin, who has returned to the village to pack up her late-mum's house, and Saffron, a PR executive with a secret that even she can't spin. Throughout the night, they bond over dodgy cocktails and fortune cookies, and they vow to make this year their best one yet.
As the following months unfold, their family, love, work, and home lives are all thrown into chaos. Each is forced to rethink their lives and decide whether to take a leap of faith and try something new. This funny, feel-good read is the perfect pick if you're looking for a little inspiration to take some chances in the new year.
by Amor Towles
On New Year's Eve 1937, a young woman has a chance encounter with a handsome banker. She suddenly finds herself thrust into a yearlong journey into high society.
Written by the author of 2021 best-seller, The Lincoln Highway, you'll be drawn in by the characters and the sparkling depiction of New York's post-Depression social strata. As one review put it, "If a novel could win an award for best cinematography, this would take home the gold."
by Jennifer Castle
Kendall and Max have a history together, but they've both been off on their own for the past months. Kendall has just returned from spending the first half of her high school senior year studying in Europe. Max is taking a gap year before starting college without any clear sense of direction. In New York City after Christmas, they witness a tragic accident.
Overcome with guilt and a sense that maybe they could have prevented it, the two teens set out to perform seven random acts of kindness before New Year's Eve. Written in short chapters from alternating points of view, the story follows Kendall and Max as they explore what it means to be kind.
This is a YA story of friendship, with a bit of romance on the side, that will fill your heart and inspire you heading into the new year.
by Leslie Meier
Although this is book 12 of 28 in the Lucy Stone series, it's also a perfect stand-alone if you're looking for a cozy mystery to read between holidays.
Lucy and her daughter have won a trip to New York City for New Year makeovers from a fashion magazine. However, in the midst of their whirlwind introduction to the high-pressure world, fashion editor Nadine mysteriously dies. Lucy is on the case when her daughter beings to experience the same symptoms. Suddenly, it's even more vital to find the culprit.
by Casey McQuiston
Alex's mother is elected President, putting him in a prominent society position, similar to a prince. When he has a feud with the actual prince of England, it jeopardizes US-British relations.
A damage control plan is developed by both sides, with a fake truce and faux Instagrammable friendship staged. Through these interactions, the relationship between Alex and Henry begins to feel real - and it all starts with an NYE kiss!
by Kathleen Rooney
It's New Year's Eve 1984, and 85-year-old Lilian Boxfish decides to walk all ten miles to the party she plans to attend. Along the way, she looks back over her long life in the city. Her walk is both a quintessential New Year's Eve reminiscence and a love letter to New York City.
In the 1930s, Lillian was a copywriter for Macy's who worked her way up to being one of the highest-paid ad women in the country. Throughout her life, she's seen a lot in her changing city and country - from the Jazz Age to the onset of the AIDS epidemic, and from the Great Depression to the birth of hip-hop.
If you are participating in the Lifetime of Reading Challenge, you will also find this book on one of the challenge lists later in the year. So if you don't get a chance to read the book between Christmas and New Year's, you'll have another chance to visit NYC with Lillian later in the year.
by Jasmine Guillory
When Vivian tags along on her daughter's work trip to England over the holidays, romance is the last thing on her mind. But when Malcolm, the Queen's private secretary, offers to give her a private tour of the country estate, she can't deny the attraction. What begins as a flirtation in the days leading up to Christmas escalates into a steamy fling the week after. The pair agree that their relationship must end on New Year's Day, but will they really be able to walk away from one another when the new year begins?
We love a good holiday romance, and this one is especially lovely because it features a couple in their mid-50s and has a diverse cast of characters. This is the fourth book in the Wedding Date series, but it reads well as a stand-alone.
by Jennifer Chiaverini
Master Quilter Sylvia Compson has discovered that it's never to late in life to find love. This story takes place over the Christmas and New Year's holidays, beginning with Sylvia and Andrew's festive surprise wedding at Elm Creek Manor. The newlyweds are very happy, but Andrew's adult children aren't less than thrilled with the marriage. As the story progresses, the family conflict brings back many memories for Sylvia of the estrangement within her own family's past.
This light and cozy read reflects on many New Year's traditions celebrated by Sylvia and her ancestors, and also includes many well-researched details about the history of quilt-making. This is book 11 in the Elm Creek Quilts series, but it can easily be read as a stand-alone.
by Helen Fielding
For many people, the new year is a time for a fresh start. Bridget Jones begins her diary on New Year's Day with a list of her New Year's Resolutions, including two columns - "I Will" and "I Will Not." She's convinced that she'll finally be happy if she can finally lose 7 pounds, stop smoking, develop a functional relationship with a responsible adult, and learn to program her VCR.
In her determined quest for self-improvement, Bridget then chronicles her daily successes and (more often) her perceived failures. Her diary entries are "devastatingly self aware" and laugh-out-loud funny!
You may be familiar with the movie, but the book is where it all began. This is the perfect New Year's book if you are in the mood for something light and humorous with a whole lot of heart. One thing is for sure, you won't feel alone if you can't keep all of your own New Year's Resolutions.
by Charlotte Lucas
Translated from German, this book will transport you to the sites of Hamburg. The main character, Jonathan, is wealthy, driven by routine, and avoids relationships of all kinds. On New Year's Day, he finds a planner during his jog. The first page says "Your Perfect Year" and the dates for the upcoming year all have handwritten notes with tasks like "eat cake until it makes us ill". Jonathan can't seem to help himself from following the plans as he tries to find the owner of the planner.
Alternating chapters feature Hannah, who is launching a brand new business with her best friend and waiting for her boyfriend to propose.
This book is currently available free with Kindle Unlimited.
WARNING: Book contains themes of suicide and it's not as light as the cover implies, although there are light moments in between serious topics.
by Debbie Macomber
James has his mind on his career as a newly appointed judge. While visiting Las Vegas on New Year's Eve, he runs into a Summer. She's just discovered her fiancè was cheating on her and he's in the right place at the right time to console her.
Because they have to return home to their normal lives despite their undeniable connection, they vow to return to Vegas the next New Year's Eve to meet again. Between meetings, their relationship grows through monthly letters.
Keep in mind that this is a romance originally released 25 years ago, so some say it feels outdated at times. But if you prefer the classic romance genre over contemporary, it might be perfect!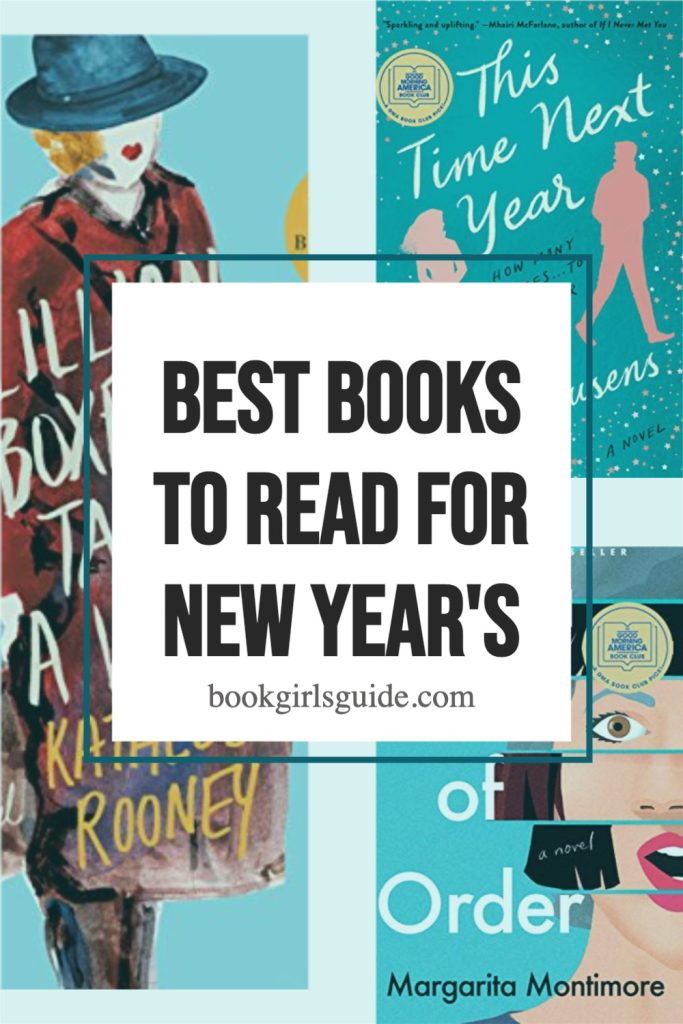 If you're looking for a seasonal book without a holiday aspect, be sure to check out our great list of books to read in the winter!