Steven Rowley's deep insight into human nature combined with witty characters to break up tension comes through in his fourth novel – The Celebrants. This Read with Jenna Book Club pick has fewer light moments than his hit book, The Guncle, but it still has a beautiful message and provides ample opportunities for discussion.
WARNING: If you haven't yet read the book, skip down to the Summary section at the bottom of this article to read a synopsis of The Celebrants. Other sections of this post do contain spoilers, as it is intended for those who have already finished reading the book.
What's Included in This Book Club Discussion Guide: Online & Printable Versions
The post below includes everything you need to host or participate in a successful book club for The Celebrants. From a character list and discussion questions to food and cocktail ideas, we'll help you host a wonderful gathering.
We also have an optional printable The Celebrants book club kit to take your meeting to the next level. The fully customized, printable version of the book club guide includes the following pages:
A Character List
Book Club Discussion Questions
Quotes from the Book
Icebreaker Idea(s) Themed to the Book
Printable Bookmarks for All Your Members
2 Pages of Bonus Contextual Information, including information about Big Sur
Themed Food & Drink Menu Ideas
Custom-designed Journal Page to Record Book Club Meeting Details
Themed Notes Page
A List of Additional Book Club Resources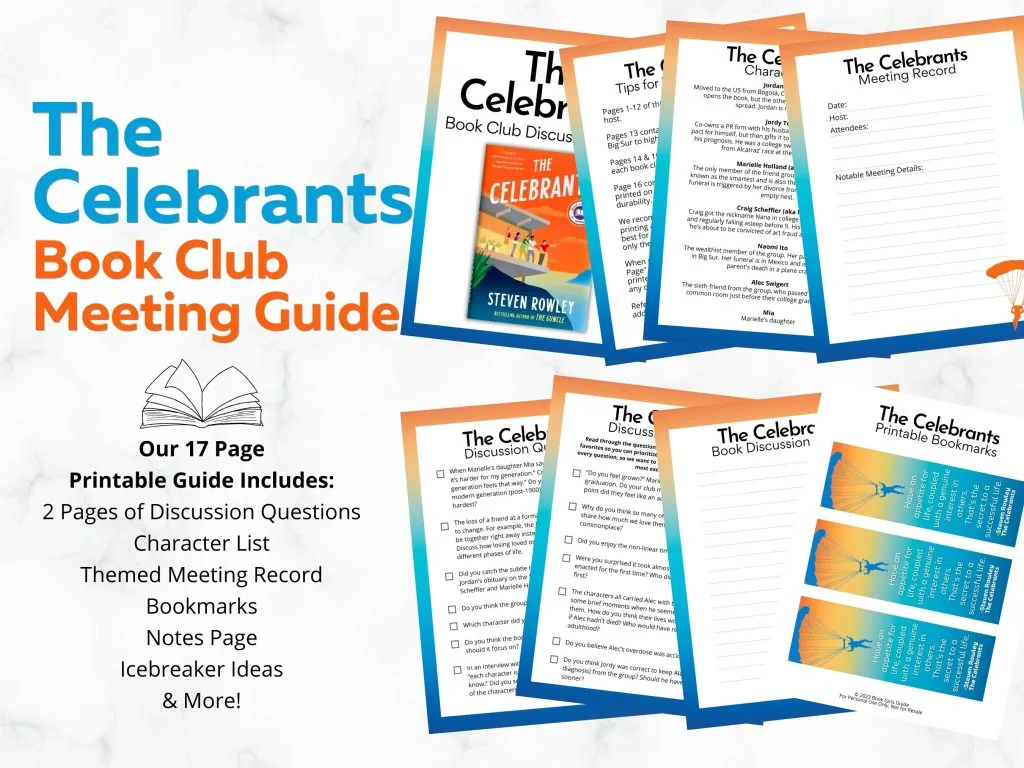 No pressure to purchase, you are always welcome to use any of the resources below for free! The Etsy shop goes a long way in supporting The Book Girls Guide website and content.
Main Characters in The Celebrants
These are the key characters that bring The Celebrants to life. Keep this list handy as a quick reference during your discussions — it'll help keep track of who's who as you delve into conversations. Our printable guide includes a one-page character list if you find it easier to have a printed reference.
Jordan Vargas moved to the United States from Bogotá, Columbia at age 8. His funeral opens the book, but the others don't know his cancer has spread. Jordan is married to Jordy.
Jordy Tosic co-owns a Public Relations firm with his husband Jordan. Jordy triggers the pact for himself, but then gifts it to Jordan once the others know his prognosis. He was a college swimmer and swims the "Escape from Alcatraz" race at the end of the book.
Marielle (aka Mare Holland) is the only member of the friend group who is not yet 50. She's known as the smartest and is also the first to use the pact. Her funeral is triggered by her divorce from Max and upcoming empty nest.
Craig Scheffler is also referred to as Nana, the college nickname he got by wearing nightshirts and regularly falling asleep before 9. His funeral is triggered as he's about to be convicted of art fraud and will go to prison.
Naomi Ito is the wealthiest member of the group. Her parents own the cabin in Big Sur. Her funeral is in Mexico and is triggered by her parent's death in a plane crash.
Alec Swigert was the sixth friend from the group who passed away in the dorm common room just before their college graduation in 1995.
Mia is Marielle's daughter.
We hope this character list is a helpful reference as you prepare to discuss the book.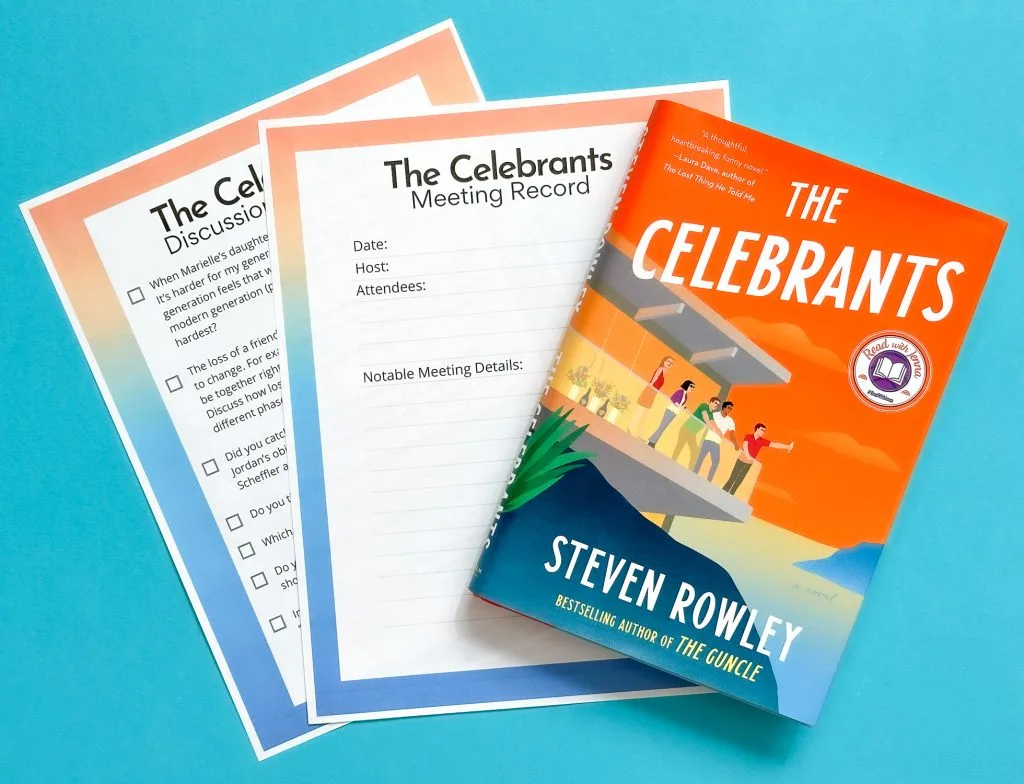 The Celebrants Book Club Questions
In addition to the discussion questions specific to this book, we have a resource of 50 book club questions that work for any book. That post also provides tips for creating your own book club questions.
Read through the questions before your meeting and select your favorites so you can prioritize them. Most clubs won't have time for every question, so start with those that you are most excited to discuss.
"Do you feel grown?" Marielle asks Naomi as they approach graduation. Do your club members feel grown? If so, at what point did they feel like an adult?
Why do you think so many of us wait until someone is gone to share how much we love them? Should fake funerals be more commonplace?
Did you enjoy the non-linear timeline of this novel?
Were you surprised it took almost 20 years for the pact to be enacted for the first time? Who did you think would need it first?
The characters all carried Alec with them for life, including some brief moments when he seemed to communicate with them. How do you think their lives would have been different if Alec hadn't died? Who would have remained friends into adulthood?
Do you believe Alec's overdose was accidental?
Do you think Jordy was correct to keep Alec's secret (his AIDS diagnosis) from the group? Should he have told anyone sooner?
When Marielle's daughter Mia says, "I try to be [an optimist]. It's harder for my generation." Craig replies, "I think every generation feels that way." Do you agree with Craig? Which modern generation (post-1900) do you think has had it the hardest?
Because these characters lost a dear friend in a period of major life change and life decisions, their futures were forever impacted. For example, the Jordans decided they needed to be together right away instead of forging their own paths first. Discuss how losing loved ones can impact you differently in different phases of life.
Did you catch the subtle hint about Craig and Marielle in Jordan's obituary on the final page? They were listed as Craig Scheffler and Marielle Holland-Scheffler of Boring, Oregon!
Do you think the group remained friends after Jordan's death?
Which character did you find yourself relating to the most?
Do you think the book has room for a sequel? If so, who should it focus on?
In an interview with Audible, author Steven Rowley said, "each character is kind of a casserole of different people that I know." Did you see characteristics of people you know in any of the characters?
The Celebrants Book Club Food Ideas
On the first trip to Big Sur after Alec's death, the group eats California Mediterranean food at the restaurant Nepenthe, which is a real restaurant you can visit in Big Sur. The Greek word means "a potion that helps you forget pain or sorrow."
In the present-day timeline, the group decided to return to Nepenthe after weighing several different food options, making it the perfect theme for your book club meal or snacks. Your food can be as simple as hummus and pita bread, you can go all out with a Mediterranean family-style feast, or you can take inspiration from the current Nepenthe Menu.
If your group doesn't enjoy Mediterranean food, you could go a different direction and embrace the time the friends spent together in Mexico for Naomi's funeral. Tacos are always a crowd-pleaser!
The Celebrants Book Club Beverage Ideas
WINE: In the novel, they drink wine from California, which provides endless options. We found a couple of bottles with labels that remind us of the book, but any California wine will do!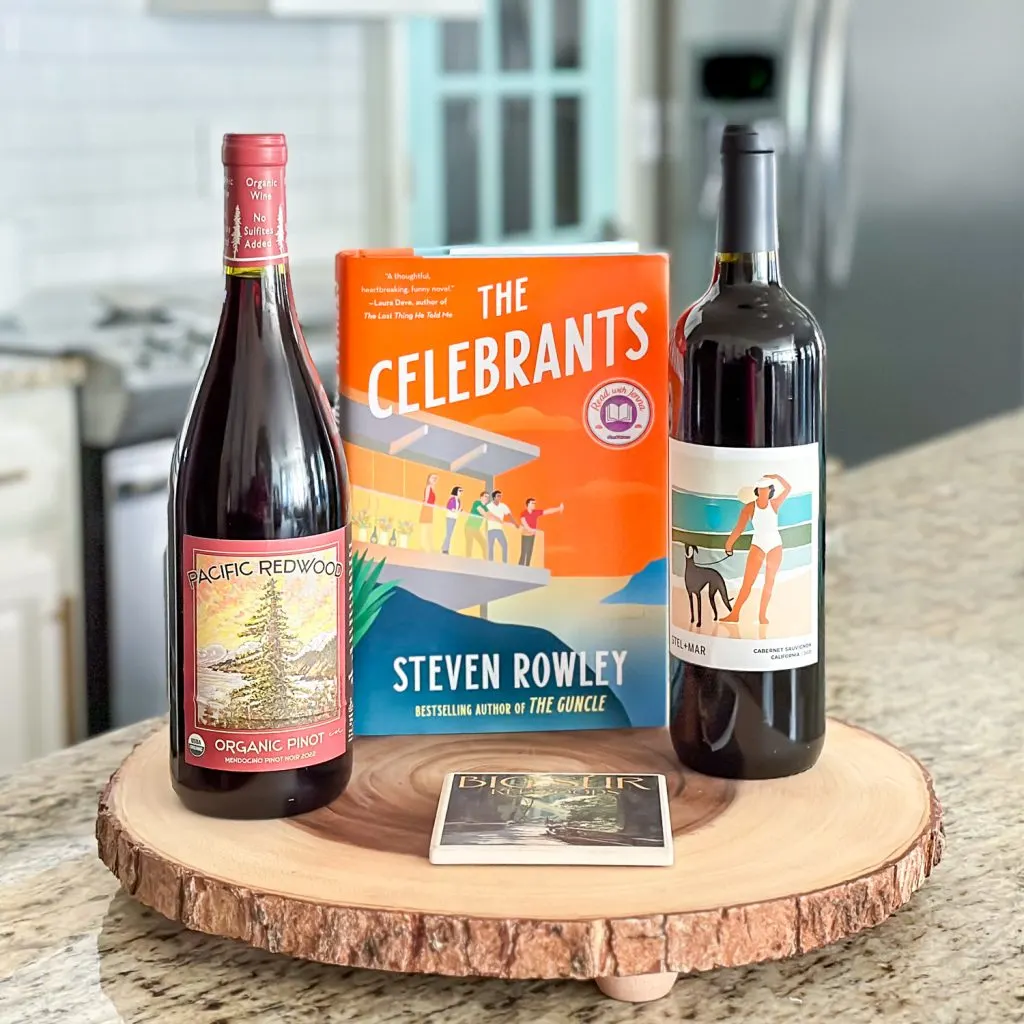 COCKTAIL: At Naomi's funeral, they visit a tequila bar, and Naomi drinks so much that she books a skydiving trip. Make margaritas or another tequila cocktail in honor of their bravery

NON-ALCOHOLIC OPTION: Many stores now carry the Mexican soda, Jarritos, which is a great non-alcoholic alternative to margaritas. Topo Chico mineral water would also work!
The Celebrants Book Club Decor Ideas
Some books lend themselves to themed decor better than others, and this one sure makes it easy with the gorgeous Big Sur cabin as inspiration.
We found a few cute items on Amazon that could help you dress your table with a subtle nod to the book in just a few clicks.
Bring the gorgeous trees outside the cabin into your dining room with wood-look plates & napkins.
Adding an ocean table runner under the wood plates will mimic the combination of wood and cliff-side ocean you'll find in Big Sur.
At the first funeral for Marielle, Naomi and Craig buy an excess of white flowers, which triggers Marielle's allergies. Use white flowers as your centerpiece, but keep things more allergy and budget-friendly with reusable silk hydrangeas and peonies.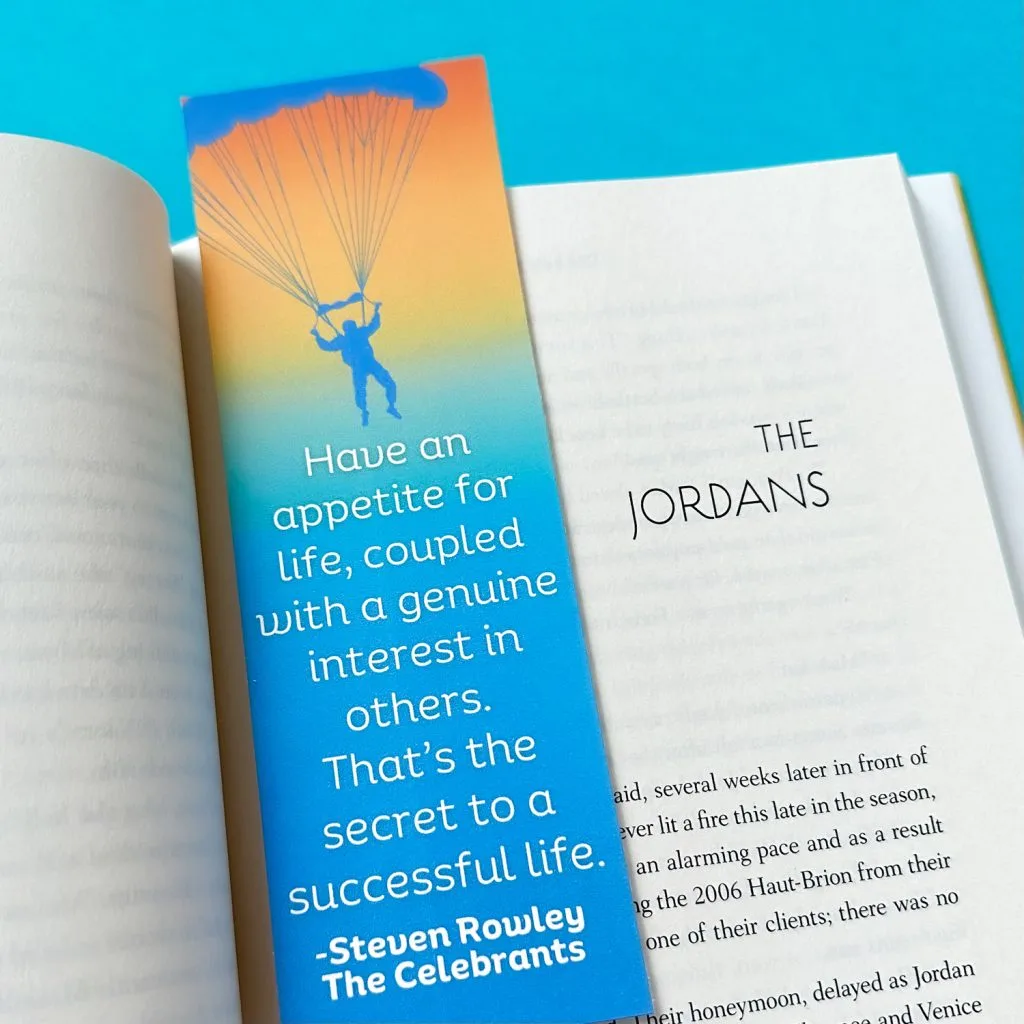 Quotes from The Celebrants
The following quotes from the book would each make great talking points as part of a book club discussion. Be sure to bring any quotes you highlighted along the way as well.
"It's a strange phenomenon, the tendency to think your experience with something was the best and it could never be good again."
"Thousands of candles can be lit from a single one, and the life of that candle will not be shortened. That's what you do for others. You light their candle with yours."
"My point is, we were all figuring out this thing called life, and in truth, we probably are still. But there is always someone a little farther down the path, and if they have a kind heart, if they truly care about others, every so often they turn back and light the way."
"Not everything had to be Paris to be a life experience."
"He had an urge to return to Bogota. It was fascinating to him that the things his parents escaped were now here, and all the things they wanted for their kids were now there."
"But the world is simply too big. We weren't meant to see everything, we weren't built to do everything, we aren't capable of knowing everything. At a certain point, peace has to be found in the choices we've made."
"This was not their little game as usual, 'funeral' as a pick-me-up, designed to give them a chance at a new life when they felt most at wit's end with their old. This funeral was a real goodbye. Only, none of them knew that yet."
"Jordan simply listened to the sounds of the woods on either side of them, the gentle dancing of the leaves, the creaking of stately trees that were here long before them and would stand tall long after, a small creature scurrying to store acorns underneath the wooden deck."
"Do as many things as you can to remind yourself you're alive."
"But I want to tell you something. I learned something today, and I want you to learn it too. We think we have control over everything — we hold on so tight — and the truth is we don't. We don't have any control at all. Not over the big things."
"No one had the taste at that age to make lifelong associates."
"Have an appetite for life, coupled with a genuine interest in others. That's the secret to a successful life."
"We are not so old that past versions of ourselves are long gone."
About Author Steven Rowley
Steven Rowley is originally from Portland, Maine, and is a graduate of Emerson College. When he was 43 and working as a paralegal and screenwriter, he wrote a short story to help him deal with the death of his beloved dachshund, Lily. When his boyfriend heard the beginning of the book, he encouraged him to turn it into a full novel.

Despite intending to self-publish Lily & the Octopus, when he hired a freelance editor, she passed it on to a former colleague at Simon & Schuster. Within 48 hours, they had acquired the brilliant, tear-jerking book for nearly $1 million dollars. Lily & the Octopus hit store shelves when he was 45, and Steven hit the New York Times Bestseller list for the first time at age 52 for The Celebrants.

Steven Rowley now lives in Palm Springs with author Byron Lane and their rescue dogs, Raindrop and Shirley. In 2020, Byron proposed to Steven in the acknowledgments of his first novel, A Star is Bored. After saying yes in person, Steven also accepted the proposal within the acknowledgments of his next book, The Guncle.

You can see Steven Rowley talk about The Celebrants during his Read with Jenna segment on Youtube.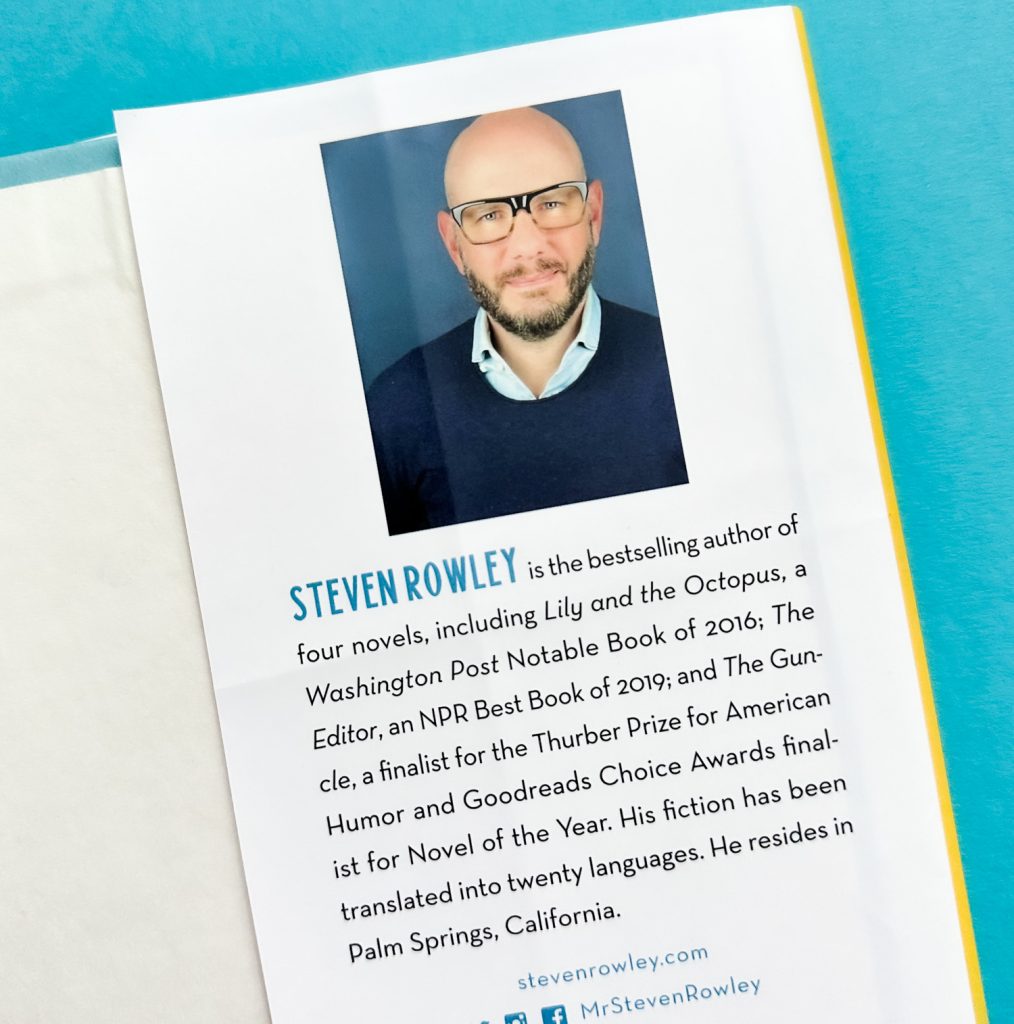 FAQs
Can I get a printable version of the book club guide?
Yes! We have a printable version in our shop that comes with bonus goodies, like a cute printable bookmark, which contains a quote from the book.

Is there a The Celebrants audiobook?
Yes! The audiobook of The Celebrants is narrated by the author, Steven Rowley. He also narrated his hit book, The Guncle.
Audible listeners rate the audiobook performance 4.4 out of 5 stars. Of course, as with all audiobooks, some people enjoy the narration, and others don't. We always recommend listening to a sample of the audiobook before committing to this format.

Is there a The Celebrants movie?
As of August 2023, according to Steven Rowley's website, all of his books are in development for a feature film or television adaptation. We don't have any details, but can't wait to learn more in the future!

For now, the book has been compared to the 1983 movie, The Big Chill, starring Tom Berenger, Glenn Close, Jeff Goldblum, William Hurt, Kevin Kline, Mary Kay Place, Meg Tilly, and JoBeth Williams. It would be fun to watch the movie with your book club and then discuss the similarities and differences!
What are some other books like The Celebrants?
If you enjoyed the theme of old friends reuniting, check out The Five-Star Weekend by Elin Hilderbrand. In the book, the main character invites friends from each stage of her life to spend one secret-filled weekend at her gorgeous Nantucket home. This happens shortly after the death of her husband as she's trying to reconcile how her life looks differently now.

For another book about college friends reuniting, this time at a Maine cottage, try Happy Place by Emily Henry.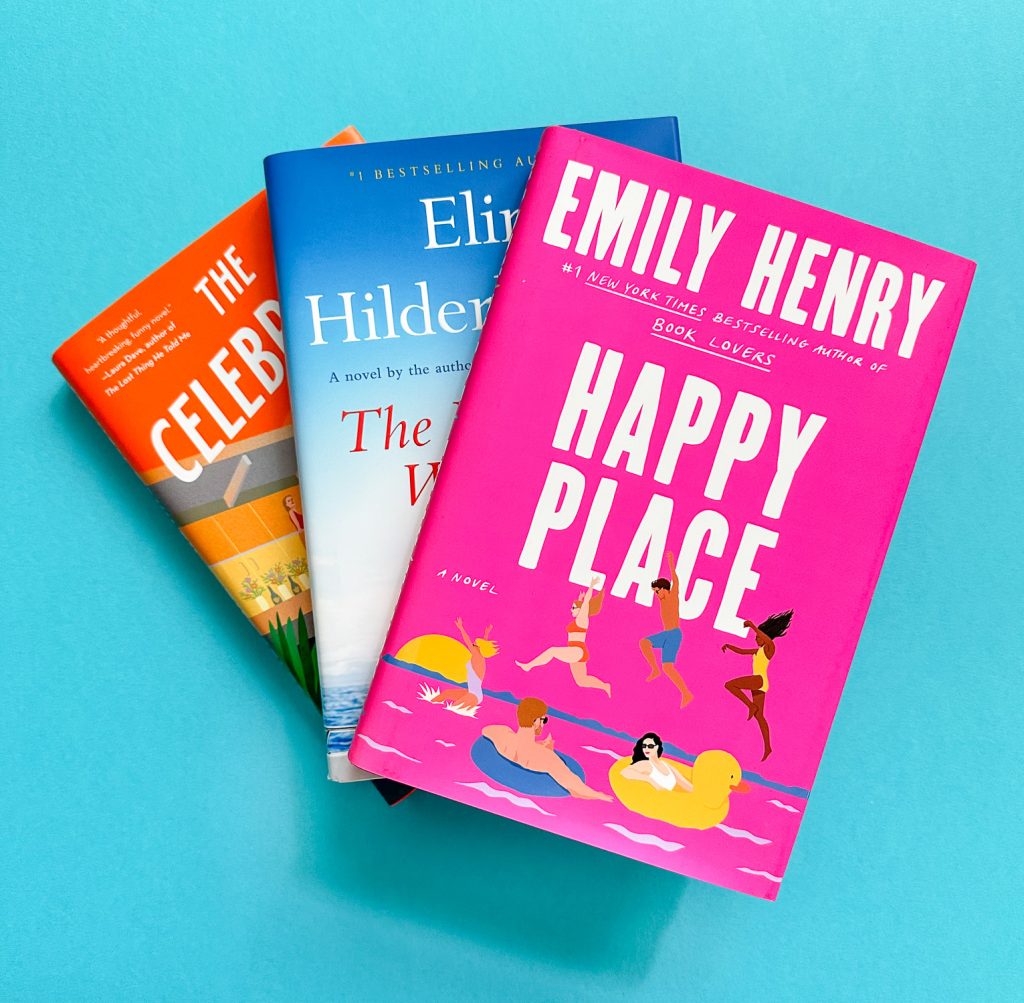 In I Thought You Said This Would Work by Ann Garvin, former friends who haven't seen each other in 25 years must reunite for Katie, their college roommate who now has cancer. She just needs a little favor – drive cross-country, steal a VW camper from her terrible ex-husband, find her diabetic Great Pyrenees at a Utah dog rescue, and drive him back to Wisconsin. Like The Celebrants, this novel inserts humor into tough situations.

Additionally, if you enjoyed reading about the late 40s/early 50s main characters in The Celebrants, be sure to review our lists of Book Characters in their 40s and Book Characters in their 50s.

Are there other books by Steven Rowley?
Yes! Here's a full list of Steven Rowley's books in order:
1) Lily & the Octopus (2016)
2) The Editor (2019)
3) The Guncle (2021)
4) The Celebrants (2023)
5) The Guncle Abroad (Expected Publication May 2024)
In addition to his full-length novels, don't miss the Audible Exclusive short story, The Dogs of Venice, which is narrated by Neil Patrick Harris.
The Celebrants Summary
The Celebrants focuses on a group of five college friends who are now approaching their 50s. Right before graduation, they lost the sixth member of their friend group, and the tragedy has had a lasting impact on each of them. During the memorial, the group made a pact that each person could summon the group together once with no prior planning. As part of the gathering, whoever has gathered the group gets a living "funeral" to remind them that life is worth living.
Twenty-eight years later, Jordan has a big secret that may destroy their nearly three-decade-old pact.
Review of The Celebrants
While this book has some hard themes and deals with grief, the character-driven story is wrapped in Steven Rowley's signature wit and heart. However, if you're looking for a book that makes you smile as often as The Guncle, you'll want to reset expectations before picking up The Celebrants. It leans further into grief and harder moments of life. There are still humorous parts and great 90s pop culture references, though, like our favorite – the Courtney Scale. The characters use the scale to describe events in their lives as too Courteney Cox, too Courtney Love, or too Courtney Thorne-Smith.
The friendships aren't perfect, and neither are the individual characters. And because the timeline is non-linear, it may take a bit longer to connect with them. However, if you know anyone who lost a close friend during the pivotal period of life around high school and college, Book Girl Melissa says the ongoing impact represented in this book is accurate to her experience.
We hope you found our book club guide helpful!
As a reminder, you can get the guide in a print-friendly format for your book club meeting in our Etsy shop! Each purchase helps us continue providing great book lists and book resources here.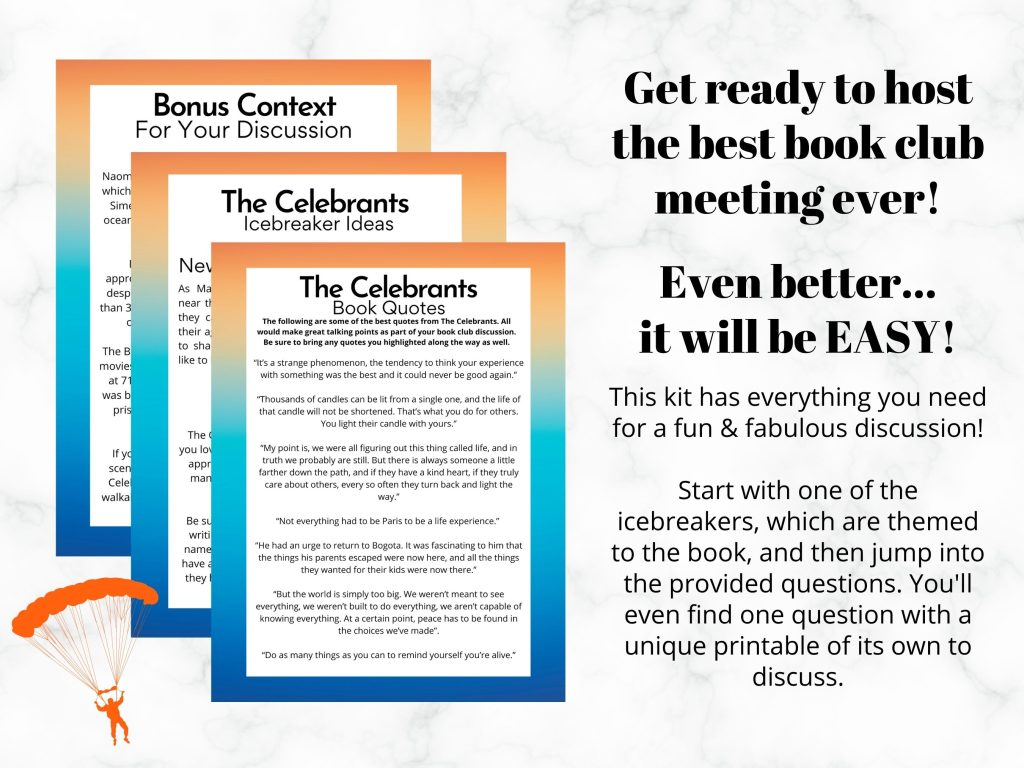 Additional Book Club Guides
If you're planning ahead to your next book club pick, consider selecting another book from our list of guides to make your meeting preparation easy and fun!