The Book Girls are big audiobook fans, and we've tried just about every audiobook platform out there. While there are cheaper options, we've found Amazon's Audible to be the most robust audiobook subscription option. But we know that it can also be a bit confusing.
In this article, we'll answer the question we hear often – How Does Audible Work? After providing a big-picture overview, we'll compare the membership options and then answer all of the frequently asked questions.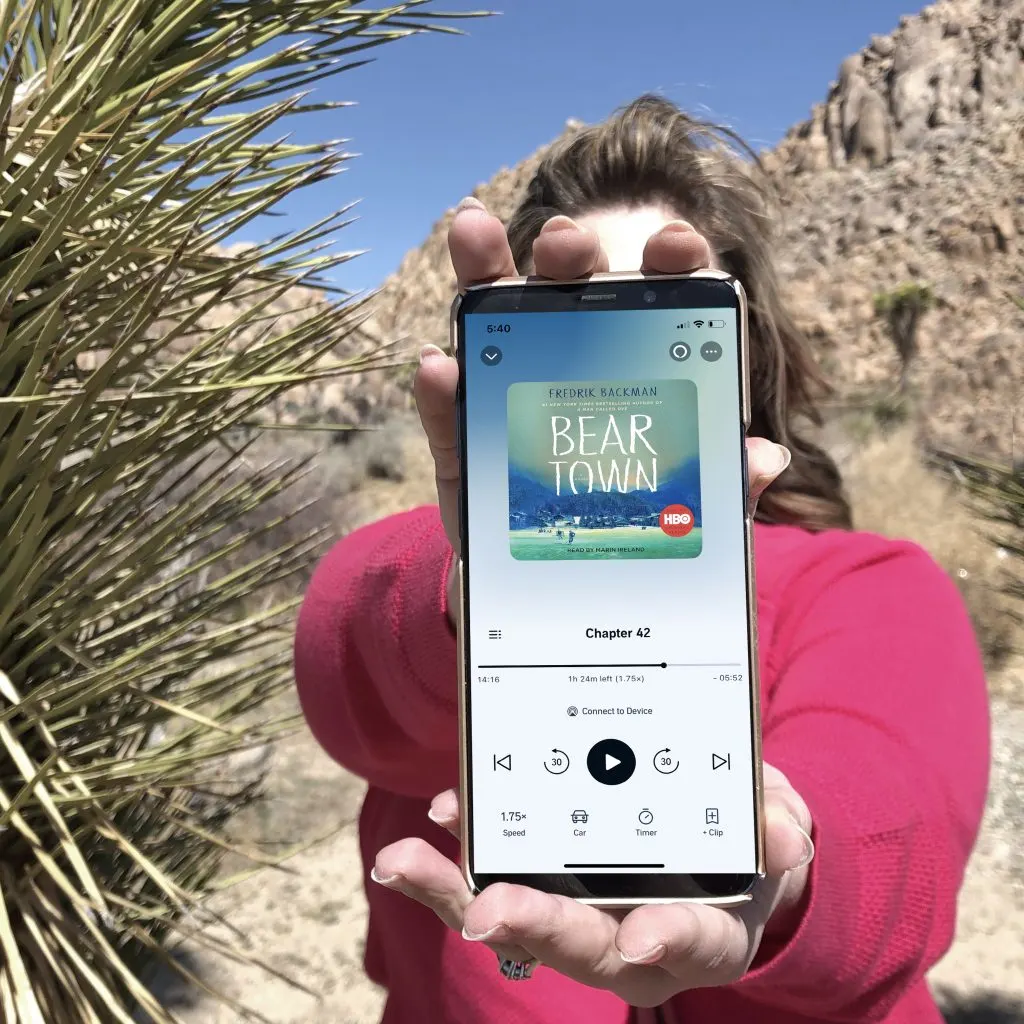 How Does Audible Work? The Basics to Get You Started
Audible is owned by Amazon, so you'll need an Amazon account. In order to listen to audiobooks with Audible, download the Audible app to your smartphone or tablet, or both. You can access your account from multiple devices.
Each audiobook you borrow from the Plus Catalog or Kindle Unlimited and those you purchase will show up in your Audible Library. To listen to an audiobook in your Audible library, tap the three dots to the right of the title. Then, select "download" to download the book to your phone/tablet. Once the audiobook downloads, you'll be able to listen offline. You can also listen to and control audiobooks via your Apple Watch and Amazon Alexa devices (more on that below).
When you finish listening to a book, you can delete it from your device. Downloaded audiobooks, on average, take up about 150 MB of storage space. Even after deleting an audiobook file, it remains in your Audible library, where you can download it again in the future.
Audible vs. Audiobooks
If you're new to audiobooks, the terminology can get a bit confusing. Audible is a platform via which you can listen to audiobooks. The Audible app itself is free. You can download it on iOS and Android devices, as well as Windows 10 and Fire Tablets.
As discussed throughout this post, there are two Audible memberships available – Audible Plus and Audible Premium Plus. These memberships allow you to borrow and purchase audiobooks that you then download and listen to using the Audible app.
There are numerous other platforms for purchasing and listening to audiobooks. Audiobooks can also be borrowed from most public libraries. We plan to do a comparison of other options for audiobook listening in the near future.
What is Audible Plus?
The lower-priced Audible Plus membership level allows you to borrow an unlimited number of audiobooks from the Plus Catalog.
The Plus Catalog has a large selection of books, but you won't find many new releases or best sellers here. You can try Audible Plus free for the first 30 days. Just be sure to cancel it if you don't want to be charged the next month.
What is Audible Premium Plus?
An Audible Premium Plus membership also includes the ability to borrow an unlimited number of books from the Plus Catalog. Additionally, you get one credit per month to purchase any audiobook (including all of the new releases and best sellers). Unused credits roll over from month to month. There's no requirement to redeem a credit every month. However, each credit expires one year after it was purchased, so don't wait too long.
With an Audible Premium Plus membership, you can purchase additional audiobook titles at 30% off. Members also receive access to special sales throughout the year.
Get a 30 day free trial when you use this link to sign up for an Audible Premium Plus membership. Prime members receive a bonus credit as part of the free trial. You can always cancel at any time.
Are There Free Books on Audible?
Yes, both levels of Audible memberships include unlimited, free access to borrow any of the titles in the extensive Plus Catalog. New books are being added to this catalog all the time.
What's Included in the Audible Plus Catalog?
You can browse all the Plus titles here (including many Audible Originals). Scroll down and click the box on the left side menu to filter to just those books included in the Plus Catalog. Then use the other filter options to browse by genre within the Plus Catalog.
How Do I Purchase Audible Books?
If you have an Audible Premium Plus membership, you'll receive one credit each month that you can use to purchase any audiobook that you want. When you open the Audible app, it will always tell you how many credits you currently have available at the top of the home screen.
You can use your credits to purchase books (or add them to your wish list) right in the Audible app. Simply search for the book title you want, and then click the orange button that says "Buy with 1 Credit."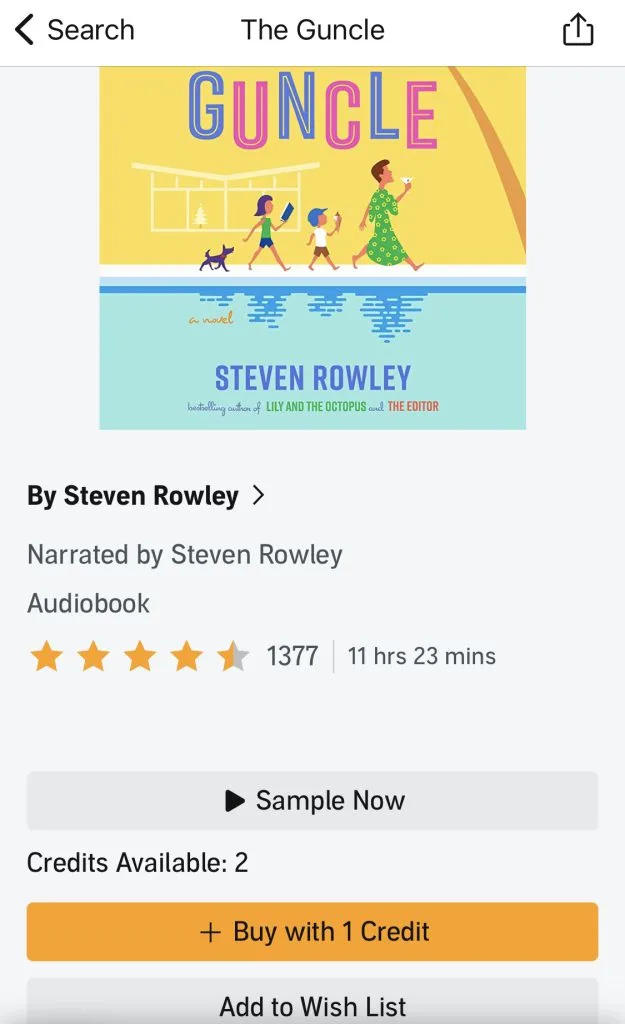 Unused credits roll over from month to month. Each credit expires one year after purchase, so don't hold on to them too long.
IMPORTANT TIP: You Cannot Purchase Audiobooks in the Amazon App
A lot of the confusion about how to buy Audible books stems from the fact that, while you can purchase audiobooks on the Amazon website, you cannot do so using the Amazon app.
In the Amazon app, you can browse books and see if an Audible audiobook version of the book is available. However, rather than a purchase option, you'll see this statement: "This application does not support purchasing digital content." We're not sure why the Amazon app limits this ability, but you can purchase audiobooks on Amazon.com in your mobile browser. However, if you want to buy an audiobook on your phone or tablet, it's easiest to do so directly in the Audible app.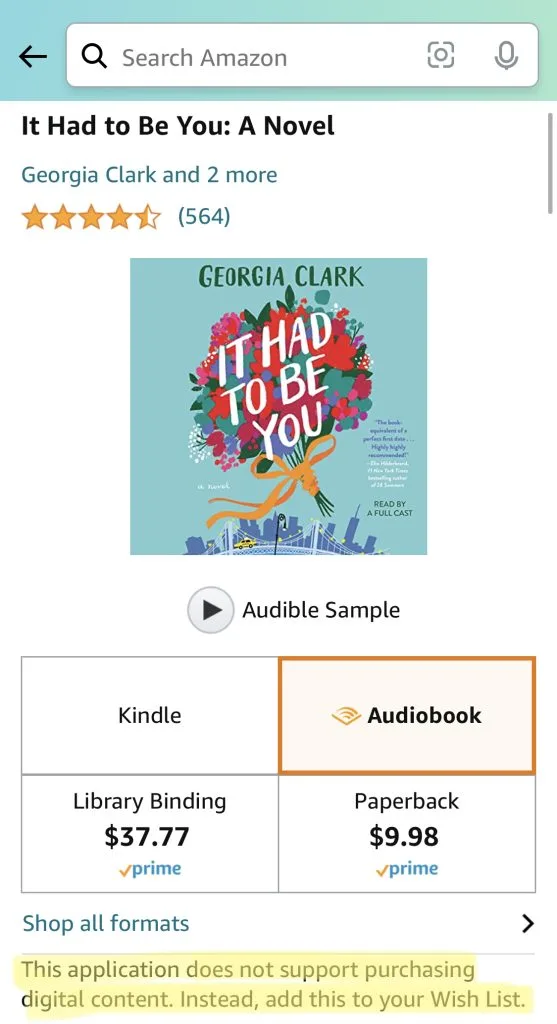 How Do I Get More Books Without Paying Full Price?
Audible Premium Plus members can also purchase additional titles at 30% off, and will receive access to special sales throughout the year (keep an eye on your email for sale notifications). As we mentioned above, Kindle Unlimited also allows you to add more books to your Audible library.
Amazon Audible Matchmaker
Here's one more great tip that you need to know about – the Amazon Audible Matchmaker! If you already own a lot of Kindle ebooks, you're definitely going to want to check this out!
The Amazon Audible Matchmaker will scan your ebook library and load a list of the Kindle books that you own. Each book from your Kindle library will list a discounted price to "Upgrade to Audio." The prices will range from $1.99 up to $12.99 (maybe more, but that was the highest Angela has seen in her account). The prices will vary from time to time, so you'll want to check back regularly to find the best deals.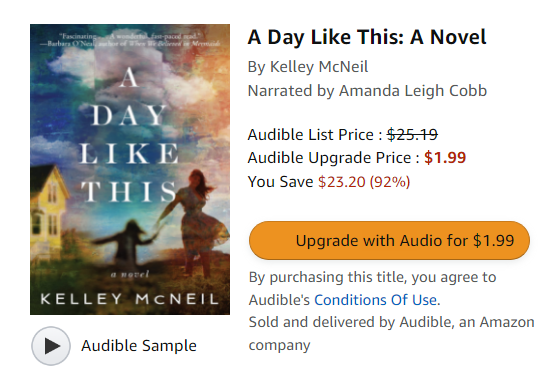 If you choose to purchase one of the audiobook upgrades, you'll have access to Whispersync technology. Whispersync allows you to switch seamlessly between listening on Audible and reading on your Kindle. It always picks up right where you left off.
Can You Share Audible Books?
You can access your audiobooks across all of your own devices. Simply download the Audible app and sign in to your Amazon account on each device. You can also share any Audible books that you've purchased with other members of your Amazon Household using Family Library Sharing. Using the Family Library, you can link two adult Amazon accounts to share not only audiobooks, but also ebooks, apps, and games.
Can I Return an Audible Book?
What if you use one of your Audible credits to purchase a book and don't like it? We know that the narrator can make or break an audiobook. Before using a credit, we suggest you take advantage of the "Sample Now" option. This allows you to see whether or not you like the narrator.

As of Oct 17th, 2022, Audible announced that ONLY books purchased with Audible credits can be returned. If you are an active Audible Premium Plus member, you will still be able to return titles redeemed using Audible credits within 365 days of purchase. Individual books purchased with money are no longer returnable because of the rampant abuse of the system in the past.
As we advised above, be sure to listen to the sample narrator before purchase and you shouldn't have to worry about it!
Can You Read Along With Audible?
One of the common questions we hear in our Facebook Group is whether Audible books come with text. The answer is that some do. If you have Kindle Unlimited and select a book that includes audio, then you can seamlessly switch between reading and listening using Amazon's Whispersync technology. For example, you can listen while folding laundry, and then have your Kindle be right on the page where you left off listening to when you switch back to the ebook.
Is Audible Free with Prime?
Sadly, it is a separate charge for the audiobook service. However, each month, there is a Prime program called Amazon First Reads in which you can select a new release Kindle book every month from a limited selection.
How to Play Audible on Alexa? Common Alexa Audible Commands
The ability to listen to audiobooks via Alexa devices is a big benefit of Audible as compared to other audiobook platforms. First, you'll need to make sure that your Alexa is connected to your Amazon account (most likely, it already is). Then say, "Alexa, read [title of book] from Audible." Or if you've already been listening to the book on your phone or tablet, you can simply say, "Alexa, read my book," and she will immediately start reading your current book from the place that you last left off.
While you're listening, you can control your audiobook using simple voice commands. Say: "Alexa, go back 30 seconds," "Alexa, next chapter," "Alexa, read faster," "Alexa, pause," and more.
Can I Listen to Audible Offline?
Yes. To listen to an audiobook from your Audible library, tap on the three dots to the right of the title. Then, select "download" to download the book to your phone/tablet. Once the audiobook is downloaded, you'll be able to listen offline.
Do I Get to Keep My Audiobooks If I Cancel My Audible Membership?
Yes! Even after you cancel your Audible membership, the titles you've purchased will remain in your Audible app. However, books borrowed from the Audible Plus catalog only remain in your Audible library while your membership is active.
We hope this answers all your questions about how Audible works. If you're still on the fence about signing up, we cover who we think could benefit from Audible, and who should skip it in our Is Audible Worth It article, so be sure to check that out now!