As an Amazon Associate and member of other affiliate programs, we may earn a referral fee from qualifying purchases.
Last week, Melissa spent some time digging into the Kindle Unlimited program to see if it would be worth the cost. She wasn't sure the quality or volume of the books they would include, but for the low monthly cost, she wanted to find out.
As you can tell, we're a bit hooked on books of all kinds around here. While we both have a deep love of real paper books and still regularly buy and read them, in order to maximize our daily reading, they're not usually the first option we reach for.

Angela has figured out how to balance being a business owner, super-mom, and big reader using audiobooks. Melissa's most common media is ebooks because she reads a lot after dark and loves having access to whatever she's reading on the go using her Kindle app on the phone.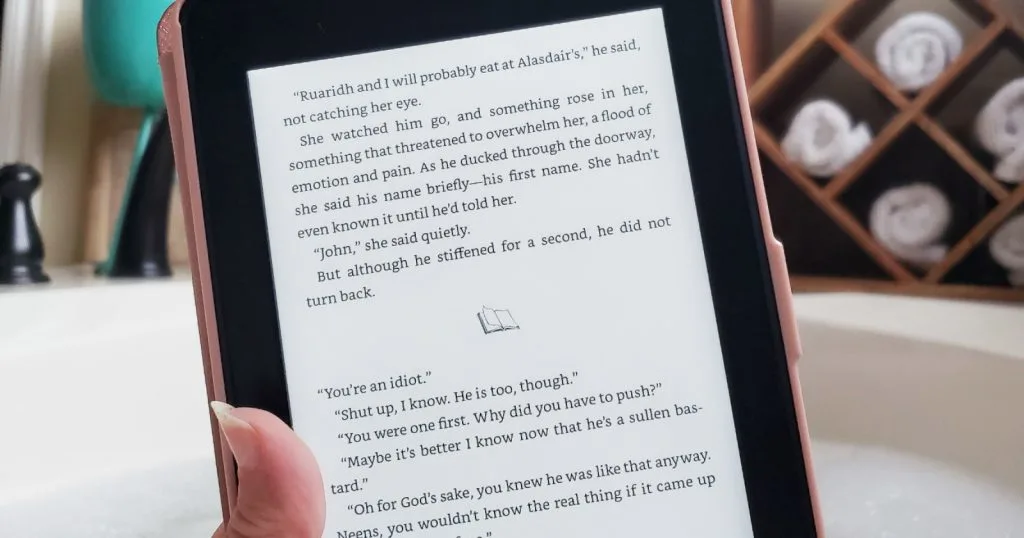 Side note: Keep in mind you don't even need a Kindle if you have a smartphone (Android or iPhone) or tablet (Android or iPad). Melissa had a Paperwhite that she loved, but it took an accidental swim in the bathtub several months ago. Whoops. She'll eventually replace it because it was so nice to read on a device without any built-in distractions AND the newest Paperwhite is waterproof.

Here are some of the most common questions we see about Kindle Unlimited subscriptions, but if you have more questions, feel free to ask in the comments!
Is Kindle Unlimited Worth It?
The short version is that for many of us, the answer is YES. Melissa was pleasantly surprised by the quality of many of the books, including spotting several best-sellers and books that we have on the book lists for the Book Voyage and Decades Challenges.

Just having instant access to those is worth the monthly subscription, but she found some other exciting features as well.

How Does Kindle Unlimited Work?

For your monthly subscription fee (currently less than the cost of one new paperback), you can read an unlimited number of books from the Kindle Unlimited catalog.
It's important to note that this does NOT mean any book that has a Kindle version. It's a curated selection with a mix of popular titles and lesser-known authors.
Many, but not all, of the books also have the audio version included. We thought this was too good to be true, but it really works!
Melissa choose The Last Bathing Beauty by Amy Sue Nathan, which you'll find on our 1950s Decade List to test out the feature. She could seamlessly switch between reading and listening. What a treat to be reading, switch to listening while folding laundry, and then have the Kindle app be right on the page she left off listening to when she was ready to read again.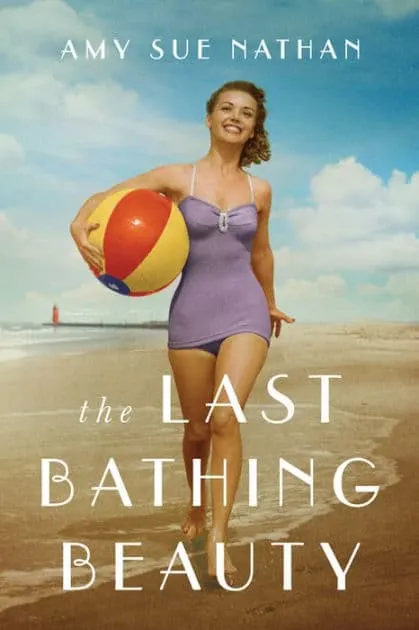 Of course, you could opt to only read or only listen to any of the books as well, but it was luxurious to have both and for them to be in sync with each other.
Is Kindle Unlimited Really Unlimited?
In addition to the caveat above, that not all Kindle books are included, there is also a limit of 10 Unlimited books on your device at one time. When you try to download book 11, it will make you "return" one of the first 10, but you get to choose which one. As long as you return each book after reading, this isn't a big limitation.

It's also important to keep in mind that the books included can change, so if you see something you really want, it's good to snag it for your library why you can.
Are There Good Books Included with Kindle Unlimited?
Yes! We've put together a couple of lists full of well-rated books available on Kindle Unlimited. Don't miss our list of Kindle Unlimited Christmas Books!

Additionally, two books that Melissa had on her TBR list after seeing them recommended again and again quickly caught her eye once she activated her subscription. Regretting You by Colleen Hoover and When We Believed in Mermaids by Barbara O'Neal.

Since those are both so popular right now, we guessed they'd have a wait at the library vs getting them instantly with Unlimited, but wanted to verify.
Shockingly, neither were available in ebook or audio in three different library systems we checked. Both have audio included with Unlimited, so whether you want to read or listen, this seems to be the most affordable option.

She also spotted lots of books for each of our reading challenges and plenty of good Rom Coms, including two by the fun Christina Lauren duo, which are always a fun choice to break up your heavier reading.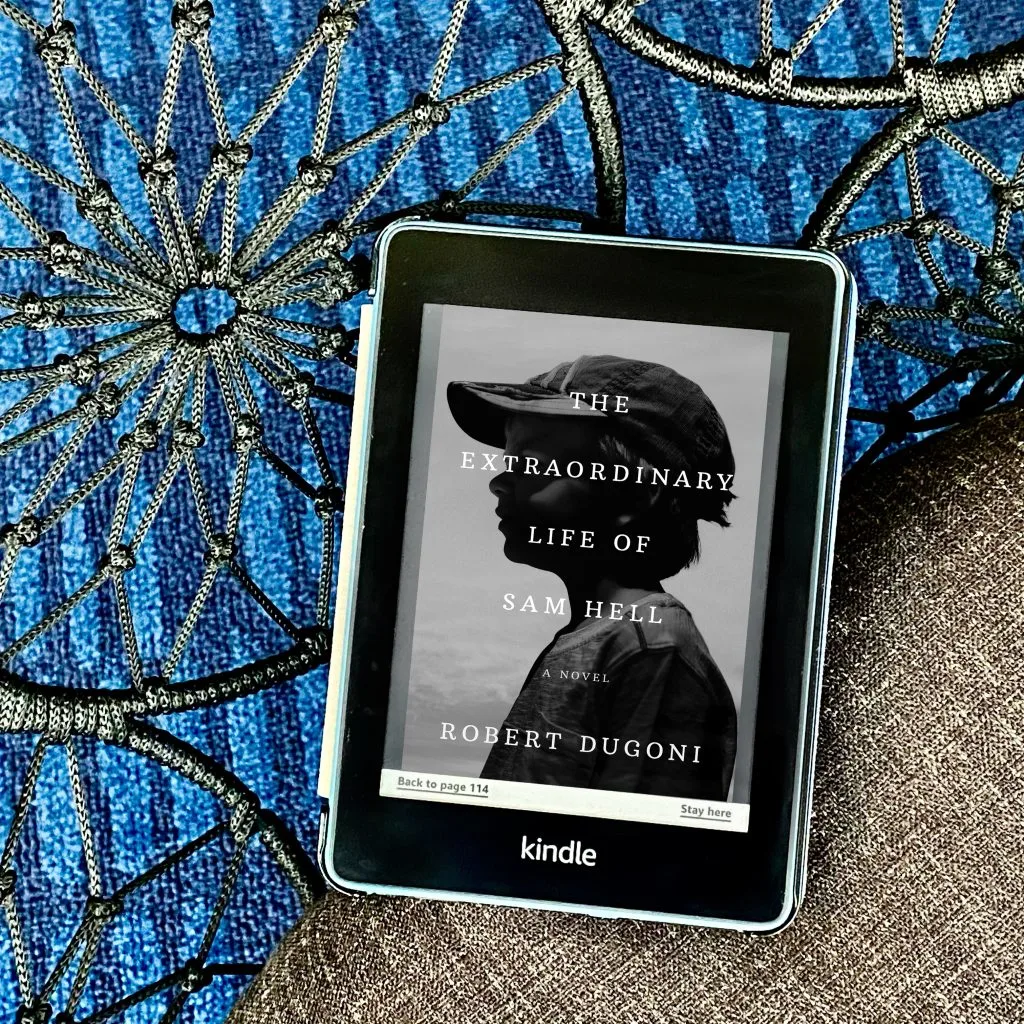 Kindle Unlimited Book Recommendations
How Do I Find Audiobooks in Kindle Unlimited?
We put together a whole list of highly-rated audio books on Kindle Unlimited, so we recommend starting with that. When you're ready for more, click over to the Audiobooks tab from the Kindle Unlimited landing page as shown below.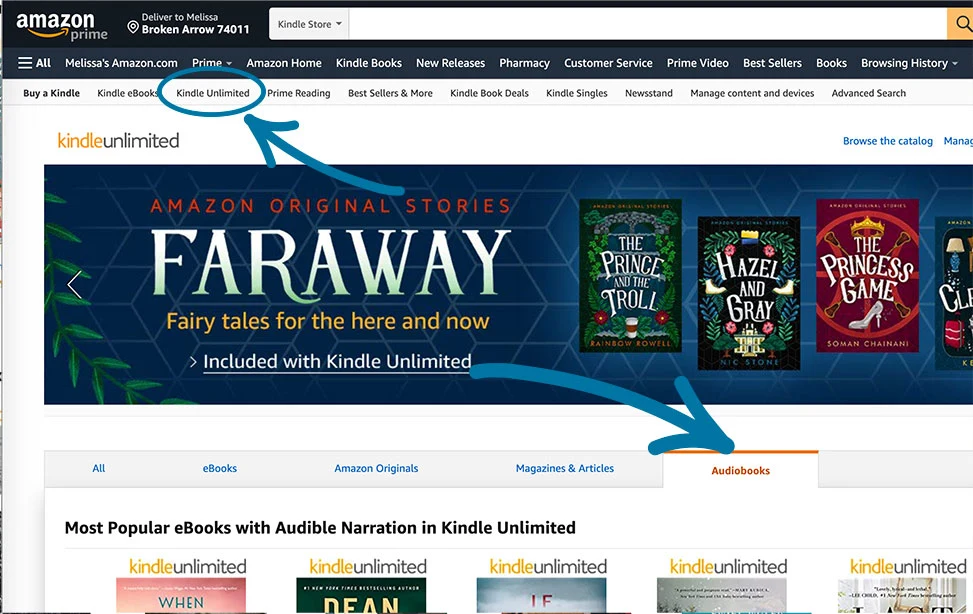 Can I use Kindle Unlimited for my Book Girls Guide Reading Challenges?
Definitely! We make a specific point of researching KU books when we create each list and include them whenever we can.

Throughout all of our book recommendation lists, watch the bottom of each book description. We'll have a note there for any we're aware of being included with Kindle Unlimited, along with the last date we checked the KU status. Because books are constantly added and removed from the membership, we can guarantee that the book will still be included.

Tips for Navigating Kindle Unlimited
Initially, the total number of book options seemed disappointing, even though we saw several we wanted to read. Then we realized a few key tips to help us see thousands more!

Tip 1: See All
The Kindle Unlimited landing page has a great snapshot of books they think you'll like based on your past browsing and purchases, as well as popular books.
However, it's easy to miss a tiny "See All" button for each of the categories they've selected for you. Clicking that brings up a separate page, not just the ones you can scroll through side to side.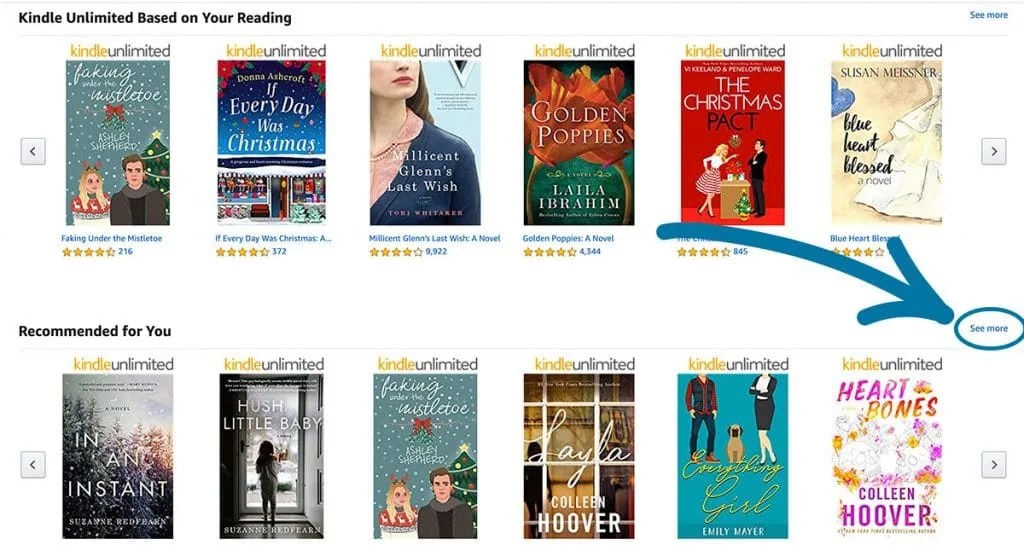 For many of the categories, after clicking See All and scrolling down through the list, there will be a "next" arrow to see even more. However, even those pages don't really show all.
Tip 2: Use the Check Boxes
From the main Amazon book page, click the Kindle Unlimited Eligible checkbox.
Once you click it, you'll get the entire catalog of Kindle Unlimited Books at your fingertips. It defaults to sorting by popular featured books, and you can scroll through 300+ pages of included books or use additional checkboxes from the sidebar to narrow down your search.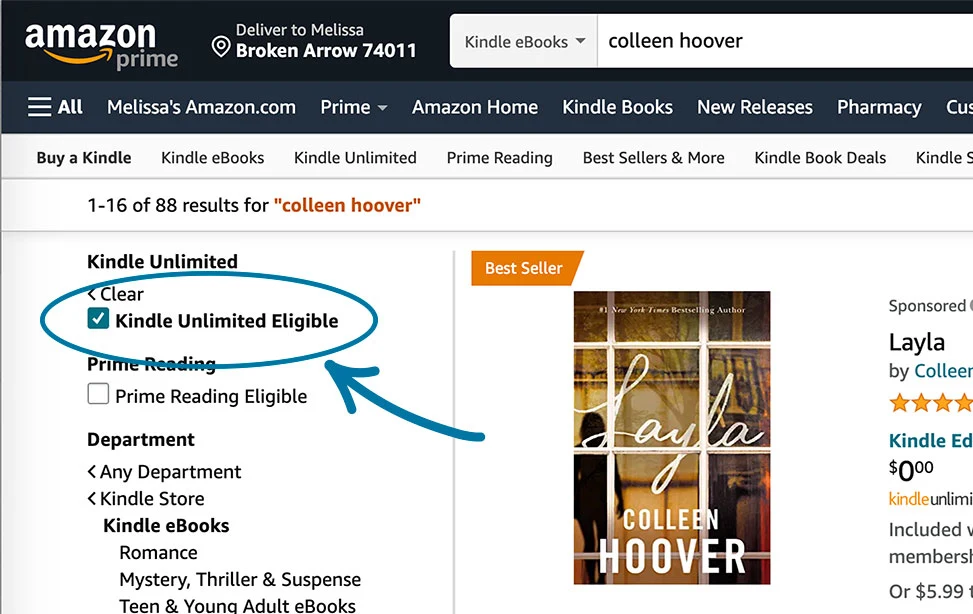 Consider narrowing down your search to books rated 4 stars or higher to bring the best to the top. There's also a box if you only want to see the options with audio. I found a Carolyn Brown novel that has been out less than a month this way!

Are There Any Other Benefits?
With the subscription, you'll also have access to a ton of Amazon Orignal Books. These are often partnerships with well-known authors, for example, right now there is a 6 book Dean Koontz series only available through Kindle Unlimited or Audible. You can find these in the same place we showed the Audiobook tab, from the main Unlimited screen.

Also next to the audiobook tab, you'll also find Magazines available. If you read on a larger color device, like an iPad or Galaxy tablet, this is a fun perk. You can flip through the pages of a huge range of popular magazines.

Should I Subscribe to Kindle Unlimited?
Maybe.
If you're an active reader of ebooks or audiobooks, it's pretty easy to get more value than the monthly cost. You may even find some new favorite books that you never would have picked up. Melissa is reading a light, funny, and page-turning rom-com called Love in the City that was exactly what she needed between her more serious Book Voyage and Decades books.

Since there is a free trial, we'd definitely encourage trying it out. With the current list of books Melissa already found to read, she knows she'll be extending her membership several months.
She also set a calendar reminder for 4 months from now to reevaluate if she's still reading/listening to enough from the program to continue paying for it. There isn't a long-term obligation, which makes it a much easier decision. In fact, Angela has now been convinced to try it too!

On the flip side, if you read 90% paper books, it may not be worth it for you. It also won't be worth it if your reading goal is 1-2 books/month. Otherwise, test it out and let us know what you think!