Oh Bravo, you're a distraction from our precious reading time and a total guilty pleasure. But we can't quit watching!

Thankfully, our love of reading recently collided with our love of all things Bravo.
From the Real Housewives and Below Deck stars to the Million Dollar Listing agents, we were excited to find that many Bravolebrities have authored books.
And some of them are actually good!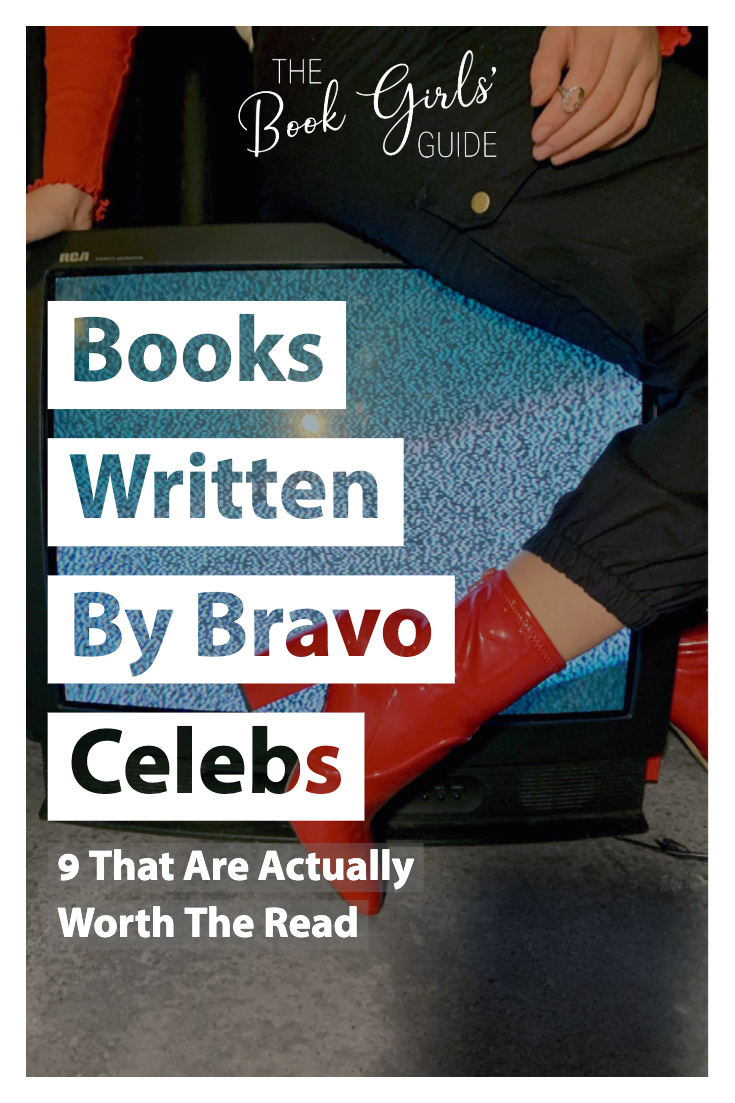 We went on a quest to dig through every book authored by a Bravo star that we could find.
Anything with less than a four-star overall rating as of the time we wrote the post was eliminated and we also skipped the cookbooks for this post.
But should we do a whole separate Bravo cookbook post? Let us know in the comments at the bottom of the post.
As an Amazon Associate and member of other affiliate programs, we may earn a referral fee from qualifying purchases.
Best Books By Bravo Celebrities
Photo Credit: www.amazon.com
You can't start a list of Bravo books without Andy Cohen, king of all things Bravo.
While Most Talkative isn't his most recent book, it is the highest-rated. This one would be a great listen on Audible since Andy narrates.
Photo Credit: www.amazon.com
This one is a must-read for any Below Deck fans! It's full of wild yachting stories told in Captain Lee's unique style.
Photo Credit: www.amazon.com
We dug a bit to uncover this surprising gem. Josh Flagg from Million Dollar Listing Los Angeles wrote this biography about his incredible grandma back in 2009.
She was born in Romania in 1919, became a member of the Dutch Underground to fight Hilter, and traveled to America with $5. She turned her rough and complicated early years into a multi-million dollar fashion empire in California.
Photo Credit: www.amazon.com
Who else is fascinated with Patricia from Southern Charm?
Melissa got this book for Christmas last year and loved reading Pat's backstory, including how she found the fabulous Michael.
Photo Credit: www.amazon.com
This tell-all book by RHOBH Alum Brandi Glanville has an amazingly high rating on Amazon.
It's described as both funny and juicy - as you'd expect from someone who's husband left her for LeAnn Rimes.
Photo Credit: www.amazon.com
Remember the Million Dollar Listing spin-off Sell It Like Serhant? Ryan also wrote a book to help people learn to sell in any industry using amusing stories along the way.
Photo Credit: www.amazon.com
Who else watched Vanderpump Rules and wondered if Stassi would really finish her book? Well, she did!
Like Stassi herself, people seem to LOVE or HATE this one, but I'm guessing it will be great for a laugh even if it doesn't change your life. The Lovers far outweigh the haters and it's sitting at a surprising 4.5 stars.
Melissa just ordered it and can't wait to dig in!
Photo Credit: www.amazon.com
I didn't expect TWO Below Deck books on the list, but Kate Chastain's story-telling earned her high reviews so we couldn't leave her off the list.
If you're interested in yachting as a career or just fascinated by lifestyles of the rich and famous, Lucky Charming will have something for you!
Photo Credit: www.amazon.com
Hmmm. After the last season of RHONY, Carole wasn't my favorite. But she is an experienced journalist and that shows in the overwhelmingly positive reviews of her memoir.
And really, the twists and turns in her life are fascinating so I can see why this is a high-rated read.
Have you read any of book authored by Bravo celebs? Let us know which ones and what you thought in the comments below!
Love reading as much as we do?
Join us for more free content, reading challenges, and discussion over in the Book Girls' Guide Facebook Group!