My boys love books, and I love that! This is why books play an important role in one of our favorite family traditions! And our Christmas Book advent calendar helps us count down to Christmas.
There are lots of different ways that you can incorporate books into your holiday celebrations. Reading Christmas books with your kids each night before bed is the perfect way to enjoy quality family time together while fostering a love of reading. I'll share a bit about our DIY book advent calendar. Then I'll provide some tips to help you start a bookish advent calendar tradition for your own family.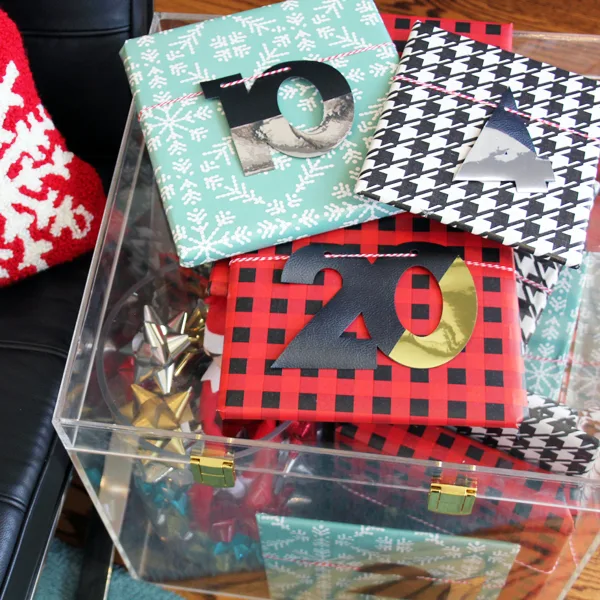 Like many families, the Elf on the Shelf makes a visit to our house during the holidays. When he arrives on December 1st, our elf delivers a big stack of Christmas books. Each book is labeled with a number from one to twenty-five.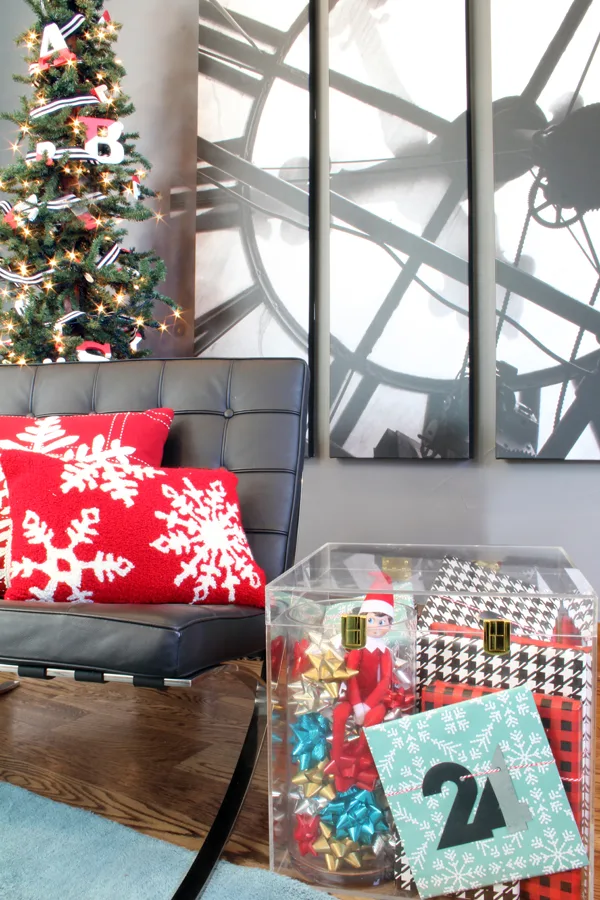 Every year, I create a calendar on the chalkboard wall in our kitchen. My boys cross out a number each night to see how many days are left until Christmas. Then they rush to the big pile of wrapped books in the living room to find the matching number.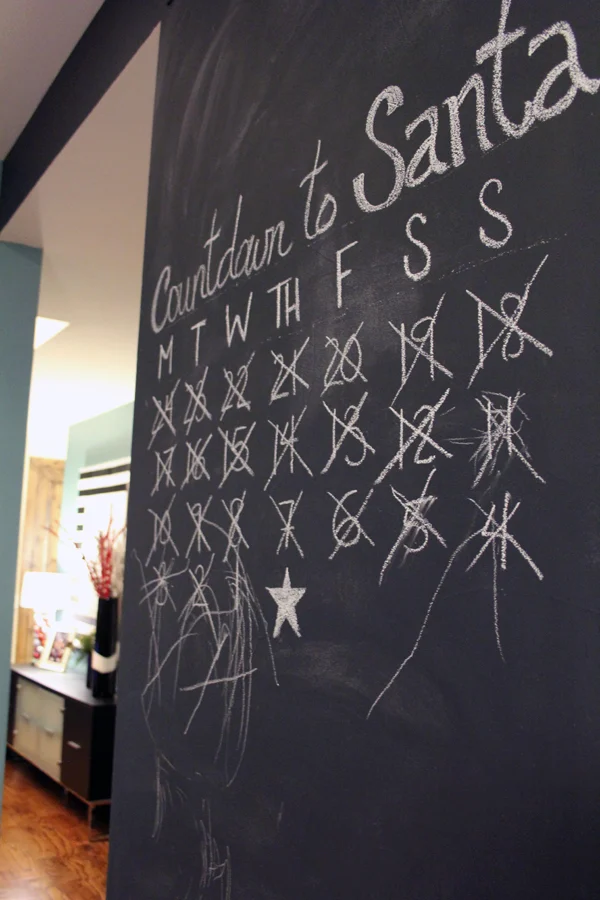 How to Create a DIY Advent Calendar for Christmas
1. Collect Christmas Books
Begin by collecting 24 children's Christmas books. To help you find the right holiday books for your family, we've compiled a list with more than 80 recommendations that the whole family will love. Our list is broken down into categories for each age group, including board books, picture books, classics, easy readers, and even kids' chapter books.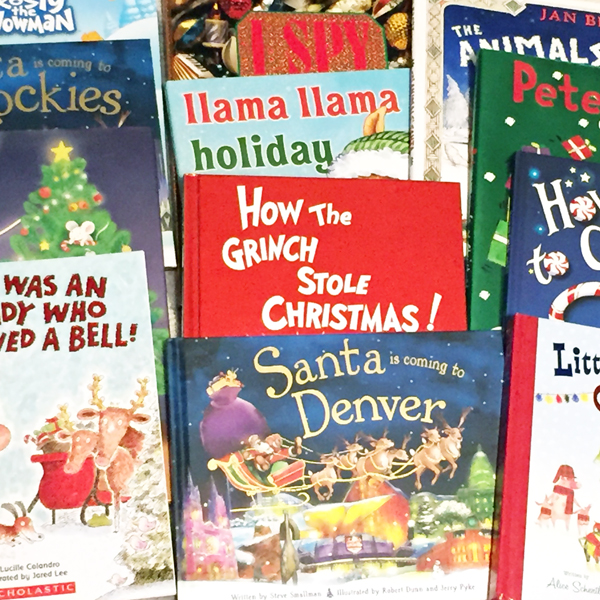 Gathering enough books may seem like the most daunting part of the process, but we have some tipsin the FAQs section below to help you building a book advent calendar on a budget.
After the first year, you can use the same books year after year. Swapping out just a few books each year is an easy way to refresh and update the collection as your children get older.
2. Wrap the Books
Once you've collected enough Christmas books, the next step is to wrap them up. You can use the same wrapping paper for all of the books, or choose several papers that coordinate with your Christmas decorations.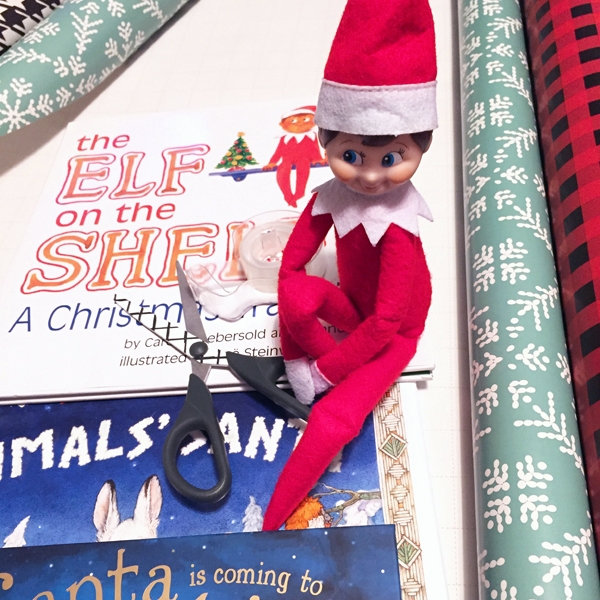 Since our Elf on the Shelf delivers our books each year, I make sure to choose wrapping paper that won't be used on any gifts the kids will receive from mom and dad. My boys are very observant, so having separate wrapping paper is an important part of keeping the magic alive.
3. Add Numbered Gift Tags
Once all of the books are wrapped, add a numbered gift tag to each book.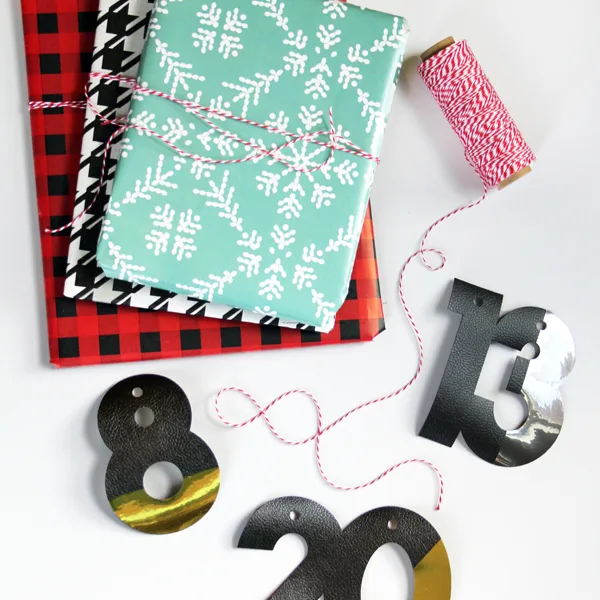 You can tag the books randomly, or choose specific books for certain days. For example, I always save The Night Before Christmas for my kids to open as their final book on Christmas Eve.
There are many different ways to add numbered tags to your books – make it as simple or as fancy as you'd like. The first year, I simply wrote the numbers on gift tags by hand.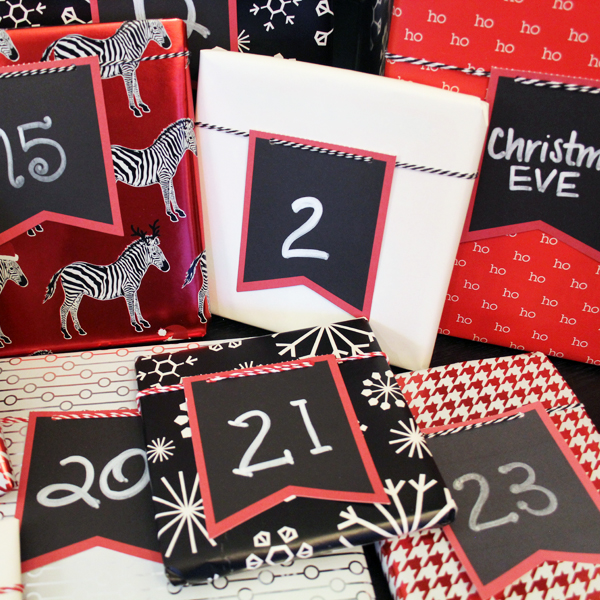 After a couple of years, I decided to create large, reusable numbered tags. Having these premade, faux leather tags that I use year after year has been a big time saver (and I love the way they look). You can find the DIY instructions for these number gift tags here.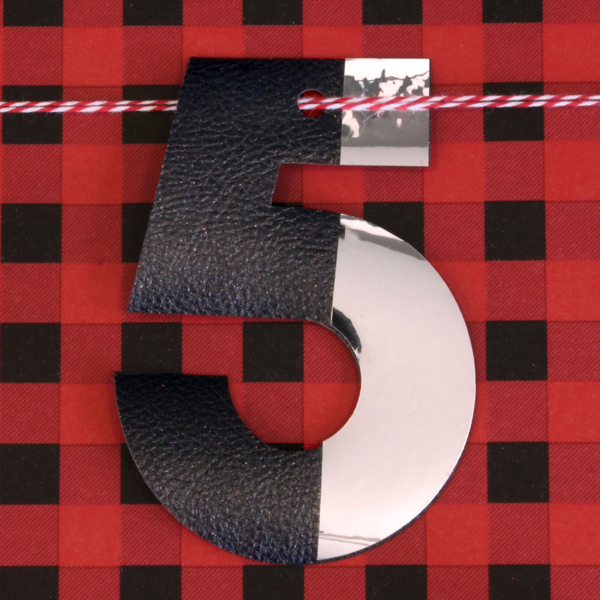 4. Choose a Cozy Reading Spot
Place all of the wrapped Christmas books near a comfy couch or chair, and add a couple of pillows and a blanket to make your reading spot extra cozy.
Using a basket or bin is a great place to keep the books together. We have a clear acrylic trunk where we display our Christmas book collection throughout December. Alternatively, you could place all the books below your Christmas tree.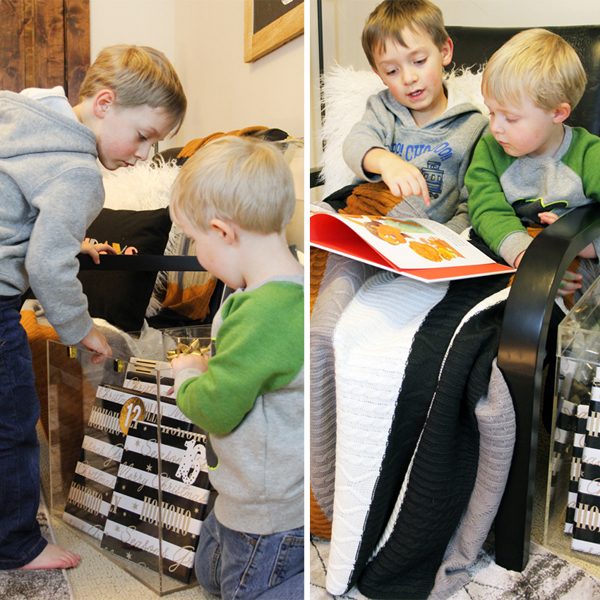 Frequently Asked Questions
What is a Christmas Book Advent Calendar?
An advent calendar is used to count down the days leading up to Christmas. Many traditional calendars used for the advent tradition include little doors that you open each day in December to find a small chocolate or other treat inside. Similarly, a book advent calendar is another fun way to countdown to Christmas by unwrapping Christmas-themed books each day.
How to Build a Christmas Book Advent Calendar on a Budget
In the first year of this tradition, purchasing twenty-four books can be quite an investment, but there are plenty of ways to build up your advent calendar book collection without breaking the bank.
Shop Your Own Bookshelves – Start by checking your own bookshelf to see what Christmas, holiday, or winter-themed books you already own.
Ask Family Members, Friends, and Neighbors – It's very possible that others in your circle may be storing some Christmas books that they'd love to gift or loan to your family.
Shop Thrift Stores – Thrift stores are a great place to find affordable books that are still in great condition.
Shop Holiday Sales – Black Friday sales are a great way to purchase new books at the lowest price available.
Add Just a Couple of New Books Each Year – Once you've built up your initial collection, you can use the same books year after year. When our boys were quite young, we started with a good mix of mini board books and Christmas classics, like Polar Express and How the Grinch Stole Christmas. The next year, I bought one or two new books to mix in. As they've gotten older, we've slowly replaced the board books with bigger kid titles, and even some short Christmas chapter books.
Do You Open 1 or 24 First On an Advent Calendar?
Whether you are creating book advent calendars, chocolate advent calendars, or another type altogether, the question that comes up most frequently is "does an advent calendar start at 1 or 24?" Based on the historical context, the proper way to create an advent calendar is to count up toward Christmas Day, starting with box or gift labeled as number "one."
When it comes to creating a new holiday tradition, I'm a firm believer that you should do what works best for your family. Since my kids were very little, they've always asked "how many days until…" (until Christmas, until my birthday, until school starts, etc). As a result, we've always opted to count down to Christmas by opening book 24 on December 1st and working our way down to book 1 on Christmas Eve.
Where Do You Store All the Christmas Books the Rest of the Year?
We believe that kids should always be surrounded by books, but when it comes to holiday-themed books, we prefer to store them with the holiday decor, bringing them out only for a month or so each year. By doing this, we are able to enjoy our favorite Christmas books year after year without the kids getting bored of them. Plus, storing them helps make room on the bookshelf for more non-seasonal books!
What If You Don't Want to Collect & Wrap 24 Books for Advent?
We get it! If the idea of collecting and wrapping 24 books to make your own advent calendar sounds like it will add more stress to your already busy holiday season, we have more book advent calendar ideas that might feel a bit more manageable.
Buy a Story Book Advent Calendar
Skip the collecting and wrapping by purchasing a premade advent books for kids with 24 mini books inside. Here are a few that you might like, including a couple of new book advent calendars for 2022:
Choose One Book With a Story or Chapter Each Night of Advent
The following advent books are all designed to be read one story, or one chapter, each day in December:
Check Out Library Books
Head to your local library to borrow some Christmas-themed books to put your family in the holiday spirit. Ask your librarian to point you in the right direction, or use our list of the best Christmas books for kids to place online requests through your library system and pick them up when they come in.
How do I adapt this tradition to older children?
If your kids have outgrown picture books, chapter books are a great alternative. You can read one chapter together as a family each night. Here are some that we recommend: