Sharing is caring!
For our fellow Broadway lovers, we've compiled this list of some of the very best non-fiction musical theatre books and Broadway memoirs.
These books transport us into the nerve-wracking audition rooms and onto the tense rehearsal stages. We get to experience the drama that happens under the stage lights and in the darkened wings. And we also get to sit in the audience for some of the most memorable moments in theater history.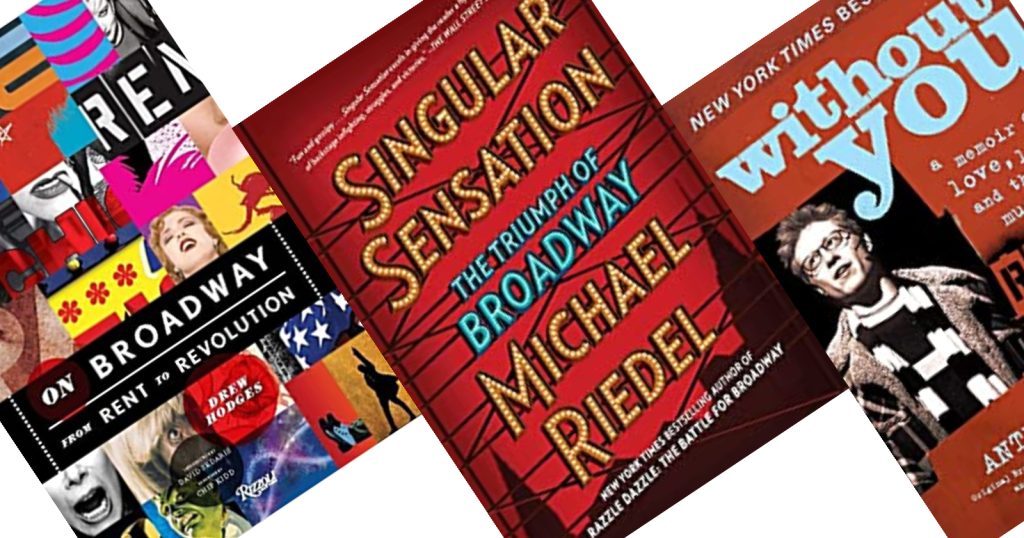 We've broken our list down into three sections. The non-fiction titles delve into the history of Broadway, the creative process, and theater's evolving role in American culture. The memoirs on the list take us behind the scenes with some of our favorite Broadway stars and tell their personal stories of life on stage and off. Finally, we've included our favorite Broadway coffee table books that are great gifts for theater lovers.
Broadway fans will also want to check out our Theater Fiction list that includes the best novels for theater lovers! This booklist includes a wide variety of contemporary and historical fiction titles, as well as some mysteries, romances, and rom-coms.
As an Amazon Associate and member of other affiliate programs, we may earn a referral fee from qualifying purchases.
Musical Theatre Books for Broadway Lovers
Non-Fiction Broadway Musical Books
These are some of the very best books about Broadway that tell the stories of the shows, the songs, the theaters, and the people who make the magic happen night after night.
by Michael Riedel
If you are looking for a non-fiction Broadway read that's informative, funny, and gossipy, then look no further! This book is a history of Broadway from the 1990s to its reopening just days after 9/11, when it helped bring people back to the city despite their grief and fear.
The '90s were a decade of theater as it clawed back into the mainstream American popular culture, thanks to transformative shows like Rent, family-friendly spectacles like The Lion King, and other major hits like Sunset Boulevard and The Producers. This book is filled with behind-the-scenes stories about every mega-hit and shocking flop during this revolutionary decade.
If you'd like to learn more about Broadway history in the 1970s and 80s, check out Michael Riedel's Razzle Dazzle.
by Jack Viertel
Despite the subtitle "How Broadway Shows Are Built," this book is less about the behind-the-scenes process of bringing a show to the stage from start to finish and more about how the songs within a show succeed or fail.
Structured like a musical - beginning with an overture and concluding with a curtain call - this book takes an in-depth look at the different types of songs that make up a musical. The "I Want" songs, the "conditional" love songs, the large production numbers, the star turns, and the finales. The author, a Broadway veteran, shows readers the patterns in the architecture of a classic show and charts the evolution that has taken place alongside America's social and political shifts.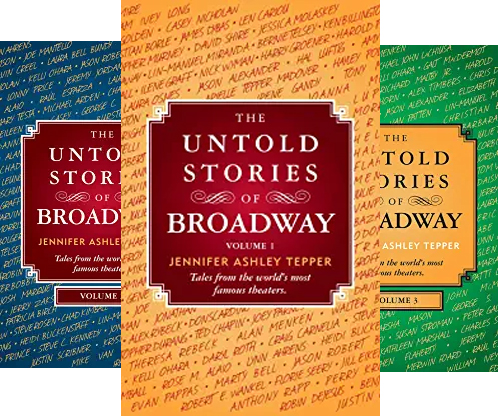 by Jennifer Ashley Tepper
The four volumes in this series provide a fascinating oral history of Broadway theaters and the shows that have graced their stages over the past hundred years. Broken down theater by theater, these books tell stories through the eyes of the producers, actors, stage hands, writers, musicians, company managers, dressers, designers, directors, ushers, and doormen who bring The Great White Way to life each night. From opening nights to closing nights, you'll be transported backstage and into the audience for some of the most memorable moments in Broadway history.
Three of the four volumes in this series are available free with a Kindle Unlimited subscription as of 7/28/22.
by Todd S. Purdum
Part theater non-fiction and part biography of Rodgers and Hammerstein, this book examines the creative partnership that transformed musical theater and provided a soundtrack for the twentieth century. Even before joining forces, Richard Rodgers and Oscar Hammerstein had written dozens of Broadway shows. But together, they created an entirely new art form - the serious musical play.
The two men had vastly different personalities and were often emotionally distant from each other, but they presented a uniform front to the world. Together their partnership was one of the most important and influential in the entertainment industry.
by James Lapine
James Lapine was early in his career as a playwright and director when he met Stephen Sondheim. Sondheim was nineteen years his senior and already a legendary Broadway composer and lyricist. The year was 1982, and the two men decided to write a musical inspired by Georges Seurat's nineteenth-century painting A Sunday Afternoon on the Island of La Grande Jatte.
Even if Sunday in the Park with George isn't one of your favorite musicals, or even if you've never had the chance to see it, you'll enjoy this detailed behind the sense look at the creation of a Broadway musical. The whole process is covered from the initial idea to the drafts and rewrites, up through the previews, reviews, and finally, opening night.
Broadway Memoirs
by Jeffry Denman
At only 185 pages, this memoir is a fun and fast read, perfect for actors and theater fans alike. It traces Jeffry Denman's exhausting (but worth it) journey from Cats to the Mel Brooks musical, The Producers. He takes readers along on his audition, through the production and rehearsal process, and then on stage in front of Broadway audiences.
Jeffry played multiple characters in the original Broadway production of the Producers and took the stage as the co-star understudy. He gives us a glimpse of what real, day-to-day life is like for working actors.
If you're looking for dirt on big names like Mel Brooks, Nathan Lane, and Matthew Broderick, you should know that Jeffy doesn't go there in this book. Of course, they are included in his stories, but he's smart enough not to say anything that might prevent him from getting cast again in the future. However, you can get the inside scoop on Mel Brooks from his memoir, titled All About Me!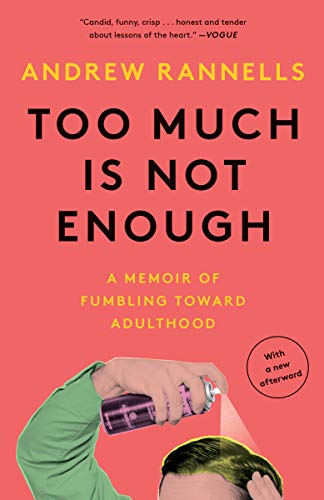 by Andrew Rannells
In this memoir, we walk alongside Andrew Rannells - a sexually confused teenager with Broadway dreams - as he leaves Omaha in 1997, New York City bound. His twentysomething years were filled with new friends, horrible auditions, great art, and standing ovations, eventually leading to his Broadway debut in Hairspray at the age of 26. It also covers the devastating death of his father just as his career was beginning to take off.
He would go on to Broadway roles in Book of Mormon (originating the role of Elder Price), Hamilton (taking over the role of King George), and more. Throughout this book, he shares stories about his life on and off the stage, and his "fumble toward adulthood," with candor and humor.
by Sutton Foster
You may know Sutton Foster from her Tony-award-winning Broadway performances or as the age-defying book editor on TV Land/Hulu television series Younger. What you likely don't know is her love of crafting. In fact, she credits crafting with saving her life time and again.
In her recent memoir, she shares stories from her early days of performing up through the experience of becoming a mother through adoption. Along the way, you'll hear about bullying chorus girls, family drama, the thrill of Broadway, a painful divorce made more so by the tabloids, her breakout TV role, and her struggles with infertility. But through all of it, the constant in Sutton's life was her passion for cross-stitching and crocheting. This book even includes crochet patterns, recipes, and more!
by Patti LuPone
The legendary Patti LuPone is one of theatre's most beloved leading ladies. She's well known for her roles under the lights, but in this intimate memoir, she shares stories of her life both on stage and off. From her early days growing up on Long Island's North Shore, she knew from a very young age that theater was her destiny, but it wasn't always an easy road.
She was chosen as a member of the inaugural class for The Julliard School's Drama Division, but there she fought near-constant criticism from her instructors. She spent her twenties traveling the country as a founding member of a classical repertory theatre ensemble before making her Broadway debut. She provides an insightful retrospective of her career on Broadway and abroad, and reveals her deep passion for musicals and theater.
by Anthony Rapp
In this 2006 memoir, Anthony Rapp recounts his life-changing experience as a member of the original cast of Jonathan Larson's rock musical, Rent. His descriptions capture the passion and grit unique to the theater world and detail how he navigated the ups and downs of life off-stage.
Rent first opened off-Broadway to massive acclaim, but while celebrating the show's success, the cast members were also mourning Jonathan Larson's sudden death from an aortic aneurysm. By the time Rent moved to Broadway, Anthony's mother began to lose her battle with cancer, and he struggled to balance the demands of his theater career and his family life.
by Leslie Odom, Jr.
He's Aaron Burr, sir. And in this book - which is part memoir and part motivational self-help, Leslie Odom, Jr. shares stories to encourage readers to take risks and never stop learning.
Odom burst onto the Broadway scene in 2015, originating the role of Aaron Burr in the Broadway phenomenon, Hamilton. (Fun Fact: Both Book Girls saw Odom perform in Hamilton during the very first month of its Broadway run). But the years before that were filled with hard work and paying his dues as a singer and an actor. Along the way, he learned that failing helps you learn and grow.
Even if you typically shy away from self-help or personal development books, theater fans will enjoy this short read that also covers how Odom navigated his professional career.
Broadway Coffee Table Books
These coffee table books make great gifts for theater lovers and the vibrant photos and illustrations make them some of the very best books about musical theater!
This coffee table book is a comprehensive companion to the six-part Emmy-winning PBS documentary series, Broadway: The American Musical. It's the gold standard of musical theater history books, tracing the art form's roots at the turn of the twentieth century through the smashing successes of the new millennium.
Take a journey through the years and immerse yourself in the behind-the-scenes world of musical theatre! From the dance halls and vaudeville to the silver screen and sensational Broadway shows, this go-to musical guide has all the glitter and glamour of the Great White Way.
This coffee table book is packed with profiles of musical icons and fun infographics that summarize the plot, characters, and songs.
A visual and oral history of the past twenty years of theater, On Broadway pulls back the curtain to reveal the creative process involved in bringing a Broadway show to the stage and into the public consciousness through the words of Broadway's most famous personalities and the art of SpotCo. This book is a collection of hundreds of behind-the-scenes photos, concept art, posters, and personal anecdotes by and with some of Broadway's most beloved stars.