For those of us who love a quiet evening at home, jigsaw puzzles are a great alternative to reading. Especially when you're doing one of these literary puzzles!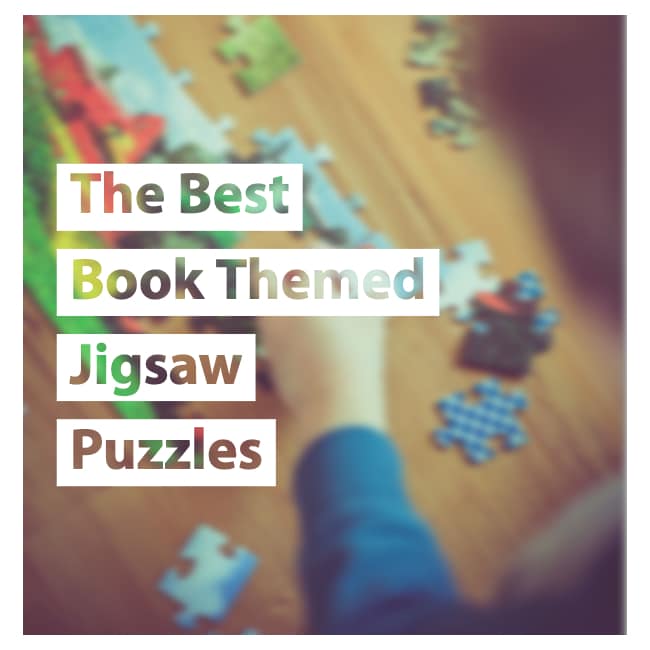 Puzzles are also a great way to encourage family time away from electronics. They help bridge generations since they can be enjoyed by kids and adults of all ages!

Here are some of our favorites including everything from Nancy Drew book covers to library scenes.

If you love puzzles like we do, but need a better way to store them all in less space, check out this great tip.
As an Amazon Associate and member of other affiliate programs, we may earn a referral fee from qualifying purchases.
The brightly colored book spines on this puzzle are so pretty!
This vintage library scene mixes spines and covers to fill the shelves and maximize how many books they could fit into one unique puzzle!
This option would be a perfect gift for Jane Austen fans!
All the colors and patterns in this puzzle would make it great art for the wall when you're done!
How many of these books did your book club read? Grab this puzzle in honor of all the fun you have with your club each month!
The next two options are colorful American fiction book covers. Like the holiday books, it would be fun to discuss literary favorites with family and friends.
Did you devour Nancy Drew novels as you were growing up? Finish this puzzle and then try to remember which ones you've read.
Such fun to see modern classics like Me Before You make their way into puzzle form!
How many of your favorite children's books are shown on this puzzle? From Dr. Seuss to llama llama, multiple generations are represented!
Looking for something with a bit more detail? Try this Ravensburger Bizarre Bookshop puzzle or the Fantasy Bookshop below!
Let us know if you've tried any of these in the comments below!
Love reading as much as we do?
Join us for more free content, reading challenges, and discussion over in the Book Girls' Guide Facebook Group!
Next up, check out these other great gift ideas for book lovers!