We can't thank you enough for taking the time to complete the survey and share your thoughts, opinions, and preferences with us. We've spent the past week poring over the results of our 2023 Reader Survey, and we thought that you might also be interested to see some of the data.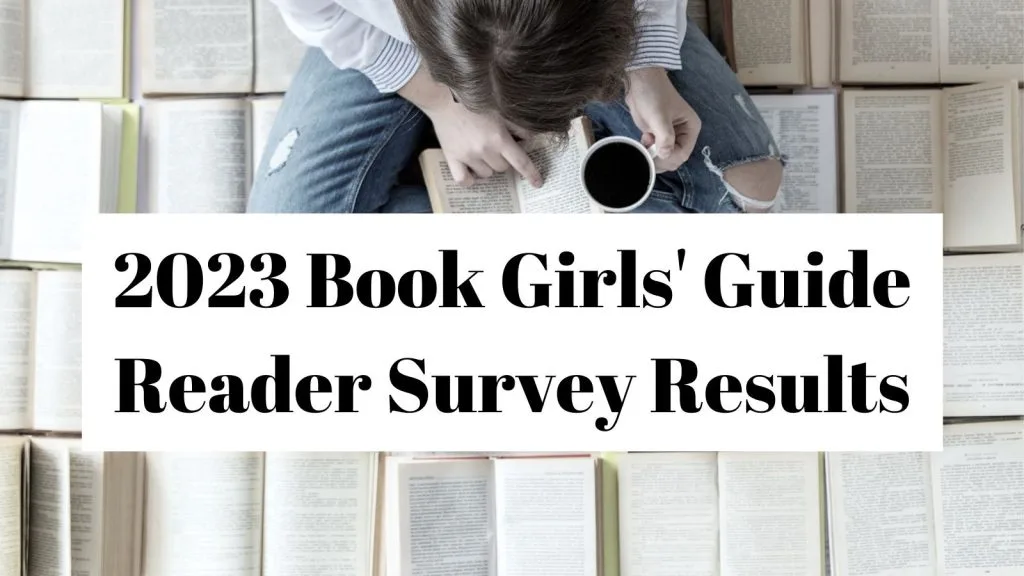 We value your input, and it absolutely informs our decision-making as we plan for the future of The Book Girls' Guide. Below the highlights from the 2023 survey results, we've included a list of some of the improvements that we've made over the last twelve months based on your feedback from the summer of 2022 survey.
Reader Demographics
A total of 930 of you filled out the 2023 Reader Survey. While 97% of respondents currently live in the United States, we also had readers from 10 other countries complete the survey.
Our group has a pretty even mix of age ranges, bookended by three teens and six eighty-year-olds who filled out the survey.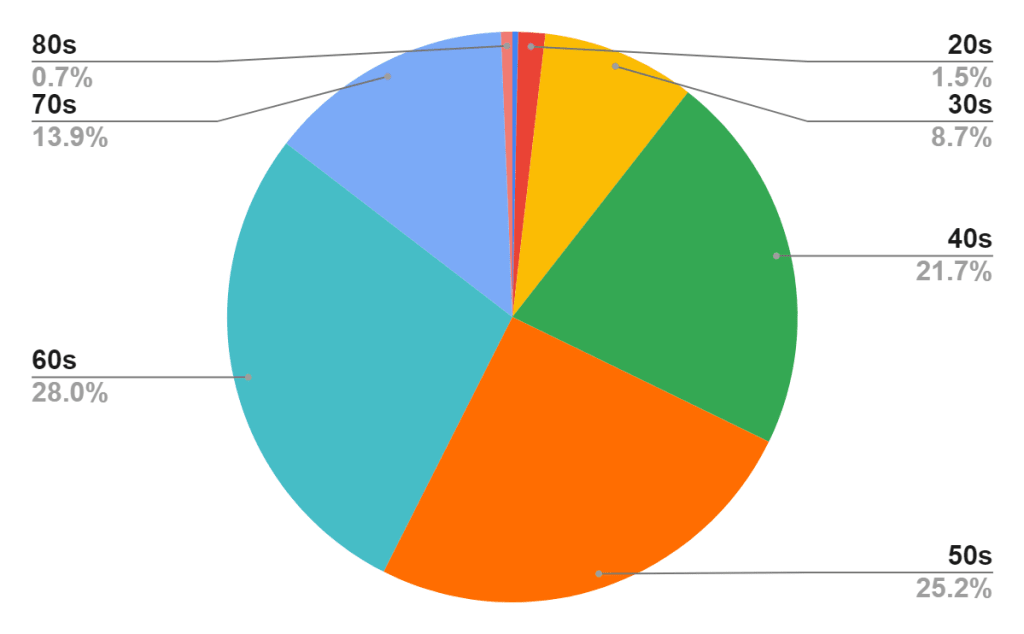 Reading Habits
It can sometimes feel like everyone else has more time to read than you do, especially when you see those end-of-month collages with tons of book covers. But the truth is that reading habits vary widely, and no matter where you fall, you're in good company.
Fourteen percent of you report reading 0-2 books per month, 42% read 3-5 books a month, 23% read 6-8 books a month, and 21% regularly read 9 or more.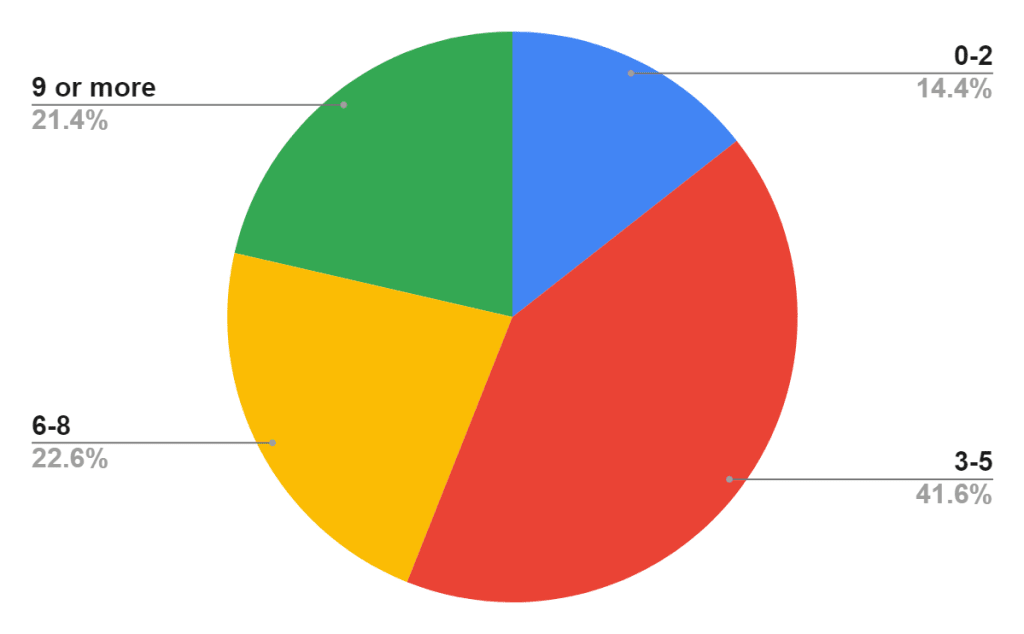 Favorite Genres
We asked you to tell us your three favorite book genres:
Historical Fiction 1900s & Later – 52% of survey respondents listed 20th-century historical fiction as one of their three favorite genres.
Contemporary Fiction – 51% of survey respondents love contemporary fiction stories that could happen to real people in real settings, and that take place in the same time period the reader is living in.
Detective/Mystery/Cozy Mystery – 39% of survey respondents listed detective stories, mysteries, and cozy mysteries among their top three genres.
We also asked you to tell us all of the genres you enjoy reading regularly in addition to your top three. Here's the breakdown of the responses: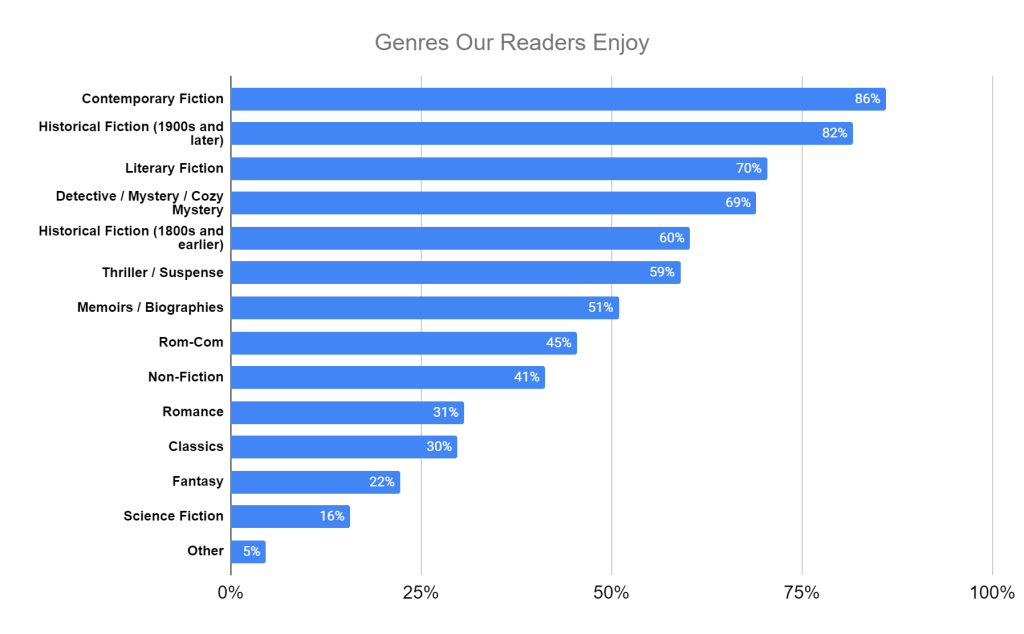 Reading Format
We asked you to tell us all of the book formats that you use on a regular basis. We're glad to see that paper books still get so much love! Seventy-eight percent of you say you hold a physical book in your hands on a regular basis. But of course, you can't beat the convenience of eBooks, and audiobooks allow many of us to multitask and enjoy far more titles than we could otherwise. We discovered that most of you utilize more than one book format in your reading.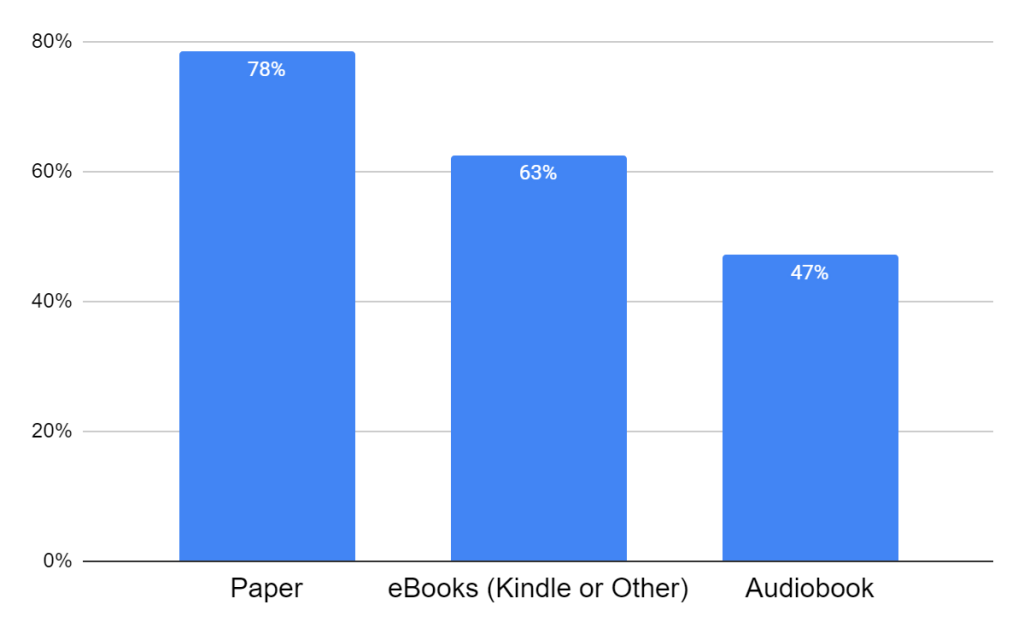 Reading Challenges
Eighty-six percent of survey respondents said they are excited about a new challenge theme in 2024. And 60% are looking forward to participating in one of our existing challenges next year, as well.
Good news! There will definitely be a new challenge theme for 2024! We spent several days working together in Denver, and we're very excited about the plan we've come up with for next year. Our lips are sealed for now, but we've definitely taken your feedback into account.
Some of you noted that, at times, it can be challenging to find your first choice book available via your local libraries. While, unfortunately, library availability from one community to the next is out of our control, we have brainstormed a new theme for 2024 that we believe will have a higher percentage of the books readily available.
However, like all of our previous challenges, the 2024 theme will still allow flexibility for you to read within your favorite genres while inviting you to step outside your comfort zone. Mark your calendars for December 1st for the official announcement of next year's challenge theme and all the details.
You'll also continue to have access to past challenges in 2024. No matter which challenge you choose next year, you'll be in good company with many other readers joining you.
Improvements We've Made Based on the 2022 Survey Results
We are already brainstorming many new ideas based on your 2023 Reader Survey feedback. You may see some ideas implemented very soon, while others may take a while to make a reality. In the meantime, we thought it would be fun to highlight some of the many improvements we've made to The Book Girls' Guide over the past 12 months based on the 2022 Reader's Survey results.
We hope seeing these changes encourages you to continue filling out surveys in future years! The improvements are worth every hour and dollar spent on them, but it's not easy. To learn more about why supporting The Book Girls Guide is important, read this next.