We are very excited to share a printable reading bingo card and coloring page that we've created to keep kids engaged and excited about reading. It's a fun way to motivate kids to read, and it includes suggestions of book topics, as well as fun reading and writing activities for kids of all ages.
You can download and print our Reading Bingo Card below (look for the pink button).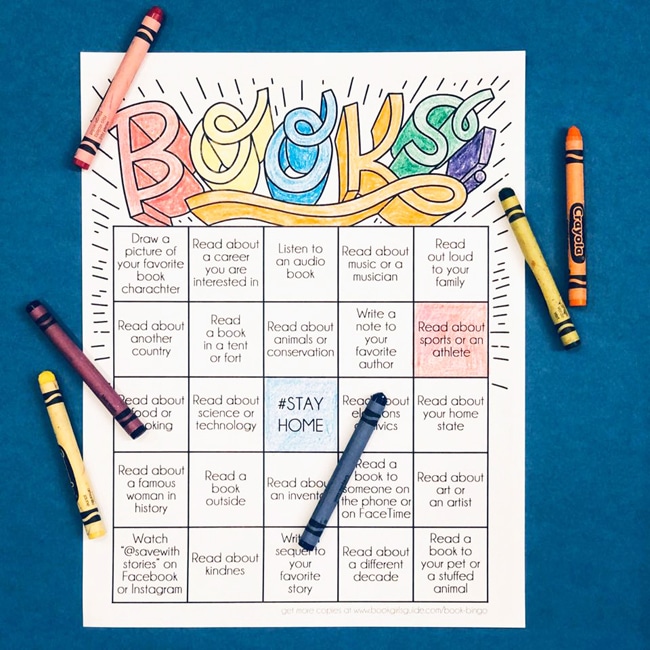 Being forced to stay at home is hard on parents, especially as we try to find ways to balance work, parenting, and teaching. But staying home is also hard on the kids who are feeling a mix of emotions including sadness over missing friends and activities, fear and anxiety, boredom and frustration.
There are lots of different views on whether parents should strive to home school their kids during this extended school closure, or if it's better to take it easy and rest assured that all of our kids are in the same boat and their teachers will catch them up when school resumes.
No matter which camp you fall into, we think it's important that kids keep reading. There is compelling data that suggests that reading 20 minutes a day not only helps kids academically, it can also provide a much needed escape. And reading together is shown to strengthen family relationships.
If you have a reluctant reader, it can be extra challenging to get them to read right now without the structure of school. On the other hand, if you have a voracious young reader, they may be reading through their home bookshelf at lightening speed and frustrated that they can't get new books from the library or the local bookstore.
Using Reading Bingo to Encourage Reading at Home
If your kid needs a little extra motivation to keep reading right now, our Reading Bingo Challenge might be just what you need! You can use this coloring bingo card to reward your young readers in any way that works for your family. Some might call it bribery … we say, do what you have to do to get through this period of extended social distancing with your sanity one day at a time.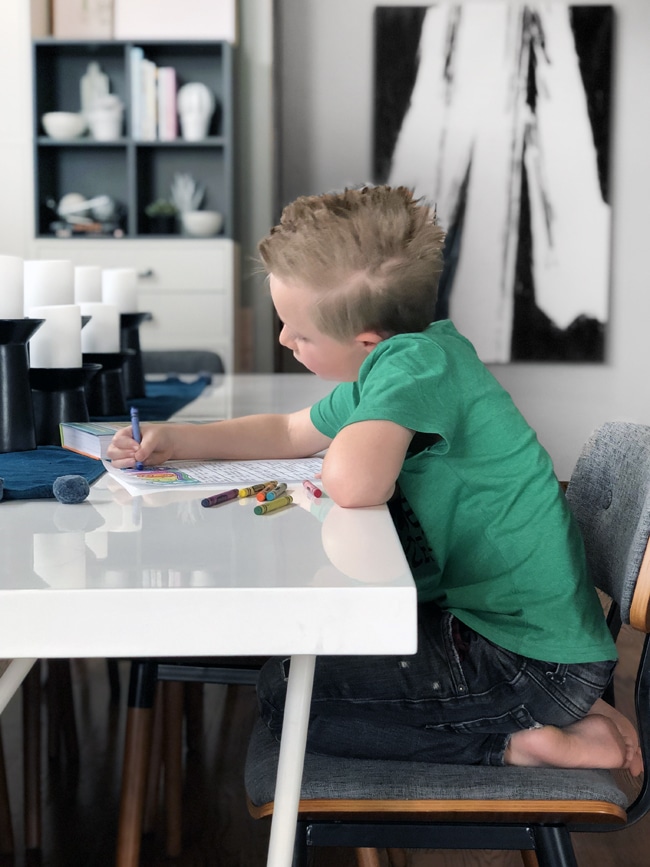 If your kids, like mine, are eating through all the snacks faster than you can possibly keep up with, you could offer a snack or special treat as a reward for each square of the bingo card they complete. Or you could purchase some small prizes online to give them when they complete a full line.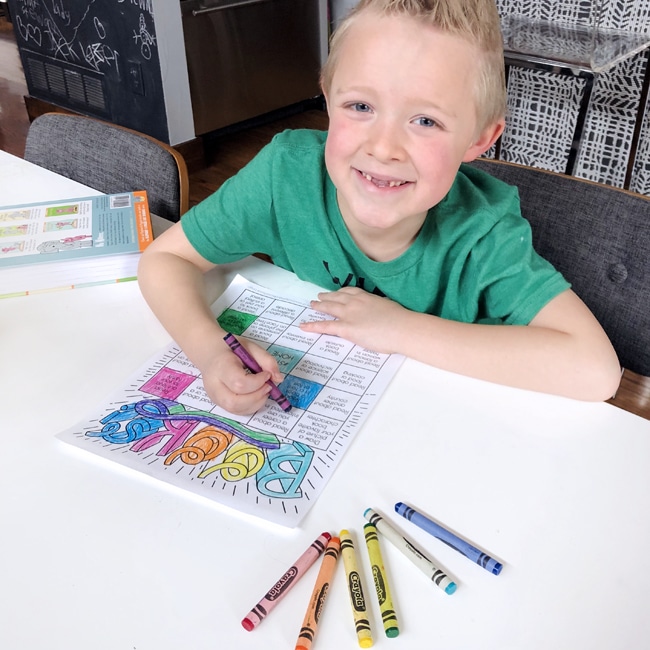 For kids who are getting frustrated without places to go and friends to see, you could offer a special reward for each line of the bingo card they complete – to be delivered at a later date. For example, my kids want to make a list of special activities they want to do when life gets back to normal (taking friends to a ninja gym, going to the amusement park, etc.), so we're going to add one thing to our list each time they color in a full line. This will give them something to work toward and look forward to.
Or you could promise something extra special in exchange for filling up the entire bingo card.
Use this in the way that works best for your kids and your family!
Download Your Book Bingo Card!
Please share this post and the Book Bingo card with your friends, and pin the image below to help us get it into more hands! Then keep reading for a list of places that you can get free or discounted books for kids online!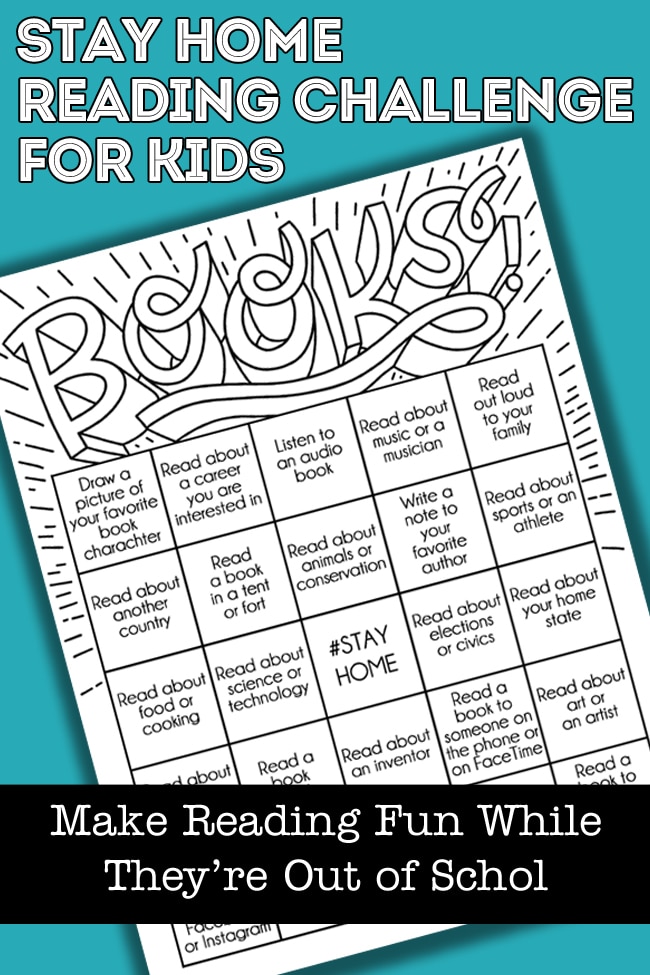 A Big List of At Home Reading Resources for Kids
We've compiled a list of some of our favorite home reading opportunities. Feel free to drop your favorite resources in the comments and we'll add them to the list!
If you already have a lot of books at home, we've designed our bingo card to encourage kids to read a variety of books that they may not have looked at in a while.
If the kids need new books or more books, there are tons of online options, subscriptions, and discounts available right now.
As an Amazon Associate and member of other affiliate programs, we may earn a referral fee from qualifying purchases.
eBooks, Audiobooks, and Online Resources
SaveWithStories – Watch some of your favorite celebrities read their favorite kids' books on Instagram or on Facebook while they raise money for Save the Children and No Kid Hungry. We love this one so much, we even gave it a spot on our bingo card!
Libby App for eBooks From Your Library – Your local library may be closed, but they have thousands of eBooks and audiobooks that you can still borrow to read or listen to right on your phone or tablet. Download the app and search for your library. You'll simply need to login with your library card info or library ID and pin.
Phone-a-Story – Many libraries have a Phone-a-Story number that you can call to listen to stories in a variety of languages 24/7. You can search online to see if your local library has a phone-a-story line, or call the Denver Public Library from anywhere at 720-865-8500.
Raz-Kids – For the remainder of the school year, this online reading instruction program (one of my kids favorites!) is offering a free subscription to their digital library of leveled books and reading comprehension quizzes.
Scholastic – Right now, students have free access to science and social studies based reading and videos broken down by grade levels, with lessons and activities to match
Time for Kids Magazine – For the rest of the year, Time for Kids magazine is offering their digital library free. All you have to do is register and choose your kids grade level.
Epic! Books for Kids – You can get a free 30 day trial to Epic's more than 40,000 books, or get free access to the full library through the end of June if your child's teacher sends the invitation to the whole class (and Epic is always free to educators).
Penguin Random House Audio – The publisher is offering free audiobook downloads of three classic children's titles until April 30th – The Wonderful Wizard of Oz, Grimm's Fairy Tales, and Great Expectations.
Children's Authors on Instagram – A number of children's authors have taken to Instagram to read their books aloud, any under initiatives like "Stay-in Storytime" and "Operation Storytime." If your kids have a favorite author, take a look to see what they might be doing on Instagram.
Lunch Doodles with Mo Willems – Speaking of beloved children's authors, Mo Willems is teaching drawing classes on YouTube each day at lunch time. This is a great opportunity for the "draw a character from your favorite book" square on the bingo card.
Audible – Right now, this audiobook subscription service is offering free audiobooks for kids. All you have to do is visit stories.audible.com or download the free Audible app, and you'll see a variety of books available ranging from children's stories, classics, and books for teens. You can also choose from six different languages.
Scribd – This eBook and audiobook subscription service is offering a free 30-day trial that gives you access to millions of titles. This is especially great for older kids, as they have a fairly extensive YA collection.
Amazon Kindle Unlimited (affiliate link) – New and returning readers can receive a two month free subscription to Kindle Unlimited, which has a library of more than a million free trials. And you don't have to have a Kindle – you can download the Kindle app to any phone or tablet.
StoryOnline – This is another great site where you can listen to books read aloud by famous actors/actresses
Libro – This one isn't free, but it's a great opportunity to support your favorite indie bookstore while getting a discount for yourself. Start a membership at Libro using the code SHOPBOOKSTORESNOW and you'll get two audiobooks for the price of one ($14.99) and 100% of your payment will go to the local bookstore of your choosing.
As an Amazon Associate and member of other affiliate programs, we may earn a referral fee from qualifying purchases.